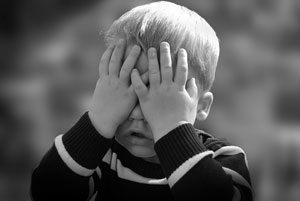 The Market With No Clothes
We're still waiting for my "cats" to herd.
My stray cats are still IWM (the Russell 2000) and the US Dollar currency pairs (which includes, of course, the US Dollar Index).
We're much closer this weekend, but we still have a small gap to fill, particularly in the Russell 2000.
The herd is expecting all time new highs in the SP500 (and related emini futures). The problem with that approach still amounts to a fairly long list of probabilities against that happening. I've listed them previously, so I won't go into them all here again.
There seems to be this penchant for newbie traders to just focus on one index and expecting it to do something none of the other indexes have a hope in achieving. As a trader, I learned very early on that this is most definitely NOT a good idea.
The NYSE is the exchange that all these traded sub-indexes fall under: It's the "Mother Ship." The NYSE is not traded directly, so you can count on it being devoid of the animal spirits in the sub-indices (the market with no clothes, if you like). In fact, it's an aggregate of the other indices that are tradable.
These subindices are at different levels; some much higher than others, but the true picture is what the NYSE offers.
Also note that trade-futures.com recorded back-to-back days of 91% bulls last week. That suggests everybody's "in." Volume is exceptionally low. Currencies are close to a turn, oil is close to a turn, and gold and silver are poised to rise.
This is NOT a bullish scenario, as I've been saying for months now. We're looking for a turn and a first wave down.
The Mother Ship: The NYSE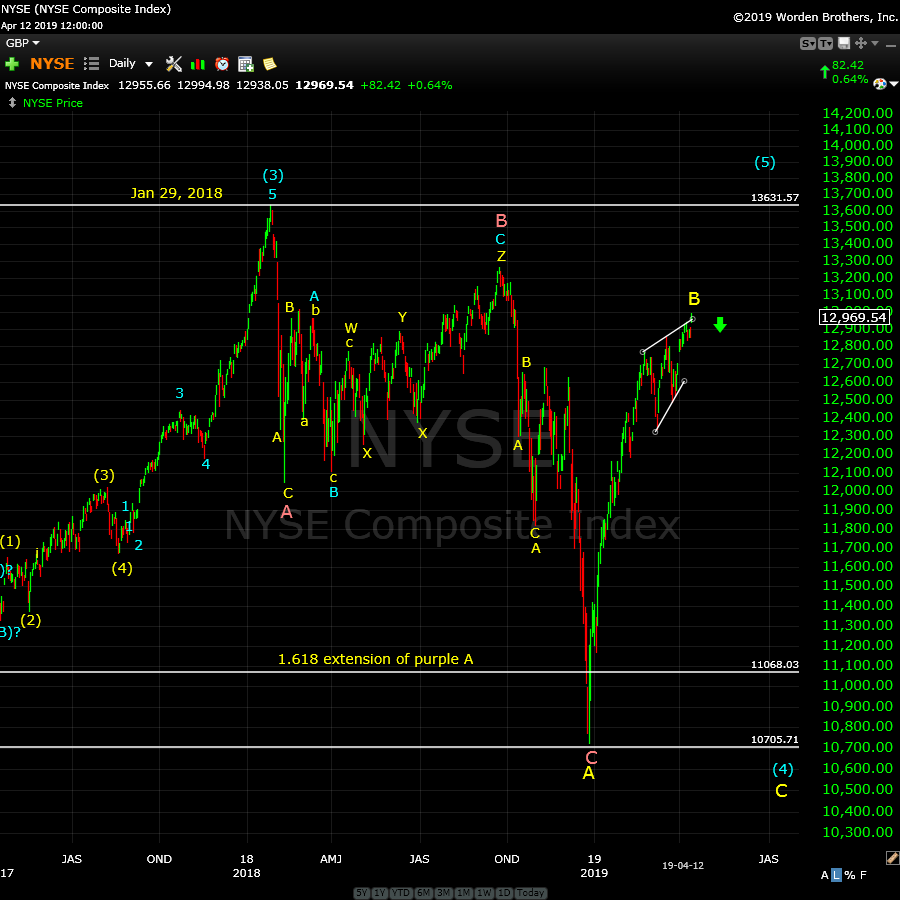 Above is the one hour chart of the NYSE. I refer to this exchange as "The Mother Ship" because it spawns the DOWS (Industrials and Transports), the SP500, The Russells, and the OEX.
However, all those sub-indexes are traded directly, so they're just chocked full of animal spirits. Only the NYSE gives a clear picture of what's actually going on. As I have stated ad nauseam, you cannot analyze the market unless you're looking at multiple indices, and most importantly, the NYSE as a whole.
There will never be a situation in which the NYSE will have a different overall count than the sub-indices. You can't have the SP500 completing five cycle degree waves to a hew all time high and then plummeting unless all the relative sub-indices trace out the same count … which means they would all have to reach new highs. A fractured market with different counts (with some indexes at new high and others not) has never happened, it isn't going to happen here, and it is very unlikely that it will ever happen in the future.
In the chart above, you can see that the B wave has traced out an ending diagonal at the top. An ending diagonal is an ending pattern. The fifth wave cannot be longer than the third wave (a hard Elliott Wave rule). At the moment, the fifth wave can still rise another ten points or so to adhere to that rule.
NOTE: The NYSE is nowhere near a top, and has no chance of getting there under the current wave structure.
But we are at an interim high and it shows in what's happening outside the markets. Tiger wins the Masters, Assange gets dragged out of the embassy, Avenatti gets nailed: It's like a full moon!
_____________________________
Elliott Wave Basics
Here is a page dedicated to a relatively basic description of the Elliott Wave Principle. You'll also find a link to the book by Bob Prechter and A. J. Frost.
____________________________
Registration for Commenting
Want to comment? You need to be logged in to comment. You can register here.
If you register, it protects your information. It also allows you to comment without filling in your information each time. Once you're registered, simply go to the home page and click on the login link top right in order to log yourself in. Usually, you'll be logged in for several days before needing to be logged in again.
______________________________
Problem receiving blog comment emails? Try whitelisting the address. More info.
______________________________
Couldn't be happier … KK 2
Couldn't be happier …

The analysis and insight you provide is simply amazing!  I've been trading the futures and equity markets for well over thirty years and usually average around 5% monthly.  Since joining your Traders Gold Service two months ago, that number has better than doubled.  I couldn't be happier.—KK
US Market Snapshot (based on end-of-week wave structure)
This chart is posted to provide a prediction of future market direction. DO NOT trade based upon the information presented here (certainly NOT from a daily chart).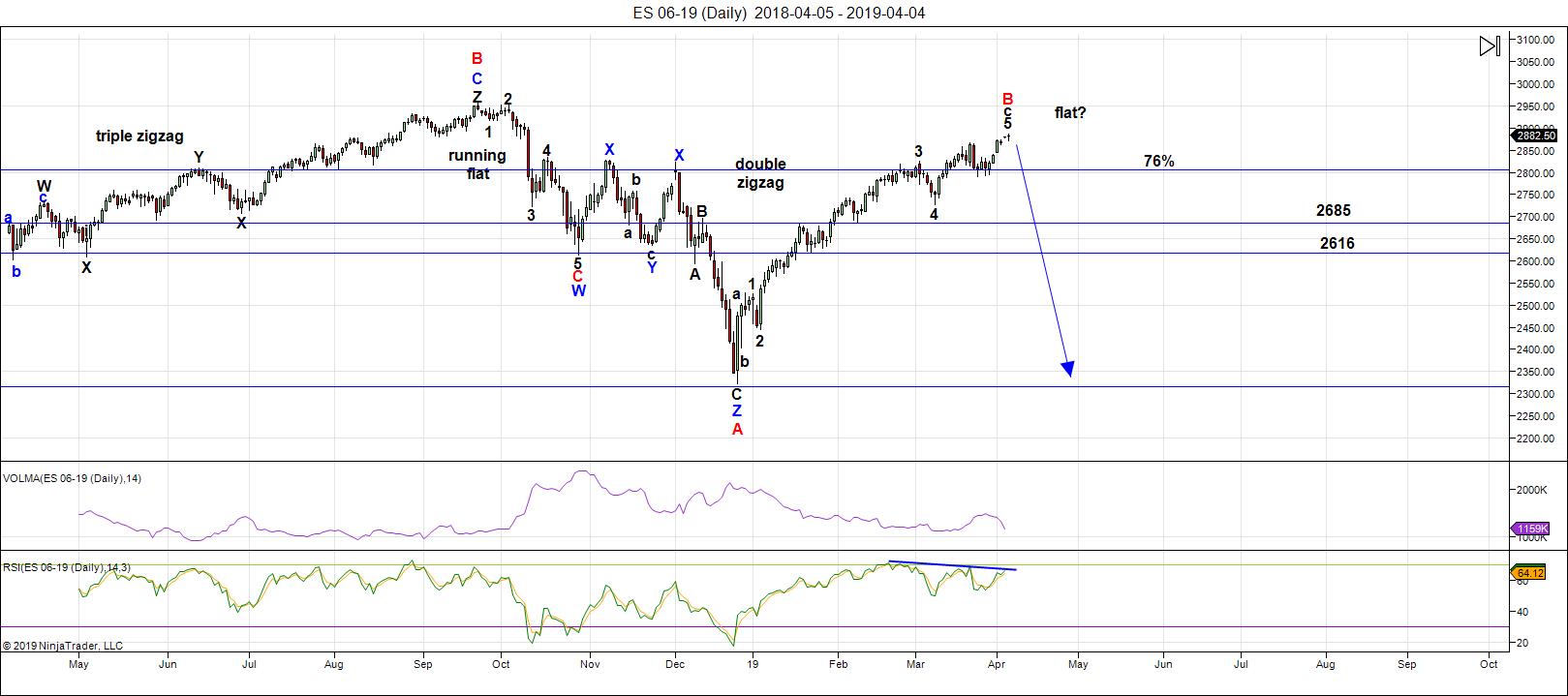 Above is the daily chart of ES (click to enlarge, as with any of my charts).
There's not much new in this report this weekend.
We're still sitting near the top of a B wave that's risen to well above the 76% level of the height of the previous set of waves down from the all-time high at October 3, 2018. Almost all the other assets I cover on a daily basis are hovering near inflection points.
As I've been saying over and over like a broken record, all major asset classes are moving as one. That requires them all to reach new B wave highs before they can turn down together. It's like herding cats and is taking much longer than expected. It's also difficult to project a date for a top, because you have to take into account several assets.
The DOW reached the required new high. IWM (Russell 2000) still needs a new interim highs before everything heads down in a dramatic capitulation. The US Dollar Index also has to complete its leg down before it turns up in earnest.
We appear to be in an ending diagonal in the SP500 and NQ. ES - a minimal new high to finish what appears to be an expanding triangle — we've been crawling along the  upper trendline for weeks now.
The next major move is to the downside (after the stragglers get to their targets).
As I've been saying, the wave up from Dec. 26 is clearly corrective and, as a result, must fully retrace to the downside. This is supported by the US Dollar Index, the major USD currency pairs, WTI Oil, along with DAX and other international exchanges.
Summary: My preference is for a dramatic drop in a C wave to a new low that should when all these asset classes I've identified have reached their targets. The culmination of this drop should mark the bottom of this large fourth wave in progress since January 29, 2018 - over a full year of Hell. It may be a dramatic drop that lasts multiple months, and will target the previous fourth wave area somewhere under 2100.
Once we've completed the fourth wave down, we'll have a long climb to a final new high in a fifth wave.
___________________________
Trader's Gold Subscribers get a comprehensive view of the market, including hourly (and even smaller timeframes, when appropriate) on a daily basis. They also receive updates through the comments area. I provide only the daily timeframe for the free blog, as a "snapshot" of where the market currently trades and the next move on a weekly basis.
______________________________________
Sign up for: The Chart Show
Next Date: 

Wednesday, April 17 at 5:00 pm EST (US market time)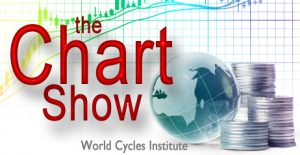 The Chart Show is a one hour webinar in which Peter Temple provides the Elliott Wave analysis in real time for the US market, gold, silver, oil, major USD currency pairs, and more. You won't find a more accurate or comprehensive market prediction anywhere for this price.
Get caught up on the market from an Elliott Wave perspective. There'll be a Q&A session during and at the end of the webinar and the possibility (depending on time) of taking requests.
"I think you are the only Elliot Wave technician on the planet who knows what he's doing."
m.d. (professional trader)
All registrants will receive the video playback of the webinar, so even if you miss it, you'll be sent the full video replay within about an hour of its conclusion.