The Cat Comes Back?
The bounce I've been expecting the latter part of this past week hasn't yet materialized, but it's sitting in the wings, and we may see a resolution as early as Sunday or Monday.
We've now completed our first zigzag (a 5-3-5 pattern) down after completing the C wave of a predicted flat — a running flat, to be precise.
Now, anyone who knows the slightest about Elliott Wave would have to concede that the entire structure to the downside is corrective, as I've been saying since February of this year, when the first corrective wave came down from January 29. Of course, this is only one of many reasons I've cited that a top is NOT in … sigh.  It's impossible by Elliott Wave standards that we've topped.
US Thanksgiving is traditionally a positive period for the US indices. This year proved to be somewhat of an exception. However, even though we experienced some weakness, this weekend we're hovering around double bottoms in NYSE, SP500, ES, and IWM (Russell 3000). The Russell 2000 is showing signs of wanting to bounce, as are the Nasdaq-related indices. We really haven't gone anywhere since Wednesday.
In the past couple of days, we experienced attempts at a bounce in the SP500 and ES, but they all failed. In fact, ES reached a slight new low, but the wave down over the past two days appears corrective. Now, that's weird, from a EW perspective. I'll be looking for a resolution almost right away — do we get my bounce, or will we see more weakness? We may have the answer as soon as Sunday or Monday.
I think the cat has at least one more life to go!
_______________________________
Paying a Visit to the US Dollar Currency Index (UUP)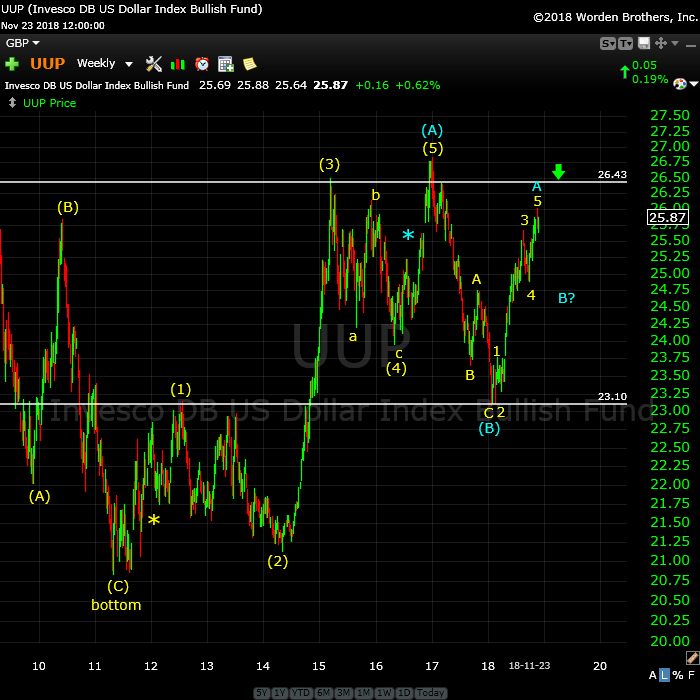 Above is the weekly chart of the UUP (US Dollar ETF). UUP is representative of the structure of DXY (the US index) and will provide an excellent predictor of the future of the US economy over the longer-term.
I spent a lot of time thinking about this currency over the weekend and thought it time to revisit it, based upon all the talk about alternatives to the 80 year old "reserve" currency. Certainly Russia, China, Iran, and Brazil are leading the charge to find another solution to the US "weaponizing" the US dollar for its own benefit (using the SWIFT system).
From a technical perspective, the long term wave structure (above) appears to be in a corrective pattern. You can see by the yellow numbers in brackets that there are five waves to the upside. However, these waves are not impulsive. (There's a big difference between an impulsive 5-waver and a run-of-the mill 5-waver).
The run-of-the-mill version lives in zigzags, which are corrective, of course. The blue A wave label in the chart is where we are now, at the top of what appears to be the most impulsive-looking wave in the entire chart. It's almost done, but may not be entirely complete to the upside.
In any case, if this wave is part of a zigzag, then I would expect a retrace of at least 38% of that wave and then another 5 waves to the upside. More than that, I cannot say.
What this is telling me is that we're going to see some deflationary pressures from this index, but the chart speaks more to the relationship that will exist between the other USD related currencies (which is pretty much all of them). Some of them, like AUD and CAD appear to be in impulsive patterns and will get dramatically weaker against the US dollar in the intermediate term.
What's interesting about the US Dollar is that, being in a corrective pattern (so is the Euro), the longer term prospects are not as certain. I don't expect the Euro to be around forever, and very possibly nonexistent within the next five years. I expect more European countries to revert back to their original currencies, which will give them back control of their economies (something Greece should have done a few years ago).
The freezing of credit is going to be the bigger issue, and that's REALLY deflationary! It will affect all the world's currencies, as long as they remain within the current fiat currency structure. Failing banks, as a result of dropping real estate prices, will be the lead determinant of how deep a deflationary environment we enter. Digital money is just simply going to start disappearing as mortgages (and eventually countries) default.
Start thinking about where your cash is. Remember it's a whole heck of a lot better if you can touch and feel it, rather than trust it digitally with a banker.
Deflation, as far as I'm concerned is a given. Where the US Dollar ultimately ends up will be a function of international politics (a move to using other currencies to purchase oil, for starters. Of course oil is going to tank — sorry for that pun! — and the petrodollar will have much less influence in future). Technically, the US Dollar will have more upside, but the chart is also telling me that won't be forever.
_________________________
Elliott Wave Basics
There are two types of Elliott wave patterns:
Motive (or impulsive waves) which are "trend" waves.
Corrective waves, which are "counter trend" waves.
Motive waves contain five distinct waves that move the market forward in a trend. Counter trend waves are in 3 waves and simply correct the trend.
All these patterns move at what we call multiple degrees of trend (in other words, the market is fractal, meaning there are smaller series of waves that move in the same patterns within the larger patterns). The keys to analyzing Elliott waves is being able to recognize the patterns and the "degree" of trend (or countertrend) that you're working within.
Impulsive (motive) waves move in very distinct and reliable patterns of five waves. Subwaves of motive waves measure out to specific lengths (fibonacci ratios) very accurately. Motive waves are the easiest waves to trade. You find them in a trending market.
Waves 1, 3, and 5 of a motive wave pattern each contain 5 impulsive subwaves. Waves 2 and 4 are countertrend waves and move in 3 waves.
Countertrend waves move in 3 waves and always retrace to their start eventually. Counrtertrend (corrective waves) are typically in patterns — for example, a triangle, flat, or zigzag. Waves within those patterns can be difficult to predict, but the patterns themselves are very predictable.
Fibonacci ratios run all through the market. They determine the lengths of waves and provide entry and exit points. These measurements are really accurate in trending markets, but more difficult to identify in corrective markets (we've been in a corrective market in all the asset classes I cover since 2009).
To use Elliott wave analysis accurately, you must be able to recognize the difference between a trend wave (motive) and a countertrend wave (corrective). There's very much more to proper Elliott wave analysis, but this gives you the basics.
____________________________
Registration for Commenting
Want to comment? You need to be logged in to comment. You can register here.
If you register, it protects your information. It also allows you to comment without filling in your information each time. Once you're registered, simply go to the home page and click on the login link top right in order to log yourself in. Usually, you'll be logged in for several days before needing to be logged in again.
______________________________
Problem receiving blog comment emails? Try whitelisting the address. More info.
______________________________
Have not had a losing week RW 2
The Market This Week
Here's the latest daily chart of ES (emini futures)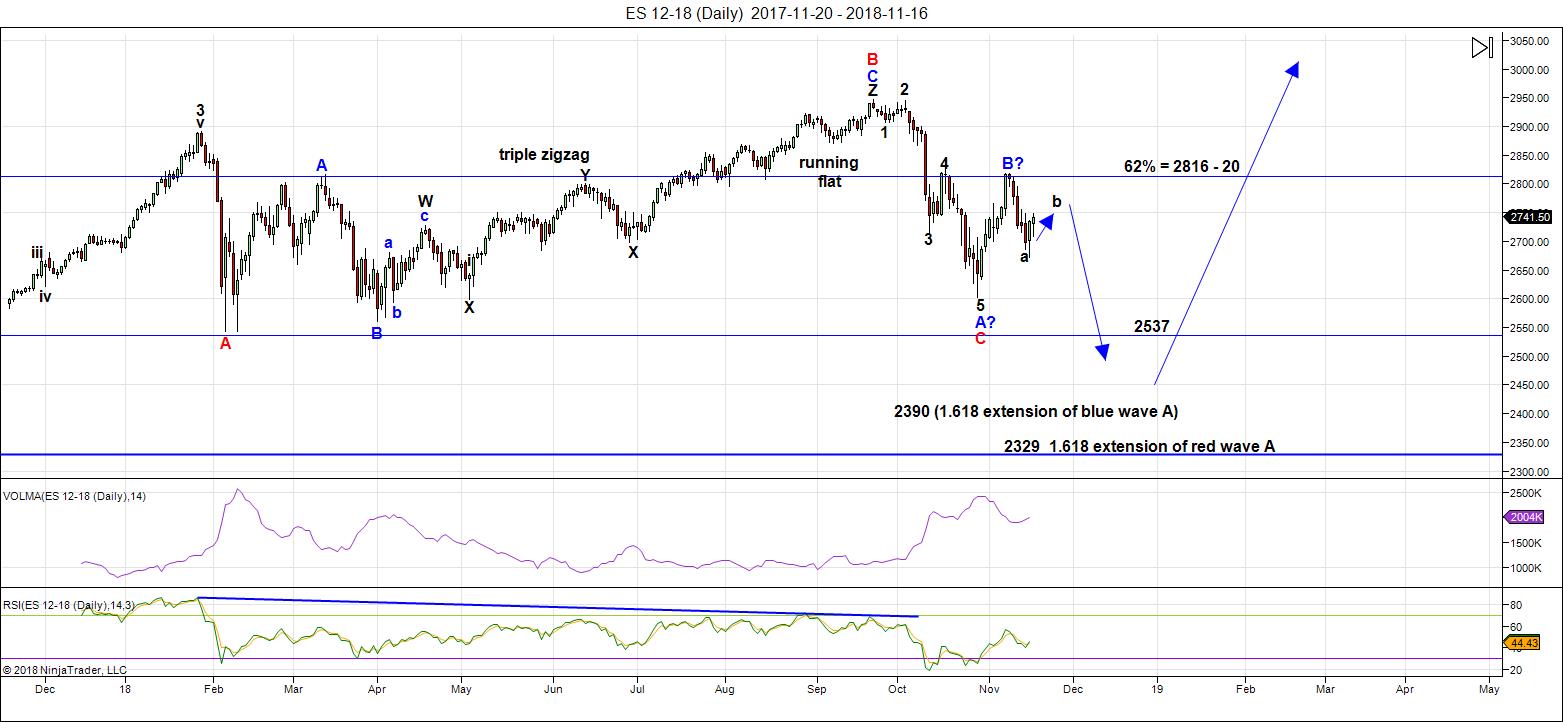 Above is the daily chart of ES (click to enlarge, as with any of my charts).
The big picture is that we've trace out an expected running flat as the major portion of this fourth wave we're in.
It was followed by a three wave retrace and then a zigzag. There's likely another zigzag to follow on the downside after a bounce. I'm expecting a bounce to correct the first zigzag down. EW guidelines suggest that bounce will reach at least the 38% retrace level of the entire zigzag, which would be around the 2705 area.
There are options for a downside target. The key levels are shown on the chart screen.
In the meantime, we know we're going to a new low below the February low (wave A of the fourth wave) at about 2535.
Combination waves can have up to three patterns within them. This pattern we're in is the second one (after the running flat). One  zigzag if often followed by another. But, we could also see either a triangle or ending diagonal form (although, I see these are much lower probability).
Summary: Expect a bounce after a zigzag pattern, to most likely be followed on the downside by another zigzag. It may not be the final EW pattern of this fourth wave combination pattern.
Once this c wave (down) has bottomed, expect a final fifth wave to a new high. That fifth wave up to a new high will be the end of the 500 year bull market.
___________________________
Trader's Gold Subscribers get a comprehensive view of the market, including hourly (and even smaller timeframes, when appropriate) on a daily basis. They also receive updates through the comments area. I provide only the daily timeframe for the free blog, as a "snapshot" of where the market currently trades and the next move on a weekly basis.
______________________________________
Sign up for: The Chart Show
Next Date: 

Wednesday, December 5 at 5:00 pm EST (US market time)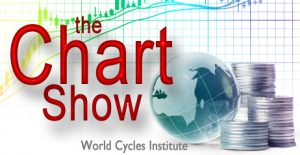 The Chart Show is a one hour webinar in which Peter Temple provides the Elliott Wave analysis in real time for the US market, gold, silver, oil, major USD currency pairs, and more. You won't find a more accurate or comprehensive market prediction anywhere for this price.
Get caught up on the market from an Elliott Wave perspective. You'll also get Andy Pancholi cycle turn dates for the SP500 for the balance of the current month. There'll be a Q&A session during and at the end of the webinar and the possibility (depending on time) of taking requests.
"I think you are the only Elliot Wave technician on the planet who knows what he's doing."
m.d. (professional trader)
All registrants will receive the video playback of the webinar, so even if you miss it, you'll be sent the full video replay within about an hour of its conclusion.