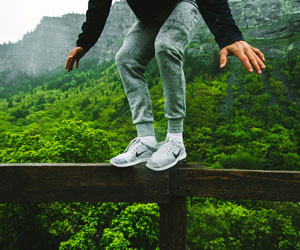 Edge of a Ledge
The large drop I've been expecting hasn't yet materialized, but it's sitting in the wings, and we may see a resolution as early as Monday.
This is a minor turn for the US indices — the more important turn will be at the bottom of this unfolding C wave — the bottom of the higher degree fourth wave that's been unfolding in the NYSE (and related sub-indices since January 29 of this year).
There are turns in other asset classes, as well.
Oil looks to have topped. AUDUSD has bottomed. The US Dollar is topping. And we're expecting a big turn down in the US indices on Monday. In short, all the major asset classes are turning, lining up for a parade — a parade to a final, all-time high — what I call the 500 year rally high — the top of which will usher is a five year bear market — a race to the bottom.
And that took me back to the 1960's once again …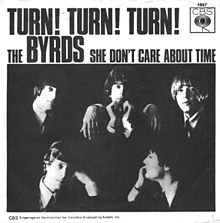 The Byrds were a major rock group that dominated the mid 60s (and here I go, dating myself once again!)
The song, "Turn! Turn! Turn!" was perhaps their most popular and certainly one of my favourites (that I remember playing on guitar). It was "written" by Pete Seeger (he wrote the title and one line) but 90% of it was lifted from Ecclesiastes.
The lyrics certainly fit the times, and resonated with anyone who knew about and believed in cycles. It came to mind as I was doing my analysis this weekend.
Here are the lyrics:
To every thing there is a season, and a time to every purpose under the heaven:
A time to be born, and a time to die; a time to plant, a time to reap that which is planted;
A time to kill, and a time to heal; a time to break down, and a time to build up;
A time to weep, and a time to laugh; a time to mourn, and a time to dance;
A time to cast away stones, and a time to gather stones together;
A time to embrace, and a time to refrain from embracing;
A time to get, and a time to lose; a time to keep, and a time to cast away;
A time to rend, and a time to sew; a time to keep silence, and a time to speak;
A time to love, and a time to hate; a time of war, and a time of peace.
What happens on Earth is highly predicable on a grand scale, but the specifics are always different.
"The thing that hath been, it is that which shall be; and that which is done is that which shall be done: and there is no new thing under the sun." — the Book of Ecclesiastes
Nature's cycles are the authors of the stories that determine shape our culture. But out culture changes over time to a persistent rhythm, just as it always has. These stories resonate because, although the details are different this time around, the themes are not. History does not actually repeat, it rhymes.
Elliott Wave tells this same cyclical story on another level. Elliott Wave Theory is price cycles; the patterns in the stock market repeat over and over again, each time with subtle changes.
Cycles are everywhere; they're predictable to varied levels of accuracy. Earth's cycles come from the movement of the planets in our solar system, for the most part, and from electromagnetic waves generated by the revolution of the Earth itself. In other words, we live, work, and play "at the pleasure of" Mother Nature
We're experiencing a major turn at the moment, one that I've been predicting for months, and will transpire of over a period of weeks. It isn't the final turn of the trend, but it's an important turn that will eventually align all asset classes in a final journey to the 500 year rally top, and trend change. They will all reach that point together.
The Next Big Move is Down: All Aboard!
We're in a very large fourth wave in the US Indices. Therefore we need to expect more than one pattern to complete it: a combination pattern.
We've completed a running flat in ES/SPX. We'll either see just one more pattern to the downside, or two (you can't have more than three all together). So, there are several options for the completion of this fourth wave. Let's look at what we have and how it relates to the overall fourth wave prognosis.
Combination Patterns

Above is a chart showing combinations and the pattern options that can be contained within them. The two combination patterns above are each called "triple threes." That's because each corrective pattern (a flat, zigzag, or triangle) are always in a 3 waves and there are three patterns in each of the waves above.
Combination waves also can contain only two patterns, called a "double three" (a flat and a zigzag, for example). If a triangle is one of the patterns in a combination wave, it's always the final pattern. There is also the possibility of an ending diagonal (which is also always the last pattern of a combination. So you can't have both a triangle and ending diagonal in the same combination pattern).
Of the most common corrective patterns, a flat, is 3 waves (3-3-5), a zigzag is 3 waves (5-3-5), and a triangle (3-3-3-3-3) is counted in three waves, even though there are 5 waves (each wave is three subwaves). I know, all very complicated. But as you study Elliott waves and see these patterns over and over again, they begin to make more sense the more you see them play out.
The waves in the diagram above are horizontal in direction, but in real life, they would either slope up or down, depending in whether we're in a bull or bear market.
What's Next?
We've completed one pattern, an running flat (there are three types of flats). Flats are are 3-3-5 combination. The next pattern could be a zigzag, another flat, or a triangle. Because the C wave of the running flat was in five waves, it's less probable that we'll have another flat as the second pattern. However, because the countertrend move tagged the previous high in ES (at about 2820) and the fifth wave of the flat (below that level appears to be in three wave, it's possible. However, the more probable pattern next is a zigzag.
Because of the high volatility we're experiencing, I would put a triangle in the low probability category. If we end up tracing out a third pattern, all the options are again on the table.
So, I'm expecting a zigzag as the final C wave, or at least the next pattern to the downside. I'd also expect a sharp and deep fourth wave overall, because of the generally sideways motion of the large second wave in October 2016. That's the "rule of alternation" that states that if the second wave of the preceding pattern is a shallow, expect the fourth wave to be deep, and vice versa.
And there you have it. That's the background that's gone into figuring out where we're going next.
_______________________________
Elliott Wave Basics
There are two types of Elliott wave patterns:
Motive (or impulsive waves) which are "trend" waves.
Corrective waves, which are "counter trend" waves.
Motive waves contain five distinct waves that move the market forward in a trend. Counter trend waves are in 3 waves and simply correct the trend.
All these patterns move at what we call multiple degrees of trend (in other words, the market is fractal, meaning there are smaller series of waves that move in the same patterns within the larger patterns). The keys to analyzing Elliott waves is being able to recognize the patterns and the "degree" of trend (or countertrend) that you're working within.
Impulsive (motive) waves move in very distinct and reliable patterns of five waves. Subwaves of motive waves measure out to specific lengths (fibonacci ratios) very accurately. Motive waves are the easiest waves to trade. You find them in a trending market.
Waves 1, 3, and 5 of a motive wave pattern each contain 5 impulsive subwaves. Waves 2 and 4 are countertrend waves and move in 3 waves.
Countertrend waves move in 3 waves and always retrace to their start eventually. Counrtertrend (corrective waves) are typically in patterns — for example, a triangle, flat, or zigzag. Waves within those patterns can be difficult to predict, but the patterns themselves are very predictable.
Fibonacci ratios run all through the market. They determine the lengths of waves and provide entry and exit points. These measurements are really accurate in trending markets, but more difficult to identify in corrective markets (we've been in a corrective market in all the asset classes I cover since 2009).
To use Elliott wave analysis accurately, you must be able to recognize the difference between a trend wave (motive) and a countertrend wave (corrective). There's very much more to proper Elliott wave analysis, but this gives you the basics.
____________________________
Registration for Commenting
Want to comment? You need to be logged in to comment. You can register here.
If you register, it protects your information. It also allows you to comment without filling in your information each time. Once you're registered, simply go to the home page and click on the login link top right in order to log yourself in. Usually, you'll be logged in for several days before needing to be logged in again.
______________________________
Problem receiving blog comment emails? Try whitelisting the address. More info.
______________________________
Have not had a losing week RW 2
The Market This Week
Here's the latest daily chart of ES (emini futures)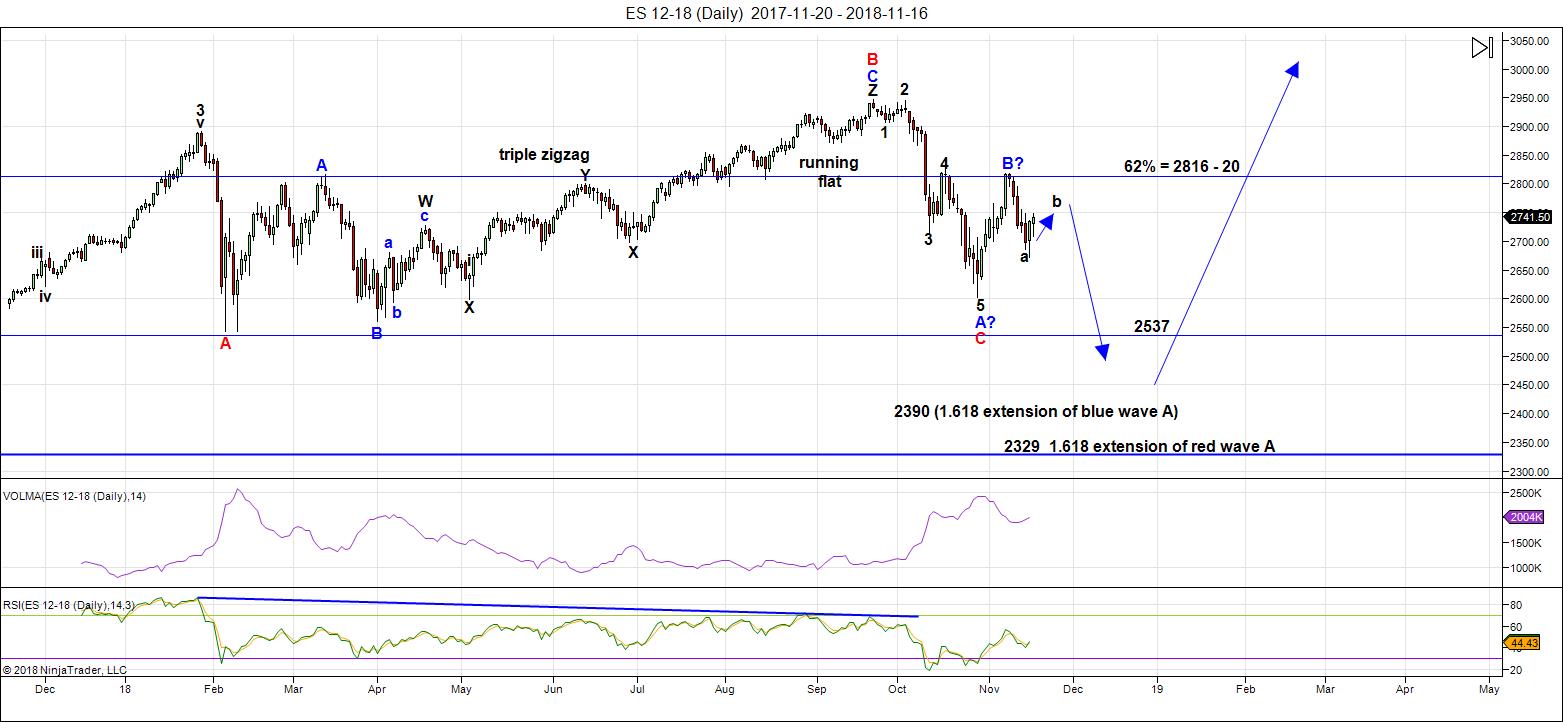 Above is the daily chart of ES (click to enlarge, as with any of my charts).
As the blog title suggests, we're on the edge of a ledge, waiting to roll over ... probably Monday.
During last week's Chart Show (every Wednesday at 5pm EST), I called for a turn up into a B wave after 5 waves down. It's only taken us a couple of days to get to the area of the target. ES appears to be tracing out an ending diagonal and I would expect a turn on Monday.
Based upon the wave down that's now in place (in 5 waves), the pattern unfolding is either another flat, or a zigzag. It's too early to tell which it is, but it doesn't matter: The direction is down, way down.
It's also too early to determine a downside target. This week will be a quiet one. The US market is closed on Thursday, Nov. 22 and closes at 1pm EST on Friday. So, the Chart Show is cancelled for this week.
In the meantime, we know we're going to a new low below the February low (wave A of the fourth wave) at about 2535.
Combination waves can have up to three patterns within them. This pattern we're in is the second one (after the running flat). If we get another pattern after this one, it could be another zigzag, a triangle, or an ending diagonal.
Summary: Expect a very large drop to a new low. The pattern is likely to be a zigzag, but could also be another flat. It may not be the final EW pattern of this fourth wave combination pattern.
Once this c wave (down) has bottomed, expect a final fifth wave to a new high. That fifth wave up to a new high will be the end of the 500 year bull market.
___________________________
Trader's Gold Subscribers get a comprehensive view of the market, including hourly (and even smaller timeframes, when appropriate) on a daily basis. They also receive updates through the comments area. I provide only the daily timeframe for the free blog, as a "snapshot" of where the market currently trades and the next move on a weekly basis.
______________________________________
Sign up for: The Chart Show
Next Date: 

Wednesday, November 28 at 5:00 pm EST (US market time)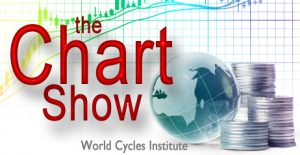 The Chart Show is a one hour webinar in which Peter Temple provides the Elliott Wave analysis in real time for the US market, gold, silver, oil, major USD currency pairs, and more. You won't find a more accurate or comprehensive market prediction anywhere for this price.
Get caught up on the market from an Elliott Wave perspective. You'll also get Andy Pancholi cycle turn dates for the SP500 for the balance of the current month. There'll be a Q&A session during and at the end of the webinar and the possibility (depending on time) of taking requests.
"I think you are the only Elliot Wave technician on the planet who knows what he's doing."
m.d. (professional trader)
All registrants will receive the video playback of the webinar, so even if you miss it, you'll be sent the full video replay within about an hour of its conclusion.