All Aboard!
Take the last train to Clarksville
And I'll meet you at the station
You can be here by four thirty
Cause I made your reservation
Don't be slow
Oh, no, no, no …
The Monkees were a phenomenon in the late 1960s with their sanitized pop music. "Last Train to Clarksville" was one of their biggest hits.
That period (the 1960s) was the top of an Elliott Wave third wave, just before the recession of the 1970s. If you want to know how the economy's doing, just pay attention to the music. The tops of third waves come with elevated spirits — feel good music. They're "golden ages." Everybody's upbeat and it's reflected in the music.
in the late 60s, as the third wave topped and we headed into the recession, the Beatles broke up, we saw Woodstock take place ('69), and the music turned towards hard rock, heavy metal, punk rock, and slower ballads. At the bottom of the fourth wave, in 1974, we saw the rise of disco.
The last thirty years (since around 1980) have featured rap music (during the fifth and final wave, beginning in the late 70s), which is generally an angry reaction to what's going on in society. When we reach the top and head down into a major depression, music will become simpler, there'll be more ballads and an overall melancholy undertone to much of it.
Robert Prechter, in his books on Socionomics, does an excellent job or following the changes is popular music with the ups and downs of the stock market. I'll be posting a larger blog post on this subject over the next couple of weeks.
But the real reason I latched onto the Monkees was because we have a train pulling into the station. After a little bit more upside, we're going to see a large drop to finish of the balance of the fourth wave. Sentiment will turn decidedly bearish and negative and, at the bottom, fear will enter the equation.
That will lead to a final wave up to a new high.
Where's the Fear?
Keep in mind, that we haven't seen any real fear, and I believe that will be the real mark of a complete fourth wave. So all of this supports a lot more downside after the current three wave rally, which I predicted a couple of weeks ago.
This is a combination pattern unfolding, as is typical of a very large, high degree fourth wave. We've completed a running flat. The next pattern can either be a zigzag, a triangle, or an ending diagonal. I would expect it will be a zigzag. There could be another pattern (a third pattern) after the zigzag (you cannot have more than three patterns in a combination pattern).
We need this fourth wave to stir up the underlying fear that's out there and have it manifested in articles and headlines in the mainstream press. Only then will we see a fifth wave to a new high. So this factor also tells me we have more work to do on the downside before we can contemplate a final rise to end this 500 year rally.
_______________________________
Elliott Wave Basics
There are two types of Elliott wave patterns:
Motive (or impulsive waves) which are "trend" waves.
Corrective waves, which are "counter trend" waves.
Motive waves contain five distinct waves that move the market forward in a trend. Counter trend waves are in 3 waves and simply correct the trend.
All these patterns move at what we call multiple degrees of trend (in other words, the market is fractal, meaning there are smaller series of waves that move in the same patterns within the larger patterns). The keys to analyzing Elliott waves is being able to recognize the patterns and the "degree" of trend (or countertrend) that you're working within.
Impulsive (motive) waves move in very distinct and reliable patterns of five waves. Subwaves of motive waves measure out to specific lengths (fibonacci ratios) very accurately. Motive waves are the easiest waves to trade. You find them in a trending market.
Waves 1, 3, and 5 of a motive wave pattern each contain 5 impulsive subwaves. Waves 2 and 4 are countertrend waves and move in 3 waves.
Countertrend waves move in 3 waves and always retrace to their start eventually. Counrtertrend (corrective waves) are typically in patterns — for example, a triangle, flat, or zigzag. Waves within those patterns can be difficult to predict, but the patterns themselves are very predictable.
Fibonacci ratios run all through the market. They determine the lengths of waves and provide entry and exit points. These measurements are really accurate in trending markets, but more difficult to identify in corrective markets (we've been in a corrective market in all the asset classes I cover since 2009).
To use Elliott wave analysis accurately, you must be able to recognize the difference between a trend wave (motive) and a countertrend wave (corrective). There's very much more to proper Elliott wave analysis, but this gives you the basics.
____________________________
Registration for Commenting
Want to comment? You need to be logged in to comment. You can register here.
If you register, it protects your information. It also allows you to comment without filling in your information each time. Once you're registered, simply go to the home page and click on the login link top right in order to log yourself in. Usually, you'll be logged in for several days before needing to be logged in again.
______________________________
Problem receiving blog comment emails? Try whitelisting the address. More info.
______________________________
Tops in your field DZ 2
Tops in your field …

You are tops in your field.  Tried to follow Elliot Wave international for years.  They were always behind the market.  After discovering you, I perceive that you are an expert in reading the waves, which puts you way ahead of the rest of your peers. And you can read the Waves like you are reading tomorrow's financial section.  I pray you stay healthy.  —DZ
The Market This Week
Here's the latest daily chart of ES (emini futures)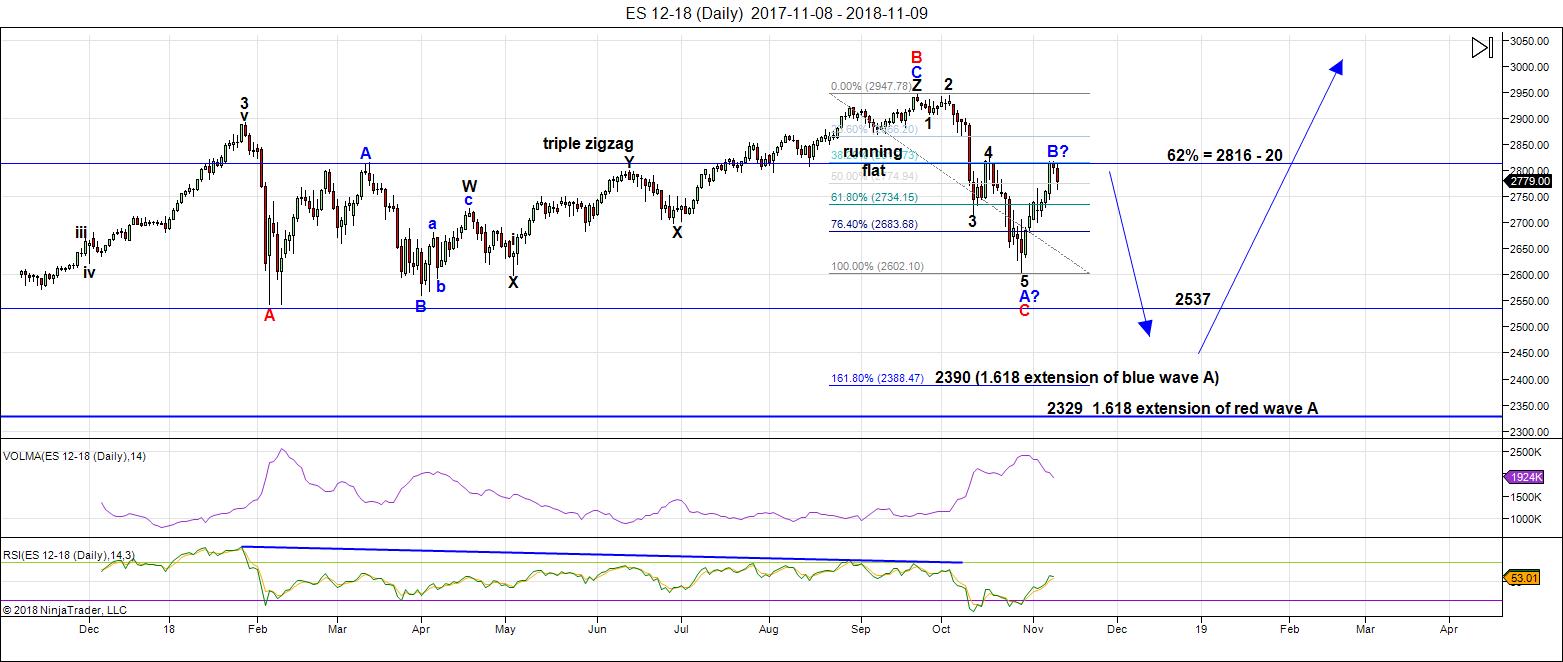 Above is the daily chart of ES (click to enlarge, as with any of my charts).
Last week, we reached the 62% retracement level of the entire wave down from the all-time-high, as predicted. The past couple of days produced a very deep fourth wave of the second five-waver of a zigzag.
Friday, near the end of the day, we turned back up again dramatically, after arguably tracing out an ending diagonal in ES.
We should see a top over the next couple of days, resulting in a large wave down to a new fourth wave low.
Fourth waves of this size are usually combination waves, so I've been expecting another pattern to put an end to this fourth wave. That big drop will probably be in a zigzag format and will end the C leg of this large fourth wave we've been in since January 29 2018.
The next pattern to the downside could also be a triangle or an ending diagonal. However, I deem this patterns of lower probability. There's always the possibility that we could see two patterns emerge to finish off this C wave (you're allowed a maximum of three by EW historical standards).
Summary: Expect a very large drop to a new low after a new high above this week's intermediate high. The pattern is likely to be a zigzag, but could also be a triangle or ending diagonal.
Once the c wave (down) has bottomed, expect a final fifth wave to a new high. That fifth wave up to a new high will be the end of the 500 year bull market.
___________________________
Trader's Gold Subscribers get a comprehensive view of the market, including hourly (and even smaller timeframes, when appropriate) on a daily basis. They also receive updates through the comments area. I provide only the daily timeframe for the free blog, as a "snapshot" of where the market currently trades and the next move on a weekly basis.
______________________________________
Sign up for: The Chart Show
Next Date: 

Wednesday, November 21 at 5:00 pm EST (US market time)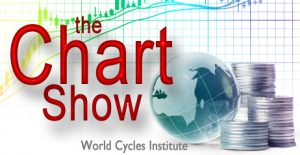 The Chart Show is a one hour webinar in which Peter Temple provides the Elliott Wave analysis in real time for the US market, gold, silver, oil, major USD currency pairs, and more. You won't find a more accurate or comprehensive market prediction anywhere for this price.
Get caught up on the market from an Elliott Wave perspective. You'll also get Andy Pancholi cycle turn dates for the SP500 for the balance of the current month. There'll be a Q&A session during and at the end of the webinar and the possibility (depending on time) of taking requests.
"I think you are the only Elliot Wave technician on the planet who knows what he's doing."
m.d. (professional trader)
All registrants will receive the video playback of the webinar, so even if you miss it, you'll be sent the full video replay within about an hour of its conclusion.