Fourth Waves and Combinations
I'm not a big fan of fourth waves. In fact, I intensely dislike them. There are a number of reasons for this:
Relative to the trajectory of other waves, fourth waves go sideways for an extended period of time
Because they're the last wave before a trend reversal, there is reduced momentum, in fact, there tends to be a

tug-o'-war

between bulls and bears, making fourth waves difficult to trade

Large

fourth waves unfold as combinations (a series of up to three corrective patterns), which make them extremely difficult to predict
Fake-Outs
On top of that, the low volume in the overall market is creating "fake-outs" — waves that trace out structures that are ambiguous — the structure is such that they could go either way. It doesn't happen a lot, which makes it even more unsettling when it does.
A case in point was the potential for a large wave down in ES/SPX that I identified in the Chart Show this past Wednesday. The wave down very late in the day Wednesday (on a one minute chart came down in what looked like a 5 wave first wave: After all, the subwaves measured perfectly.
Well, if you look very carefully at the wave, it did not actually do a double top. It missed my one tick on a one minute chart. And THAT little fake-out make it a wave down in three waves, which I didn't catch until I looked at the same wave in NQ, which was very obviously down in 3 waves. I ended up issuing a RED FLAG warning for my Trader's Gold group later than evening, but obviously wasn't able to warn all the subscribers to the Chart Show, so I apologize for that situation.
The take-aways:
It's a very difficult market right now (and dangerous) and you have to exercise a high degree of caution
Wait for the turns
Don't look at just one index. Make sure you looks at sister indexes (if they exist) to confirm or not your current projection. I always check NQ when making a final call or setting up a trade in ES.
Where are We Going? – A look at the downside in the SP500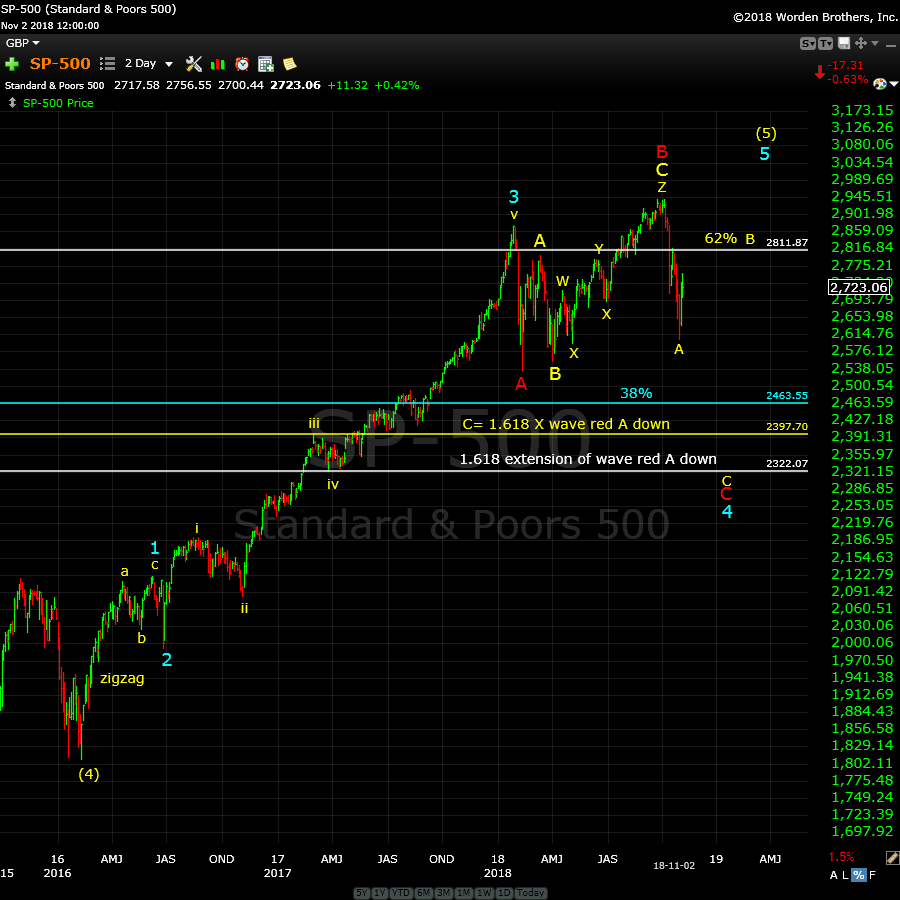 Above is the two day chart of the SP500 showing the entire fifth wave up to where we are now. Let's look at possible targets for the bottom of this fourth wave.
Fourth waves must retrace at least to the 38% level (there could be an exception, as in the case of a running flat, but for the most part, that's a rule — it actually falls under "guidance" because there are rare exceptions). That level is identified by the blue line on the above chart at ~2463.
Fibonacci measurements are usually highly accurate in situations like this and there are two obvious ones that might serve as a bottom. The 1.618 extension of the red A wave down targets the yellow line at ~2397.
The most likely downside target, imho, is the extension of the yellow A wave down (the C wave of the running flat we've just completed). That level is at the white horizontal line, at ~2322. Why this seems most likely to me is that it's also exactly at the previous fourth wave level. It would also get our little amygdala glands all fired up!
So, I'm expecting a zigzag as the final C wave, or at least the next pattern to the downside. You're allowed up to three corrective pattern as part of a combination pattern (prevalent in large fourth waves) and so there could even be one more pattern to the downside after the zigzag I'm expecting.
I'd also expect a sharp and deep fourth wave overall, because of the generally sideways motion of the large second wave in October 2016. That's the Elliott Wave "rule of alternation" that states that if the second wave of the preceding pattern is a shallow, expect the fourth wave to be deep, and vice versa.
Where's the Fear?
Keep in mind, that we haven't seen any real fear, and I believe that will be the real mark of a complete fourth wave. So all of this supports a lot more downside after the current three wave rally, which I predicted last week.
This is a combination pattern unfolding, as is typical of a very large, high degree fourth wave. We've completed an expanded flat. The next pattern can either be a zigzag, a triangle, or an ending diagonal. I would expect it will be a zigzag. There could be another pattern (a third pattern) after the zigzag (you cannot have more than three patterns in a combination pattern).
We need this fourth wave to stir up the underlying fear that's out there and have it manifested in articles and headlines in the mainstream press. Only then will we see a fifth wave to a new high. So this factor also tells me we have more work to do on the downside before we can contemplate a final rise to end this 500 year rally.
_______________________________
Elliott Wave Basics
There are two types of Elliott wave patterns:
Motive (or impulsive waves) which are "trend" waves.
Corrective waves, which are "counter trend" waves.
Motive waves contain five distinct waves that move the market forward in a trend. Counter trend waves are in 3 waves and simply correct the trend.
All these patterns move at what we call multiple degrees of trend (in other words, the market is fractal, meaning there are smaller series of waves that move in the same patterns within the larger patterns). The keys to analyzing Elliott waves is being able to recognize the patterns and the "degree" of trend (or countertrend) that you're working within.
Impulsive (motive) waves move in very distinct and reliable patterns of five waves. Subwaves of motive waves measure out to specific lengths (fibonacci ratios) very accurately. Motive waves are the easiest waves to trade. You find them in a trending market.
Waves 1, 3, and 5 of a motive wave pattern each contain 5 impulsive subwaves. Waves 2 and 4 are countertrend waves and move in 3 waves.
Countertrend waves move in 3 waves and always retrace to their start eventually. Counrtertrend (corrective waves) are typically in patterns — for example, a triangle, flat, or zigzag. Waves within those patterns can be difficult to predict, but the patterns themselves are very predictable.
Fibonacci ratios run all through the market. They determine the lengths of waves and provide entry and exit points. These measurements are really accurate in trending markets, but more difficult to identify in corrective markets (we've been in a corrective market in all the asset classes I cover since 2009).
To use Elliott wave analysis accurately, you must be able to recognize the difference between a trend wave (motive) and a countertrend wave (corrective). There's very much more to proper Elliott wave analysis, but this gives you the basics.
____________________________
Registration for Commenting
Want to comment? You need to be logged in to comment. You can register here.
If you register, it protects your information. It also allows you to comment without filling in your information each time. Once you're registered, simply go to the home page and click on the login link top right in order to log yourself in. Usually, you'll be logged in for several days before needing to be logged in again.
______________________________
Problem receiving blog comment emails? Try whitelisting the address. More info.
______________________________
Get an upper hand … JC 2
Get an upper hand in trading …

Seeing all the different currency pairs and the wave structures and hearing you explain why this has to do that on a nightly bases gives one a upper hand when trading. Elliott Wave applies to all stock and indices and can be applied to any candlestick chart.

If someone ask what you want for Christmas – Tell them a membership to Peter's "Traders Gold!"—JC
The Market This Week
Here's the latest daily chart of ES (emini futures)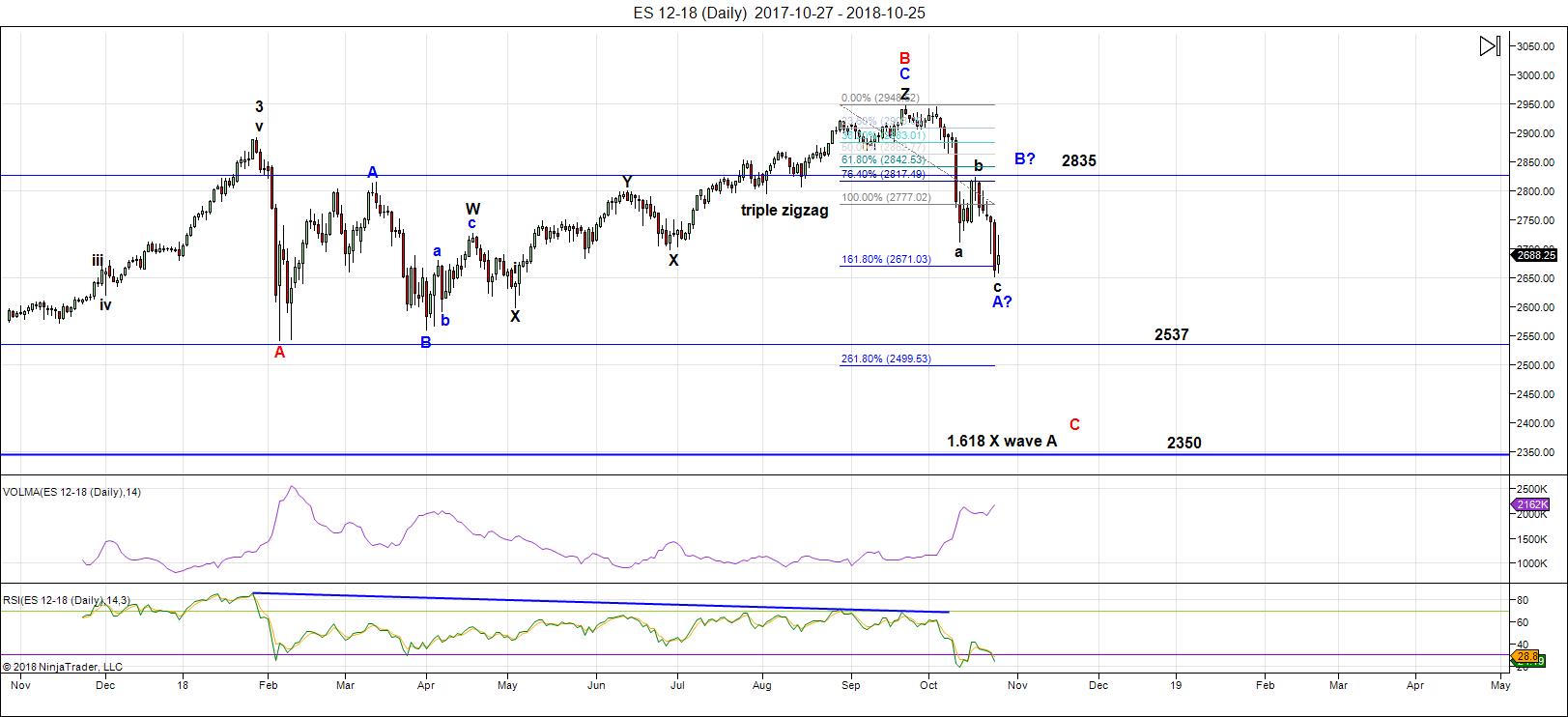 Above is the daily chart of ES (click to enlarge, as with any of my charts).
We have a relief rally in progress through at least the first part of next week. We have the US election on Tuesday, and there's also a Fed at meeting on Wednesday/Thursday but it doesn't look like there'll be a typical 2pm announcement.
I'm calling the pattern down from 2940 the C wave of an running flat, the expected alternative to an expanded flat (since the C wave did not extend to a new low below the A wave), although the wave down isn't the nicest example of a five-waver. It has reached the minimum length for a flat C wave (100% of the length of the A wave down from Jan. 29).
Fourth waves of this size usually trace out combination patterns, so I've been expecting another pattern (after a rally) to put an end to this fourth wave.
On Friday, we finished the A wave (in 5 waves) of a corrective rally and then dropped into a B wave, which likely needs a double bottom before turning back up (it's not currently an obvious three wave corrective pattern).
I'm expecting another 5 wave move up to at least the 62% retrace level, and then a turn down and a drop to a new low. That big drop will probably be in a zigzag format and will end the C leg of this large fourth wave we've been in since January 29 2018.
Summary: Expect a continuation of the current rally to at least the 62% retrace level and then another very large drop to a new low. The pattern is likely to be a zigzag, but could also be a triangle or ending diagonal. There could be one more pattern to follow that one.
Once the C wave (down) has bottomed, expect a final fifth wave to a new high. That fifth wave up to a new high will be the end of the 500 year bull market.
___________________________
Trader's Gold Subscribers get a comprehensive view of the market, including hourly (and even smaller timeframes, when appropriate) on a daily basis. They also receive updates through the comments area. I provide only the daily timeframe for the free blog, as a "snapshot" of where the market currently trades and the next move on a weekly basis.
______________________________________
Sign up for: The Chart Show
Next Date: 

Wednesday, November 14 at 5:00 pm EST (US market time)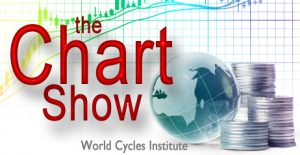 The Chart Show is a one hour webinar in which Peter Temple provides the Elliott Wave analysis in real time for the US market, gold, silver, oil, major USD currency pairs, and more. You won't find a more accurate or comprehensive market prediction anywhere for this price.
Get caught up on the market from an Elliott Wave perspective. You'll also get Andy Pancholi cycle turn dates for the SP500 for the balance of the current month. There'll be a Q&A session during and at the end of the webinar and the possibility (depending on time) of taking requests.
"I think you are the only Elliot Wave technician on the planet who knows what he's doing."
m.d. (professional trader)
All registrants will receive the video playback of the webinar, so even if you miss it, you'll be sent the full video replay within about an hour of its conclusion.