Update: End of day Friday, Sept 4, 2015
So many updates, but this has been such a fluid day! Triangles have been on again, off again. Well, they,re on again!
Above is the SP500 after finishing today's wave D down and already starting the bounce into wave E (over the weekend). The path is very clear: We're going up now, one last time. This is a large 4th wave triangle we've been dealing with. Once it's complete, wave 5 down begins. It will likely start down on Tuesday. Monday is a holiday (in the North American markets, at least). I will do a complete new post on the weekend.
Update 2:30AM EST, Friday, Sept 4, 2015
I'm seeing a fourth wave triangle shaping up, with the D wave ending now in the futures. The labor report at 8:30AM EST may send us back up in the E wave, before we turn down for the remainder of the fifth wave (waves, 3,4,5). That's just a guess. That's the story for the futures (chart below). Fourth wave triangles signal the ends of waves are coming soon, so this won't be as big a drop as it otherwise would have been but we will still need to go to a new low. We may not trace out a full triangle in the US indices (I've provided two scenarios below).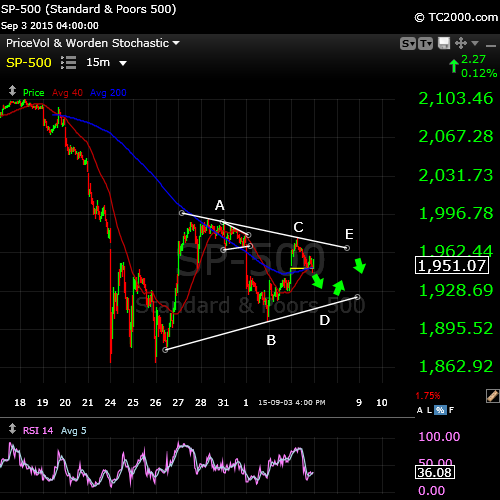 That's what I'm seeing more or less in all the main US indices. The SP (above) would also work as a second wave heading down into a 3rd of the 5th. It doesn't necessarily need to complete the triangle (I show the second scenario in the chart below).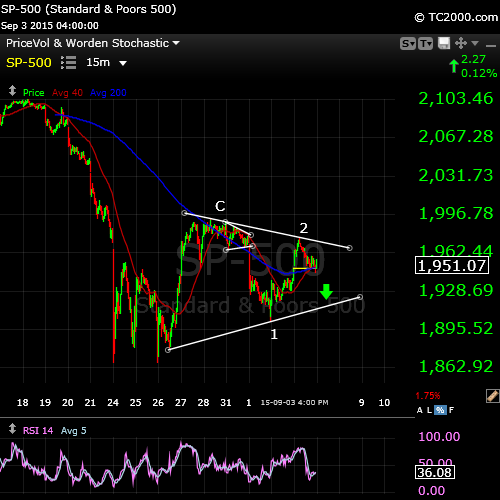 Below is what I'm seeing in the futures overnight.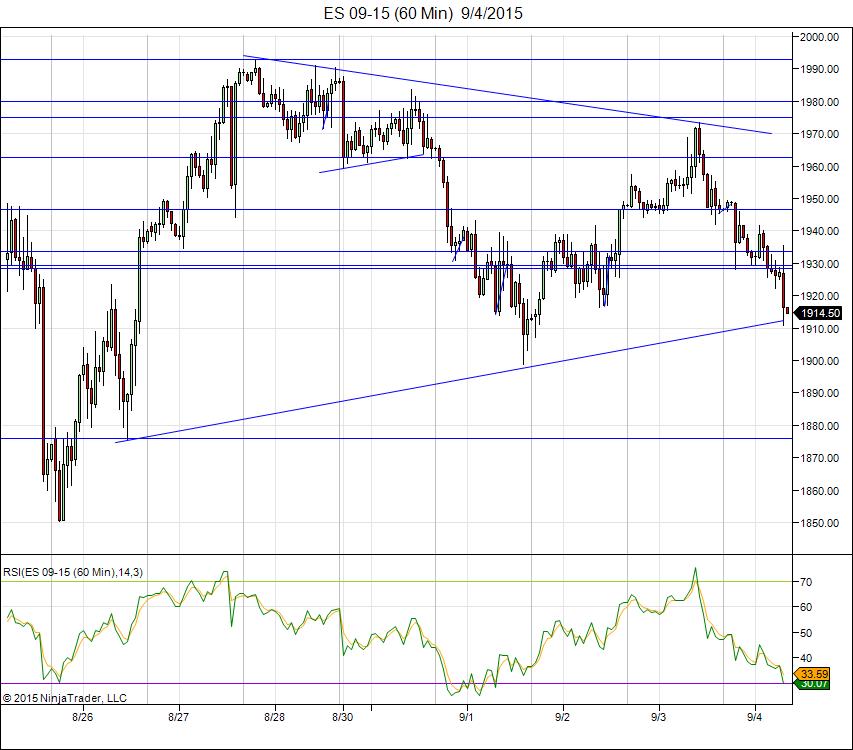 Here (above) is the ES (SP500 emini futures) at almost 8:30 AM EST. We're at the bottom of the D wave. I would expect it to trace out the full triangle (the remaining E wave) and then turn down to complete the rest of the 5th wave.
Timing: We have until about the 9th (next Wednesday) to complete the fifth wave down. Then we turn positive for a good month. This seems to work perfectly to complete the 5th wave down. We'll see. I'll post again on the weekend. Here's the pertinent timing chart below.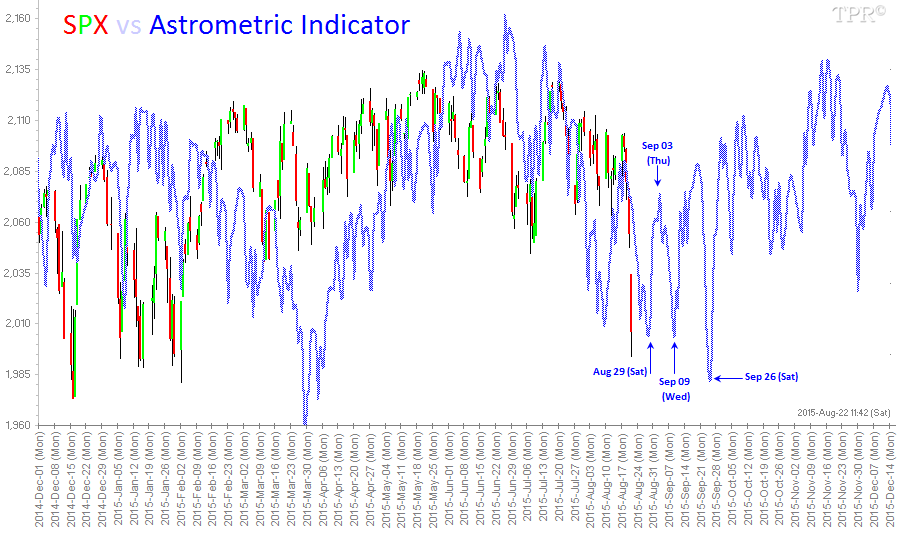 Above is today's Astronomic Indictor chart, which shows going from positive yesterday to negative through Sept. 9. This is from Time-Price Research. I suggest you check out their most excellent website.
Update Noon EST Thursday, Sept. 3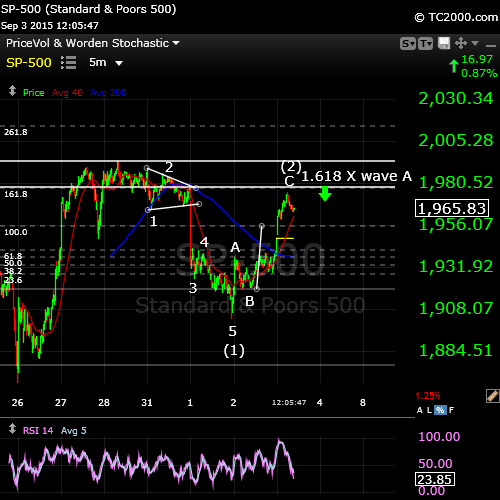 Welcome to a very tough market. Here's the count to about now on the SP500. You can see the ABC correction almost at an end. I measure 1978 as wave C at just about 1.618 X wave A, which is a typical length for wave C and also aligns with a possible second wave point on the previous wave (1) down. By this count, we should turn down at 1978 approx.
Previous Post:
The little drop of rain we have overnight and today could turn into a monsoon very soon! Here is a Wednesday night update to last night's post.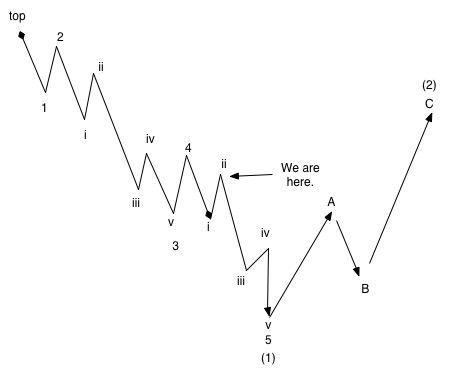 Our Current Position
Last night I explained that we would either retrace 38% of wave i (my preferred count) or we would rise a bit further to the 62% level (my alternate scenario). Now we know. It took all day to find out, though. We have finished wave i down and retracing wave ii to 62%. It could rise a bit higher … 62% is the minimum. However it can't rise into the area of the fist wave (about 1965).
After we reach that point, the next move is down, but down in wave iii to an even lower level than last night's preferred scenario.  It will drop at least 1.6 times wave i. I have a target for the SP500 of 1815. It could drop even further.
The market was so weak on Tuesday that I'm surprised it had enough strength to reach the 62% level, but this market has been extremely devious even though its kept to the wave count.
There's one chart tonight. It's simply an updated chart from last night, showing the today's update of the market and the revised target.
All the indices look the same.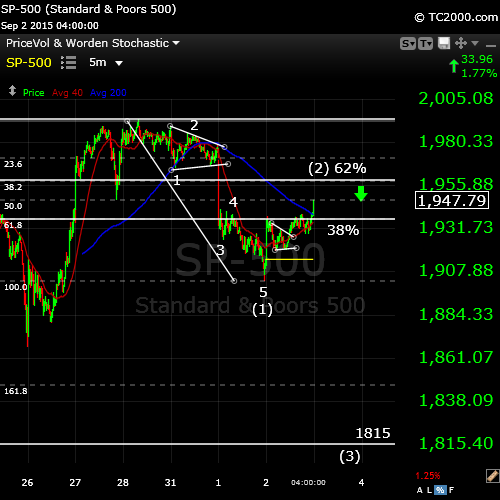 The SP500 has finished 5 waves down to complete wave (1). We're now retracing 62% of the drop from about 1993. This will be wave (2) in the chart above.
Once this wave up is finished as per the diagram above (I expect tomorrow morning), we'll start down in wave (3). So, still lots of downside to go and it should be dramatic. Wave (4), which will retrace just 38%, will follow wave (3).