I'm not a big fan of ending diagonals. I've said it before and I'll say it again: They're my least favorite pattern.
There are virtually no rules. The waves within them are in 3's and so subwaves can end without warning, even though they appear to be in the middle of a smaller pattern. The subwaves can also take a variety of paths, so you can never be quite sure what to expect.
This week, I was focussed on a small ending diagonal that has appeared to have failed. That's not a truncation, because the larger wave is the third wave of an ending diagonal itself, so it's got to be a wave in 3 waves, and can end any way it wants to.
Over the past week or so, I've rethought the overall larger pattern and I present it to you here. You'll find this same pattern on all the major US indices.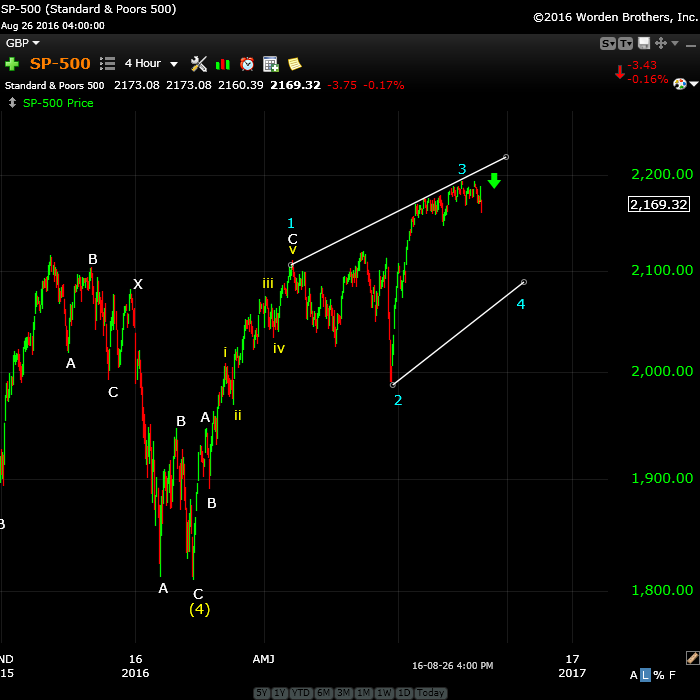 Above is a four hour chart of the SP500. You can clearly see the shape of the wave up from Feb. 11 as an abc corrective wave—a wave 3. Waves in 3 can only be triangles and in the fifth wave position, there is only one triangle available in the Elliott Wave library—an ending diagonal. I've maintained this was the pattern from about May of this year. Here we're seeing it come to fruition. Because even though you may suspect an ending diagonal, as Robert Prechter says, identifying it may not happen until the final waves are taking shape.
We look like we're about to start on the fourth wave, which may end up giving us about 100 points of down. The fourth wave has to overlap the first wave, so it has to drop below about 2110. The downside is a lot tougher to gauge. The lower trendline needs to slope in such as way that it converges with the upper trendline, so it can only drop so far, which presents a time element and the lower trendline is sloping upwards.
In any event, this pattern, with the eventual blow-off wave to the top, looks like it's destined to top altogether within the next couple of months. It will be a dramatic reversal. Historically, October tends to be the month that major market tops take place.
That gives Wall Street enough time to get fully back in trading form and full invested.
_______________________
How Climate Parallels the Market and Forecasts Revolution and Unrest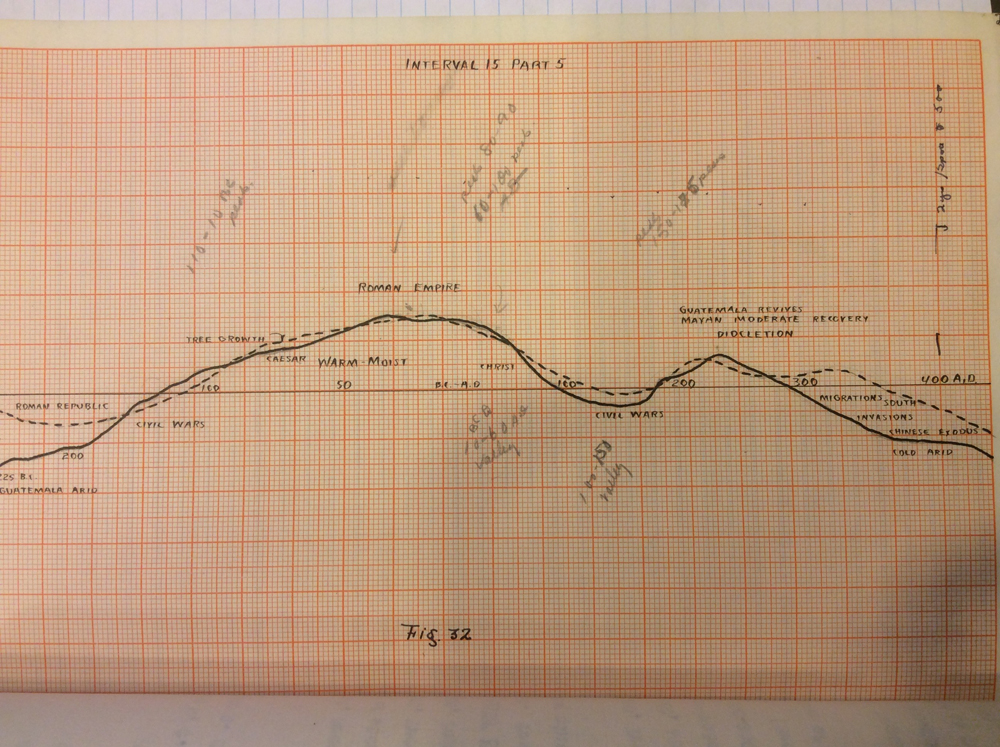 Last week I wrote about Dr. Raymond Wheeler and his ability to predict climate into the future and showed a chart of the current time period. Above is another chart of Dr. Wheeler's that I discovered in his original writings at Baruch College in New York a couple of months ago. This one shows the temperature fluctuations at the height of the Roman Empire and the coming of Christ. The same pattern is playing out today; It's pattern that returns every 500 years as the temperature on Earth reaches a cycle high and then turns down again. There is always a market crash that accompanies this cycle top.
At the time of Christ, the Roman Empire had reached its peak and was beginning a decline. Empires decline when the temperature turns colder. It begins with a warm, moist period (often with floods) and then gradually turns colder and drier. Caesar ruled at the heigh of the Roman Empire, of course, and was assassinated at the end of his reign (thanks Brutus!). After the peak in temperature, the empire began to fall apart through civil wars, and unrest.
The emperor Augustus (ruled 27 BC – AD 14) was a dictator and presided over major wars on the Empire's borders. Persecution of Christians went on for some time as the empire began to fall apart. Next up were Tiberius and then Caligula. Caligula was assassinated, as were so many other rulers of the following period of decline. (Note: there were two calendars in operation at this time, so some dates differ by a year or two).
Temperature had already turned colder. Caligula reigned from AD 12 – 41 and is remembered for his cruelty, sadism, extravagance, and sexual perversity, presenting him as an insane tyrant (a theme of colder climates). Claudius (41 – 54 AD) followed as the next emporer, but although a kinder autocrat, had great difficulties ruling and was eventually murdered by his wife.
Nero followed, generally viewed as compulsive and corrupt (AD 37 – 68). Temperature continued to drop. Rome virtually burned to the ground during his reign (AD 64). He also began the First Jewish-Roman War, often called "The Great Revolt." It was a time of continual revolution and revolt in various regions of the empire. His death (suicide) led to a period of civil war.
In AD 69, four emperors ruled in succession. Major unrest and rebellions continued. Domitian followed and is described as and autocrat and despot. He was finally assassinated in AD 96. Nerva then came to power and was the first Roman Emperor to be elected by the Senate. so we start to see autocratic rule changing into a more democratic approach. This is an ongoing theme during these intense periods of revolution. Democracy tends to eventually get a new lease of life, but it's not an easy journey, and in fact, this was a little ray of hope in a much longer road into authoritarianism.
Trajan (98 – 117 AD), the next emperor, began an expansionary phase and brought the empire to its maximum territorial extent. Hadrian (117 – 138 AD) followed and is best known for Hadrian's Wall, a defensive fortification in Britannia (Britain), built "to keep out the barbarians." Ring a bell? It was the northern limit of the Roman Empire (in Britain). He presided over The Second Jewish-Roman War.
Wars and revolts continued through the dual reign of Marcus Aurelius (161 – 180 AD) and Lucius Verus. Aurelius' reign was marked by continuous warfare—with typically accompanies colder times. The Roman coin was highly devalued (inflation) and the Roman Empire continued to crumble, with the Germanic tribes threatening the borders.
The Denarius was the Roman coin which, when originally minted, was about 90% silver. By the time Marcus Aurelius was emperor, it was down to 75% silver.
Commodus (AD 180-192) further devalued the Roman coin (more inflation). He was the emperor that promoted gladiators and actually took part himself in gladiatorial games to entertain the people (keep them occupied and they won't see the deterioration around them). His reign was rife with conspiracies and assassination attempts. This marked the bottom of the cold period.
Then we had the tumultuous Year of the Five Emperors (AD 193). Enough said.
Caracalla
(AD 198-217) further devalued the denarius by doubling the face value of the coin (calling it the antoninianus), which effectively reduced the silver by half again to 37%.

The Roman Empire from there gradually descended into the Crisis of the Third Century (AD 235-284), where it nearly collapsed under the combined pressures of invasion, civil war, plague, and economic depression. During this period, there were about 50 emperors. Most of them were murdered, assassinated, or killed in battle.
By the time Gallienus (AD 253-260) came to power, the coins contained barely 5% silver. He also raised the pay of soldiers by 50% (similar to minimum wage legislation today). With continuous wars and money that was almost worthless, the government also raised taxes.
When Diocletion came to power (AD 284), he was able to stabilize the empire and there was a long period of peace. This marked a new temperature high. After his reign, the Roman Empire really began to fall apart and you can see from the chart that as it got colder and dryer, there were major migrations, constant invasions, pandemics, and starvation. Similar fates await us over the coming decades.
So, you can see how climate is a huge factor in forecasting the future. However, it's not a "cause and effect" scenario. I believe the real culprit are forces from the planets and sun (our Solar System) and these same forces have an effect on our climate. I look towards electromagnetic waves, as we know they're emitted by planets and have an effect on us through the pineal gland. That science is well documented.
The herd, of course, affects the movement of the market. How they feel affects the economy in a general way. Of course there are other factors that are man-made (greed, the rise of the merchant class, usury, for example) and all those negative social aspects that the Bible warns against. The raise their heads in times of plenty and a revolt against them comes in times of colder temperatures, disease, and economic distress. Fun time lie ahead …
For an overview of the climate cycle going back 2000 years, watch my short video entitled, "Global Cooling."
It's a fascinating world, where cycles occur over an over again in a predictable manner. However, humans don't pay them much attention … to our detriment every time.
__________________________
New Widgets in the Sidebar
Over to the right, you'll now see a list of recent posts. These are only posts that relate to this Market Blog. You'll find the last ten in descending order.
Also on the right, you'll find the more recent entries in the Forum. I'll be posting some of the most recent comments there having to do with astro influences later today or tomorrow.
Subscribing to Comments
You're now able to subscribe to comments on individual posts. That triggers an email that will be sent to you instantly whenever there's a reply to that comment. You'll be able to subscribe to any replies that follow individual comments you make and you can subscribe to all comments on a post, so that you don't miss an important comment during the week. You can also subscribe to all comments without making any comments yourself. Here's the option just under the submit button:

You'll also be able to unsubscribe at any time or change your subscription options. Remember, it's per post. I do a new post each weekend, so if you want to subscribe to all comments, each week, you'll need to re-subscribe each week to the new post. You should really need to worry about unsubscribing to old ones, as once a new post is live, you wouldn't expect to get replies to old posts (as they're not as readily available – although it could happen).
That's not a worry, as you can change your overall subscriptions at any time. There's a link in the email you receive to let you do that.