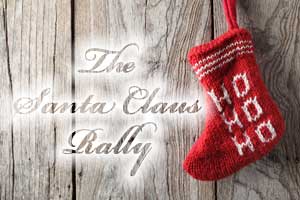 It's that time of year again! Time for a feel-good rally, just in case, you haven't had enough "feel good!"
Happy holidays!
Reality lies just under the surface, however. We have one of the most persistent rallies in history that's coming to an end.
We've been stalking a short entry for awhile now, but it isn't going to happen until the last subwaves have played out. If you look at the SP500, you know we're close. In fact, we're in the fifth of the fifth of the fifth, with a pattern that threatens to move sideways to slightly up until the underlying positive social mood turns down.
We're in a triangle—whether a contracting triangle, or an ending diagonal is still to be unveiled. That's the situation on the NYSE side of the equation. On the Nasdaq side, we've just completed an impulsive first wave up of an expected five wave move to the final high.
But the impending trend change doesn't just involve the US market; it's an international phenomenon. The DAX is threatening a trend change after what appears what could be the start of a first wave down already in place. Whether we have one more top here is questionable. Other indices are showing extremely bearish patters: FTSE and TSE are great examples.
For almost two years, I've been talking about "all the same market," which means that all assets are gradually move closer and closer in parallel moves to a final high.
Over the next couple of days, you're going to see just about every asset class move into the final subwave heading for the final change in trend.
USD currency pairs are all within hours of bottoming out (USDCAD and USDJPY, which move opposite the other USD currency pairs are topping, of course).
WTI oil is at the bottom of a fourth subwave with a final high in its sights.
Gold and silver have dropped, as expected, into their final waves down before they bottom. I've been predicting their bottom with the top in the US indices.
It looks like Santa is coming to town for the usual seasonal rally. I expect a final rally to last through the holidays, with a top expected either at the end of the year, or into the very early part of 2018.
Time for a look at the really big picture: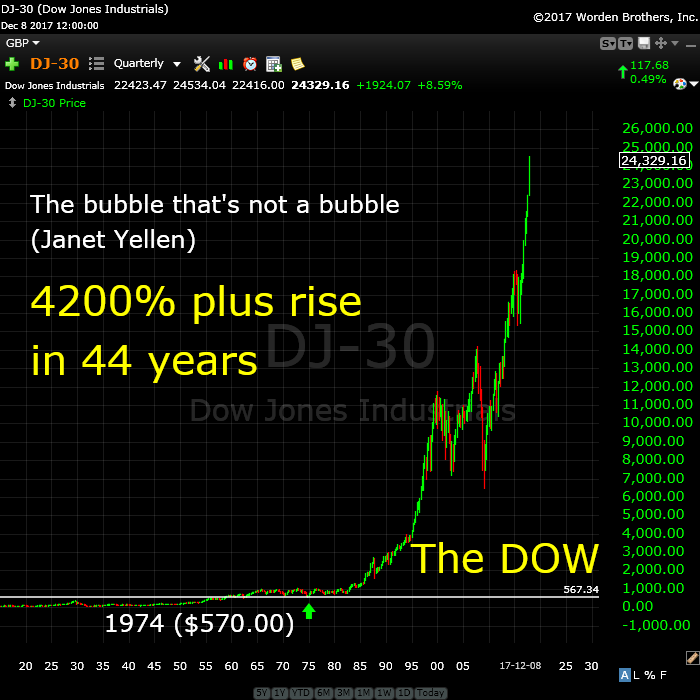 Above is the quarterly chart of the DOW as an arithmetic chart. A bubble perhaps? How about the biggest bubble in history, Janet? I think the chart otherwise speaks for itself.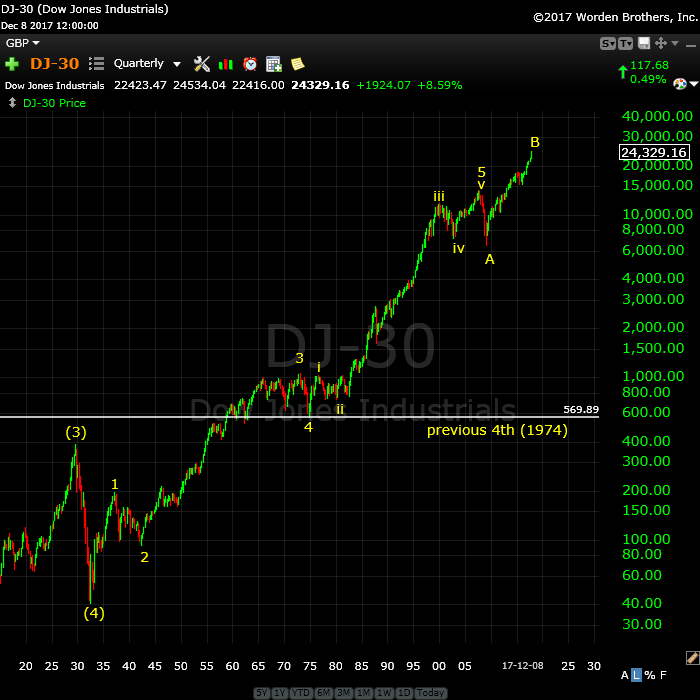 Above is the same chart as above, but as a log chart. This version exposes the underlying wave structure from before the crash in 1929, which was the second wave. The fourth wave of the third was in 1974 and this is typically the area a major correction would revert back to. I'll let you contemplate that.
This wave count brings into contention Bob Prechter's assertion that you can't have an "irregular top" (page 58 of "The Elliott Wave Principle). However, Ralph took great pains to discuss the phenomenon in great detail. If you've been reading this blog for awhile, you know that I've been maintaining the final wave up (wave B) is corrective. I have been unable to come to any other conclusion given an analysis of the subwaves. The wave being corrective also support this count. I have no other option that to label the final wave a B wave (that I can come up with, at any rate).
And finally …. fiat on steroids!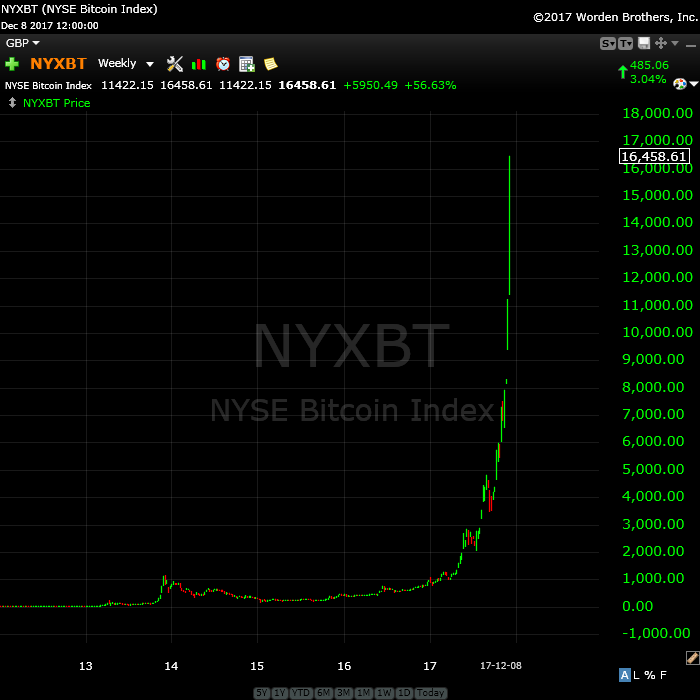 Above is the weekly chart of the NYSE bitcoin index. Note that it's generally agreed that bitcoin has no intrinsic value (hence my comment above on "fiat on steroids).
Blockchain, the technology it's built on is a method or securing the transactions in a way that makes them impossible to lose, unless hacked (and we've already seen some of that!) Everyone seems to be focused on the technology, not on the fact that it's subject to the same market forces as other fiat commodity (or currency). However, this is not a currency; it's a speculative commodity built on a new technology that has uses in many areas, but not necessarily as a currency.
I wait to see the outcome. To me, it's obvious.
________________________
Problem receiving blog comment emails? Try whitelisting the address. More info.
______________________________
Couldn't be happier … KK 2
Couldn't be happier …

The analysis and insight you provide is simply amazing!  I've been trading the futures and equity markets for well over thirty years and usually average around 5% monthly.  Since joining your Traders Gold Service two months ago, that number has better than doubled.  I couldn't be happier.—KK
The Market This Week
Here's the latest daily chart of ES (emini futures)
Above is the daily chart of ES (click to enlarge, as with any of my charts).
There have been no material changes to my prognosis. We are at the high. I expect this final wave to breach the previous high for the final time.
We're now down to hourly charts for all the action. It's been a day trading environment for the past few weeks.
Volume: With the sharp drop this week in a fourth wave, volume has spiked, as would be expected. That's the selling starting. However, we still have one final high left to go.
Summary: The count is full for the US market in general, except for small subwaves that form the balance of a motive set of waves in SPX and some other major US indices. I put us in a final triangle in ES (either a conventional converging triangle or an ending diagonal—it's too early to tell which one it is). For the Nasdaq, we look like we'll get a final 5 waves up to a new high.
_______________________
Here's the latest 60 MIN chart of ES (emini futures):
Above is the 60 minute chart of ES (click to enlarge). Please watch the video to get the full story on what's happening short term.
There's no question that ES is tracing out a triangle, but what kind of triangle is still up in the air. The obvious indicator was the wave up to a new high on Monday, December 4. This wave up was in three waves—no question about that!
I've started to label the points of the triangular structure. A contracting triangle (labelled in letters, because it's corrective) would include the fourth wave. An ending diagonal is labelled with numbers (because it can be found at the ends of both impulsive and corrective waves) and is a fifth wave pattern (it does not include the larger fourth wave in its structure).
Because the C wave of a triangle (or 3rd wave of an ending diagonal) is the usually the most complex wave, and because NQ needs to drop in a second wave, I would expect ES to drop to a new low slightly below the c wave (to the area of the lower trendline).
It's otherwise too early to provide much more information. However, my preference leans towards an ending diagonal as NQ looks like it has a full five waves to trace out, which will take it to a much higher high.
Short term: The wave count is now virtually complete. We're tracing out a final triangle in ES, which is a final pattern before a trend change.
___________________________
Trader's Gold Subscribers get a comprehensive view of the market, including hourly (and even smaller timeframes, when appropriate) on a daily basis. They also receive updates through the comments area. I provide only the daily timeframe for the free blog, as a "snapshot" of where the market currently trades and the next move on a weekly basis.
______________________________________
Sign up for: The Chart Show
Next Date:

Thursday, December 28 at 1:00 pm EST (US market time)

NOTE: No Chart Show on December 21—cancelled.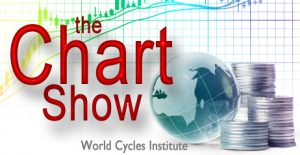 The Chart Show is a one hour webinar in which Peter Temple provides the Elliott Wave analysis in real time for the US market, gold, silver, oil, major USD currency pairs, and more. You won't find a more accurate or comprehensive market prediction anywhere for this price.
Get caught up on the market from an Elliott Wave perspective. You'll also get Andy Pancholi cycle turn dates for the SP500 for the balance of the current month. There'll be a Q&A session during and at the end of the webinar and the possibility (depending on time) of taking requests.
All registrants will receive the video playback of the webinar, so even if you miss it, you'll be sent the full video replay within about an hour of its conclusion. For more information and to sign up, click here.