"Nothing like this has ever happened before." I hear it all the time.
Dead wrong.
We just can't remember it. These cycles are longer than a human life and by and large, nobody pays any attention to history. No one alive can remember back to the previous period, a warm/dry cycle top which ended in extreme temperatures and behaviour before society collapsed altogether.
We're at the top of both a 172 year financial collapse cycle and a stronger 515 year revolutionary cycle. The tide has already turned, as it has so many times before in history. As I've been predicting for over five years now, the climate is turning colder, bringing with it a turn of fortunes that will lead to an eventual overturning of the social order.
From the writing of Dr. Raymond H. Wheeler:
"In his ignorance, greed, and intemperance, man has continually gone from one extreme to the other. He is moved towards anarchy, exploitation of the underprivileged, unfair competition, and weakened government during cold times; towards excessive regimentation, reaction, persecution, communism, fascism, fanaticism, and the crushing of freedom and individual initiative during warm times."
You'll find more of Dr. Wheeler's work in my recent post about his Big Book.
At cycle tops, the history is clear: "Once more, for the 26th time, a fiendish, nation-falling war corrupted after the moral tone of society had been lowered by excessive temperatures. Nothing like the atrocities that were committed hat ever happened in the memories of living man because no one was alive who could remember back to the end of the last epic that had terminated in a similar outburst of degenerative behavior." — Michael Zahorchak, Climate: The Key to Understanding Business Cycles.
What we say this weekend, was a salvo in another attempted "nation-failing war," a war that historically erupts after the moral tone of society has been lowered after a period of excessively high temperatures. As we turn colder and dryer (wetter first — as the pattern dictates, bringing floods and extreme weather), general anger and the oppression by tyrannical governments will devolve into revolution and civil war.
My video on Global Cooling is here. My video on climate and the stock market is here.
Expect the unpredictable behaviour of governments to continue as this cycle tops. It will affect the stock market on a short term basis, but the waves will continue to play out to a new top as predicted by the Elliott Wave Principle, until the greater social mood turns more negative than positive. That turning point is on the near horizon, as my current wave count predicts.
Stay safe.
____________________________
Registration for Commenting
Want to comment? You need to be logged in to comment. You can register here.
If you register, it protects your information. It also allows you to comment without filling in your information each time. Once you're registered, simply go to the home page and click on the login link top right in order to log yourself in. Usually, you'll be logged in for several days before needing to be logged in again.
______________________________
Problem receiving blog comment emails? Try whitelisting the address. More info.
______________________________
The Market This Week
Here's the latest daily chart of ES (emini futures)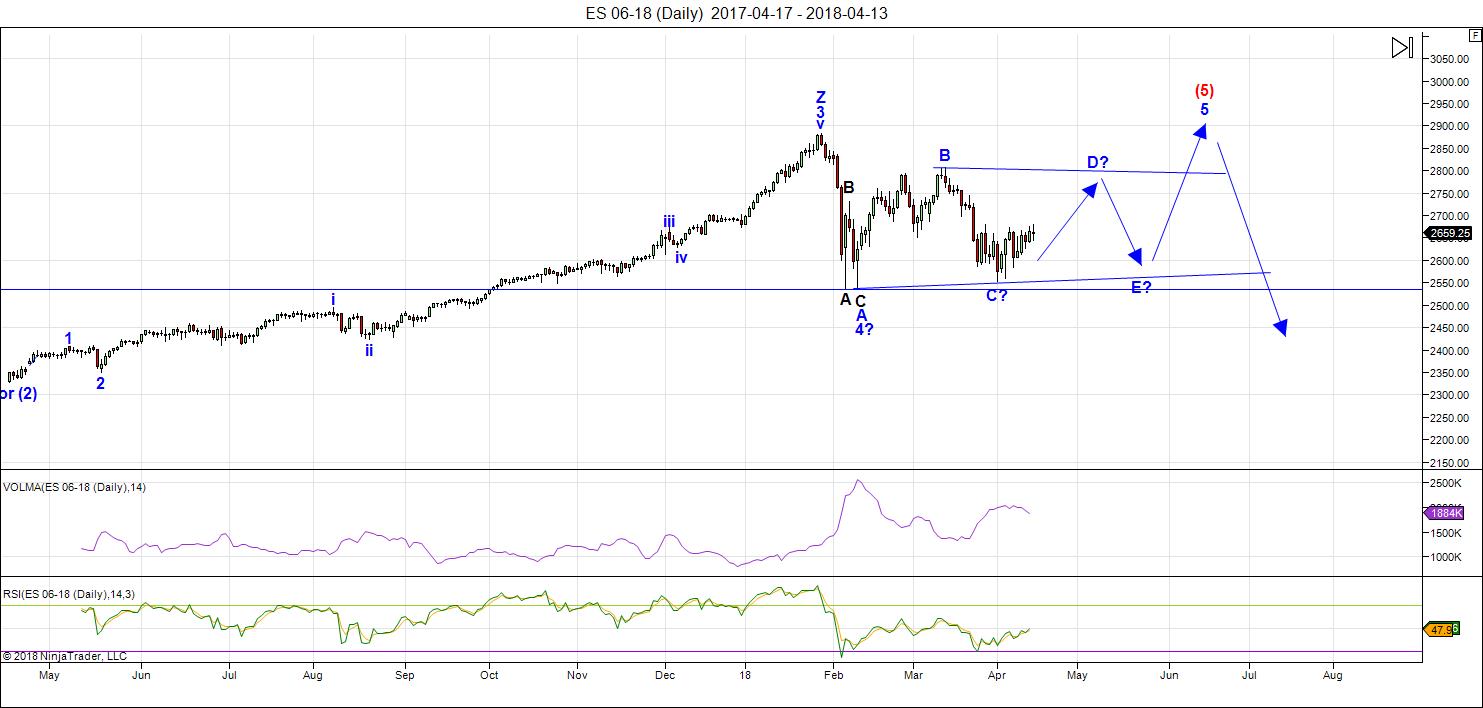 Above is the daily chart of ES (click to enlarge, as with any of my charts).
The fourth wave triangle  continues to play out, as predicted. So, I'd give this bull market about a month. Then we magically turn into a bear market and we'll eventually head down at a breath-taking pace.
This week was a frustrating one in which the market attempted to go higher, but on Friday succumbed to the pressures and as in the process of correcting a series of triangles that played out in mostly a sideways fashion. I expect the uncertainty to continue this weekend.
However, come Monday, the direction is likely to be up as we continue to trace out the D wave of the triangle. Note that the C wave down is usually the most complex wave, but when it isn't (as in the present case), the D wave typically takes on that role, as we're quite obviously seeing here.
I would expect the next wave down (after we reach the 2780 area) to be much quicker, as this market is so near the top (we're seeing a lot of underlying weakness).
After the E wave down is complete, we'll take off again to the upside in a fifth wave, which will simply finish off the pattern. We'll get to a new high and probably more, but don't expect (as I've been saying for a very long time) a large fifth wave that travels any great distance.
Over the next week, expect more upside as we trace out the D leg of the triangle.
Summary:  More sideways to come as ES/SPX trace out a contracting triangle, which in a fourth wave position signals that a trend is about to end after one more wave (in this case, to the upside). That fifth wave up to a new high will be the end of the 500 year bull market.
___________________________
Trader's Gold Subscribers get a comprehensive view of the market, including hourly (and even smaller timeframes, when appropriate) on a daily basis. They also receive updates through the comments area. I provide only the daily timeframe for the free blog, as a "snapshot" of where the market currently trades and the next move on a weekly basis.
______________________________________
Sign up for: The Chart Show
Next Date:

Wednesday, April 25 at 5:00 pm EST (US market time)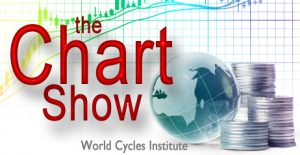 The Chart Show is a one hour webinar in which Peter Temple provides the Elliott Wave analysis in real time for the US market, gold, silver, oil, major USD currency pairs, and more. You won't find a more accurate or comprehensive market prediction anywhere for this price.
Get caught up on the market from an Elliott Wave perspective. You'll also get Andy Pancholi cycle turn dates for the SP500 for the balance of the current month. There'll be a Q&A session during and at the end of the webinar and the possibility (depending on time) of taking requests.
All registrants will receive the video playback of the webinar, so even if you miss it, you'll be sent the full video replay within about an hour of its conclusion. For more information and to sign up, click here.