We're at market top. It's about time to give this market last rites. It's time for this market to get its affairs in order. This bull is terminal!
However, in this market (as in just about all markets), major tops are "a process." As I've been saying for over two years now, the financial world as we know it is moving as one entity (as we work our way to international deleveraging). When a turn comes, everything will turn down more or less together. But, as with a large ocean liner, it takes time to turn around something this large.
On Thursday, the ending diagonal in the SPX failed. That's the sign of an extremely weak market. The Investors Intelligence Advisors Survey of this past week reports that bulls jumped to 64.4%, which surpasses every extreme for the past 30 years. This strongly suggests that we're at a major market top. The wave count confirms it.
We have a two step process left now. We'll have a turn down this weekend to finish the fourth wave in the US market (and currency pairs will bottom—US Dollar, USDCAD, and USDJPY—which move in the opposite direction from EUR, AUD, and GBP—the latter three will top, of course). This week, everything should turn up into the final wave to a slight new high.
And then it's down for a long time to come.
I've been unwavering in my conviction that a top is in progress because the Elliott Wave Principle is the best predictor I've found (through my extensive research) of the way the market moves (it applies to any market that is not government controlled).
Although this rally has been the most difficult market ever to predict, we've been exceptionally accurate across over ten assets (in the Trader's Gold Subscription Service).
Wait until we top! The accuracy in the impulsive waves to follow will ramp up considerably, because it's impulsive waves that are restricted by EW rules. Corrective waves (which we've been seeing since 2009) are much more difficult to predict because there are so few rules as to their movement—the key tool for corrective waves is fibonacci relationships, but their proper application comes primarily from experience.
This week, you got a taste for an impulsive wave, when we had the drop from the top of the ending diagonal. I was able to call the turns both down and up. However, the wave proved to be a corrective one (I've found that near tops and bottoms, waves start to become more impulsive-looking).
A Higher Tide Floats All Boats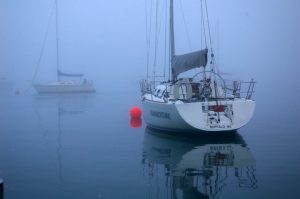 Whenever we get close to a major top in ES (emini futures), the comments start to flow predicting a top (or not). Usually these comments seem to come from those fixated one one index—the SP500. But, the market actually consists of more than one index, and the driver of the entire thing is the US dollar (the reserve currency).
I've written about this before. But, people have short memories, I guess, or see only what they want to see (now, there's a well-known fact!).
I have always maintained that once one index tops, they all have to (so that they stay in sync). This is a market rule.
But it's more than this that keeps the SP500 from not topping until the others top. The next wave down will have to start with five waves—across all US indices. So to get to the point where that can happen, the indices all need a "fresh start"—in other words, a new high.
The key, as I preach over and over again, is to watch the entire market, certainly indices that are related to each other. Both the SPX and DOW are subsets of the NYSE. They move more or less together. The wave structures have to be correct in order for the next wave down to start.
In all US indices (and USD currencies), we appear to have one more small wave up to go:  a major turn of just about everything associated with the US dollar.
Other US Major Indices (click charts below to expand)
 
 
 NYSE
 DOW
 Russell 2000
 Russell 3000
All the Same Market
I've been mentioning for months now that the entire market is moving as one entity, the "all the same market" scenario, a phrase that Robert Prechter coined many years ago, when he projected the upcoming crash (although he and his group don't seem to be paying much attention to it now …).
We're starting to deleverage the enormous debt around the world. Central banks are losing the control they had and we're slowly sinking into deflation world-wide, with Europe in the lead.
The US dollar is fully in charge of both the equities and currencies markets. They're all moving in tandem, as I've been saying since September of 2015. You can look across many international markets and see the same phenomenon—most major exchanges are at or near tops.
_______________________________
Tops in your field DZ 2
Tops in your field …

You are tops in your field.  Tried to follow Elliot Wave international for years.  They were always behind the market.  After discovering you, I perceive that you are an expert in reading the waves, which puts you way ahead of the rest of your peers. And you can read the Waves like you are reading tomorrow's financial section.  I pray you stay healthy.  —DZ
The Market This Week
Here's the latest daily chart of ES (emini futures)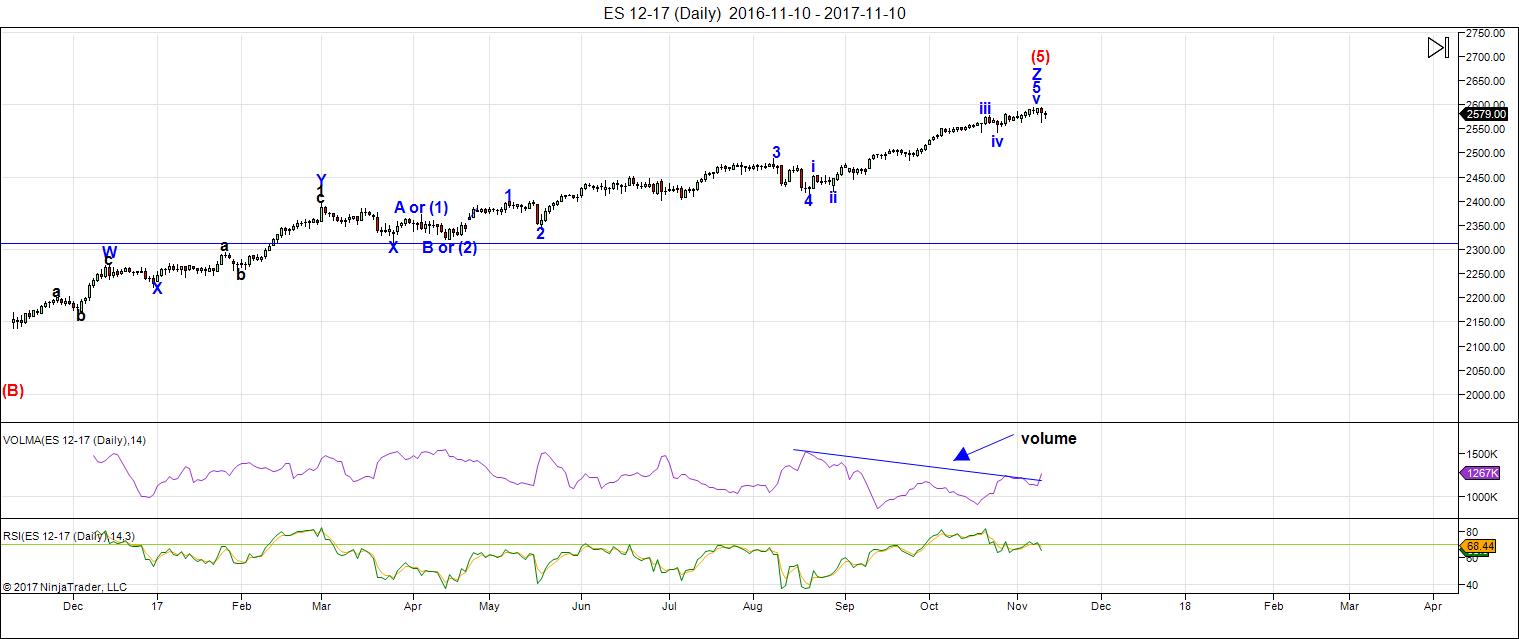 Above is the daily chart of ES (click to enlarge, as with any of my charts).
There isn't really a lot to be gleaned from this chart other than
the fact that we're at the top ready for a turn down,
that this wave up continues to be a corrective one (which implies this is the final high and that it will descend with force once it turns to the downside), and
we've been moving mostly sideways for weeks now.
The more important charts are the hourly chart of ES and NQ (futures) and the major US cash indices—they will all need to clean top in order to start down in the long-awaited bear market.
Volume: Note that for some time now, volume has been expanding with selling, and drops considerably when the market heads back up. This is yet another signal of the larger, impending top. The turn up for the final leg is now showing signs of turning back down.
Summary: The count is full for NQ and ES, except for small subwaves that form the balance of a small fourth wave and the final wave to the top. Down and then up ... and we're done.
_______________________
Here's the latest 60 MIN chart of ES (emini futures):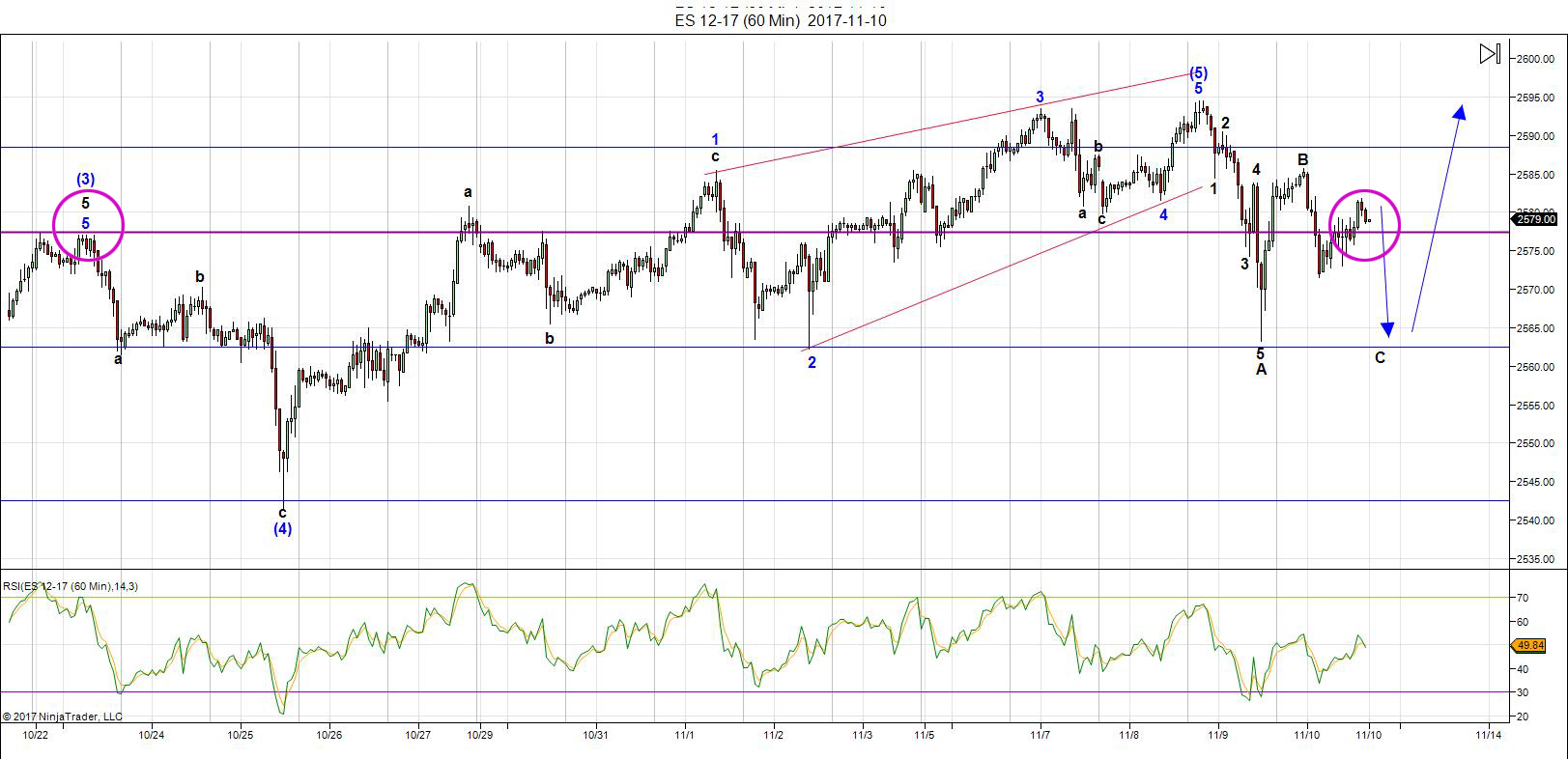 This chart is a example of the hourly chart and guidance that's a regular nightly feature of the Trader's Gold Service. (I'm providing this one-time preview of my service - I cover other assets (oil, gold, and currency pairs with similar charts and a nightly video). The weekend charts are also accompanied by a video, which provides more detail.
Above is the 60 minute chart of ES (click to enlarge). 
Three weeks ago, I posted a "free" blog post entitled, "The Top is at Hand." I didn't say we'd topped or that it was imminent in the next couple of days (I tend to choose my words rather carefully, because your trading depends up it). I had also stated that topping is a "process." Note in the chart above (by the purple line and circles) that we're in exactly the same place we were three weeks ago. Monday we'll be below it, but we're not quite done with this bull market.
Thursday of this week, we had a wave down in ES in 5 waves (not impulsive). SPX was in an ending diagonal (as was ES) which actually failed—it did not complete the final wave up. This left an unfinished set of waves, for a failed top. None of the other US indices matched the structure of ES.
We are heading down on Sunday to complete a smaller fourth or second wave (not sure which yet), which should bottom at 2563. This will create a very obvious wave down in three waves in ES. Look for all the currency pairs to bottom with this move. We should see gold head up to the top of it's B wave. In short, the entire market is going to move in tandem.
This will set us up for a final wave to a new high ... right across the market spectrum. A final parade!
Short term: We should head down on Sunday to a double bottom at 2563, which sets us up for a final wave to the top.
___________________________
Trader's Gold Subscribers get a comprehensive view of the market, including hourly (and even smaller timeframes, when appropriate) on a daily basis. They also receive updates through the comments area. I provide only the daily timeframe for the free blog, as a "snapshot" of where the market currently trades and the next move on a weekly basis.
______________________________________
Sign up for: The Chart Show
Wednesday, November 15 at 1:00 pm EST (US market time)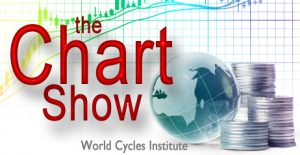 The Chart Show is a one hour webinar in which Peter Temple provides the Elliott Wave analysis in real time for the US market, gold, silver, oil, major USD currency pairs, and more. You won't find a more accurate or comprehensive market prediction anywhere for this price.
Get caught up on the market from an Elliott Wave perspective. You'll also get Andy Pancholi cycle turn dates for the SP500 for the balance of the current month. There'll be a Q&A session during and at the end of the webinar and the possibility (depending on time) of taking requests.
All registrants will receive the video playback of the webinar, so even if you miss it, you'll be sent the full video replay within about an hour of its conclusion. For more information and to sign up, click here.