All The Same Market
All major markets are continuing as one. It's not a coincidence that you may have noticed downturns in just about everything this past week; it's because everything is setting up for a final wave and final turn into a major bear market at the end of it.
So the thing to keep in mind in reviewing this weekend's analysis is that virtually everything is in a fourth wave of the fifth, and that we have a final minimal high ahead of us (I've warned we might get a fourth wave and double top) before we get the final turn down into the largest and most devastating bear market in history.
Overview of the US Market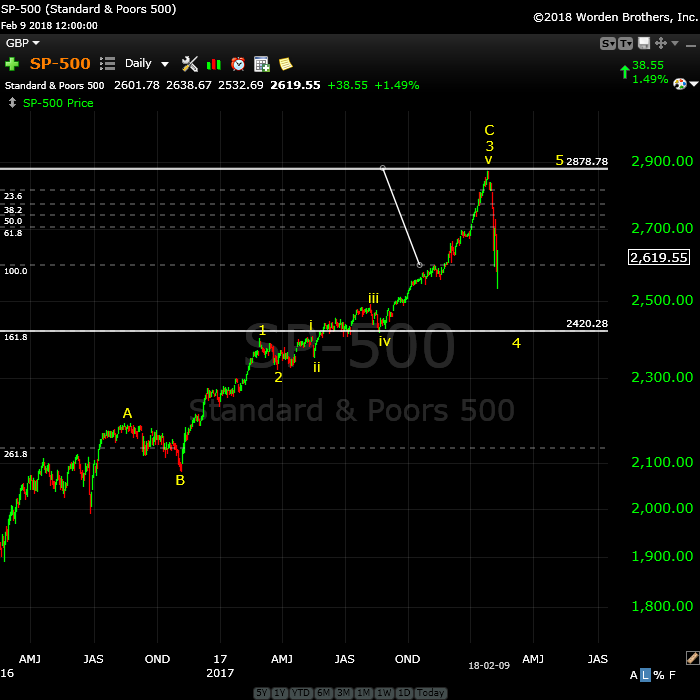 Above is the daily chart of the SP500.
This chart is without a doubt the most difficult chart I've ever had the pleasure of analyzing. The challenge is with the wave up from 2009. It's corrective and therefore doesn't have any of the usual signposts. We're missing a few second waves, for example, so it's a guess, at best. The labelling above is a solution that makes the most sense, based on fibonacci relationships (it's been changed slightly, based up the unfolding fourth wave).
Based on the labelling above, the previous 4th wave of one lesser degree is at 2420. That is also the target measurement from the A wave down. We could drop lower. (the bottoms of ES and SPX are not consistent and this is exacerbating my analysis.
I would expect a fourth wave to come down to the previous fourth, and this configuration suits that result. So we'll see what happens.
Then we're looking for a fifth wave up to a new slight high. However, all our players have to get to that new high, so the ultimate level is tough to gauge without more information (partial rally, a first wave of the fifth still to come). I do not expect a major fifth wave, as I've said before. You can get that sense when you look at all the currency pairs, oil, and the US Dollar. They are simply finishing 4th/5th waves of a fifth wave.
______________________________
AAPL has dropped dramatically to what looks like the previous fourth wave, but the structure of the wave has become somewhat questionable. Until it finishes, I won't be able to determine whether it's corrective, or not.
TSLA turned down after a double-pronged second wave and has dropped further over the week. FB turned down after spiking up in what looks like the final rally of an ending diagonal. It looks to have completed (or almost completed) a first wave down. It may have one more drop (it also may be a fourth wave before a slight new high).
The wave structure of the USD currency pairs are in B or 4th waves. They all need one more wave to reach their end targets, as does the US Dollar.
Oil looks to be at the bottom of a 4th wave. Gold and silver are heading down while USDJPY traces out an expected bounce.
Everything I'm seeing tells me a top is forming internationally.
The Elliott Wave methodology requires a second wave and turn down from the level (and a drop to a new low) to confirm a top. This methodology keeps you safe while a top is forming (as we've seen in the market this week).
By failing to reach 62% and dropping to a new low with corrective waves, I now know we're in a fourth wave. We also have a potential target for a bottom of this fourth wave.
Turning the Ship — A Process
Let's look at an update of the US Dollar.
I've been maintaining for the last couple of years that once the US Dollar found its low (it's in a large fourth wave—a corrective wave), that it would mark the top of the US market.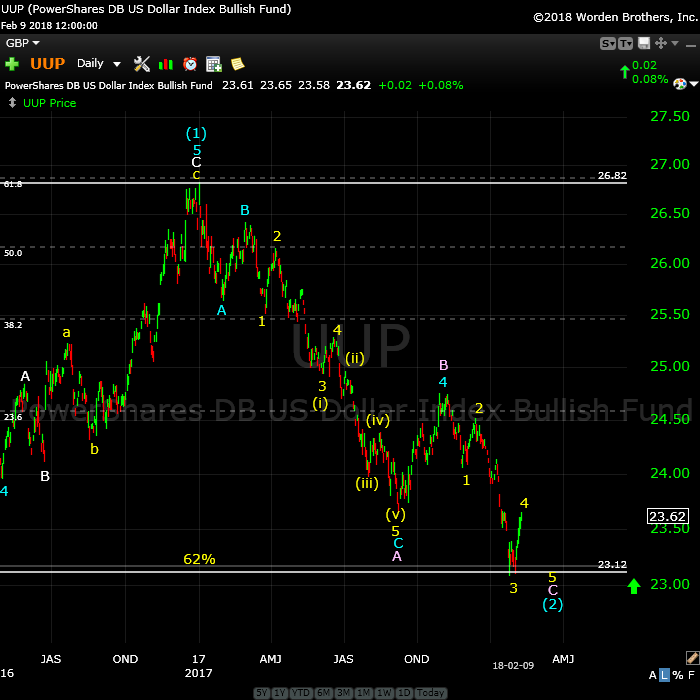 Above is the daily chart of UUP (US Dollar ETF). UUP is representative of the structure of DXY (the US index) and will provide an excellent predictor of the impending top in currency pairs and the US indices.
Last weekend, I wrote here that I was expecting a small yellow wave 4 and then a new low in a wave 5. We now have the fourth wave in place, and it may or may not be fully in place. Nevertheless, I'm expecting one more small final fifth wave down to conclude this trend, culminating in a turn up and leading eventually to a new high above 26.82 for UPP and a similar new high for the US Dollar.
The movement of the dollar strongly influences the movement of just about everything else, so it's important to pay attention to what it's doing on a large scale.
___________________________
Apple Continues to Drop (as predicted)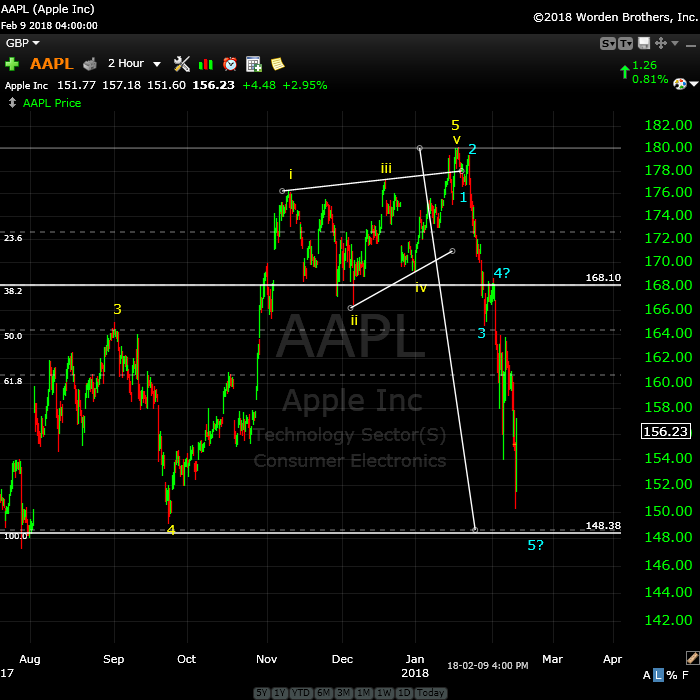 Above is the 2 hour chart of AAPL.
Last weekend, I identified a pending top here, with a third wave currently in progress. We've continued down in that third wave to the point where we arguably have five waves down.
I identified the target last weekend in the 148.00 area, but it remains to be seen if this wave is corrective or not. Whether we get a second wave only, or not, will tell the tale.
Registration for Commenting
Want to comment? You need to be logged in to comment. You can register here.
If you register, it protects your information. It also allows you to comment without filling in your information each time. Once you're registered, simply go to the home page and click on the login link top right in order to log yourself in. Usually, you'll be logged in for several days before needing to be logged in again.
______________________________
Problem receiving blog comment emails? Try whitelisting the address. More info.
______________________________
Tops in your field DZ 2
Tops in your field …

You are tops in your field.  Tried to follow Elliot Wave international for years.  They were always behind the market.  After discovering you, I perceive that you are an expert in reading the waves, which puts you way ahead of the rest of your peers. And you can read the Waves like you are reading tomorrow's financial section.  I pray you stay healthy.  —DZ
The Market This Week
Here's the latest daily chart of ES (emini futures)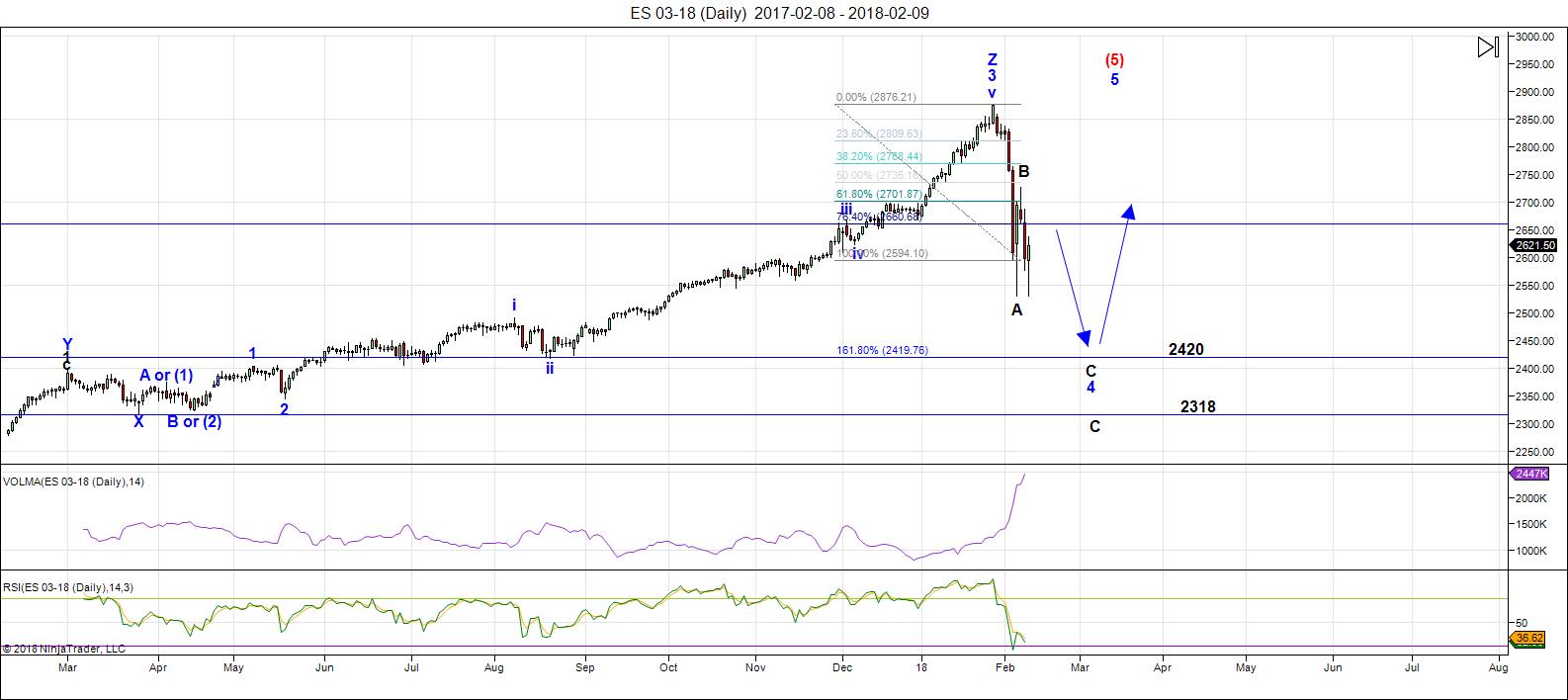 Above is the daily chart of ES (click to enlarge, as with any of my charts).
On Friday, it became apparent that we're in a fourth wave with more downside before we turn up in a final fifth wave to the top.
The final waves up on Friday late afternoon were corrective. It looks to me as though this last wave will make a slight new top to the 2900 area, if we meet one of the downside targets identified.
I'm expecting the downside target to be about 2420 or 2318, which would be previous fourth wave areas, as well as an extension of 1.618 of the A wave down.
Volume: It's risen as the "early rats are leaving the ship," as expected.
Summary: We've turned down across the US indices, but this appears to be a smallish fourth wave down to the previous 4th wave of one lesser degree. We'll look for a turn there and a final rally to a new high.
___________________________
Trader's Gold Subscribers get a comprehensive view of the market, including hourly (and even smaller timeframes, when appropriate) on a daily basis. They also receive updates through the comments area. I provide only the daily timeframe for the free blog, as a "snapshot" of where the market currently trades and the next move on a weekly basis.
______________________________________
Sign up for: The Chart Show
Next Date:

Thursday, February 22 at 1:00 pm EST (US market time)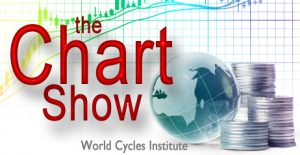 The Chart Show is a one hour webinar in which Peter Temple provides the Elliott Wave analysis in real time for the US market, gold, silver, oil, major USD currency pairs, and more. You won't find a more accurate or comprehensive market prediction anywhere for this price.
Get caught up on the market from an Elliott Wave perspective. You'll also get Andy Pancholi cycle turn dates for the SP500 for the balance of the current month. There'll be a Q&A session during and at the end of the webinar and the possibility (depending on time) of taking requests.
All registrants will receive the video playback of the webinar, so even if you miss it, you'll be sent the full video replay within about an hour of its conclusion. For more information and to sign up, click here.