The Spiked Top in the US Indices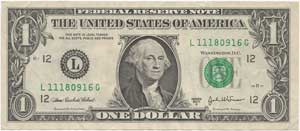 All major markets are continuing as one. We're at a top but the process of changing trend doesn't happen overnight. The spiked top is the example—tops like this usually don't last. Trends don't "change on a dime."
The waves down are corrective—they don't look motive. Some reasons why:
The current C wave (what one might consider to be wave five of the set of waves down in SPX) is of a size that is much bigger than the wave in the second wave position—it doesn't have the right look of a motive wave.
The second wave didn't retrace 62% (corrective).
ES came down in three waves to a double bottom … that's obvious.
There are more reasons, but this is a pretty persuasive list already. We need to expect a final new high. In the meantime, we are going to head to a new low.
Options for the US Dollar
Let's look at an update of the US Dollar.
Last week, I pointed out the fact that the US dollar had completed a small 4th wave up and was ready to turn back down in a 5th wave. That's happened … but, we're not  done yet.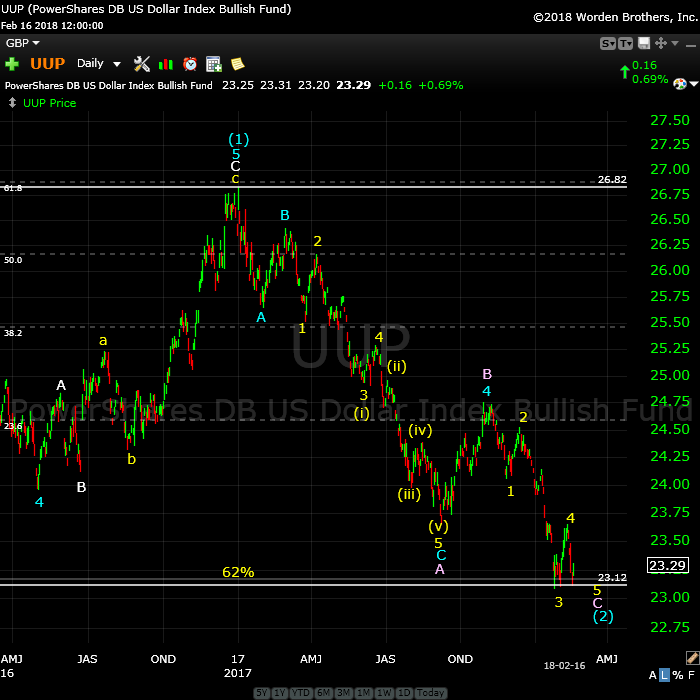 Above is the daily chart of UUP (US Dollar ETF). UUP is representative of the structure of DXY (the US index) and will provide an excellent predictor of the impending top in currency pairs and the US indices.
UUP and the US Dollar index have not reached a new low, while the EURUSD currency pair reached a new high. That's a non-confirmation … the sign of a sick market. But it also give us a clue as to how the US Dollar bottoming process may unfold.
The waves in both directions are in threes. But since EURUSD went to a new high, a triangle there isn't an option. However, an ending diagonal is. Both the euro and the dollar seem to be setting up for a possible ending diagonal.
It's very early in the process, so this is speculative at the moment, but this solution seems to me to be the most probable. In that case, we have some time to go before we reach a slight new high in the US market (a new low in the the US Dollar).
The movement of the dollar strongly influences the movement of just about everything else, so it's important to pay attention to what it's doing on a large scale.
___________________________
Apple Rebounds (as predicted)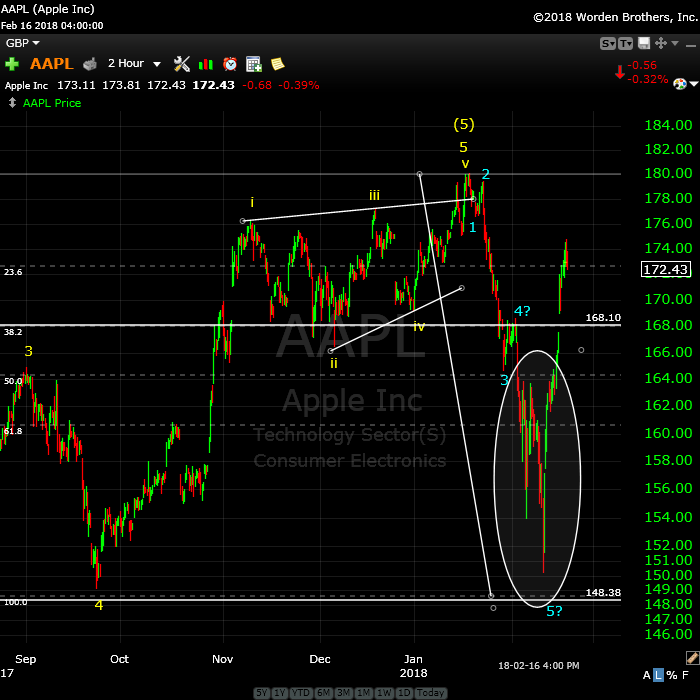 Above is the 2 hour chart of AAPL.
Last weekend, I showed this chart of AAPL and suggested it might be a fourth wave, certainly if it didn't reach and exceed the previous fourth (which is always a key test of a first wave down).
During the week, it became obvious that we weren't going to get there as the wave became obviously corrective. You can see the overlapping waves in the circle on the chart. That meant we were headed for a new high. However, this wave down is a fourth wave and the new high will be the last one.
A Change in Direction for Bonds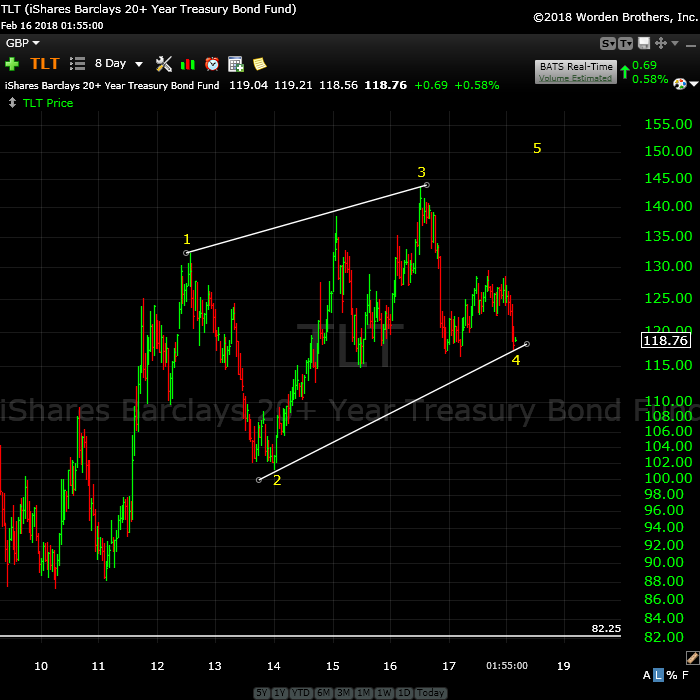 Above is the 8 day chart of the 20 day US treasury bond fund (TLT). If you've been in the Chart Show recently, you know I've expressed concerns about the structure of the most recent waves down from about 130.00—they appear to be corrective.
When I also look at the 10 year yield chart (below), it became obvious that we're about to turn.
In the chart above, it looks like the ending diagonal has just completed a fourth wave down, rather than being complete. This is a much better looking configuration for an ending diagonal than what I'd originally shown.
As a result, I'll look for a turn up here to a new high above 145. However, if we turn down from here (below 116, then we'll keep heading down).

Above is the 8 day chart of the 10 year treasury yield (TNX). I've been following this for the past few weeks and have projected a turn at the 30.42 level. We're almost there. (yield charts move in the opposite direction from bond fund charts).
Taking both these bond charts into account, it looks to me like we're about ready for a turn down in yield and, at the same time, a turn up in the fund.
Look for a turn down in TNX, with an eventual drop to a new low.
Registration for Commenting
Want to comment? You need to be logged in to comment. You can register here.
If you register, it protects your information. It also allows you to comment without filling in your information each time. Once you're registered, simply go to the home page and click on the login link top right in order to log yourself in. Usually, you'll be logged in for several days before needing to be logged in again.
______________________________
Problem receiving blog comment emails? Try whitelisting the address. More info.
______________________________
Get an upper hand … JC 2
Get an upper hand in trading …

Seeing all the different currency pairs and the wave structures and hearing you explain why this has to do that on a nightly bases gives one a upper hand when trading. Elliott Wave applies to all stock and indices and can be applied to any candlestick chart.

If someone ask what you want for Christmas – Tell them a membership to Peter's "Traders Gold!"—JC
The Market This Week
Here's the latest daily chart of ES (emini futures)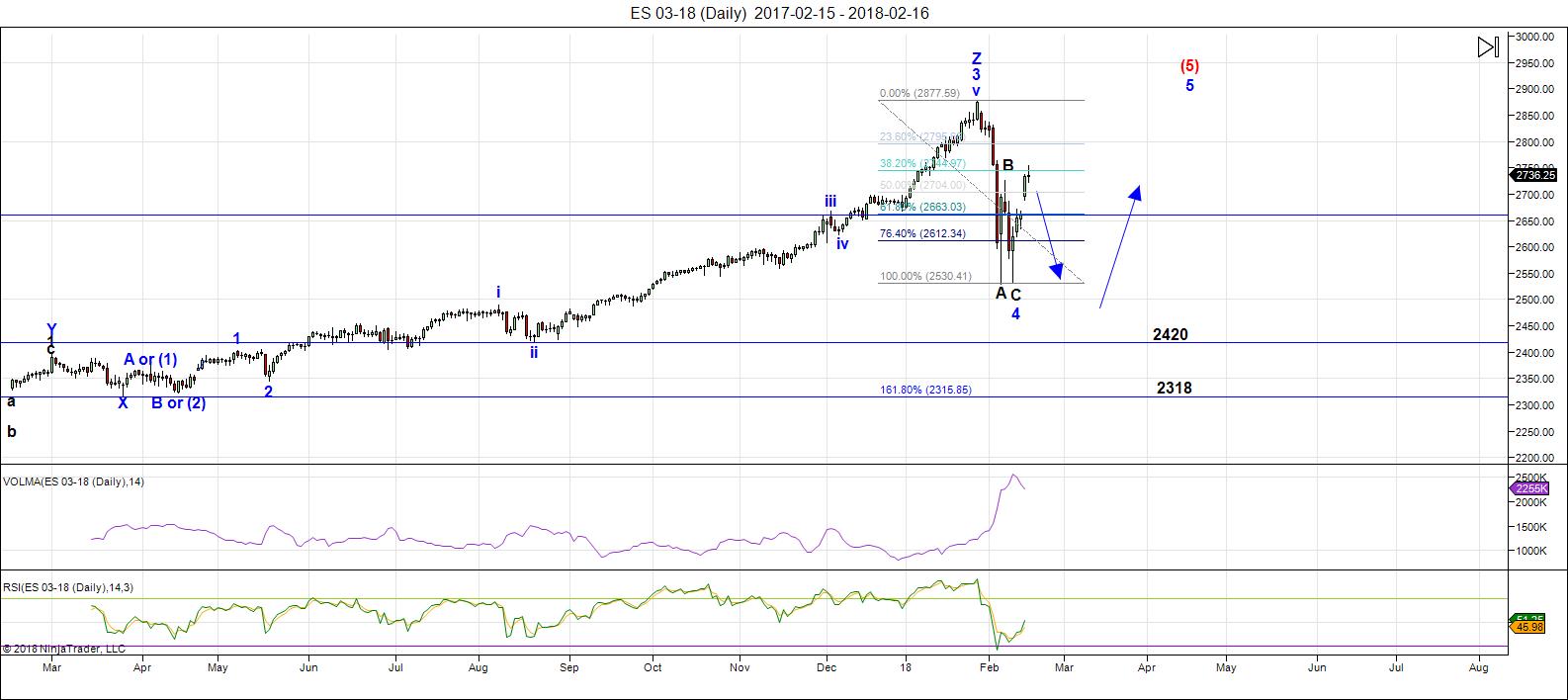 Above is the daily chart of ES (click to enlarge, as with any of my charts).
There are also options for the US market. My analysis tells me that we're in a fourth wave with more downside before we turn up in a final fifth wave to the top. It looks to me as though this last wave will make a slight new top to the 2900 area, if we meet one of the downside targets identified.
I'm expecting the downside target to a new low, which could be a previous fourth wave area (labelling may not be correct on the wave up to the current top). There are other measured options for a bottom, but the levels shown in the chart seem the most probable.
Volume: It remains high, as expected.
Summary: We've turned down across the US indices, but this appears to be a fourth wave down with a C wave still to go. We'll look for a turn there and a final rally to a new high.
___________________________
Trader's Gold Subscribers get a comprehensive view of the market, including hourly (and even smaller timeframes, when appropriate) on a daily basis. They also receive updates through the comments area. I provide only the daily timeframe for the free blog, as a "snapshot" of where the market currently trades and the next move on a weekly basis.
______________________________________
Sign up for: The Chart Show
Next Date:

Thursday, March 1 at 1:00 pm EST (US market time)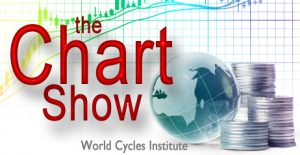 The Chart Show is a one hour webinar in which Peter Temple provides the Elliott Wave analysis in real time for the US market, gold, silver, oil, major USD currency pairs, and more. You won't find a more accurate or comprehensive market prediction anywhere for this price.
Get caught up on the market from an Elliott Wave perspective. You'll also get Andy Pancholi cycle turn dates for the SP500 for the balance of the current month. There'll be a Q&A session during and at the end of the webinar and the possibility (depending on time) of taking requests.
All registrants will receive the video playback of the webinar, so even if you miss it, you'll be sent the full video replay within about an hour of its conclusion. For more information and to sign up, click here.