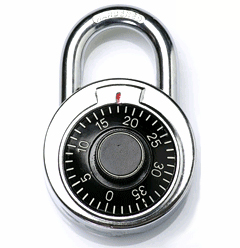 My theme for last weekend had to do with the options that were available to complete this fourth wave. That hasn't changed. In fact, the options have become more complicated.
We could either be tracing out a single large flat pattern, or we could be getting ready to trace out the second pattern of a fourth wave combination pattern.
Hence this title for this week: Locking in the Combination (or not). There are several options for the completion of this fourth wave.
There are also two possibilities for the flat, one far less probable than the other.
There are three possible patterns for the second pattern of a combination, one more probably than the others.
It's complicated, so let me deal with one at a time.
Option 1: A Single Fourth Wave Flat
The most probable pattern tracing out in both ES and the SP500 seems to me to be a regular flat. Here's an description of the traits of a flat (from the Elliott Wave Principle):
"A flat correction usually retraces less of the proceeding impulse waves than does a zigzag. It tends to occur when the larger trend is strong, so it virtually always precedes or follows an extension. The more powerful the underlying trend, the briefer the flat tends to be. Within an impulse, the fourth way frequently sports of flat while the second wave rarely does."
In both ES and the SP500, the preceding wave up was an extended wave, so the fit here is quite good.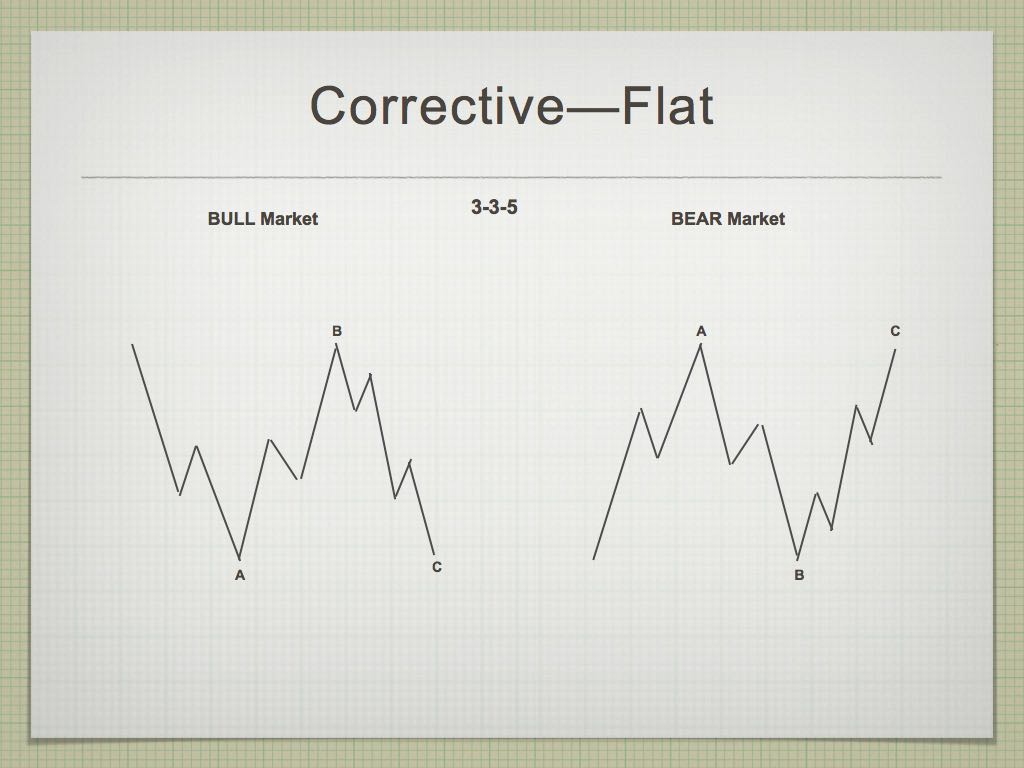 Above is a chart showing a very simple drawing of a regular flat. Think about the large fourth wave in ES that we've been tracing out since January 29. The BULL Market wave on the left in the chart relates to the possible pattern we have unfolding.
The first set of waves down from the 2875 area was in three waves (a zigzag). This is the A wave of the flat.
The wave up from about 2530 is also in three waves. This is the B wave of the flat, but as they usually retrace  up to the start of the A wave (in this case, close to a new high). They can also retrace right to the start of wave A (but not to a new high). then the C wave turns down to a new low below the bottom of the A wave. Wave C will trace out five waves for a complete pattern (3-3-5).
An expanded flat, which is less probable in this case, would see the B wave rally to a new high before turning and going to a new low (NQ has a higher probability of tracing out an expanded flat than does ES).
Option 2: The Second Pattern of a Combination

Above is a chart showing combinations and the pattern options that can be contained within them. The two combination patterns above are each called "triple threes." That's because each corrective pattern (a flat, zigzag, or triangle) are always in a 3 waves and there are three patterns in each of the waves above.
Combination waves also can contain only two patterns, called a "double three" (a flat and a zigzag, for example). If a triangle is one of the patterns in a combination wave, it's always the final pattern.
For example,  a flat is 3 waves (3-3-5), a zigzag is 3 waves (5-3-5), and a triangle (3-3-3-3-3) is counted in three waves, even thought there are 5 waves (each wave in three subwaves). I know, all very complicated. But as you study Elliott waves and see these patterns over and over again, they begin to make more sense the more you see them play out.
The waves above are horizontal in direction, but in real life, they would either slope up or down, depending in whether we're in a bull or bear market.
So far in this large fourth wave correction (down from January 30), we've completed one pattern, a zigzag. an expanded flat (there are three types of flats). Flats are are 3-3-5 combination. If we get another pattern in a combination, I would expect a turn down at 2760. This could lead to a zigzag or a contracting triangle. A flat as a second pattern of a combination wave at this point, is low probability (for reasons I explain in the video).
Summary: The most probably outcome is for a regular flat, which would mean a rally this weekend and then a sudden turn down in five waves to a new low. The less probable alternative is a second corrective pattern that would likely begin near the 2760 level with a turn down.
Registration for Commenting
Want to comment? You need to be logged in to comment. You can register here.
If you register, it protects your information. It also allows you to comment without filling in your information each time. Once you're registered, simply go to the home page and click on the login link top right in order to log yourself in. Usually, you'll be logged in for several days before needing to be logged in again.
______________________________
Problem receiving blog comment emails? Try whitelisting the address. More info.
______________________________
Couldn't be happier … KK 2
Couldn't be happier …

The analysis and insight you provide is simply amazing!  I've been trading the futures and equity markets for well over thirty years and usually average around 5% monthly.  Since joining your Traders Gold Service two months ago, that number has better than doubled.  I couldn't be happier.—KK
The Market This Week
Here's the latest daily chart of ES (emini futures)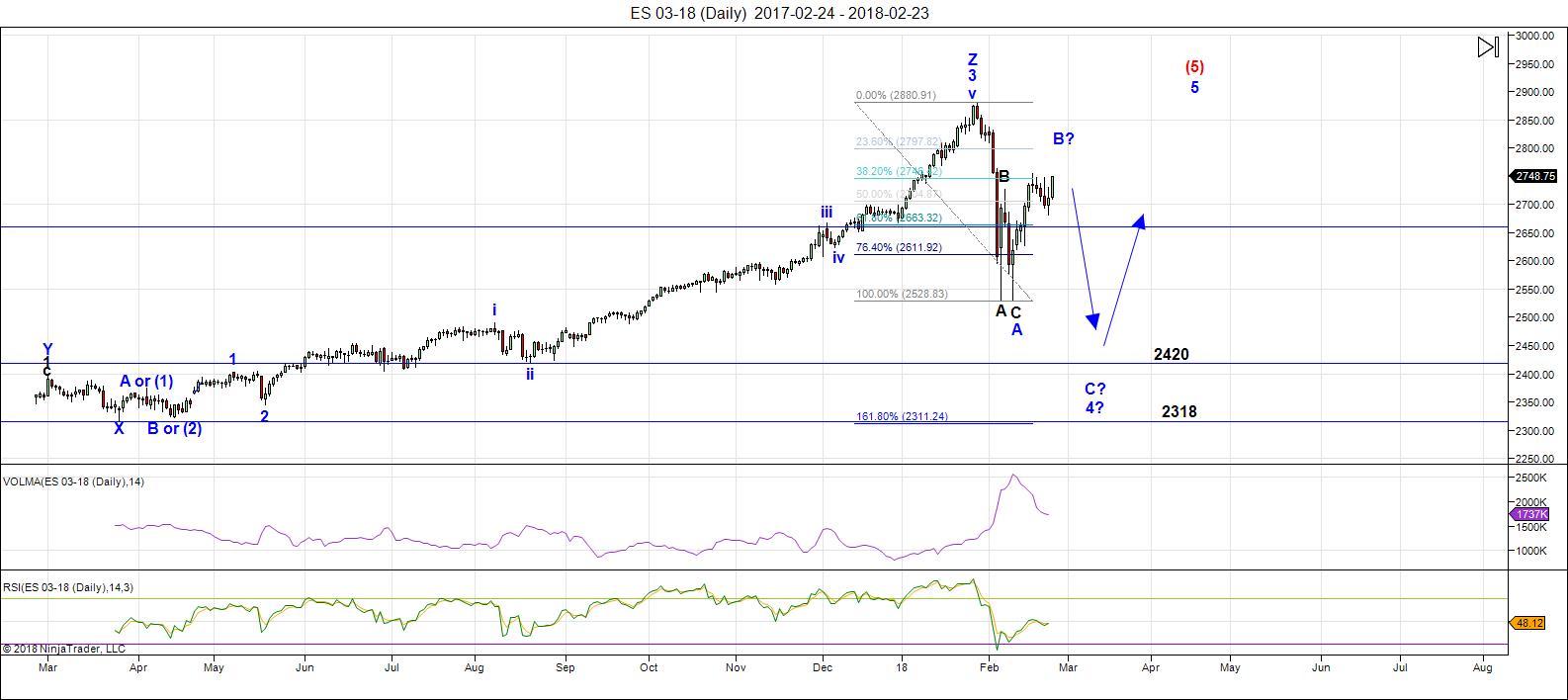 Above is the daily chart of ES (click to enlarge, as with any of my charts).
You can see on this chart that the most recent wave up (blue B) is an ABC wave (three waves), and in fact, if the current wave rises further over the weekend, the entire pattern right from the all time high, will be set up as a regular flat. That would point to a new low, but often with a flat, the actual stopping point won't hit either one of my targets exactly.
There's an option of a very large expanded flat as well, but this would require a new high and then a reversal (NQ in fact, may complete this version, as it's much closer to a new high than ES).
If we have a combination wave in the works, we could head down and trace out a second pattern, either a triangle or a zigzag (a flat as a second pattern seems a very low probability). What happens Sunday and into Monday will determine the pattern that's the most probable. In other words, where the current B wave tops will give us a better clue of what we have on our hands.
Volume: It remains high, as expected.
Summary: We're looking for another turn down into a C wave of the fourth wave. There are options as to how it happens, either as the C wave of a large flat, or a second pattern of a combination pattern (a smaller, regular flat, a triangle pattern, or another set of zigzags). We'll look for a continuation up this weekend with a turn possibly Monday to the downside.
___________________________
Trader's Gold Subscribers get a comprehensive view of the market, including hourly (and even smaller timeframes, when appropriate) on a daily basis. They also receive updates through the comments area. I provide only the daily timeframe for the free blog, as a "snapshot" of where the market currently trades and the next move on a weekly basis.
______________________________________
Sign up for: The Chart Show
Next Date:

Thursday, March 1 at 1:00 pm EST (US market time)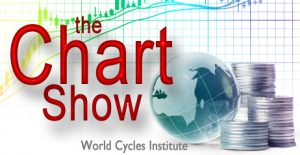 The Chart Show is a one hour webinar in which Peter Temple provides the Elliott Wave analysis in real time for the US market, gold, silver, oil, major USD currency pairs, and more. You won't find a more accurate or comprehensive market prediction anywhere for this price.
Get caught up on the market from an Elliott Wave perspective. You'll also get Andy Pancholi cycle turn dates for the SP500 for the balance of the current month. There'll be a Q&A session during and at the end of the webinar and the possibility (depending on time) of taking requests.
All registrants will receive the video playback of the webinar, so even if you miss it, you'll be sent the full video replay within about an hour of its conclusion. For more information and to sign up, click here.