On Being Bearish (and personal attacks)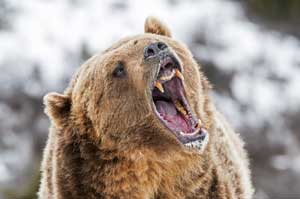 I seem to get pulled back into the question of decency on this site, which I honestly find to be a huge distraction, and keeps pushing me to do what I've been told is the intelligent decision and shut down the comments area of the free blog. But while it's up and operating, here's the rule: No personal attacks. You can be a bull or bear or a "sideways" advocate. I don't care. But there's no need to personally attack each other over it.
I consider this site an extension of my home. It's an open invitation, but I happen to believe respect is important. At 67, perhaps that's considered "old world." So be it. I would like intelligent conversation, which can result in differing opinions. But, I believe you can have disagreements and still be respectful.
In the process of attempting to uphold this simple rule, I've been accused of all kinds of things, particularly of being a perennial bear. Let me be quite clear about that accusation:
It's true. I am a bear!
In fact, if I could figure out how to be more bearish, I would be. It's actually the whole point of all my writing here. But I don't care if you're on the other side of the market. However, I can't be, because the work that I do tells me otherwise.
You see, I practice the Elliott Wave Principle. Since 2009, the US indices have been in a corrective wave. That's bearish. That's what the wave structure tells me. In fact, every single asset I cover is in a corrective wave (and has been for a very long time). I would be an extremely inept EW analyst if I didn't pay attention to that fact. Believe me, there are lots of them out there. I fight that fact every day.
You might think I'm stubborn. In terms of Elliott Wave, you'd be absolutely correct! I'm also controversial, as a result. After over fifty years of a chronic health condition and building two million dollar plus businesses in spite of it, sticks, stones, and words don't affect me all that much anymore. I haven't seen everything, but I've seen a lot.
I also lost one of those businesses due to a self-styled "investment banker" who I believed. That was a big mistake and I ended up having to close down a million dollar business, and subsequently completely lost my self-esteem. Over time, I got it back, but I've developed a very thick skin, as a result.
Although I eventually re-built that business, I eventually lost interest in the corporate television profession (you can never really "go back" to what you had), and got the "market bug." Through my research (after a few years), I latched onto Elliott Wave Theory done badly by Elliott Wave International. After getting burned after the 2008 recession by those bad calls, I determined that I would become more proficient in EW analysis than my contemporaries. It takes strict adherence to the key principles, but there are more rules that I've learned simply through studying EW and the market over 40 hours a week for several years. Over the past ten years, that's slightly over 20k hours.
Over time, I've discovered a number of errors in the Elliott Wave Principle book—that's not a criticism; after all, it's an amazing piece of work. But the errors don't help the EW cause.
As a professional speaker, I'm well aware of the adage, "Speak about what makes you crazy." This site is a result of that saying.
To that end, this weekend I'm sharing (which was pre-planned) the wave down in 2007-9 that set me off to be as precise and correct in Elliott Wave analysis as I can be. Beat me up for it, but it's proven to be quite profitable.
EW — Corrective Threes and Impulsive Fives
One of the core elements of the Elliott Wave Principle is understanding the role of "corrective" versus "impulsive" wave structures. Mastering this aspect of EW Theory is key to dramatically lowering risk in any market. Many EW analysis get this simple principle wrong. It's this error that is without doubt the most frequent issue with Elliott Wave analysis—you must develop an eye for patterns and be as objective as possible in your approach to the market. Any bias invariably changes the count (subconsciously).
The concept of three vs. five is itself a simple one: a three wave structure will eventually completely retrace: Three wave structure is corrective.
A five wave structure, on the other hand, in most cases, means there's a B wave correction coming (a partial retrace) and then another wave following in same direction as the original wave—a C wave.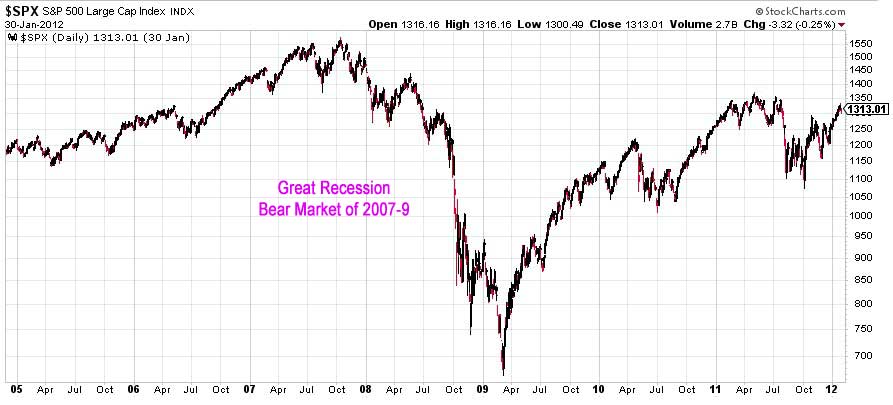 Above is the daily chart of the SP500 showing a seven year period from 2005 through 2012—what's been referred to as "The Great Recession." (click to enlarge)
What you're seeing here is the wave down from 2007 that EWI (and others) still classify as an impulsive wave. It is not, it's corrective. That means it will fully retrace to the upside. Because of that inept analysis, I lost quite a bit of money (I was not analyzing EW at that time, but it became "the last straw"). Lesson: Do your own research, form your own opinion. I tell my subscribers to have their own system and use my analysis as confirmation (or not).
I've been clear from the very start that unless the market is in position that makes the count dubious, I will take a position, either bearish or bullish, unlike others who tell you it will either go up or down (with two opposing counts). I'm a trader. I can't trade that kind of nebulous, indecisive guidance.
In the chart above, to the trained eye, the look of the wave down alone is enough to flash warning lights. The large second wave is far too large relative to the fourth wave. It's "top-heavy." The look is not correct for an impulsive wave. It looks like a "three." Looking under the hood confirms it: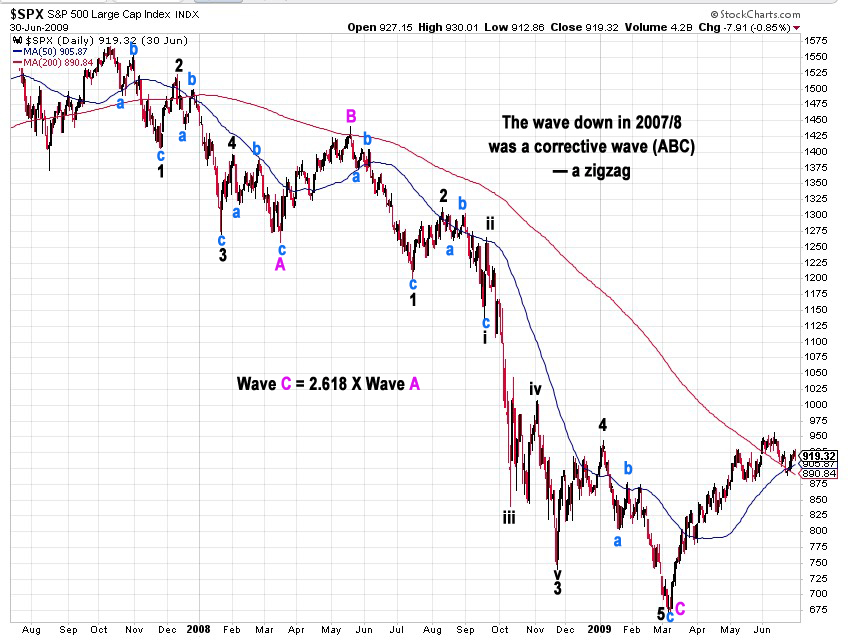 Above is the daily chart of the SP500 (click to enlarge) spanning the period of mid-2007 (the top of the bearish wave down) to mid-2009 (a few months after the wave bottom. What's important here are the purple letters. This is a zigzag. There's a purple A wave down of five waves, then a purple B wave in three waves, and finally a purple C wave that is exactly 2.618 X the length of the A wave, a typical length for an extended C wave. There are no fourth and fifth waves.
It was a corrective wave, which means it should complete retrace. It did, but most people got it wrong.
This is the importance of the three wave versus five wave count and why it's so important to look at sub waves and be exceptionally stubborn in the application of the Elliott Wave Principle.  I know the powers that be still think the wave down is impulsive. Not my problem; I know better.
A Higher Tide Floats All Boats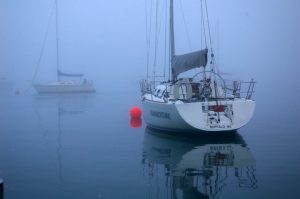 Whenever we get close to a major top in ES (emini futures), the comments start to flow predicting a top (or not). Usually these comments seem to come from those fixated one one index—the SP500. But, the market actually consists of more than one index, and the driver of the entire thing is the US dollar (the reserve currency).
I have always maintained that once one index tops, they all have to (so that they stay in sync). This is a "market rule."
But it's more than this that keeps the SP500 from not topping until the others top. The next wave down will have to start with five waves—across all US indices. So to get to the point where that can happen, the indices all need a "fresh start"—in other words, a new high.
The key, as I preach over and over again, is to watch the entire market, certainly indices that are related to each other. Both the SPX and DOW are subsets of the NYSE. They move more or less together. The wave structures have to be correct in order for the next wave down to start.
In all US indices, we appear to have two more subwaves left to go—one down, one up. The NYSE is the one to watch as it's the only one left not at a new high.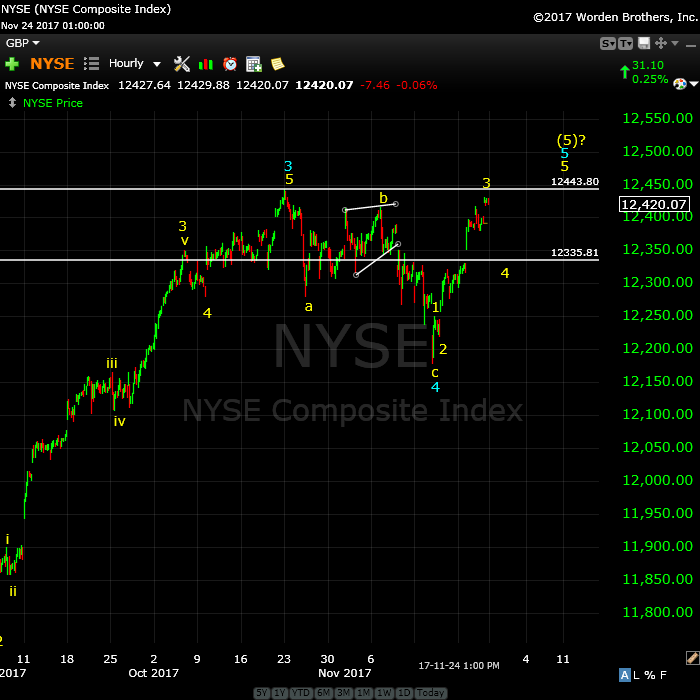 Above is the hourly chart of the NYSE Composite index. It's what I call the "straggler" in terms of the US market major indices. All the others sub-indexes have now reached a new high (DOW, SPX, RUT, IMW, etc.). Even the Nasdaq exchange indices are at new highs. But ES (SPX futures) and the NYSE are not. However, they're very close and will both reach their tops after a fourth sub wave down and a final wave to a new high.
______________________________
Tops in your field DZ 2
Tops in your field …

You are tops in your field.  Tried to follow Elliot Wave international for years.  They were always behind the market.  After discovering you, I perceive that you are an expert in reading the waves, which puts you way ahead of the rest of your peers. And you can read the Waves like you are reading tomorrow's financial section.  I pray you stay healthy.  —DZ
The Market This Week
Here's the latest daily chart of ES (emini futures)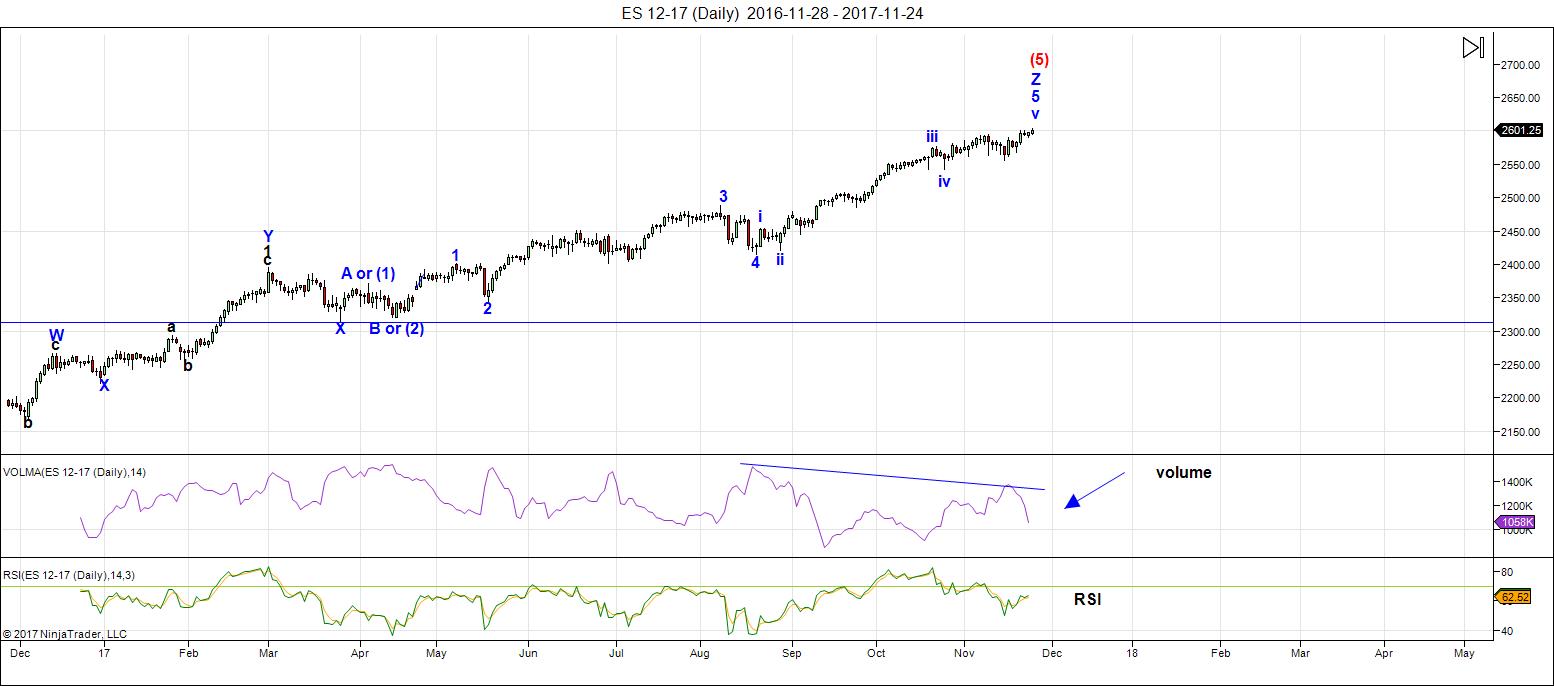 Above is the daily chart of ES (click to enlarge, as with any of my charts).
There have been no material changes to my prognosis. We are at the high. I expect this final wave to breach the previous high for the final time.
We're now down to hourly charts for all the action. It's been a day trading environment for the past few months.
Volume: Volume has tanked in ES, which is a well-documented phenomenon that accompanies ending diagonals at the top of a market. RSI is showing the expected divergence.
Summary: The count is full for the US market in general, except for small subwaves that form the balance of a motive set of waves in SPX and some other major US indices. ES and NQ (emini futures of SPX and NDX) are tracing out ending diagonals. This weekend we should turn down into a fourth wave and then eventually up to a new high ... and we're done. Based upon measurements within the ending diagonal, I'm looking at 2620ish in ES as the potential final high (although the final wave could extend or compress).
_______________________
Here's the latest 60 MIN chart of ES (emini futures):
Above is the 60 minute chart of ES (click to enlarge). (commentary reserved for Trader's Gold subscribers)
___________________________
Trader's Gold Subscribers get a comprehensive view of the market, including hourly (and even smaller timeframes, when appropriate) on a daily basis. They also receive updates through the comments area. I provide only the daily timeframe for the free blog, as a "snapshot" of where the market currently trades and the next move on a weekly basis.
______________________________________
Sign up for: The Chart Show
Next Date:

Thursday, December 7 at 1:00 pm EST (US market time)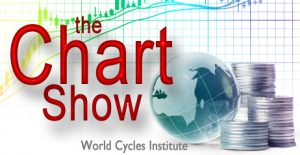 The Chart Show is a one hour webinar in which Peter Temple provides the Elliott Wave analysis in real time for the US market, gold, silver, oil, major USD currency pairs, and more. You won't find a more accurate or comprehensive market prediction anywhere for this price.
Get caught up on the market from an Elliott Wave perspective. You'll also get Andy Pancholi cycle turn dates for the SP500 for the balance of the current month. There'll be a Q&A session during and at the end of the webinar and the possibility (depending on time) of taking requests.
All registrants will receive the video playback of the webinar, so even if you miss it, you'll be sent the full video replay within about an hour of its conclusion. For more information and to sign up, click here.