Technical Analysis vs. Fundamentals
What would the work be like without pundits predicting the market?
Answer: A lot saner for anyone trying to follow the market.
Only technical analysis will give you an accurate picture of where the market is going. Most fundamental analysis is just hearsay. That's especially true now with virtually all asset classes are moving in lock-step. In other words all asset classes around the world are moving now as one entity.
So, it's laughable when you hear pundits telling you the market moved in response to something Donald Trump said. And it affected every asset class in the world at the same time? Right …
Markets do not move appreciably based on events, much less what someone said in a tweet.
We have a major turn coming at the bottom of the E leg of the contracting triangle in SPX. At the point, all assets will move into the final wave.
Being a holiday week, with the Chart Show cancelled (as it falls on a holiday Wednesday), I thought I'd share some analysis that I do for my Trader's Gold subscription group every day. This has to do with the current situation in ES and how we got to where we are.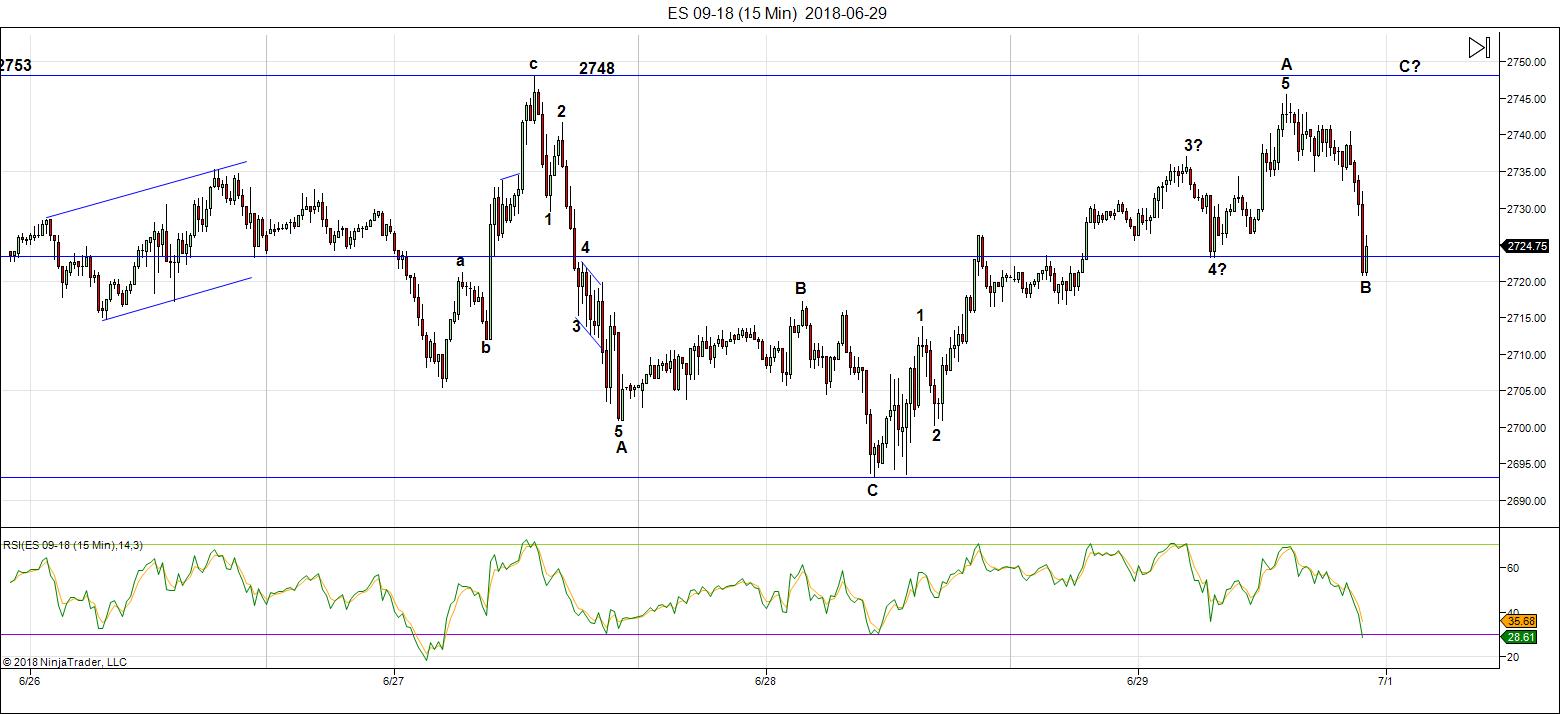 Above is a fifteen minute chart of ES (emini SPX futures). This shows the predicted wave down on Wednesday from 2748 and leads to where we left off on Friday.
On Wednesday, I'd warned that the the market might be too weak to make the projected target of 2756 and provided some possible turn points. We turned down at 2748 and finished the day with arguably 5 waves down. I say "arguably" because the fifth wave was in two parts.
Thursday morning, with a retrace that missed the 38% retrace level by pips, the market dropped to a new low and then reversed. This completed an ABC down pattern (three waves), which calls for a complete retrace. At the end of the day on Thursday, I called for a continued move up to the 2748 area (possibly a little higher, as there's a gap in the SP500 that might need to get filled.
On Friday, the market moved higher to complete 5 waves, but missed the target and came down in three waves. So, what we're left with is an AB pattern looking for a C wave up to complete the required retrace. We must meet of exceed 2748 before turning down in a wave that will target the lower trendline of the contracting triangle.
I'd look for a continuation up on the weekend to our target of 2748 (or slightly higher — 2754?) to perhaps fill that gap in the SP500. Then we'll turn down with a target of around 2600.
I provide similar analysis for all the other assets I cover. Monday looks like a turn day for quite a few of them.
My July 4 gift to the free blog. Good trading!
_______________________
Elliott Wave Basics
There are two types of Elliott wave patterns:
Motive (or impulsive waves) which are "trend" waves.
Corrective waves, which are "counter trend" waves.
Motive waves contain five distinct waves that move the market forward in a trend. Counter trend waves are in 3 waves and simply correct the trend.
All these patterns move at what we call multiple degrees of trend (in other words, the market is fractal, meaning there are smaller series of waves that move in the same patterns within the larger patterns). The keys to analyzing Elliott waves is being able to recognize the patterns and the "degree" of trend (or countertrend) that you're working within.
Impulsive (motive) waves move in very distinct and reliable patterns of five waves. Subwaves of motive waves measure out to specific lengths (fibonacci ratios) very accurately. Motive waves are the easiest waves to trade. You find them in a trending market.
Waves 1, 3, and 5 of a motive wave pattern each contain 5 impulsive subwaves. Waves 2 and 4 are countertrend waves and move in 3 waves.
Countertrend waves move in 3 waves and always retrace to their start eventually. Counrtertrend (corrective waves) are typically in patterns — for example, a triangle, flat, or zigzag. Waves within those patterns can be difficult to predict, but the patterns themselves are very predictable.
Fibonacci ratios run all through the market. They determine the lengths of waves and provide entry and exit points. These measurements are really accurate in trending markets, but more difficult to identify in corrective markets (we've been in a corrective market in all the asset classes I cover since 2009).
To use Elliott wave analysis accurately, you must be able to recognize the difference between a trend wave (motive) and a countertrend wave (corrective). There's very much more to proper Elliott wave analysis, but this gives you the basics.
____________________________
Registration for Commenting
Want to comment? You need to be logged in to comment. You can register here.
If you register, it protects your information. It also allows you to comment without filling in your information each time. Once you're registered, simply go to the home page and click on the login link top right in order to log yourself in. Usually, you'll be logged in for several days before needing to be logged in again.
______________________________
Problem receiving blog comment emails? Try whitelisting the address. More info.
______________________________
A true expert in Elliott Wave FL 2
A true expert in Elliott Wave …

You are a true expert in EW analysis. What you provide is not available anywhere and is priceless. Subscription on your services is the best thing I have ever done. Many thanks for your effort to make me a better investor. I now have more trust in my investment decisions. I hope you will continue the excellent work! —FL
The Market This Week
Here's the latest daily chart of ES (emini futures)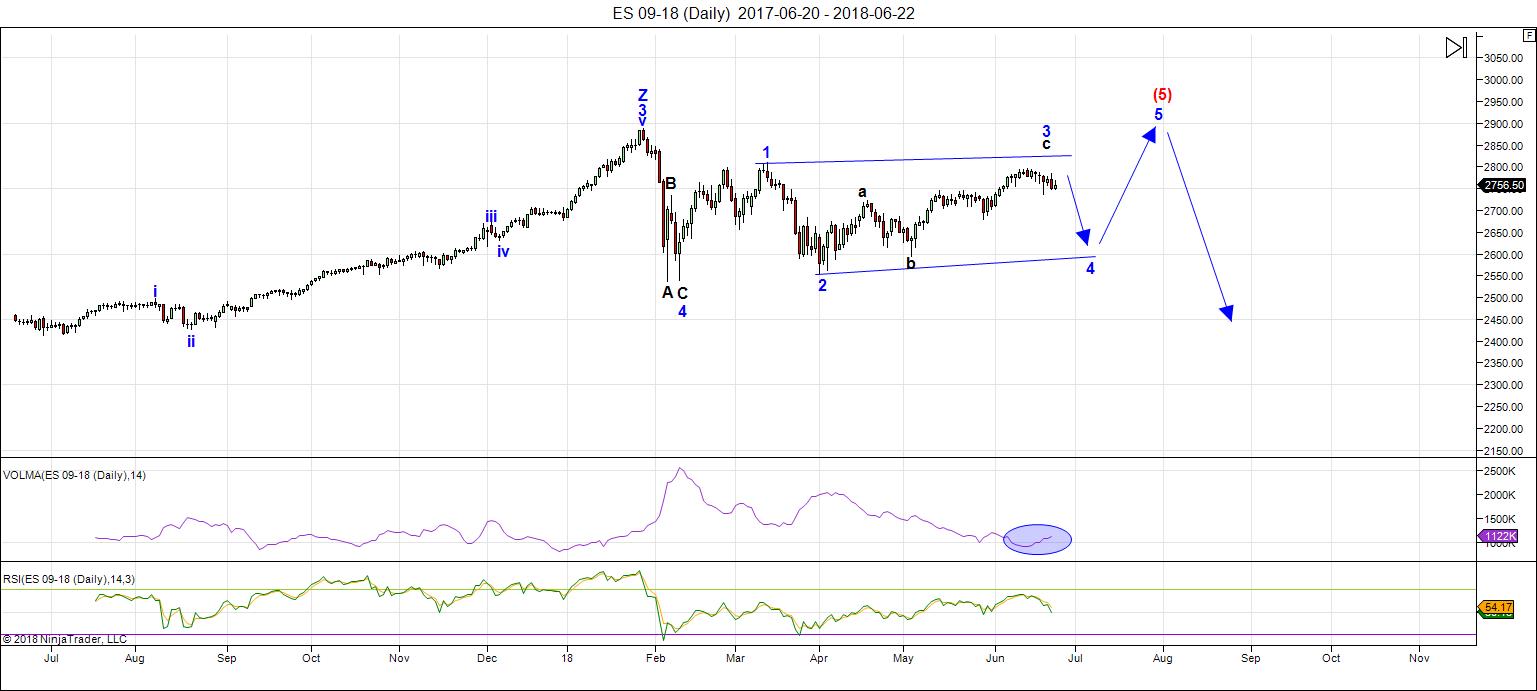 Above is the daily chart of ES (click to enlarge, as with any of my charts).
Monday of this past week, it became obvious that we were not going to complete the third wave of an ending diagonal in ES. The waves to the downside were anything but clear. But what is clear is that we're in a contracting triangle in ES and the NYSE.
The Nasdaq related indices are in ending diagonals, as are the Russells. OEX and the DOW are questionable, but will likely result in 5 wave moves as their final waves up to a new high. The DOW may end up bottoming for a third time before turning up.
For the last couple of days in ES/SPX, we've experienced a countertrend move to the upside, which is almost done, but not quite. I think it will be over on Monday morning. This will be a really good short of about 150 points, so get ready! The downside target is about 2600.
ES (and related indices) is extremely weak. The drop, after this bounce tops, may be swift. It should be a drop for a number of assets, as I've described above.
Summary: We continue to trace out the E leg of a contracting triangle. Once the E leg (down) is complete, expect a final fifth wave to a new high. That fifth wave up to a new high will be the end of the 500 year bull market.
___________________________
Trader's Gold Subscribers get a comprehensive view of the market, including hourly (and even smaller timeframes, when appropriate) on a daily basis. They also receive updates through the comments area. I provide only the daily timeframe for the free blog, as a "snapshot" of where the market currently trades and the next move on a weekly basis.
______________________________________
Sign up for: The Chart Show
Next Date:

 Cancelled this week (due to July 4 market holiday)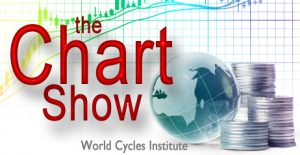 The Chart Show is a one hour webinar in which Peter Temple provides the Elliott Wave analysis in real time for the US market, gold, silver, oil, major USD currency pairs, and more. You won't find a more accurate or comprehensive market prediction anywhere for this price.
Get caught up on the market from an Elliott Wave perspective. You'll also get Andy Pancholi cycle turn dates for the SP500 for the balance of the current month. There'll be a Q&A session during and at the end of the webinar and the possibility (depending on time) of taking requests.
All registrants will receive the video playback of the webinar, so even if you miss it, you'll be sent the full video replay within about an hour of its conclusion. For more information and to sign up, click here.