Update Thursday, June 30, 1PM EST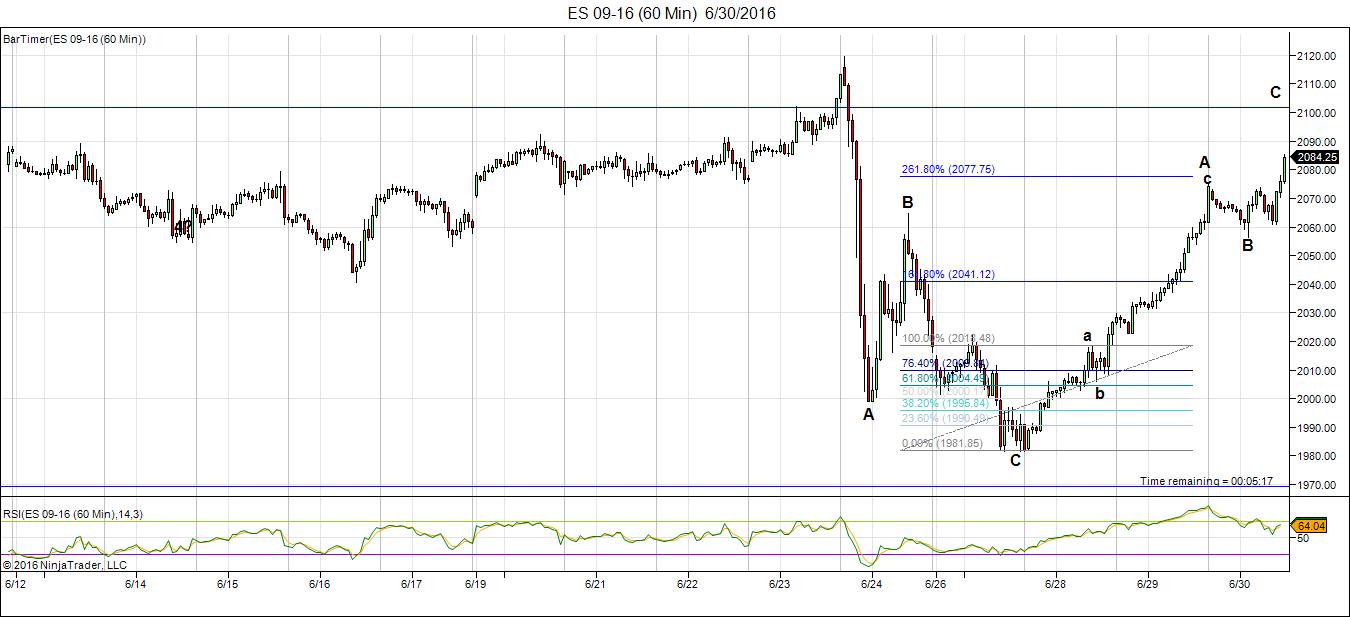 Here's ES with the count to now. We have a corrective wave up. It will no doubt end at a fib number. The latest is about 2103. I had warned on the weekend that this is not a market that's easy to predict. But it still lends itself to an ending diagonal finishing pattern. The first wave up is the largest of the pattern.
___________________________
Update Thursday, June 30, 7:30 AM EST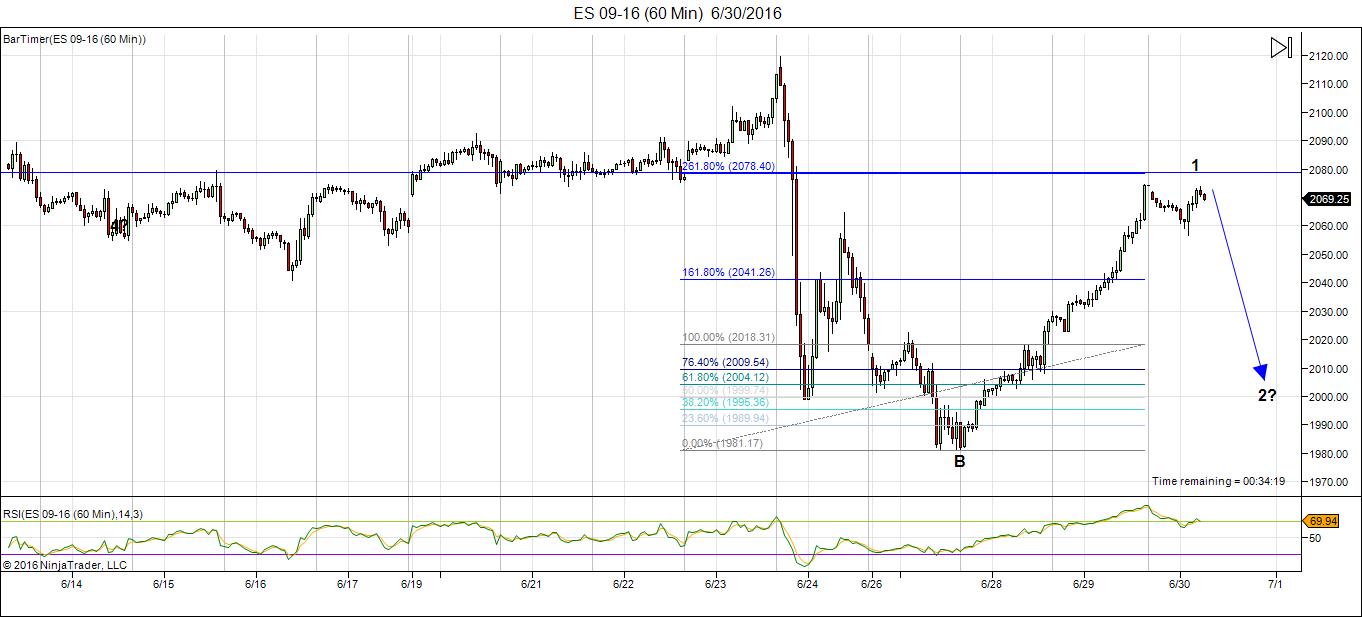 Above is the 60 minute chart for ES (emini futures). ES travelled up past my target of 2066, to another fibonacci ratio at ~2080, while SPX turned at the target of 2073. SPX may rise a little bit further at the open, however, it should turn down shortly thereafter. The 2.618 extension shown here is a rare ratio to extend to, but ending diagonals are difficult to predict, as I've said many times before. I think ES should turn around 2080 this morning and head down.
That said, it's difficult to provide a downside target at the moment. That will be easier once we have an A wave in place. All the waves in an ending diagonal are in 3's. You can see the projected configuration in the chart below this one. The wave down should last into early next week.
Currencies should also have a turn here this morning.
_______________________________
Update Wednesday, June 29, 11:20 AM EST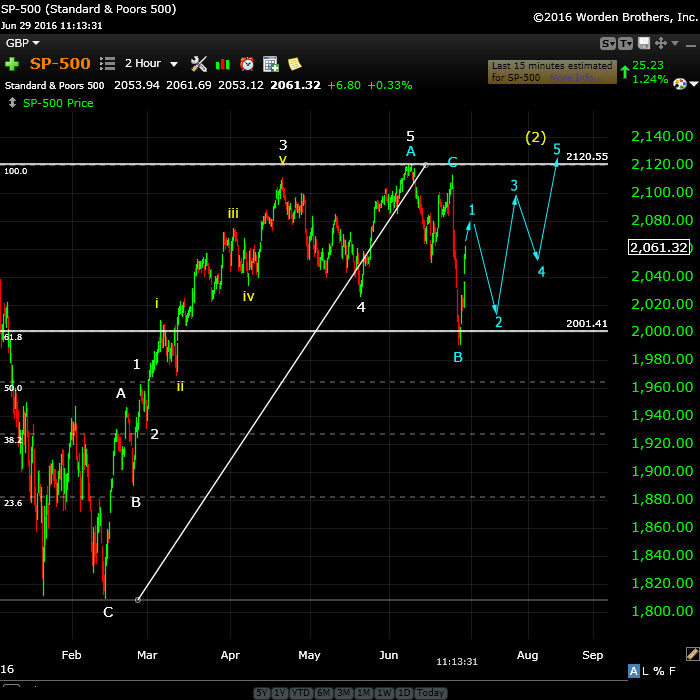 Above is the 2 hour chart of SPX. About the only possibility I see, based on this corrective wave up we have today, which should end at about the 62% level, a measured target, is an ending diagonal. This is what it might look like. This would mean a fairly good-sized drop after a top at about the 2073-4 mark.
All the waves in an ending diagonal are in 3's, although I haven't shown these, due to space limitations.
If we drop to a new low, however, we likely have a top in place. I would place this much lower on the probability list (which is a very small list!)
Above is the 30 minute chart of SPX showing the current corrective wave up inching its way towards the measured target of ~2066. If this is the first leg of an ending diagonal, we should see a large drop but not to a new low. At 2066, Wave c will be 1.618 X wave a.
__________________________
Update Wednesday, June 29, 12:10 AM EST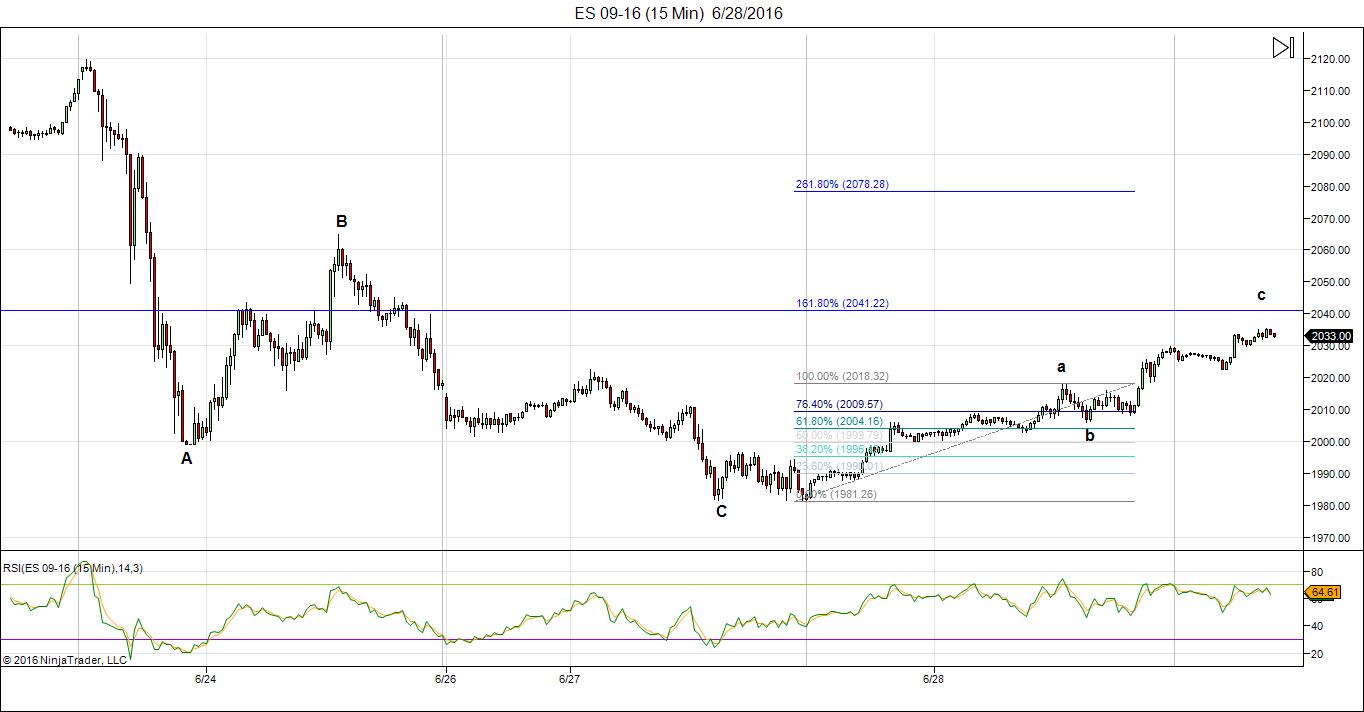 Above is the 15 minute chart of ES (emini futures). I'm showing the wave up over the past couple of days. It's a corrective wave (5-3-5) and the turn point should be about 2041 based on the measurement on the screen. Waves in 3 retrace. I'm seeing triangles now in EURUSD. GPDUSD, and CADUSD that suggest a wave down.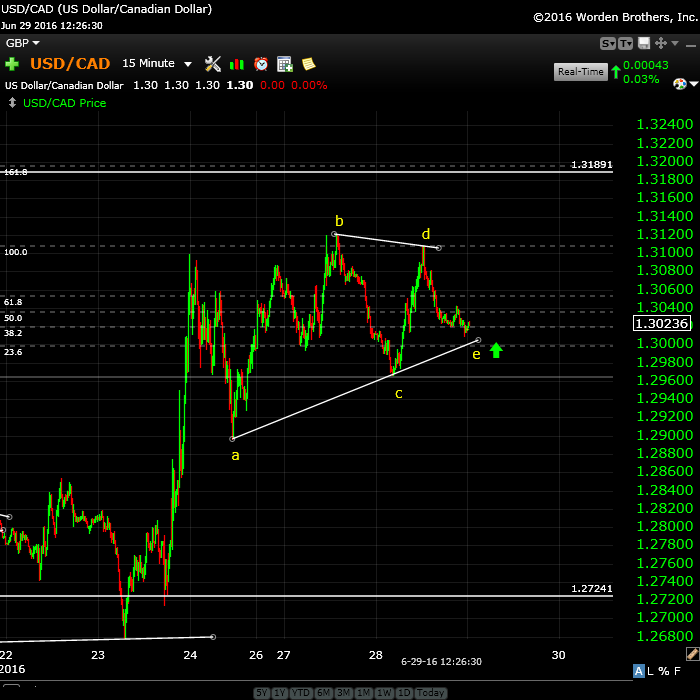 Above is the 15 minute chart for USDCAD showing the triangle that's almost at an end. USDCAD moves in reverse of the US indices and the euro, so I expect them both to head down as the final wave heads up in USDCAD. The target here is ~1.3189 and then it should reverse and start the final wave down to a down bottom at ~1.2456
__________________________
Update Monday, June 27, After the Close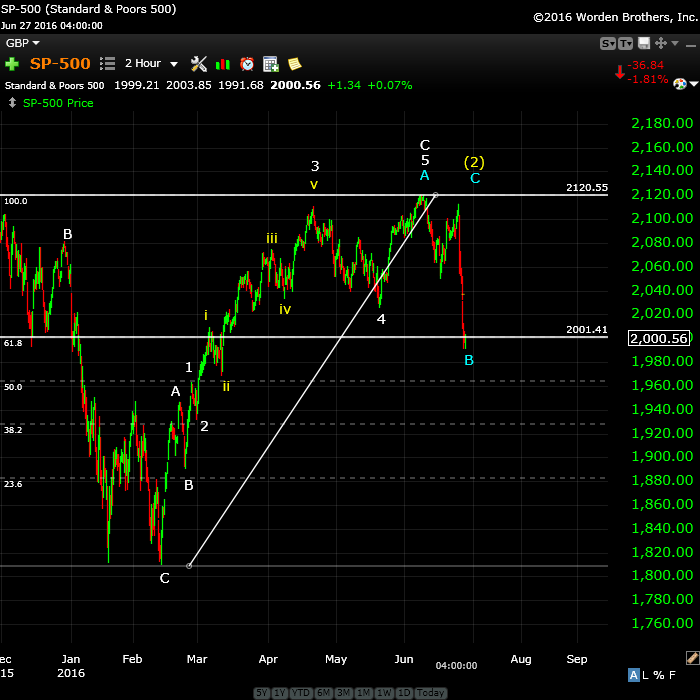 Above is the two hour chart of the SP500. I've relabeled it slightly to account for the B wave down, finishing today. This wave has come down to just below 38% (2001) which is a typical 4th wave (or B wave level). We seem to have bottomed (double bottoms in emini futures) and I'm calling for a final wave up to the top.
We morphed from my triangle pattern this morning to a B wave down. Although unlabeled, you can see that the subwaves of the B wave are in an abc configuration. Three waves retrace. In terms of the numbering of the large wave up from Feb 11, I've labeled the subwaves of the third wave. The third wave is composed of 5 waves (there should always be an even number of waves within a third wave) and so this numbering shows that there are. This leaves a final C wave up, which should now head up in five waves.
The alternative is that the C wave only rises 38% and turns over into fifth wave, but the wave pattern in the DOW doesn't support that scenario. It calls instead for a new high (or at least a double top).
So not much has changed from my weekend video in terms of the direction. Triangles would have headed up in 3 waves. This final wave should be up in 5, unless it starts to form an ending diagonal, which will prolong the agony.
_____________________________
Original Post (June 26):  We're seeing the signs of a market about to turn. But to all those who are calling for an immediate drop, let's just take a moment to reflect on what's going on and not get too emotionally involved in a one day event. Here are a few thoughts:
Markets typically do not turn on a dime. Topping is a process.
Markets don't come down in one fell swoop. They zigzag. Even motive waves with big drops have large second waves that attempt to reach back up to the top before turning over. You just have to look a the big picture we're in now. This second wave almost reached back up to the top.
Events do not change a market's direction. They don't change world mood. The markets move to the mood of the herd. The mood of the herd determines events. I've never seen an event change a trend.
Markets turn on cycle turns. We didn't have a major one Thursday/Friday, but we have some major ones coming up.
In the Elliott wave realm, patterns have to play out and you can't have an ending wave in 3 waves, unless it's a triangle of some sort. We're stuck in "no man's land" at the moment. I'm looking for a top that fits the EW rules
So, for all these reasons, without even looking at the intricacies of the current wave structure, logic tells me we're not done. But, at the same time, I think we're only days away from a resolution. A little more patience is required.
Currencies have still not topped yet, although they're very close:
As I've mentioned here again and again, the currencies and US market are becoming more and more tightly aligned. They're all moving together as debt is being deleveraged. If you're good at seeing patterns and mentally manipulating them, you can easily see them aligning and this helps you (me) forecast the market moves.
It certainly won't always be this way forever, but they've been moving closer and closer into alignment for the past couple of years. Now the moves are almost identical, from a technical analysis perspective. All the US currencies are in the final wave. We'll all reach the party together. The US dollar is still the reserve currency and it's still in charge!
Bottom line: The cash indices are all down in three waves at the moment and this tells me we're going back up one more time. In the process of coming down to where we ended up Friday, we destroyed the ending diagonal pattern, so we're essentially starting over. Most indices did not hit a new low, so this puts them in a possible triangle situation (not an ending diagonal). If they bottom at the previous 4th wave low, it opens the door to an ending wave in 5 waves. As far as I'm concerned, the trend is still up.
I don't know yet what the ending pattern will be, but I still don't expect us to get to a new all time high. We are closer and closer to a turning point and when I see a pattern that I can share with you, I'll tell you all about it here.
The rules for a trend change in Elliott wave are very clear. We need to see five waves down at small degree and then 3 waves up to at least 62% with an turn down at that point (that's the entry point).
__________________________
Andy Pancholi's Market Report Video
Here's a link to Andy's new market report video. In it, he takes you through the June report and shows you how to use it. http://cyclesanalysis.evsuite.com/mtr-20-june-2016/
Andy's Cycles: In case you missed it, two weeks ago, Andy Pancholi provided a short little video looking ahead into July, which you can watch here:  Andy Pancholi Special Report.
To purchase Andy's high-end cycles report, click here.
Wave Three Down
Here's a link to a projection for wave three down in the SP500.
New York:  I spent last week in New York researching Dr. Raymond Wheeler's legacy, specifically the Big Book. I placed a photo of it in the post for my Global Cooling video. I think it's quite spectacular and I found some climate graphs that show climate back centuries and how climate changes mirrored changes in society. I don't think these graphs have ever been seen before. I'll be doing a video on them in the near future.
The mood of the herd is changing
Brexit is a clear indication of mood change. It's one of the first steps in a major revolution against the elite, big banks, and capitalism (the way we know it now). Deflation is taking hold, more so in Europe than other continents at the moment, but it will spread world-wide. Even our music is changing, with more melancholy hits (Adele is a great example of this).
In that regard, I just posted a video on change.org to collect "signatures" to help raise awareness about Canada's debt level and the interest we pay to private banks in Europe, rather than our own public bank (this goes against our constitution). If you're a Canadian, I urge you to take a look now and consider adding your name to my petition. You'll find it here:  Take Back Our Money, Canada! This is Canada's Brexit!
I have a few more videos to come and they'll be hitting the site over the next week, hopefully. Then it's on to finishing the book.
There will be some other announcements coming during the next few weeks, so it won't all be dull and boring.
______________________________
Here's a video overview of the market for Tuesday, June 27, 2016:
Market Report for June 27, 2016
| | |
| --- | --- |
| | Make sure you zoom the video to full size with frame expander (arrows) in the bottom right hand corner and also set the quality to as high as your web connection allows. This is an HD quality video so the best viewing is at that level. |
_______________________________
The Charts Going into Monday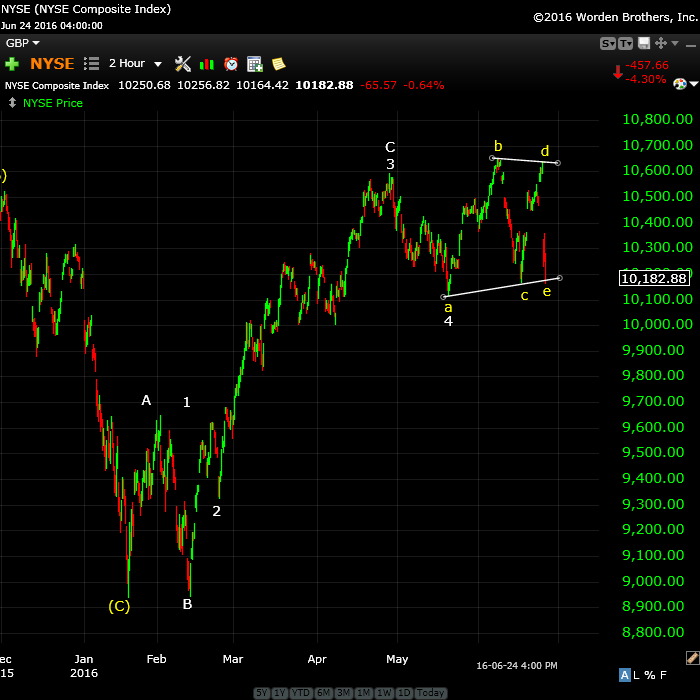 Above is the 2 hour chart of NYSE (the largest cap index in the world) and the one we really need to pay attention to for the US market. I had thought at first glance on Friday morning that the NYSE had done a double top, but on closer examination, it missed by about $10.00 or so. Usually that means we're going back up to make it official.
The wave structure here is a little different than the SP500 so one of them is likely not correct. I just don't have enough information to side with one or the other, at the moment. The bigger picture is that we seem to be in a triangle of some sort, which means the overall direction is still up.
The next major move down is a very large 3rd wave. All we need to do now is finish up the final pattern.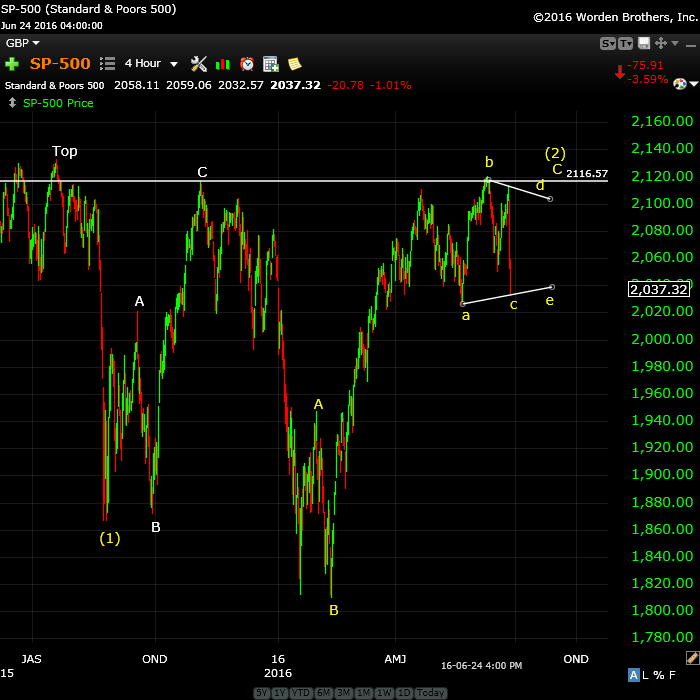 Above is a 4 hour chart of SPX showing the bigger picture. This has a similar look to the NYSE, although I'm showing two more legs of the triangle to go. I'm expecting to see a top to this second wave somewhere above 2116 (looking more like 2134 may be closer to the final high). That hasn't changed. A zoomed in chart is just below.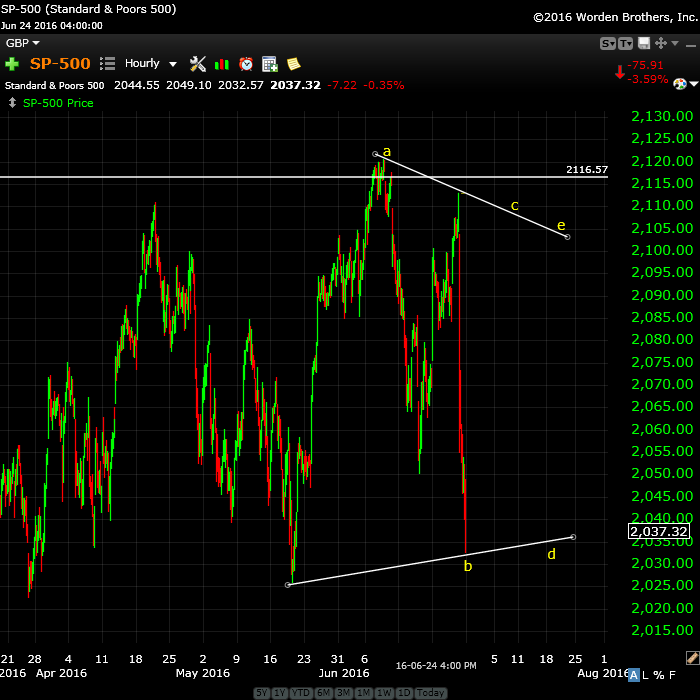 Above is the an hourly chart of the SP500, showing the triangle we still seem to be in. We've morphed from the ending diagonal to a traditional triangle. In that case, we need to at least tag the previous high at ~2120. However, in the video, I also show an expanding ending diagonal as an option. We need to see whether we drop a little further here or head straight up (or even head up 38% and then turn over into a 5th wave—but I have this as much less likely).
I don't expect the SPX to reach up to a new all time high. However, it may get very close.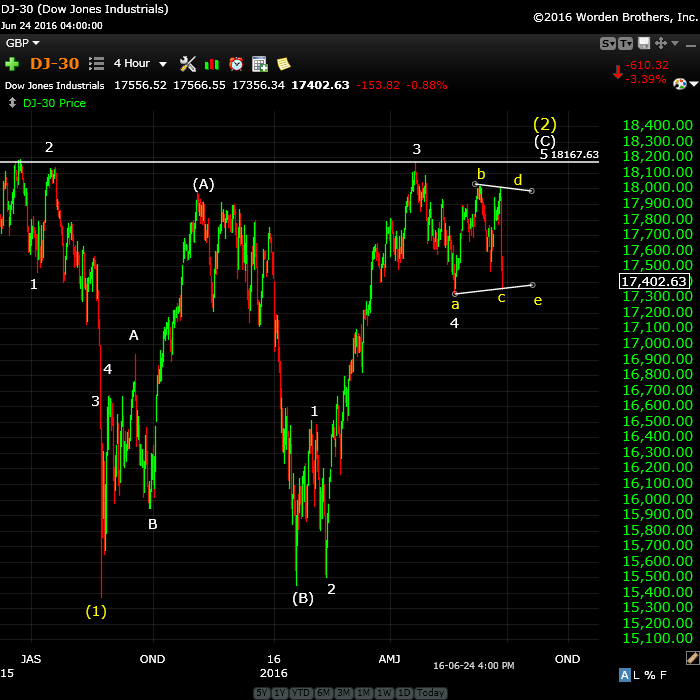 Above is the 4 hour chart of the DOW. It's also showing a triangle setting up, similar to the SP500. My comments are similar here.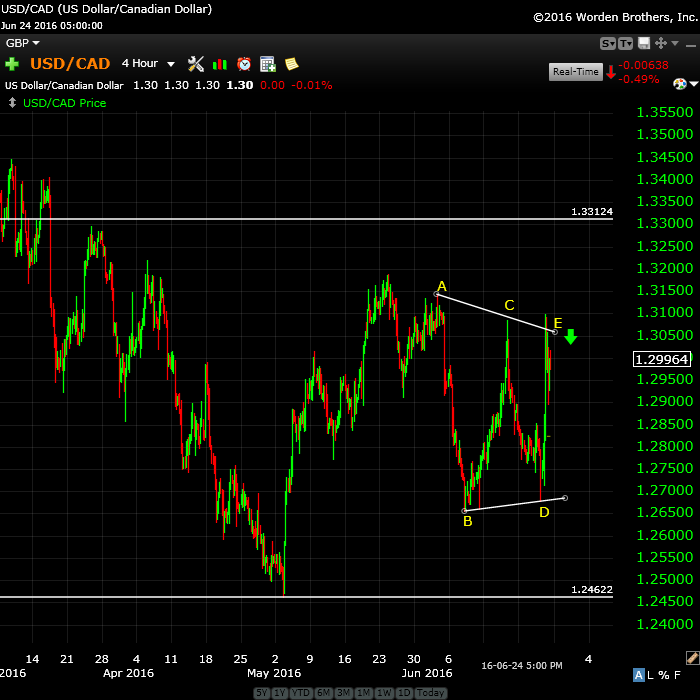 Above is the 4 hour chart of USDCAD.
This has been the most frustrating pattern to try to predict. It's now traced out a triangle and should finally turn down to complete this final wave to a double bottom—the one I've been expecting for the past three weeks or so. The double bottom target is ~1.246.
After that, we'll turn up in a very large fifth wave, which will eventually take up to a new high for USDCAD.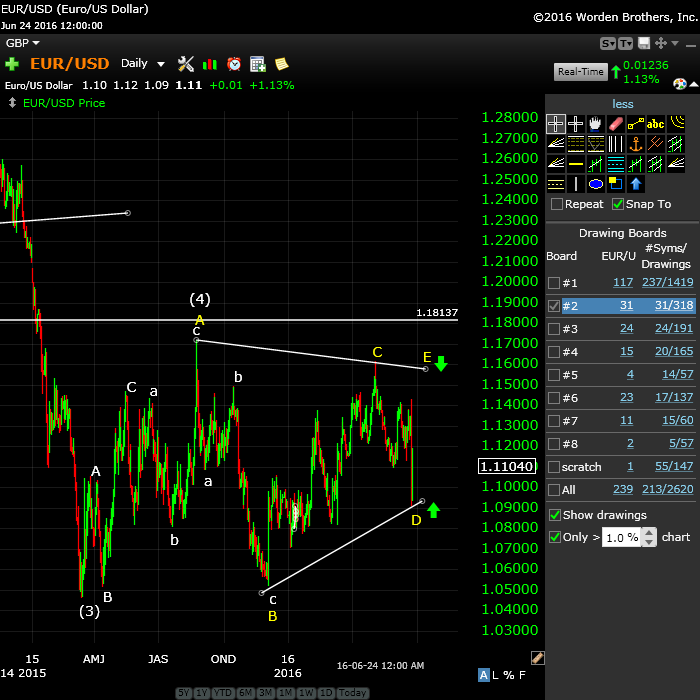 Here's the daily hour chart of EURUSD showing the "4th wave" of the major corrective pattern we've been in since March, 2014. We're in the final stages of a bearish triangle formation, with one more leg up to go to finish the E wave. Other than widening the triangle (which I'd mentioned might happen), not much has changed here. We wait for the E wave to complete and for a final turn down.
EURUSD should turn down after finishing the E wave in tandem with the US equities.
Above is the hourly chart of the USDJPY. We've now met my target at 100.5823 and headed a bit lower. We immediately bounced and now I would expect us to head back down to a double bottom. The next major move up will be to the upside.
________________________
First Wave Down – What to Watch For
This weekend we're dangerously close to a top of a second wave (in the fifth of the fifth, with an ending diagonal pattern).
What we're looking for to confirm a turn is a motive wave down in 5 waves at small degree. After that, we should get a second wave that will retrace up in 3 waves about 62%. That's the preferred EW entry point. So don't feel you have to rush in. There'll be a much better opportunity at the second wave level than at the top and the risk is substantially reduced.
__________________________
History: The 1929 crash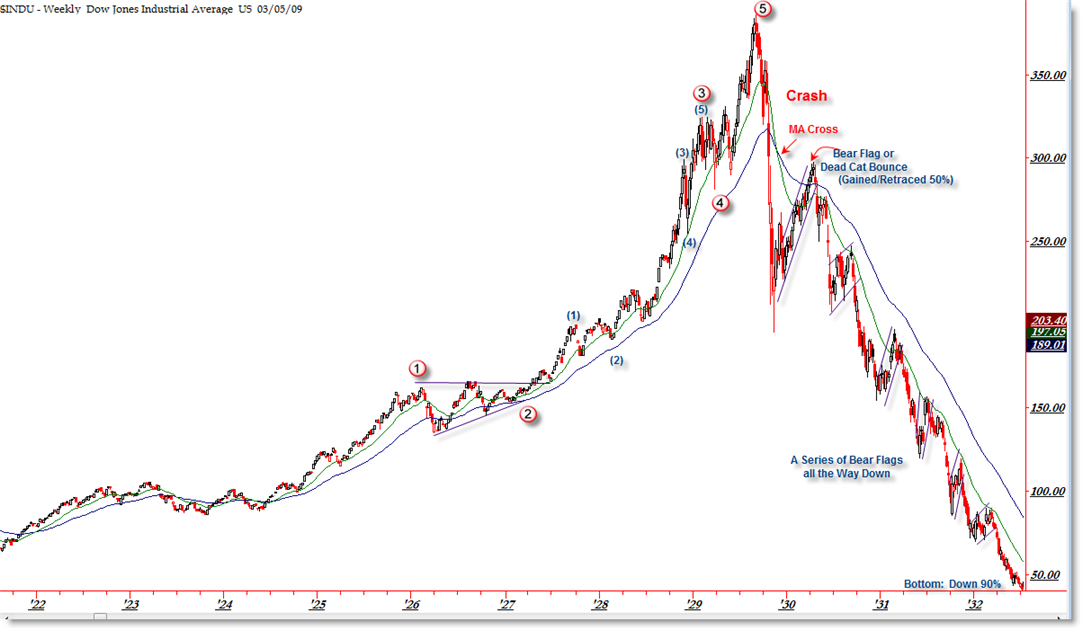 I think it's important to look at 1929 and the wave structure (above and below), which was the same as 2007—to a point. I will show the 2007 crash below in the "What If" section.
The wave structure of the 1929 crash was in 3 waves overall. There were 5 waves down from the top (the A wave) and then a very large B wave retrace. The final C wave down was a stair-step affair and lasted over 2 years.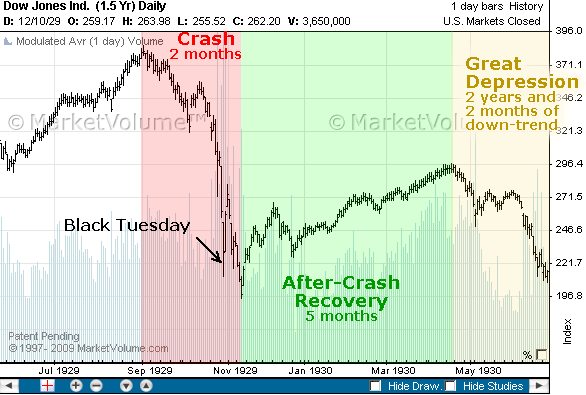 Let's look  a little close at the timing of the 1929 crash because the similarities to today are uncanny.
The market peaked on September 3, 1929 and then it took 2 months for the crash to actually happen (to reach the bottom of wave 5 of the A wave). The larger crash  which we always hear about began on October 23, 1929. Then there was that large B wave, which lasted 5 and a half months and finally (which I explain a little further in the cycles section below), the C wave which went on for more than 2 years. This might be the scenario we're looking at going forward.