Extremes Are Rampant!
I'm overly sensitive to the extremes in society, not just the extremes in climate. We've certainly seen climate extremes, not only in temperature but in fires, in floods, and in hurricanes. We also have lots of active volcanoes, but you don't hear about them all that much (but then the media isn't what it used to be). Active volcanoes is the Earth's way of cooling the atmosphere. The ash gets into the upper atmosphere and blocks our sunlight. Wild fires do this also, but to a much lesser extent.
But I thought it time to revisit a chart on global temperature to see what's happening.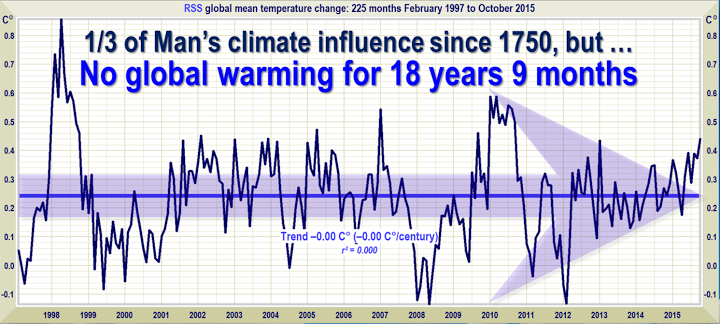 Above is a chart of the global temperatures attributed to Lord Monckton and his extensive work on dispelling the frenzy regarding man-made warming. It's always interesting to me when I look at this chart to see the large dip in 2007/8 as we had a "cold spell" that seeped into the market. There were also market drops in 2011/12.
I created a video on the correlation between temperature and the ups and downs of the market a couple of years ago, entitled, "Don't Like the Climate: Wait a Cycle." Whenever the temperature turns down, so does the market. There are lots of examples of this throughout the past one hundred years (1929, 1970-74, etc.)
As the climate (specifically the temperature) turns colder, the market will drop, as it always does.
Mini Ice Age 2024 Maths
This past week, David Dubyne of Adapt 2030 sent me a link to a video on the ice age we're predicting. It's entitled "Mini Ice Age 2024 Maths" and if you're interested in getting into the numbers as to why we're expecting this colder climate (and very soon), I'd urge you to watch it. It's not a polished presentation, but I certainly found it interesting (and it's short).
Mini Ice Age 2024 Maths- Its not good news - Milankovitch Cycles
The Deep State and Shadow Government in the US
One of the traits of a hot cycle top is that the underlying truth comes out about things that are going on under the surface. Nefarious activities that were tolerated decades earlier are unearthed and prosecuted. You can see this is the recent hazing trials in the US and other trials involving sexual predatory activity that is considered unacceptable today.
The next step should be the unmasking of government activities that involve elites and their conspiracies to steal from the population. This will eventually lead to a complete breakdown of society as we know it and a revolution of the international financial system, "The New World Order."
We've seen lots of this in the form of Edward Snowden and Chelsea Manning. These examples are the tip of the iceberg.
To that end, there's a very recent video by an ex CIA high level operative (it's slightly over an hour in length, but well worth it) that I strongly urge you to watch, particularly if you live in the United States. I found it fascinating, as well as being a very compelling talk in its own right.
New: CIA Agent Whistleblower Risks All To Expose The Shadow Government
_______________________________
A Word of Caution (the Coles notes version)
We're starting to get close to a major market top. We're seeing some volatility in terms of large swings in currencies, gold, and oil particularly.
There could be quite a bit of volatility at the top. Nobody's seen a 500 year top, so we don't have a lot to go on.
Volume is light, which means that almost everyone is "in" on the long side and smugly enjoying their profits, believing this market is going to continue on for a whole lot longer. Of course, a lot more are "out." It's amazing how many hedge funds have folded as they simply haven't been able to make any money (and are unsure of where the market is going). In any event, that takes a lot of money out of the market.
We have a lot of financial "cracks" developing. Amazon just set themselves up for a gigantic short by over-leveraging and buy out Whole Foods. Toys "R" Us looks like it's finally going down for the final count. I expect Elon Musk to crash and burn: After all, none of these electric cars have sold and great quantities. They're mostly government subsidized (certainly in Musk's case) so it's only a matter of time before it all falls to dust.
We've had many retail bankruptcies recently and this foreshadows a much greater problem. Insurance companies are getting quite scared, as there's a lot of fraud out there, not to mention Houston, Florida, and Equifax. Who's next? It's going to be a wild ride over the next few years.
It's going to get a lot worse before it gets better. Start getting prepared for a decades-long "winter."
_________________________________
A true expert in Elliott Wave FL 2
A true expert in Elliott Wave …

You are a true expert in EW analysis. What you provide is not available anywhere and is priceless. Subscription on your services is the best thing I have ever done. Many thanks for your effort to make me a better investor. I now have more trust in my investment decisions. I hope you will continue the excellent work! —FL
The Market This Week
Here's the latest daily chart of ES (emini futures)
Above is the daily chart of ES (click to enlarge, as with any of my charts).
Ending diagonals are notoriously difficult to trade. There are a number of reasons for this. The biggest is that all the waves are in threes and the upper and lower boundaries don't get defined until the 3th wave (upper in a bull market) and 4th waves (lower). So, you don't actually know you're in one until the fourth wave is in place.
The sub-waves are in three waves, which makes analysis difficult, volume is always low, and the final wave doesn't always complete a throw-over (exceeds the upper trendline in a bull market (lower in a bear market).
However, we know ... because in the fifth wave position of C wave at the top of a market, there aren't any alternatives given the wave sub-structure that we have here.m
Friday (Sept. 15) at the market close, both the SP500 and ES reached a target of 2500. For ES, this target is the point where the C wave of the third wave was 1.618 times the A wave, a typical end point for a three wave sequence. Expect an imminent turn down.
Volume: Note that volume now expands with selling, but drops considerably when the market heads back up. This is yet another signal of an impending top. It will likely pick up a bit during the final wave to a new high but drop off suddenly towards the final top.
Summary: The final wave five in ES,NQ, and SPX is in progress. We have a contracting triangle in the final stages, with a E wave down to complete this coming week (then look for a final fifth of fifth wave up to a new high to complete the 500 year bull market). Look for a fourth wave low around 2430 or so.
______________________________________
Sign up for: 

The Chart Show
Wednesday, September 27 at 1:00 pm EST (US market time)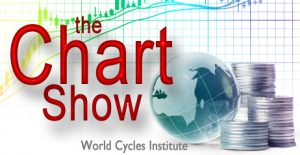 The Chart Show is a one hour webinar in which Peter Temple provides the Elliott Wave analysis in real time for the US market, gold, silver, oil, major USD currency pairs, and more. You won't find a more accurate or comprehensive market prediction anywhere for this price.
Get caught up on the market from an Elliott Wave perspective. You'll also get Andy Pancholi cycle turn dates for the SP500 for the balance of the current month. There'll be a Q&A session during and at the end of the webinar and the possibility (depending on time) of taking requests.
All registrants will receive the video playback of the webinar, so even if you miss it, you'll be sent the full video replay within about an hour of its conclusion. For more information and to sign up, click here.