We're Weeks from the Top
The balance of the C wave that we're expecting some time this week will finish off the large fourth wave in ES/SPX that has slowly been tracing out its subwaves since January 29, 2018.
This fourth wave is so large, it eclipses any of the earlier waves in terms of size, clearly reinforcing the fact that the larger wave structure in the SP500 up from 2009 is clearly a corrective wave, a B wave.
As such, it is far weaker than its counterpart, the Nasdaq exchange. The NDX (and NQ futures) has traced out impulsive waves to the upside since 2009. However, both NDX and NQ are in fourth waves at this time and once they finish those waves to the downside, we only have one more wave up to go to a new high.
In the SP500, I do not expect that fifth wave to get very far above the current high. I'm expecting an end to the 500 year rally either before Christmas, or not long after. The crash always happens in the third wave, so expect that event a couple of months after the top.
We will have lots of volatility until then, starting later on during the current week.
I will be announcing my long-awaited webinar, Navigating the Crash, this week. I have an scheduled interview with Dale Pinkert (@forexstophunter) on December 6, 2018.
There are also three recent interviews on the main page of this site that I did with David Dubyne that are climate-based, but also talk about what's going to happen in the future. I think they're worth a listen.
I'm shifting my focus towards blog posts that will help people prepare for the financial meltdown: It's time.
Andy Pancholi Turn Dates
For awhile, not much was happening with Andy's dates. But we have to realize that the market has been going more or less sideways for almost 7 months and so while the turn dates might have been working, it would be difficult to notice any real effect from them.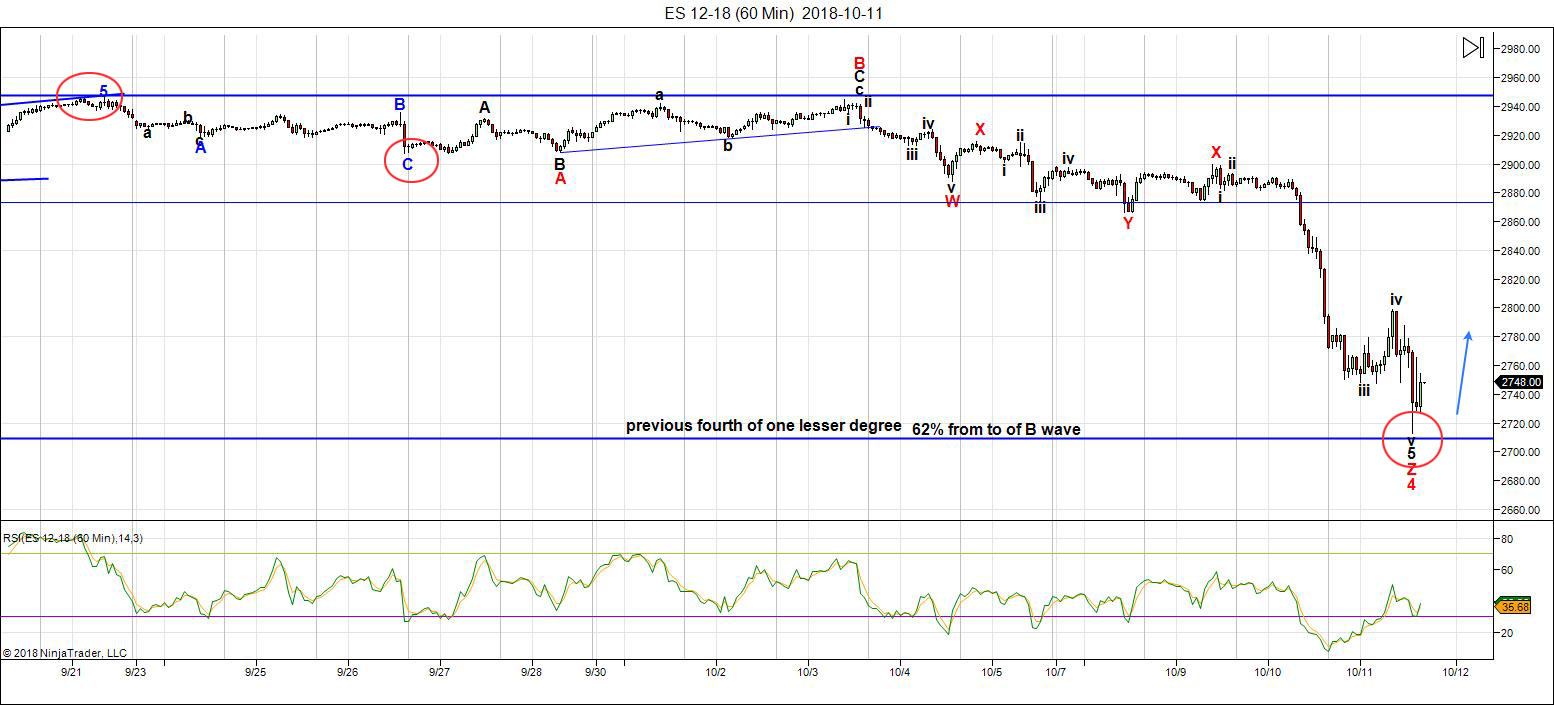 Above is the 60 minute chart of ES with red circles denoting the last three turn dates (before the latest one on Oct. 18).
Andy has nailed the last three dates for the SP500. Sept 21, we turned down. Sept. 26 was a turn back up after the ABC wave down, then October 11, was a turn back up to the upside. Finally, on the most recent turn date (Oct. 18), we saw another bottom, with a turn to the upside. That's four in a row!
I provide Andy's upcoming turn dates for each month as part of the Chart Show that I run every Wednesday at 5PM EST. It's obviously highly advantageous to know what these dates are, if you're a trader.
In this monthly Market Timing Report, Andy provides dates for the month ahead for
The US Equities market
Gold
Oil
The US Dollar
EURUSD
To purchase a subscription to Andy's monthly service, go here.
Elliott Wave Basics
There are two types of Elliott wave patterns:
Motive (or impulsive waves) which are "trend" waves.
Corrective waves, which are "counter trend" waves.
Motive waves contain five distinct waves that move the market forward in a trend. Counter trend waves are in 3 waves and simply correct the trend.
All these patterns move at what we call multiple degrees of trend (in other words, the market is fractal, meaning there are smaller series of waves that move in the same patterns within the larger patterns). The keys to analyzing Elliott waves is being able to recognize the patterns and the "degree" of trend (or countertrend) that you're working within.
Impulsive (motive) waves move in very distinct and reliable patterns of five waves. Subwaves of motive waves measure out to specific lengths (fibonacci ratios) very accurately. Motive waves are the easiest waves to trade. You find them in a trending market.
Waves 1, 3, and 5 of a motive wave pattern each contain 5 impulsive subwaves. Waves 2 and 4 are countertrend waves and move in 3 waves.
Countertrend waves move in 3 waves and always retrace to their start eventually. Counrtertrend (corrective waves) are typically in patterns — for example, a triangle, flat, or zigzag. Waves within those patterns can be difficult to predict, but the patterns themselves are very predictable.
Fibonacci ratios run all through the market. They determine the lengths of waves and provide entry and exit points. These measurements are really accurate in trending markets, but more difficult to identify in corrective markets (we've been in a corrective market in all the asset classes I cover since 2009).
To use Elliott wave analysis accurately, you must be able to recognize the difference between a trend wave (motive) and a countertrend wave (corrective). There's very much more to proper Elliott wave analysis, but this gives you the basics.
____________________________
Registration for Commenting
Want to comment? You need to be logged in to comment. You can register here.
If you register, it protects your information. It also allows you to comment without filling in your information each time. Once you're registered, simply go to the home page and click on the login link top right in order to log yourself in. Usually, you'll be logged in for several days before needing to be logged in again.
______________________________
Problem receiving blog comment emails? Try whitelisting the address. More info.
______________________________
The Market This Week
Here's the latest daily chart of ES (emini futures)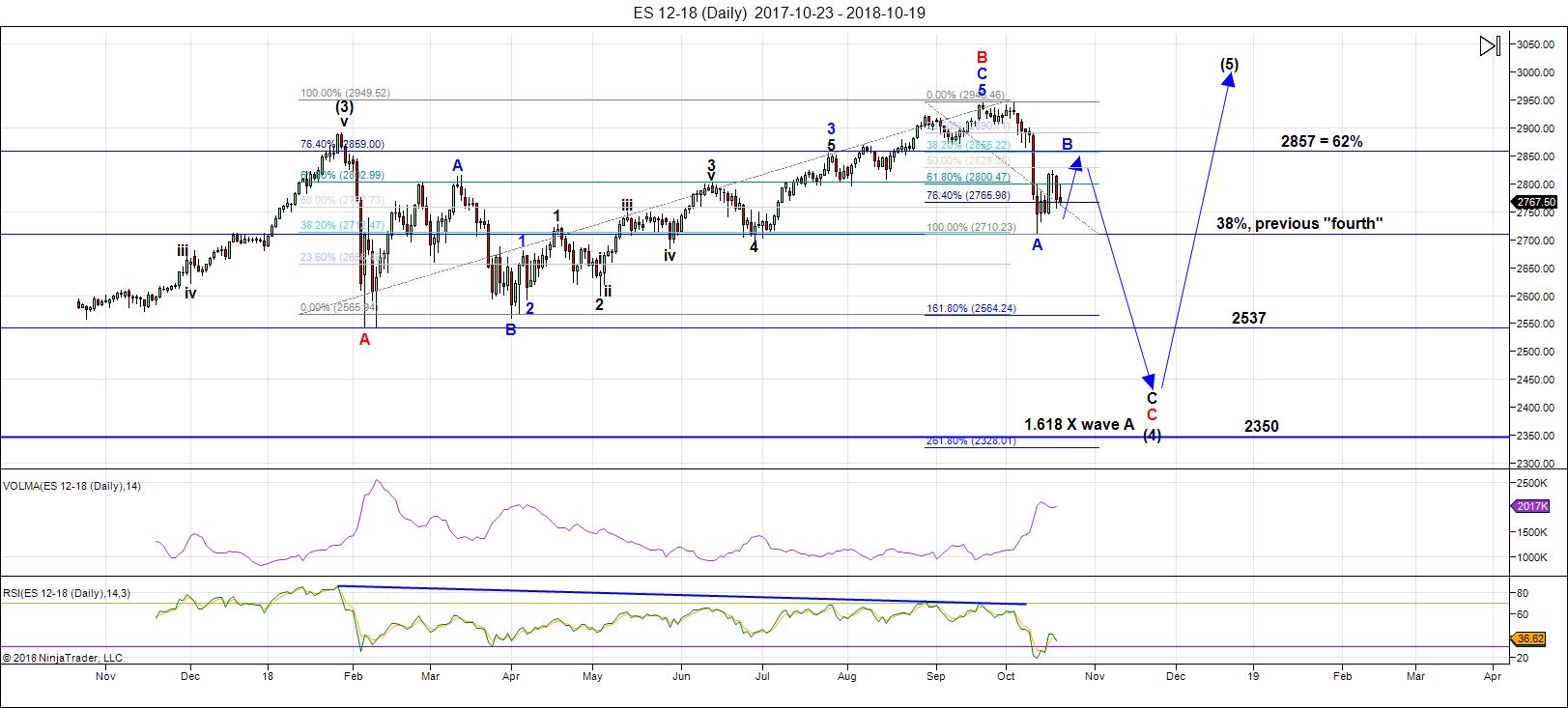 Above is the daily chart of ES (click to enlarge, as with any of my charts).
Last weekend, I noted that the wave down from 2948 was in three waves, which means it's corrective. I count it as a triple zigzag. That was not what one would expect if we have an expanded flat on our hands (an expanded flat should be a five-waver to the downside, even the first wave).
On the NQ side (NASDAQ futures), the similar move produced 5 waves. In this case, we'd expect a 62% retrace; my preference here is that we have a regular flat unfolding, which should trace out a C wave in 5 waves.
So, we had a non-confirmation. I ended up leaning 60/40 towards a partial retrace of the entire wave down, rather than a full retrace. Because this week's wave up is clearly corrective, the partial retrace pattern is now more probable by a wide margin.
Look for a turn down again this week into the balance of the C wave.
A review of the bigger picture: The three wave move down brings into question the flat projection;, however, there isn't another corrective pattern that fits the overall wave structure. So, until the market tells me differently, I would label this  pattern an expanded flat. However, technically, it could also be a running flat.
That means that the ES/SPX has multiple possibilities as to a target on the downside. Accuracy (in determining the most probable target) is going to depend upon both counting and measuring the waves to the downside. It's impossible to pick a downside target at this point in the process.
Volume: has picked up considerably on waves to the downside, which is to be expected.
Summary: A non-confirmation between the wave structures of ES and NQ brings into question the expanded flat projection for ES; however, lacking a more probably outcome, that's the most probable outcome. Expect further weakness after a slightly higher retrace. We should see a resolution this week.
My preference is the larger structure (from January 29) represents an expanded flat. Once the c wave (down) is complete, expect a final fifth wave to a new high. That fifth wave up to a new high will be the end of the 500 year bull market.
___________________________
Trader's Gold Subscribers get a comprehensive view of the market, including hourly (and even smaller timeframes, when appropriate) on a daily basis. They also receive updates through the comments area. I provide only the daily timeframe for the free blog, as a "snapshot" of where the market currently trades and the next move on a weekly basis.
______________________________________
Sign up for: The Chart Show
Next Date: 

Wednesday, October 31 at 5:00 pm EST (US market time)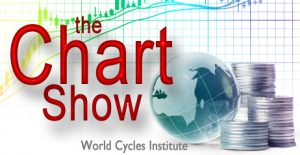 The Chart Show is a one hour webinar in which Peter Temple provides the Elliott Wave analysis in real time for the US market, gold, silver, oil, major USD currency pairs, and more. You won't find a more accurate or comprehensive market prediction anywhere for this price.
Get caught up on the market from an Elliott Wave perspective. You'll also get Andy Pancholi cycle turn dates for the SP500 for the balance of the current month. There'll be a Q&A session during and at the end of the webinar and the possibility (depending on time) of taking requests.
All registrants will receive the video playback of the webinar, so even if you miss it, you'll be sent the full video replay within about an hour of its conclusion.