Yogi Berra
Lawrence Peter "Yogi" Berra (May 12, 1925 – September 22, 2015) was an American baseball player, manager and member of Major League Baseball's Hall of Fame, noted for his bad-ball hitting, his ability to perform in the clutch, and his peculiar, humorous-sounding statements. Most people have heard at least some of these statements, often without knowing the source.
My choice for the title of this blog post on Friday night was the fact that with all the talk about markets coming down, there are some on this blog, many pundits (who know absolutely nothing about the market), and many in the media are predicting the top is in. Even Bob Prechter (EWI International) called a top a month or so ago, and true to his historical accuracy, is wrong yet again.
The market has not topped. We're close, but not there yet.
In any event, Yogi came up with the phrase, "It Ain't Over 'Til It's Over" during the 1973 National League pennant race, and it's been in our lexicon ever since.
Here are some other "yogiisms":
Always go to other people's funerals; otherwise they won't go to yours
When You Come to a Fork in the Road, Take It!
I knew the record would stand until it was broken.
He's learning me all of his experience.
I looked like this when I was young, and I still do.
If the world were perfect, it wouldn't be.
If you can't imitate him, don't copy him.
If you don't know where you're going, you might not get there.
Thank you for making this day necessary (that's another one).
__________________________________
The Reality of This Free Blog
I've been told that I should have my head examined for mounting and contributing to this free blog. Every once in a while, those words come back to haunt me. This weekend is a case in point.
In this free blog, I provide less than five percent of the work I do for my Trader's Gold clients. This weekend's Trader's Gold blog post took me about twelve hours to create, including the analysis. I provide charts for SP500, ES, NQ, NDX (when necessary), US Dollar index, EURUSD, GBPUSD, AUDUSD, USDCAD, USDJPY, WTI Oil, gold, and silver, along with a fairly comprehensive video that often goes right down to five minute charts for predictions. I update the analysis each night (Monday through Thursday) in a video that is anywhere from 10 – 23 or so minutes in length.
I don't post how many times I'm right or wrong, because my wrongs are so ridiculously low, nobody would believe them, quite frankly. I'll go up against any Elliott Wave analyst you can throw and me and trounce that analyst in accuracy.
A very recent unsolicited testimonial (in its entirety):
Well, nice call once again in the stock indices! I'm staying clear of them until the trend has clearly turned down. But the good news is that from your last comments, I bought some gold, some silver, and sold a lot of crude oil contracts yesterday as oil was up at the highs. I know . . . . lucky trade . . . . . but it seems to be happening with increased frequency since I signed up for your service.

Enjoy your day and I can't tell you how much your service and analysis of these crazy markets is appreciated! You've made an enormous difference in my already impressive trading results
I'm mortified when I make a bad call. I take my work that seriously.
But keep in mind that this weekly post is a snapshot in time (it can change the next day, for example, the Monday after I post). When I began it, I undertook to predict the direction of the market and not pull any punches. Extremely rarely do I declare that the market will "either do this or that (up or down)." I make a call and I stick with it, right or wrong. I'm OK with that.
Elliott Wave is a science. Let me repeat that: Elliott Wave is a science. It is not treated as a science by anyone I know of. EWI has destroyed its credibility. They're inherently biased and have broken every rule in the book on a relatively consistent basis.
I chose when I started this blog to share my knowledge as a way to help people understand that this is the way the market moves. It does it consistently to a set of rules (not necessarily accurate in the book, "The Elliott Wave Principle"). There are other rules and guidelines that I've developed along the way, and I've disproven several of the original ones.
In the beginning, I was attacked on a regular basis. That treatment has died down. But most people are skeptical of this science. People absolutely don't want to learn; they show up with inherent bias, and will attack what they don't understand.
As a result, I choose my words here (and elsewhere) very carefully. When I am certain that the market has one more wave to go to the top, I will use the word "certain" (or a derivative).
What's that based on? History.
In Elliott Wave, final waves are always in 5 waves (or a diagonal of some type, which is also in five waves). That has never NOT happened. You can go back in any market at any degree of trend.
In climate, after roughly five hundred years, it turns colder and dryer and we head into a depression and Dark Ages, just like we're heading into now. It has never NOT happened. The Sun revolves around the Earth every 24 hours, the moon every 25 hours. It has never NOT happened.
Of these things and the fact that the US market is going to trace out five waves (we're in the fourth), I am certain. It has never NOT happened.
But, very few people pay any attention to history. However, history repeats, and it does it with periodicity, meaning the turns are predictable. The past is the future; you're future. If you get in sync with Mother Nature, your time on Earth will be very much more fruitful. If you don't, good luck.
And that, dear friends is what this web site is all about.
"Those who do not remember the past are condemned to repeat it" – George Santayana 
Here are a few other things I'm certain of:
The DOW will be in the area of 3,000 points in about five years.
We have not seen the high in the US indices, oil, and most of the international indices
We're going into a period of major deflation (I suggest you learn how it affects your money)
Many banks are going to fail over the next five years in just about every country on Earth
Famine and pandemics are going to be the big challenges for decades to come
This site's byline is, "The Science of Prediction," in case you hadn't noticed. It's time to learn all you can about the past, because it's certainly coming back around again … as it always has.
Ignorance will not be bliss in future that lies before us.
__________________________
Elliott Wave Basics
There are two types of Elliott wave patterns:
Motive (or impulsive waves) which are "trend" waves.
Corrective waves, which are "counter trend" waves.
Motive waves contain five distinct waves that move the market forward in a trend. Counter trend waves are in 3 waves and simply correct the trend.
All these patterns move at what we call multiple degrees of trend (in other words, the market is fractal, meaning there are smaller series of waves that move in the same patterns within the larger patterns). The keys to analyzing Elliott waves is being able to recognize the patterns and the "degree" of trend (or countertrend) that you're working within.
Impulsive (motive) waves move in very distinct and reliable patterns of five waves. Subwaves of motive waves measure out to specific lengths (fibonacci ratios) very accurately. Motive waves are the easiest waves to trade. You find them in a trending market.
Waves 1, 3, and 5 of a motive wave pattern each contain 5 impulsive subwaves. Waves 2 and 4 are countertrend waves and move in 3 waves.
Countertrend waves move in 3 waves and always retrace to their start eventually. Counrtertrend (corrective waves) are typically in patterns — for example, a triangle, flat, or zigzag. Waves within those patterns can be difficult to predict, but the patterns themselves are very predictable.
Fibonacci ratios run all through the market. They determine the lengths of waves and provide entry and exit points. These measurements are really accurate in trending markets, but more difficult to identify in corrective markets (we've been in a corrective market in all the asset classes I cover since 2009).
To use Elliott wave analysis accurately, you must be able to recognize the difference between a trend wave (motive) and a countertrend wave (corrective). There's very much more to proper Elliott wave analysis, but this gives you the basics.
____________________________
Registration for Commenting
Want to comment? You need to be logged in to comment. You can register here.
If you register, it protects your information. It also allows you to comment without filling in your information each time. Once you're registered, simply go to the home page and click on the login link top right in order to log yourself in. Usually, you'll be logged in for several days before needing to be logged in again.
______________________________
Problem receiving blog comment emails? Try whitelisting the address. More info.
______________________________
Get an upper hand … JC 2
Get an upper hand in trading …

Seeing all the different currency pairs and the wave structures and hearing you explain why this has to do that on a nightly bases gives one a upper hand when trading. Elliott Wave applies to all stock and indices and can be applied to any candlestick chart.

If someone ask what you want for Christmas – Tell them a membership to Peter's "Traders Gold!"—JC
The Market This Week
Here's the latest daily chart of ES (emini futures)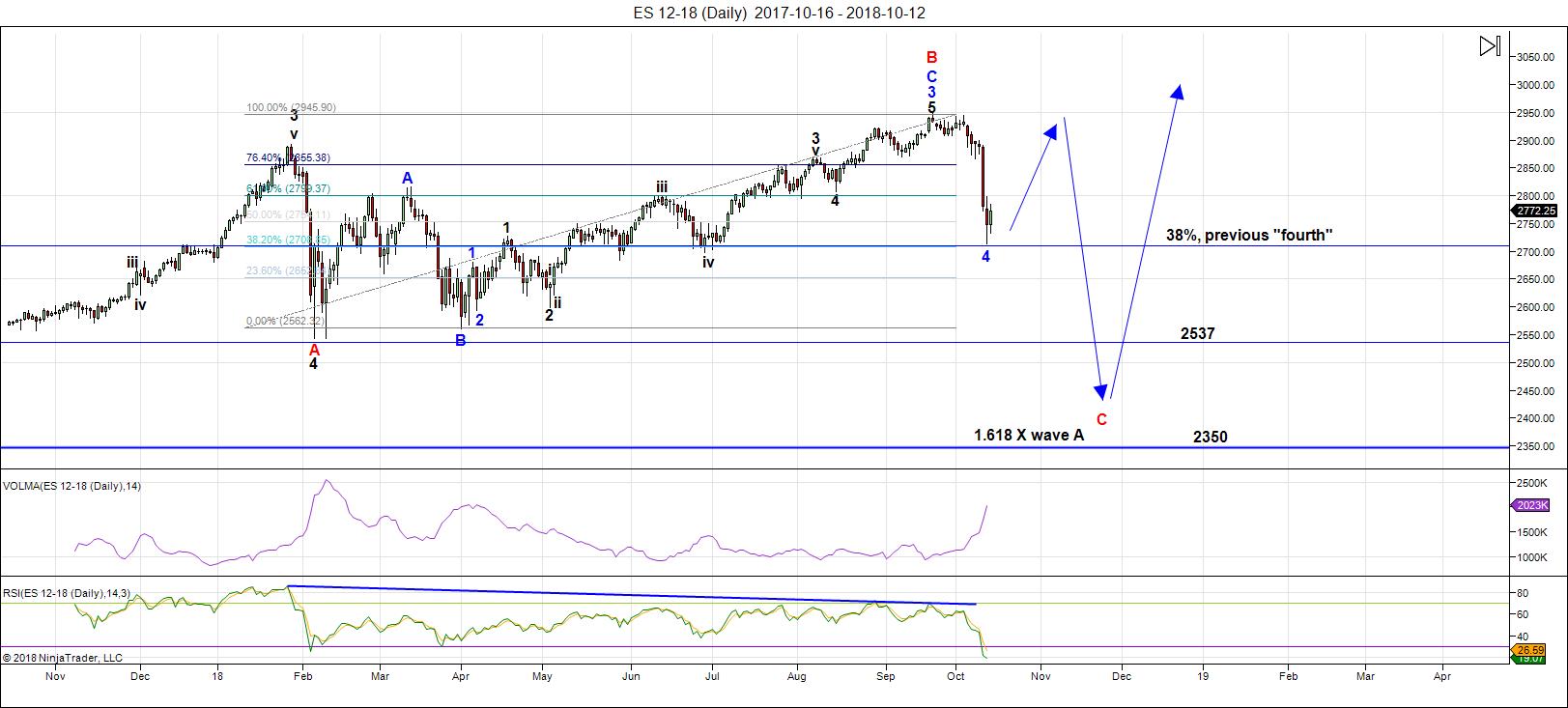 Above is the daily chart of ES (click to enlarge, as with any of my charts).
Last weekend, I was expecting a retrace to a new high because we had what appeared to be a corrective wave to the downside. I still can't count five waves to the downside in ES. Therefore, I have to count it as corrective (a double zigzag and then another 5 waves down). That doesn't mean corrective combination wave can't be the first wave of a C wave; it could be, but it's not what one would expect.
If we experienced a small flat (which, superficially at least, the structure mimics), the C wave down should be in 5 waves; however, the wave down doesn't look "correct" in that regard; I can't count five waves). On the other hand, in NQ, I can count five waves down. So, we have a possible non-confirmation here.
EURUSD has also now topped, the first of the currency pairs to do so. It's in the middle of a first wave to the downside. The wave down is not complete. This lends credence to the idea that we have the first wave of the C wave in place.
So, the big question this weekend for ES is, do we reach a new high before we drop into the expected C wave, or do we have a first wave down of the C wave in place? I'm about 60/40 in favour of this being the first leg of a larger C wave, based more on what's happening with other asset classes than on the count in ES/SPX itself (which is ambiguous, imho). The "tell" will be whether we turn back down after a rally to the 62% level (Note that in a corrective wave, a second, or B wave, may fall short of actually reaching the 62% retrace level before another leg down).
A review of the bigger picture: In terms of the bigger picture, my preference for the resolution of this very large B wave that we've been locked in since the low in February is for a C wave down after we reach that new high. This is the pattern of a expanded flat. However, technically, it could also be a running flat.
That means that the ES/SPX has multiple possibilities as to a target on the downside. Accuracy (in determining the most probable target) is going to depend upon both counting and measuring the waves to the downside. It's impossible to pick a downside target at this point in the process.
Volume: has picked up considerably on waves to the downside
Summary: Lots of conflicting signals this weekend. We've turned back up, but the question is whether we make it to a new high, or not. Is this a smaller 4th wave, or the start of the C wave down? We should see a resolution this week.
My preference is the larger structure (from January 29) represents an expanded flat. Once the c wave (down) is complete, expect a final fifth wave to a new high. That fifth wave up to a new high will be the end of the 500 year bull market.
___________________________
Trader's Gold Subscribers get a comprehensive view of the market, including hourly (and even smaller timeframes, when appropriate) on a daily basis. They also receive updates through the comments area. I provide only the daily timeframe for the free blog, as a "snapshot" of where the market currently trades and the next move on a weekly basis.
______________________________________
Sign up for: The Chart Show
Next Date: 

Wednesday, October 24 at 5:00 pm EST (US market time)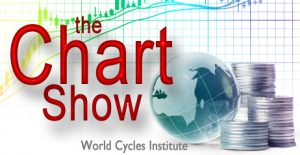 The Chart Show is a one hour webinar in which Peter Temple provides the Elliott Wave analysis in real time for the US market, gold, silver, oil, major USD currency pairs, and more. You won't find a more accurate or comprehensive market prediction anywhere for this price.
Get caught up on the market from an Elliott Wave perspective. You'll also get Andy Pancholi cycle turn dates for the SP500 for the balance of the current month. There'll be a Q&A session during and at the end of the webinar and the possibility (depending on time) of taking requests.
All registrants will receive the video playback of the webinar, so even if you miss it, you'll be sent the full video replay within about an hour of its conclusion.