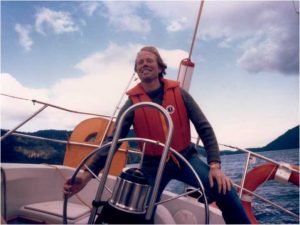 I'm a sailor – a captain who has a fair amount of experience with pleasure yachts up to about 50 feet, or so.
I learned to sail back in about 1964 when I lived in Long Island, New York. My father built a Sunfish, which is a small one sail boat with a centreboard—absolutely perfect for learning to sail.
My  favourite place to "bareboat" now is the British Virgin Islands (bareboating is renting a yacht and sailing it yourself), but finding a crew is always the issue. Otherwise, this little guy does all the work while the elite passengers enjoy themselves—a non-starter (after so many times through the mill, but it took me a long time to figure out than changing some humans for the better will never happen).
The other downside is that as a captain, I'm personally responsible for anything my "crew" does on land or at sea. When I contract for a boat, I just about sign my life away … pages and pages of rules.
However, you're never going to get me up in a crow's nest. I don't particularly like heights; I'd much rather sail from just about the waterline.
Where we are in the market right now is similar. You get a different perspective looking down from a pinnacle. That's where we are now, albeit with one more push to a new high still to come. Looking across the markets, currencies, and even gold, they're all pointing to an imminent top.
The message; Don't get buried in the little stuff: Always keep your eye on the bigger picture. You need to look right across the market. Only then can you "see" what's happening "below the waves."
The Big Picture
ES/SPX: I expect we're going to see the E wave of a forming triangle in ES/SPX this coming week, The direction for the coming week is down, with the fifth wave up when Wall Street gets back in force the week after. And then the real fun begins—after the turn. I'm still looking for a September turn, realizing that we could sneak into the beginning of October, but I can't see how this market can stay up beyond that time, because we have only two more waves of a triangle left to go.
Currencies: Expect some volatility as we head to the final target. We still have a third wave of the fifth to go in all of the currency pairs. In the USDCAD example, I'm half expecting a rate announcement this week, so it could be particularly volatile. However, they need to get to their targets. As I've said before …
The market does the most predictable thing is the most unpredictable way.
Gold: Down first is my call before it turns up (in conjunction with a US market top). However, all the waves up are corrective, so it actually could head up further before heading down. Be careful here. If you're going to take a stab at it, wait for 5 waves down and 3 waves up and a turn down (a lower high, if you like).
Oil: Down is the call. We're in a triangle. However, a triangle is the most "balanced" pattern of the EW batch, so between the trendlines, oil can do what it wants pretty well. The major inflection point is at $49, so we don't want to be above that level.
EW Record So Far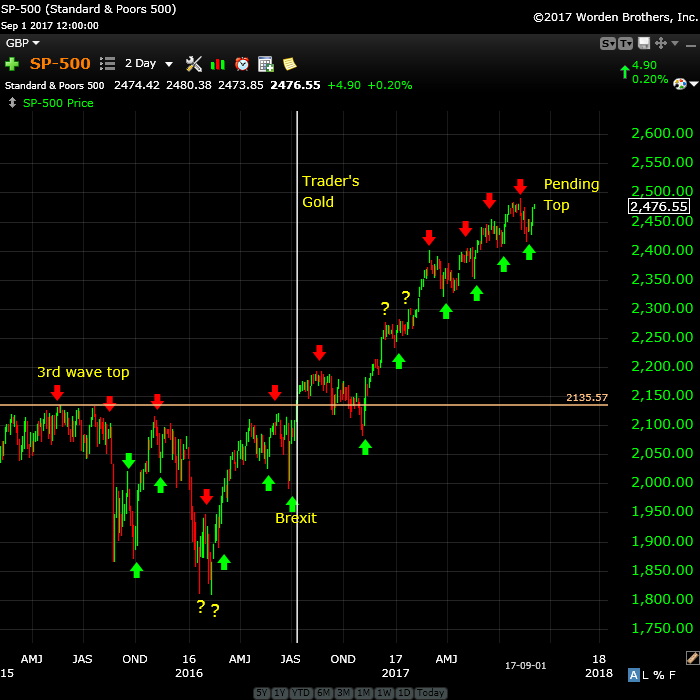 Above is the two day chart of the SP500. This is a review of my major calls for the past couple of years, both in the free blog and my Trader's Gold service, which I began in August, 2016. In the Trader's Gold service, I analyze gold, oil, the US indices and five USD currency pairs.
The red arrows are calls for tops and the green arrows are calls for bottoms. The question marks were points at which I was not confident in the wave structure and could not confidently call a turn. On those occasions, the market could have gone either way, imho.
The structure of this wave up from about 1810 on February 11, 2016 is clearly corrective, which has been the major challenge in accuracy. Most Elliott-wavers would be expecting a motive set of waves up, but that's not what we got.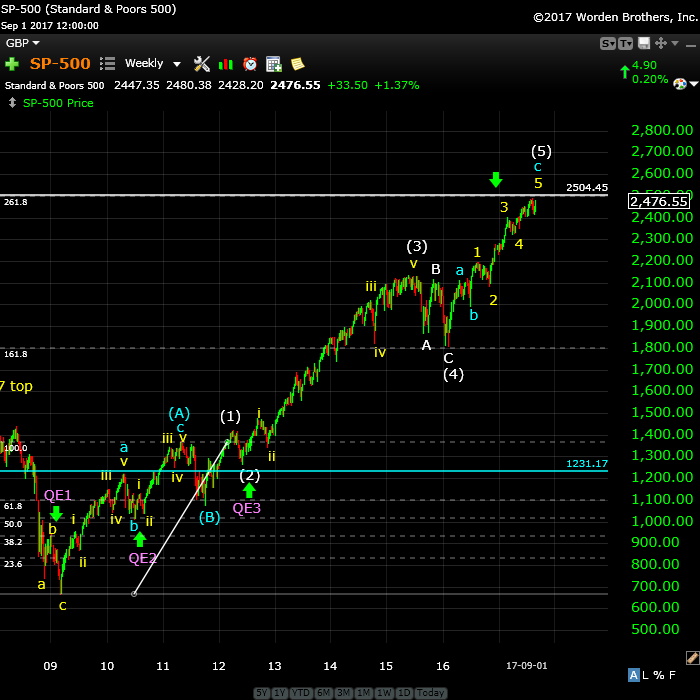 Above is the weekly chart of the SP500 showing the corrective count right from the bottom at 2009 up until today's date. We're in the final wave of this corrective "blow-off" and I'm expecting a turn down within the next month. This will be a major turn to a bear market that will last years.
The blue line is the 62% retracement level relating to the so called "Great Recession." That was the drop from the 2007 to the 2009 low. We expected the market to then rally 62% and continue down, but quantitative easing took over the market rallied and has kept rallying until now.
However, contrary to all the noise and punditry, the Elliott Wave Principle has continued to work as it always has, showing that it's a natural phenomenon that works in all markets, no matter how crazy they are (and this has been the most difficult market ever to analyze).
We're just about at a top, with one more pattern to play out, and that's a situation that I'm finding across US equities, the DAX (and related indices), TSX, and USD currency pairs (including the dollar, which is the asset that determines what happens to all the others).
We're moving towards a major top, and the market tells me we have only a few weeks left to go.
_________________________________
Tops in your field DZ 2
Tops in your field …

You are tops in your field.  Tried to follow Elliot Wave international for years.  They were always behind the market.  After discovering you, I perceive that you are an expert in reading the waves, which puts you way ahead of the rest of your peers. And you can read the Waves like you are reading tomorrow's financial section.  I pray you stay healthy.  —DZ
The Market This Week
Here's the latest daily chart of ES (emini futures)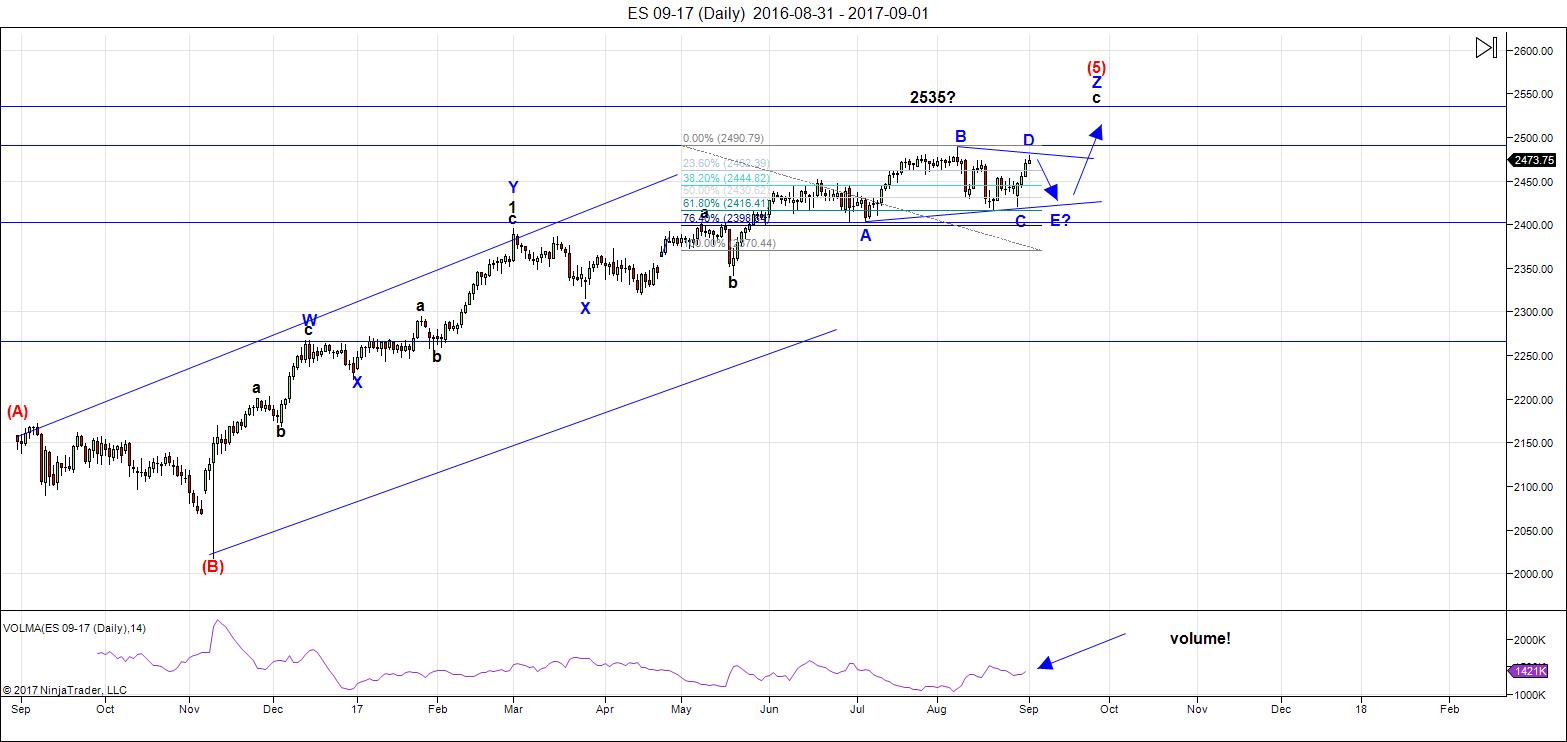 Above is the daily chart of ES (click to enlarge, as with any of my charts).
My prognosis is once again panning out, but with one very subtle change. On Monday of this past week (Aug. 29), the b wave of the third wave of a proposed ending diagonal dropped to a level that suggested the third wave would not make a new high. Therefore, I alerted my Trader's Gold subscribers that we were most likely looking at a contracting triangle, rather than an ending diagonal—a subtle difference, for sure, as the pattern remains essentially the same.
With the turn at the end of the day on Friday (if it holds), we're confirming the contracting triangle. NQ is still in the larger ending diagonal and has two moves left, as well (a down wave 4) and a final 5th. Both ES and NQ are in sync for a final run to the top (after an E wave down, on the chart above).
USD currency pairs are also in their final waves and so they should all converge on their final targets together.
Volume: Note that volume now expands with selling, but drops considerably when the market heads back up. This is yet another signal of an impending top.
Summary: The final wave five in ES,NQ and SPX is in progress. We have a contracting triangle in the final stages, with a E wave down starting now (we could get another tiny wave up to test the top of the weekend before turning down in earnest).
______________________________________
Sign up for: 

The Chart Show
Wednesday, September 13 at 1:00 pm EST (US market time)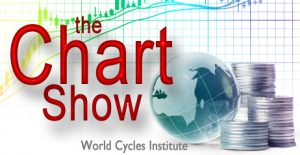 The Chart Show is a one hour webinar in which Peter Temple provides the Elliott Wave analysis in real time for the US market, gold, silver, oil, major USD currency pairs, and more. You won't find a more accurate or comprehensive market prediction anywhere for this price.
Get caught up on the market from an Elliott Wave perspective. You'll also get Andy Pancholi cycle turn dates for the SP500 for the balance of the current month. There'll be a Q&A session during and at the end of the webinar and the possibility (depending on time) of taking requests.
All registrants will receive the video playback of the webinar, so even if you miss it, you'll be sent the full video replay within about an hour of its conclusion. For more information and to sign up, click here.