Irrational Euphoria is in its Dying Stages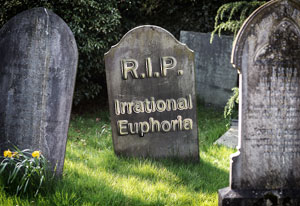 The herd is still irrationally euphoric about prospects for the future, mostly based upon propaganda of one type of another. There's also the fact that as long as they've been alive, the "nanny state" has always provided for them, as we all live well beyond our means and go further and further into debt.
That's not going to change quickly; in fact, there will be many still "believing in Santa Claus" well past the halfway point in the ongoing crash to the bottom: I'm talking a couple of years from now.
At the top of these 500 year cycles, the state is fully in charge; the greater good of the state wins out. You can see this in the quashing of free speech, something that has always happened at the tops of 500 hundred year cycles. However, as we turn colder and dryer and the market crashes, you'll find the individual becomes the focus, the revolution explodes internationally and, in the long term, authoritarianism begins to fail and democracy and free speech gain traction again.
It's a pendulum that slowly swings back and forth over very long periods of time, always in a similar manner. Civil wars will erupt across the world, chaos will reign, but in the end, society will evolve once again into a better world as it has done time after time.
Tough times ahead, for sure, but it's important to keep your eyes (and more importantly, your mind) on the bigger picture.
We're getting closer and closer to the top of this market; we're a lot closer than many believe. In fact, most are completely oblivious to what's about to take place; they'll be the biggest losers.
In terms of the market, there's quite a bit of uncertainty short term, but the longer term picture is clear. All the wave patterns will play out. The US dollar, gold and silver, oil, and the US market (as well as indices around will world) will top at the same time. It's always important to play attention to the different major asset classes, as together, they give a better sense of where we are in the bigger picture.
An Short-Term Overview of the Asset Classes I Cover
The big picture of where the market is going is clear. We're closer than many think to a top in the US indices, the US dollar is at a short-term high, gold and silver are close to a low, and oil is starting to trace out its final pattern that will lead to a long-term top. It's the short-term picture that's in question in currencies, and that has an influence on the just about everything else. Here are my general thoughts on the overall short-term direction:
US Dollar and Currency Pairs: The uncertainty is focussed around the US dollar. We're in the process of a turn but we're "mid-wave," meaning that we could turn either way. However, my preference is that we've topped and we're in the middle of a first wave down. This week should tell us whether that's the correct "read" of the current wave structure.
The US dollar affects all the USD currency pairs, of course. USDCAD and USDJPY look like they have short-term weakness ahead before heading up, which should mean the AUD, EUR, and GBP head up from here.
US Indices: We're looking at move downside to finish a fourth wave and then a turn up to finish a 5th wave, which will end the large B wave and lead to a turn down in a multi-week C wave.
Gold and Silver: Both these assets have more downside before then turn up in a multi-week rally. They should mirror the movement of the US indices.
WTI Oil:  Oil is at an inflection point; however, the rally from Friday is so far in three waves. I'm expecting weakness leading in to the beginning of the week before a turn up in to a second wave.
This is an overview only. I cover the specifics of each of these asset classes in the weekly Chart Show (sign up at the bottom of this blog post) and in nightly videos for my Trader's Gold subscribers.
The Australian Dollar—Book Covers Sometimes Lie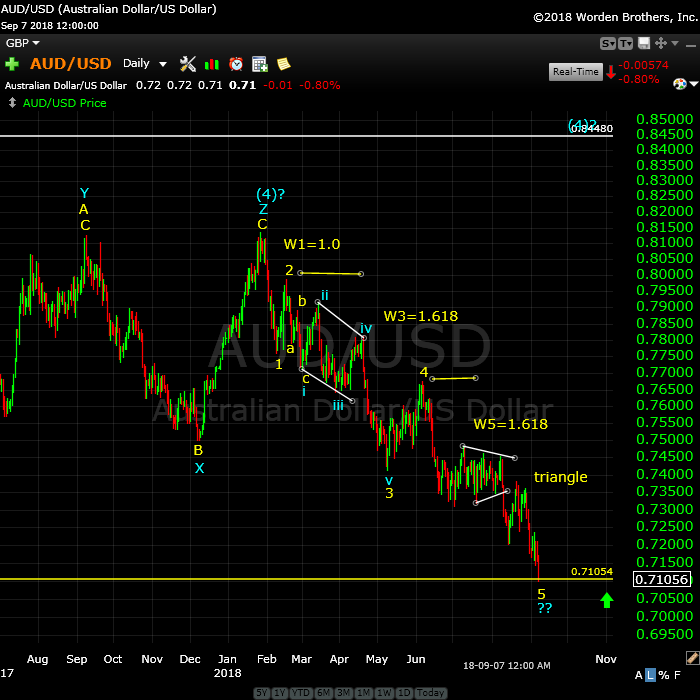 Above is the daily chart of AUDUSD. This is a really interesting study in the application of the Elliott Wave Principle. While on the surface, this wave looks impulsive, I'm not so sure. In fact, I'm calling it corrective until the imminent rally tells me I'm wrong.
First of all, we're at an inflection point. A turn to the upside is imminent. Both fibonacci measurements and the wave structure tell us that. How far up we're going depends on whether this wave down is impulsive, or not. Here are the arguments:
Impulsive:
the larger wave count shows five waves to the downside.
the wavelengths of yellow waves 1, 3, and 5 are exactly what they should be for an impulsive wave (shown as percentages on the chart)
Corrective:
wave yellow 1 down looks to me to be a '3'
wave yellow three, which should contain 5 impulsive looking waves does not (this is an EW rule) — identified by the blue i, ii, iii, iv, v sequence
wave yellow 2 to the downside has a wave structure that looks like a '3' (identified by abc labelling on the chart)
wave yellow 5 has too many waves (ie- it is not impulsive-looking)
the entire corrective structure has not retraced 38%, which is usually required, imho (this is not an EW rule … so far)
Therefore, I'm forced to classify this wave as corrective. However, if I'm incorrect, it will only retrace to the .774 area
This is a good example of the process I use when trying to identify the real structure of waves that are questionable. This one is borderline. Most analysts won't go to the lengths I go to in determining the outcome; they'll see five waves and instantly label it impulsive, without looking at subwaves. You have to look at subwaves to figure out whether an impulsive wave fits all the rules. If it doesn't, it's corrective.
Silver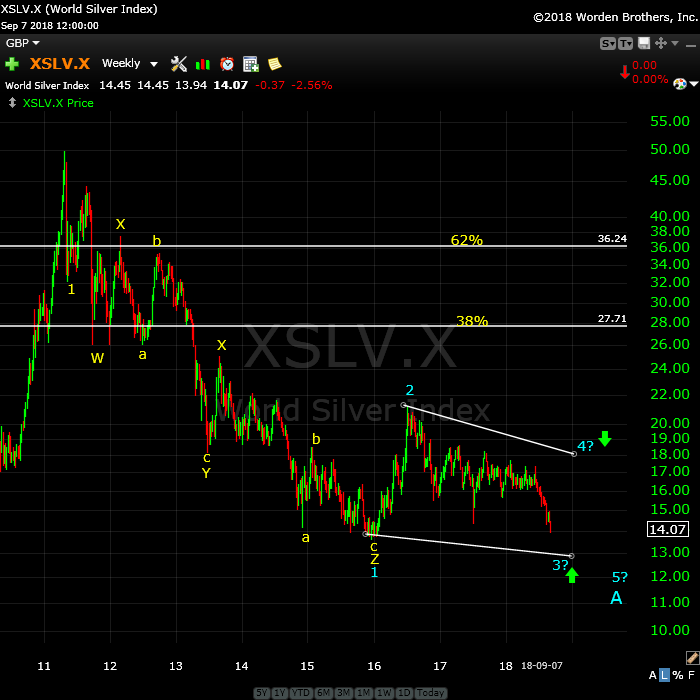 Above is the weekly chart of Silver. Kyle had asked for the long term picture and targets during the most recent Chart Show, so since I don't cover it directly, I decided to create this chart and share it here.
Silver looks to be in an ending diagonal. If this is so, then we're looking for the completion of the third wave with a bit more downside. To be complete, it must drop to a new low (below 13.62). Then it will turn suddenly and head up in a fourth wave (I would expect this to happen when the US indices top in the current B wave). Finally, it will complete a fifth wave to the downside (when the fifth wave in the US indices reaches a top?).
Longer term, once the US indices finally top and head into the bear market, silver should rise to either the 38% or 62% level, shown by the horizontal lines on the chart.
This is similar to the prognosis for gold, except that silver is much weaker overall. I can't be any more specific than this for downside targets, as ending diagonals don't adhere reliably to fibonacci wave lengths, in my experience.
______________________________
Elliott Wave Basics
There are two types of Elliott wave patterns:
Motive (or impulsive waves) which are "trend" waves.
Corrective waves, which are "counter trend" waves.
Motive waves contain five distinct waves that move the market forward in a trend. Counter trend waves are in 3 waves and simply correct the trend.
All these patterns move at what we call multiple degrees of trend (in other words, the market is fractal, meaning there are smaller series of waves that move in the same patterns within the larger patterns). The keys to analyzing Elliott waves is being able to recognize the patterns and the "degree" of trend (or countertrend) that you're working within.
Impulsive (motive) waves move in very distinct and reliable patterns of five waves. Subwaves of motive waves measure out to specific lengths (fibonacci ratios) very accurately. Motive waves are the easiest waves to trade. You find them in a trending market.
Waves 1, 3, and 5 of a motive wave pattern each contain 5 impulsive subwaves. Waves 2 and 4 are countertrend waves and move in 3 waves.
Countertrend waves move in 3 waves and always retrace to their start eventually. Counrtertrend (corrective waves) are typically in patterns — for example, a triangle, flat, or zigzag. Waves within those patterns can be difficult to predict, but the patterns themselves are very predictable.
Fibonacci ratios run all through the market. They determine the lengths of waves and provide entry and exit points. These measurements are really accurate in trending markets, but more difficult to identify in corrective markets (we've been in a corrective market in all the asset classes I cover since 2009).
To use Elliott wave analysis accurately, you must be able to recognize the difference between a trend wave (motive) and a countertrend wave (corrective). There's very much more to proper Elliott wave analysis, but this gives you the basics.
____________________________
Registration for Commenting
Want to comment? You need to be logged in to comment. You can register here.
If you register, it protects your information. It also allows you to comment without filling in your information each time. Once you're registered, simply go to the home page and click on the login link top right in order to log yourself in. Usually, you'll be logged in for several days before needing to be logged in again.
______________________________
Problem receiving blog comment emails? Try whitelisting the address. More info.
______________________________
A true expert in Elliott Wave FL 2
A true expert in Elliott Wave …

You are a true expert in EW analysis. What you provide is not available anywhere and is priceless. Subscription on your services is the best thing I have ever done. Many thanks for your effort to make me a better investor. I now have more trust in my investment decisions. I hope you will continue the excellent work! —FL
The Market This Week
Here's the latest daily chart of ES (emini futures)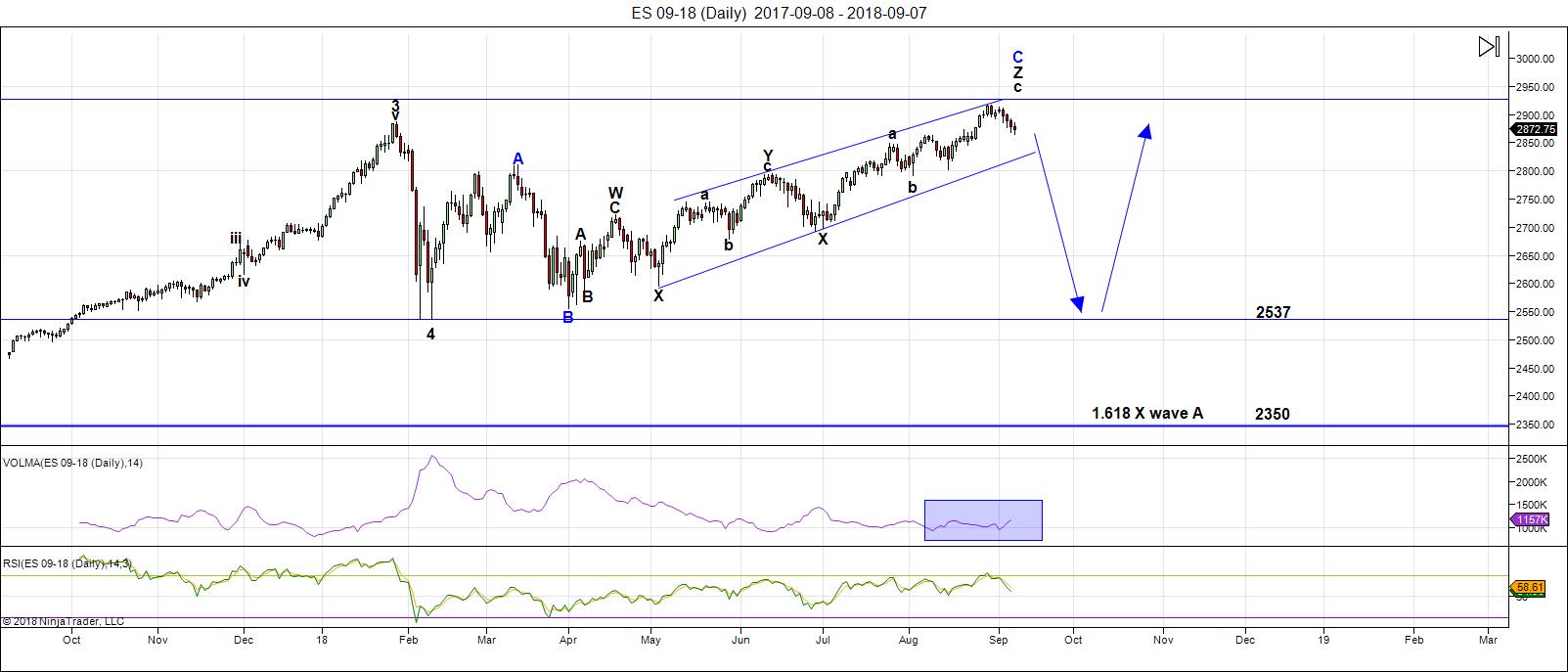 Above is the daily chart of ES (click to enlarge, as with any of my charts).
No change from last week. We're still waiting for the fifth of the fifth wave to a minimal new high before a turn down in the long-awaited C wave of a flat pattern.
My preference is for this unfolding fourth wave pattern is that of a expanded flat. However, technically, it could also be a running flat. At the present time, the B wave (that's the ABC wave up from about 2532) is longer than the A wave (marked as the 4th wave down from January 29, 2018). A regular flat registers as an expanded flat when the B wave is over 105% of the length of the A wave—ie, the B wave would need to reach above 2889, which is has done.
That means that the ES/SPX has multiple possibilities as to a target on the downside. Accuracy (in determining the most probable target) is going to depend upon both counting and measuring the waves to the downside. It's impossible to pick a downside target at this point in the process.
If we select all of wave 4 (on the chart—down from January 29) as the "A wave," then we're looking at an expanded flat. In that case, this outcome is the most probable:
the C wave of a flat is typically 100 - 165% of the length of the A wave (so the target would be from 2532 - approx. 2360) - preliminary targets
There are other options:
a running flat would trace out a C wave that is NOT longer than the A wave (in other words, it would not go to a new low). I regard this option as very low probability because it's extremely rare (I've only ever seen one of them). However, if NDX is tracing out a final impulsive pattern, its fourth wave should not be very deep, which may also restrict the length of the C wave in the SP500.
Volume: If you look at volume at the bottom of the chart, you'll see that it spikes up on selling and drops to nothing as the market rallies—a sure sign a top is nearby.
Summary: We're waiting for a top in a B wave, which will result in a C wave to a new low. My preference is that this structure represents an expanded flat, but there are other options. Once the c wave (down) is complete, expect a final fifth wave to a new high. That fifth wave up to a new high will be the end of the 500 year bull market.
___________________________
Trader's Gold Subscribers get a comprehensive view of the market, including hourly (and even smaller timeframes, when appropriate) on a daily basis. They also receive updates through the comments area. I provide only the daily timeframe for the free blog, as a "snapshot" of where the market currently trades and the next move on a weekly basis.
______________________________________
Sign up for: The Chart Show
Next Date: 

Wednesday, September 19 at 5:00 pm EST (US market time)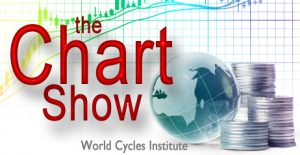 The Chart Show is a one hour webinar in which Peter Temple provides the Elliott Wave analysis in real time for the US market, gold, silver, oil, major USD currency pairs, and more. You won't find a more accurate or comprehensive market prediction anywhere for this price.
Get caught up on the market from an Elliott Wave perspective. You'll also get Andy Pancholi cycle turn dates for the SP500 for the balance of the current month. There'll be a Q&A session during and at the end of the webinar and the possibility (depending on time) of taking requests.
All registrants will receive the video playback of the webinar, so even if you miss it, you'll be sent the full video replay within about an hour of its conclusion.