The Dip — A Game-Changer for Me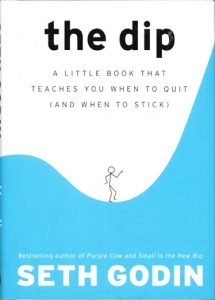 "What really sets superstars apart from everyone else is the ability to escape dead ends quickly while staying focused and motivated when it really counts." — Seth Godin
"Winners quit fast, quit often, and quit without guilt—until they commit to beating the right Dip for the right reasons. In fact, winners seek out the Dip. They realize that the bigger the barrier, the bigger the reward for getting past it. If you can become number one in your niche, you'll get more than your fair share of profits, glory, and long-term security."
I read this little book when I was learning the Elliott Wave Principle, which took me years to master, because of the errors and omissions in the book, and the seeming inability of the folks at Elliott Wave International to analyze waves properly (argh!). It was a frustrating time.
There were many times where I wanted to just give up. That's "the Dip." It's the point in any major undertaking (usually three quarters of the way there) where psychologically, you hit a low point and are on the verge of quitting altogether.
Many never make it to their goal; it separates the "stars" from the also-rans. As they say, we don't remember who came in second.
The "superstars," the experts we look up to in life, got there because they powered through that "dip" in motivation and made it to the end, undergoing many frustrating challenges along the way.
We've had nine months in the US indices of a slowly rising B wave,  but it is indeed almost over. Just a little more patience will pay off in a big way.
It's been a frustrating wait because the rally in ES has been one that has almost died several times, but suddenly comes back to life every time. Frustrating!
But the Elliott Wave Principle, either through counting waves, or through fibonacci measurements, always alerts as to when the turn will come. Time, as I've said many times before, is not something EW does well. So … we wait. The signals for the coming turn are clear; however, the shorter-term wave structure in the US indices is not as clear as I'd like it to be.
In any case, other asset classes are also signalling a turn is imminent. This is going to be a major turn of just about everything. It will be worth the wait.
In terms of my work learning Elliott Wave, I found that I had to try to disprove it in order to prove it in every instance. It took me several years to go through the process, figuring out when I was wrong, why I was wrong. That process led to additional rules I discovered and guidelines in the book that I ultimately figured out were dead wrong. For example, truncations. I have not been able to find one in back-testing through a hundred years of the DOW data.
I lost a fair amount of money along the way, but I was determined to either prove it worked, or find a flaw that would cause me to abandon it. I was determined to master this particular niche. I'm still working towards that end. I say that because, with the market, there's always some nuance or subtle pattern that you end up refining in some way. But the work I did has paid off.
I have not been able to find an example of how Elliott Wave fails to adhere to the set of rules that I've adapted from the Elliott Wave Principle book. Most analysts aren't willing to put in this kind of work. I am, thanks to Seth Godin and The Dip.
______________________________
Update on NDX
NDX really didn't advance this week; it still looks like we may have an ending diagonal in the works to finish off the 3rd wave. The measured target for the third wave to the upside is 7900, but I'm unsure if we'll actually make it that high.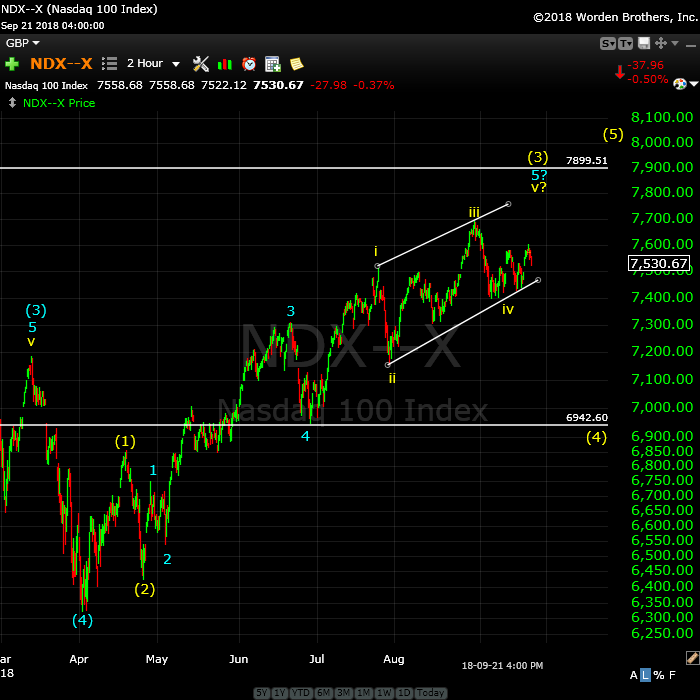 Above is the two hour chart of NDX (Nasdaq 100).
There at least a couple of ways to label this final set of waves up to the top of wave 3. With the sideways movement this past week, and the fact that NDX (and NQ) did not break below the lower trendline, leads me to label this pattern as an ending diagonal. If so, expect a final rally up to the upper trendline. We could get a "throw-over" (a spike above the upper trendline) but it's not required to end the pattern.
On the other hand, if we break down below the lower trendline, then we're in the fourth wave down and the third wave would likely be complete (I can also count the wave up as having traced out a full five waves of the third).
Keep in mind that at tops, often the final waves start to compress and often doing trace out their full expected lengths.
The larger fourth wave should come down to the previous fourth wave somewhere around the 6942 area. It cannot drop into the area of wave (1) or it would negate the impulsive wave and possibly lead to an ending diagonal.
The fourth wave down and then a final fifth wave to a new high are the final two waves before the top of the 500 year rally. After the final 5th wave up in NDX is complete, we'll turn down into the bear market I've been talking about here for the past three years!
______________________________
Elliott Wave Basics
There are two types of Elliott wave patterns:
Motive (or impulsive waves) which are "trend" waves.
Corrective waves, which are "counter trend" waves.
Motive waves contain five distinct waves that move the market forward in a trend. Counter trend waves are in 3 waves and simply correct the trend.
All these patterns move at what we call multiple degrees of trend (in other words, the market is fractal, meaning there are smaller series of waves that move in the same patterns within the larger patterns). The keys to analyzing Elliott waves is being able to recognize the patterns and the "degree" of trend (or countertrend) that you're working within.
Impulsive (motive) waves move in very distinct and reliable patterns of five waves. Subwaves of motive waves measure out to specific lengths (fibonacci ratios) very accurately. Motive waves are the easiest waves to trade. You find them in a trending market.
Waves 1, 3, and 5 of a motive wave pattern each contain 5 impulsive subwaves. Waves 2 and 4 are countertrend waves and move in 3 waves.
Countertrend waves move in 3 waves and always retrace to their start eventually. Counrtertrend (corrective waves) are typically in patterns — for example, a triangle, flat, or zigzag. Waves within those patterns can be difficult to predict, but the patterns themselves are very predictable.
Fibonacci ratios run all through the market. They determine the lengths of waves and provide entry and exit points. These measurements are really accurate in trending markets, but more difficult to identify in corrective markets (we've been in a corrective market in all the asset classes I cover since 2009).
To use Elliott wave analysis accurately, you must be able to recognize the difference between a trend wave (motive) and a countertrend wave (corrective). There's very much more to proper Elliott wave analysis, but this gives you the basics.
____________________________
Registration for Commenting
Want to comment? You need to be logged in to comment. You can register here.
If you register, it protects your information. It also allows you to comment without filling in your information each time. Once you're registered, simply go to the home page and click on the login link top right in order to log yourself in. Usually, you'll be logged in for several days before needing to be logged in again.
______________________________
Problem receiving blog comment emails? Try whitelisting the address. More info.
______________________________
A true expert in Elliott Wave FL 2
A true expert in Elliott Wave …

You are a true expert in EW analysis. What you provide is not available anywhere and is priceless. Subscription on your services is the best thing I have ever done. Many thanks for your effort to make me a better investor. I now have more trust in my investment decisions. I hope you will continue the excellent work! —FL
The Market This Week
Here's the latest daily chart of ES (emini futures)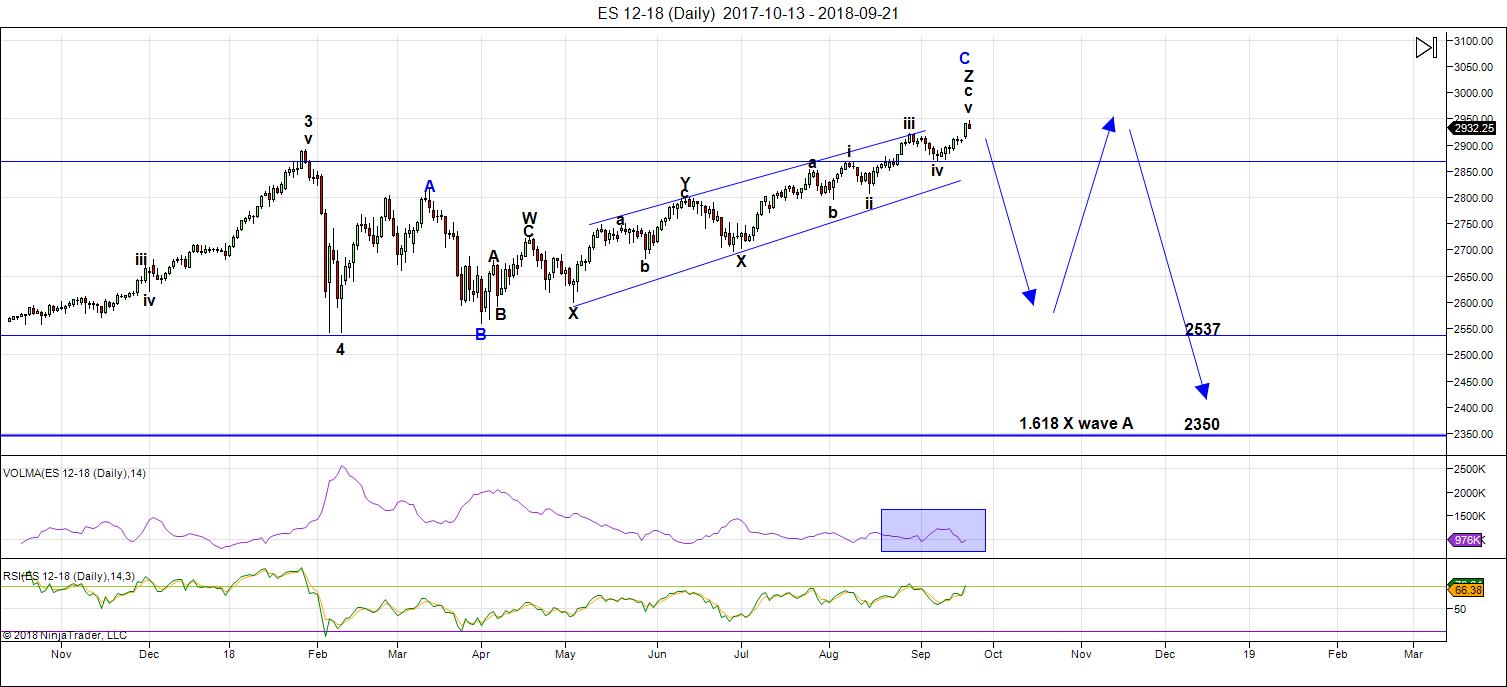 Above is the daily chart of ES (click to enlarge, as with any of my charts).
Even though we're at a new high this weekend, we're still waiting for the fifth of the fifth wave to end. It should end this week; there are signs from all the other asset classes I cover that we're going to have a major turn of just about everything.
The big change this week was the movement of the US dollar, which did not bottom as a wave in three as it threatened to do, but dropped to a new low. That sent SPX higher, in a larger wave than I expected, but still the final wave.
With all the events coming this week (full moon, Fed announcement), I would expect the turn to finally take hold. My money is on the Federal Reserve announcement, which tends to be a magnet and usually results in a turn the following day — the long-awaited C wave.
My preference is for this continuation of fourth wave pattern (down) is that of a expanded flat. However, technically, it could also be a running flat. At the present time, the B wave (that's the ABC wave up from about 2532) is longer than the A wave (marked as the 4th wave down from January 29, 2018). A regular flat registers as an expanded flat when the B wave is over 105% of the length of the A wave—ie, the B wave would need to reach above 2889, which is has done.
That means that the ES/SPX has multiple possibilities as to a target on the downside. Accuracy (in determining the most probable target) is going to depend upon both counting and measuring the waves to the downside. It's impossible to pick a downside target at this point in the process.
If we select all of wave 4 (on the chart—down from January 29) as the "A wave," then we're looking at an expanded flat. In that case, this outcome is the most probable:
the C wave of a flat is typically 100 - 165% of the length of the A wave (so the target would be from 2532 - approx. 2360) - preliminary targets
There are other options:
a running flat would trace out a C wave that is NOT longer than the A wave (in other words, it would not go to a new low). I regard this option as very low probability because it's extremely rare (I've only ever seen one of them). However, if NDX is tracing out a final impulsive pattern, its fourth wave should not be very deep, which may also restrict the length of the C wave in the SP500.
Volume: Volume ticked up with Wall Street back at their desks after the summer break. However, this week, it's headed back down. The lack of volume again foreshadows a turn.
Summary: We're waiting for a top in a B wave, which will result in a C wave to a new low. My preference is that this structure represents an expanded flat, but there are other options. Once the c wave (down) is complete, expect a final fifth wave to a new high. That fifth wave up to a new high will be the end of the 500 year bull market.
___________________________
Trader's Gold Subscribers get a comprehensive view of the market, including hourly (and even smaller timeframes, when appropriate) on a daily basis. They also receive updates through the comments area. I provide only the daily timeframe for the free blog, as a "snapshot" of where the market currently trades and the next move on a weekly basis.
______________________________________
Sign up for: The Chart Show
Next Date: 

Wednesday, October 3 at 5:00 pm EST (US market time)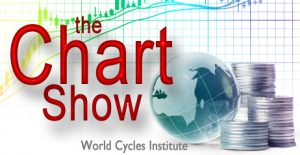 The Chart Show is a one hour webinar in which Peter Temple provides the Elliott Wave analysis in real time for the US market, gold, silver, oil, major USD currency pairs, and more. You won't find a more accurate or comprehensive market prediction anywhere for this price.
Get caught up on the market from an Elliott Wave perspective. You'll also get Andy Pancholi cycle turn dates for the SP500 for the balance of the current month. There'll be a Q&A session during and at the end of the webinar and the possibility (depending on time) of taking requests.
All registrants will receive the video playback of the webinar, so even if you miss it, you'll be sent the full video replay within about an hour of its conclusion.