So far so good.
Tonight, I'm going to give a brief summary of where we are in a couple of the main US indices.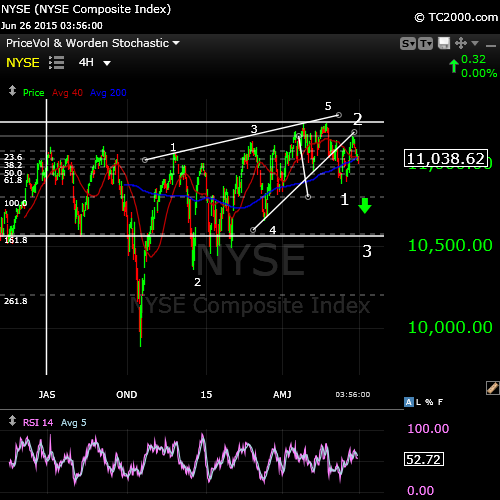 The NYSE above shows the ending diagonal to a fifth wave high, first wave down, second wave up, and the start of the third wave down. Third waves are motive waves that subdivide in five waves (as do all Elliott motive waves). I expect this one will be no exception. The first wave of the third will usually be the same length as the first wave down of higher degree and so this puts the initial target at $10,800.00 for the NYSE.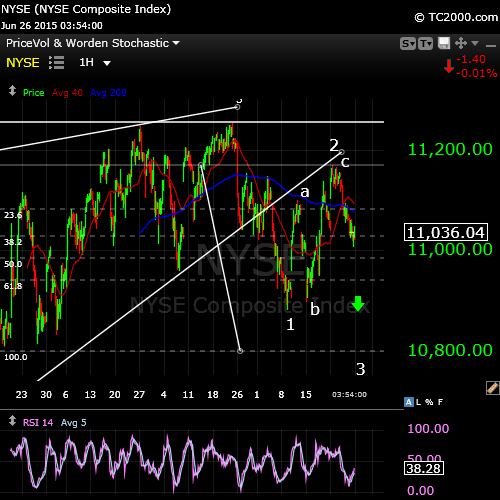 Zooming in, we can see the substructure of wave 2 (an abc countertrend wave). There is a possibility, since we've come down in three waves so far, that we could head back up to the previous top of the second wave at $11,170. I wouldn't expect us to go any higher, as the abc wave up has subwaves in 3's and a new high would require a wave up in 5 waves. So, I'm expecting us to continue down, despite all the hope attached to the EU/Greece never-ending drama.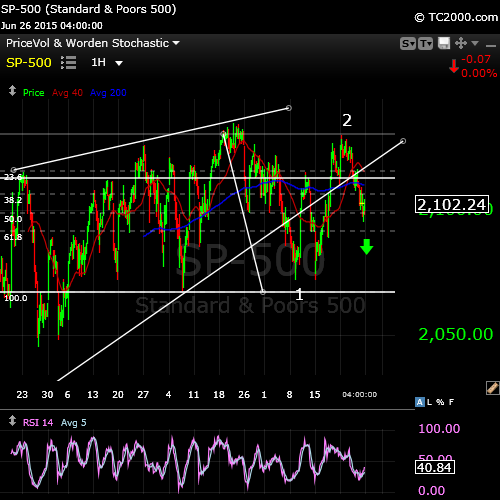 Finally, here's the SP with much the same look. The target for the first wave of the third is about $2068.
I'm off on my motorcycle for a couple of days into the Canadian Rockies, and won't be around most of the weekend. However, I'll be keeping abreast of the Greek mini-series. Wouldn't want to miss it, although I'm not expecting all that exciting of an ending.
Saturday Update: The Situation in Greece
http://www.zerohedge.com/news/2015-06-27/eurozone-rejects-greek-bailout-extension
As I suspected, it's all but official. The Greek experiment with negotiating an impossible situation is all but over. This suggests we head down Sunday into Monday in US market futures and currencies.