NOTE: I've been having some technical challenges getting these posts to go out to subscribers. Hopefully, that's fixed now, although this one will end up going out later than it should have – Peter
Well, here's another "ridiculous count," as someone on solarcycles.net called my previous entry …
It might be ridiculous, but so far, it's been right (let's hope it stays that way …).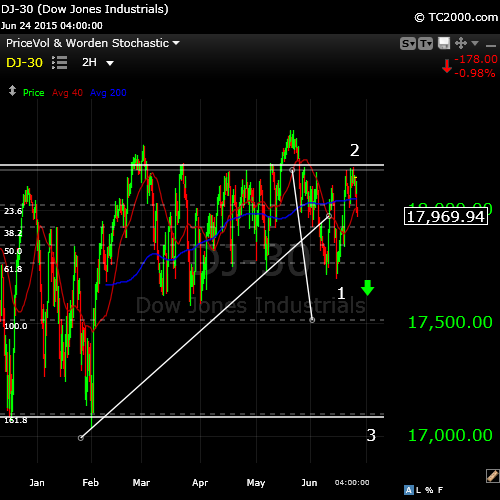 The chart above is the 2 hour DOW at the end of today (Wednesday) with my Elliott wave count. The second wave appears to have topped after 5 subwaves up. You'll get a better look at that count in a chart of the ES (SP500 e-mini futures) below. I suspect we head down tomorrow, as well. This should be wave 3 and the target is just about the $17,000 mark in the DOW.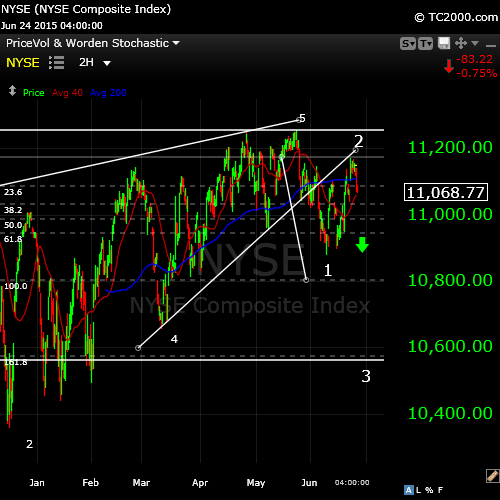 The chart above is the two hour NYSE showing a similar count. Both indices completed an ending diagonal (the end is marked with a '5.' We should continue down Thursday in a third wave—the target is denoted by the lower horizontal line (SPY has a similar count, even though it almost went to a new market high).
I note that the euro and pound also seem to have topped and are both retracing in a second wave tonight. Everything seems to be lining up for the convoy south.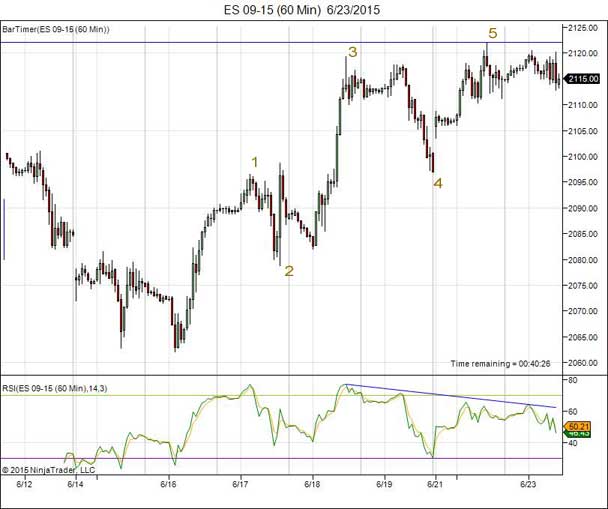 Above is the ES e-mini chart from last night. This shows very clearly the five waves up. Five waves, as the last wave of a flat (an a-b-c configuration in which the subwaves are 3-3-5) denote a trend change. You can also see the divergence in the RSI was quite pronounced, signalling a downturn was eminent.