The futures markets have been open for hours as I write this, confirming the count and direction for tonight, at least.
I always chuckle at the articles that pop up suggesting that each little move in the market is predicated on an event. The wonder tonight is why we're headed up in the shadows of the Grexit. Well, you could attribute it to "Hopium"—the favourite drugs dispensed by governments and banks, but the real story it that the wave simply has to complete as part of a larger picture.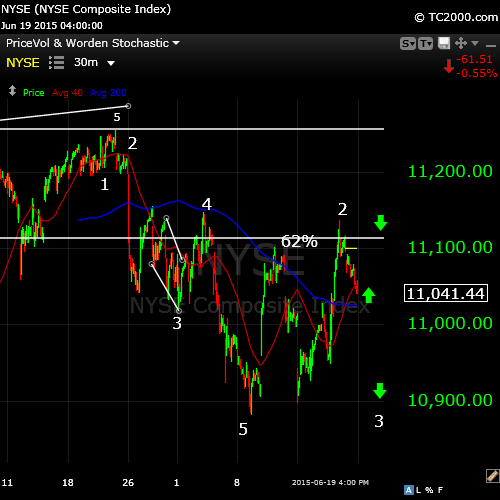 For example, you can see by the chart above of the NYSE, that my count shows that we've come down in five waves and retraced in three waves (a countertrend move). However, the three waves are not complete.
In Elliott wave lingo, this is a flat or zigzag. A flat is a 3-3-5 configuration. In other words the first wave up (a wave) has to be in 3, the second wave down has to be in 3 (b wave) and the third (c wave) has to be in 5. So far, it's in 4, so we need to head back up to the most recent wave top at $11,137 and change. It actually looks more like a zig zag, which is a 5-3-5 configuration. The outcome is the same.
We've already started up tonight in the e-mini futures (ES and NQ) and EUR/USD (other currencies are moving in tandem). You'll find that we're beginning a convoy as most market assets are starting to move closer and closer in lock-step, as debt deleveraging happens in earnest.
Today being the summer solstice adds to the prediction of a major turn down (in the next 48 hours or so) and we have Grexit weighing heavily on the outcome, as well.
Other Major US Indices
The Nasdaq should go to a double top to end off the fifth wave. The SP could actually make a new high (it's very close, but I do tend to this it's done) and the DOW should move similar to the NYSE … it's the weakest of the three. Signs of a very sick market.
Greece