Ending Diagonals Everywhere!
For over four weeks, we've watched the rally in the SP500 trace out a corrective wave up from the low of 2553.60. We began with what was a textbook contracting triangle. Then two weeks ago, the Nasdaq indices suddenly rallied into an ending diagonal.
On Monday of this week, the SP500 (and ES) followed suit and also began to rally into an extremely weak ending diagonal. The third wave that we're in has about another 15 points to go to a new high to technically complete the third wave of that ending diagonal.
But that's not all that's going on with ending diagonals: These are the players that are all working on ending diagonals — SP500, ES NDX, NQ, Nasdaq Comp, Russell 2000, and Russell 3000.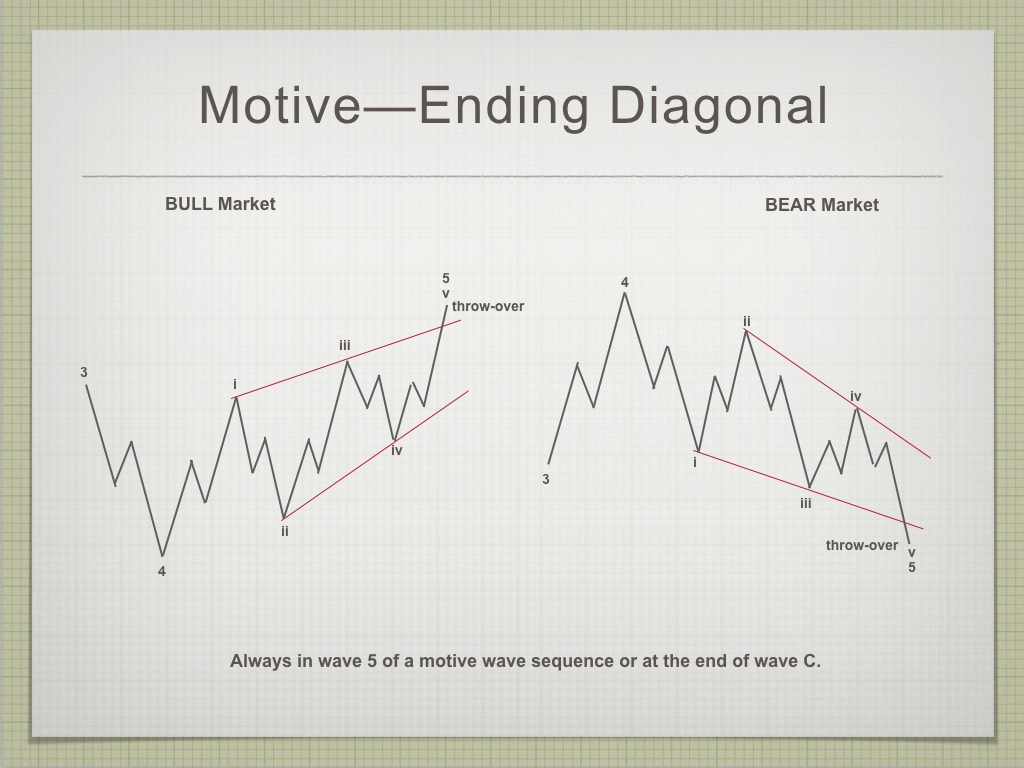 Ending diagonals are ending waves. I consider them corrective (although, in Prechter's book, they're contained within the section on "motive waves." In a fifth wave position, which we've "morphed into" this week, they foreshadow an imminent trend change. That's a hard rule that will NOT be broken.
An ending diagonal is different than an contracting triangle in that it has a slight upward tilt to it (a diagonal pattern) in a bull market. The other difference is that the waves get shorter and shorter as we move through the pattern. The fifth wave up has to be shorter than the third wave up. That put "a cap" on the market.
An ending diagonal is a fifth wave pattern, as opposed to a contracting triangle, which is a fourth wave pattern. This difference doesn't make much difference going forward.
I any event, we have one more wave down and another one to the upside it the US indices before the trend changes. In each case, the final fifth wave cannot be longer than the third wave, so this puts a limit on the distance this market can march higher. It looks like it won't get much above a new all time high. The inherent weakness is abundantly obvious. Volume is almost non-existant. Sentiment continues at historically bullish levels.
On Thursday, the European Central Bank announced that is has virtually given up and it's stopping its quantitative easing, which will be deflationary.
The US dollar has one more wave down to a new low to complete the large corrective fourth wave that its currently in. Then is will turn back up for good. That's also highly deflationary. The Federal Reserve is trying to reduce its balance sheet — also deflationary.
As I've been saying for several years now, we're heading into a deflationary spiral. If you're on the right side of the market and understand what this means to the value of money (and take advantage of it), you're going to be just fine.
As I've been saying for the past couple of years, everything will top at the same time, but to do so, they all have to finish their final waves within Elliott wave rules.
After they all top, they will all move down together in what's going to be the show of a lifetime. The drop in the eventual third wave (likely this fall) will be labelled "the crash" and it's likely to be breathtaking in it severity.
There's a really ugly full moon coming in October 24, which coincides with my musing on when we might see the crash. I'm focussed on that time frame for a potential crash.
Above is the 2 hour chart of the NYSE (New York Stock Exchange). This chart is a good indication of the inherent weakness in the market. Many of the indices have transitioned into an ending diagonal (a fifth wave patter). However, the NYSE, which these other indices are a subset of, is still going sideways in a contracting triangle.
This contracting triangle will finish off the blue E wave down, while the ending diagonals complete their fourth waves down. They will all turn at the same time into the final fifth wave up to a new high.
_______________________
Elliott Wave Basics
There are two types of Elliott wave patterns:
Motive (or impulsive waves) which are "trend" waves.
Corrective waves, which are "counter trend" waves.
Motive waves contain five distinct waves that move the market forward in a trend. Counter trend waves are in 3 waves and simply correct the trend. These patterns move at what we call multiple degrees of trend (they are fractal, meaning there are smaller series of waves that move in the same patterns within the larger patterns). The keys to analyzing Elliott waves is being able to recognize the patterns and the degree of trend that you're working within.
The motive waves shown above are typical in terms of their look and length. Subwaves of motive waves measure out to specific lengths (fibonacci ratios) very accurately. Motive waves are the easiest waves to trade.
Waves 1, 3, and 5 of a motive wave pattern each contain 5 motive subwaves. Waves 2 and 4 are countertrend waves and move in 3 waves.
Motive waves also travel in channels. The red channel above can be drawn from the apexes of wave 1 and 3 on one side and waves 2 and 4 of the other. The end of wave 5 typically meets the trend line on the wave 1 & 3 side before it reverses.
Countertrend waves move in 3 waves and always retrace. You'll find much more about them in the countertrend section and the page on "The Right Look."
To use Elliott wave analysis accurately, you must be able to recognize the difference between a trend wave (motive) and a countertrend wave (corrective). There's very much more to proper Elliott wave analysis, but this gives you the basics.
____________________________
Registration for Commenting
Want to comment? You need to be logged in to comment. You can register here.
If you register, it protects your information. It also allows you to comment without filling in your information each time. Once you're registered, simply go to the home page and click on the login link top right in order to log yourself in. Usually, you'll be logged in for several days before needing to be logged in again.
______________________________
Problem receiving blog comment emails? Try whitelisting the address. More info.
______________________________
Tops in your field DZ 2
Tops in your field …

You are tops in your field.  Tried to follow Elliot Wave international for years.  They were always behind the market.  After discovering you, I perceive that you are an expert in reading the waves, which puts you way ahead of the rest of your peers. And you can read the Waves like you are reading tomorrow's financial section.  I pray you stay healthy.  —DZ
The Market This Week
Here's the latest daily chart of ES (emini futures)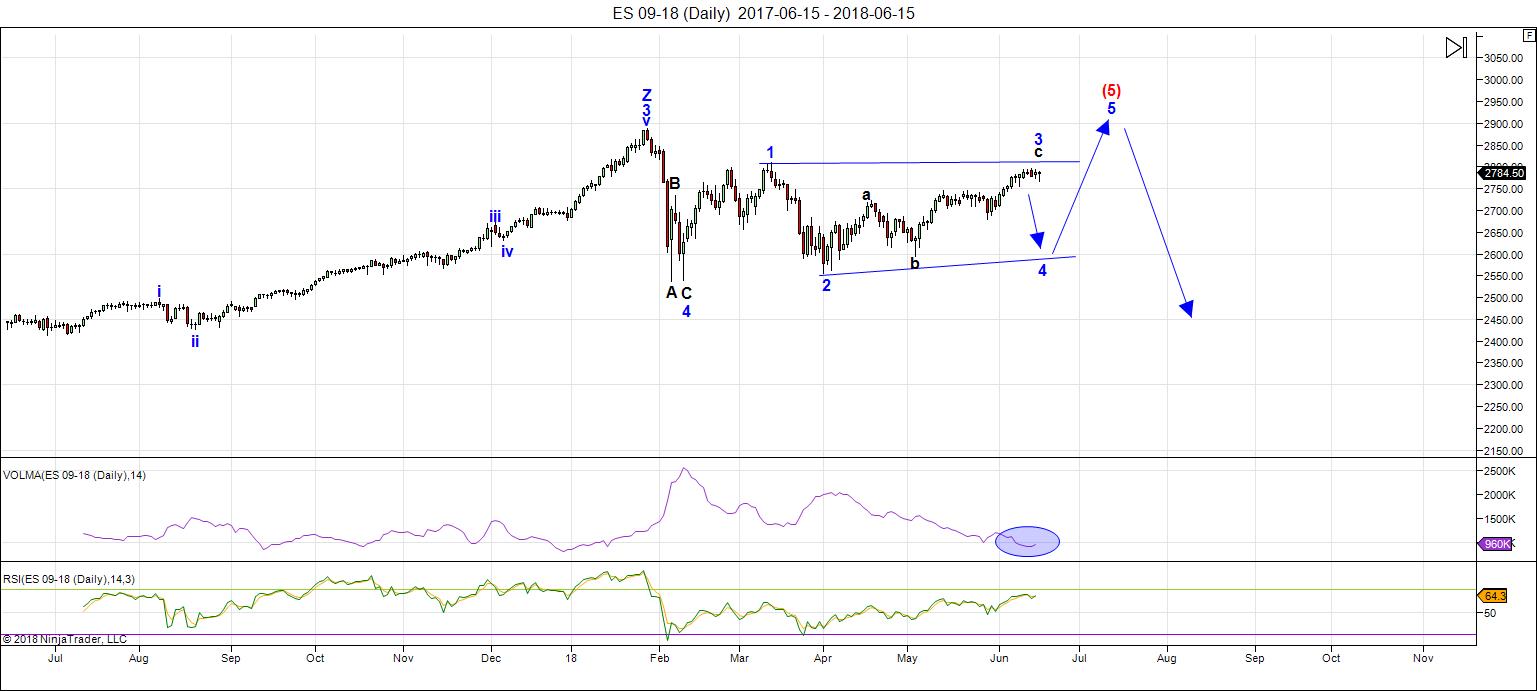 Above is the daily chart of ES (click to enlarge, as with any of my charts).
Last weekend, I complained about the sideways movement in ES (for three solid weeks). Two weeks ago we got a very fast resolution for the Nasdaq, as it morphed into an ending diagonal, by rising to a new high, tracing out wave 3 of that diagonal. On Monday of this week, the NYSE subindexes (SP500, Russell 2000, Russell 3000, and ES (emini futures)) followed suit.
We now have ending diagonals all over the place, except in the NYSE itself, the DOW, and OEX. The NYSE continues its contracting triangle. The DOW and OEX appear to be in fifth waves of some kind (the pattern is open to interpretation at the moment).
In the chart above, you can see that this ending diagonal move is subtle. It still looks much like a contracting triangle. However, the move to a new high in the third wave confirms an ED, although incredibly weak.
Note the low volume, with an ellipse over the current level in the purple indicator below the chart.
The NYSE indices are all extremely weak - that's what this configuration tells me.
Summary: We continue to trace out the third wave of an ending diagonal. We're very close to a third wave top (possibly Monday). Topping out will result in a high probability trade to the downside (the fourth wave of the ending diagonal). Once the 4th wave (down) is complete, expect a final fifth wave to a new high. That fifth wave up to a new high will be the end of the 500 year bull market.
___________________________
Trader's Gold Subscribers get a comprehensive view of the market, including hourly (and even smaller timeframes, when appropriate) on a daily basis. They also receive updates through the comments area. I provide only the daily timeframe for the free blog, as a "snapshot" of where the market currently trades and the next move on a weekly basis.
______________________________________
Sign up for: The Chart Show
Next Date:

Wednesday, June 27 at 5:00 pm EST (US market time)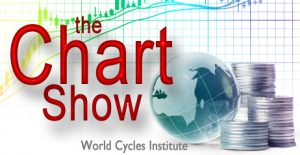 The Chart Show is a one hour webinar in which Peter Temple provides the Elliott Wave analysis in real time for the US market, gold, silver, oil, major USD currency pairs, and more. You won't find a more accurate or comprehensive market prediction anywhere for this price.
Get caught up on the market from an Elliott Wave perspective. You'll also get Andy Pancholi cycle turn dates for the SP500 for the balance of the current month. There'll be a Q&A session during and at the end of the webinar and the possibility (depending on time) of taking requests.
All registrants will receive the video playback of the webinar, so even if you miss it, you'll be sent the full video replay within about an hour of its conclusion. For more information and to sign up, click here.