Keeping a "Weather Eye"
I've mentioned before that my favourite sport is sailing. I'd much prefer to be out on the ocean more than just about anywhere else on Earth.
There are lessons I've learned about the power of nature and the preparation necessary for venturing out in the world that could be very helpful in the upcoming financial crash.
One is the fact that nature is all powerful, and any hope of controlling it is a pipe dream. A good example is the Hawaiian volcano. Erupting volcanoes is how the Earth cools itself and we always get them at climate extremes. We have more of them on Earth right now than normal and there are warnings of some potential super volcanoes to come. No big surprise if you know about climate cycles.
It's also no big surprise that we're apparently stunned that they're occurring at this point in time.
I have a healthy respect for the power of Mother Nature, as does any sailor. We know the importance of preparing for a storm, no matter the weather report. However, few people on land (except certainly in hurricane-prone areas) prepare for a "rainy day."
A storm is coming and it will envelope the world starting later this year.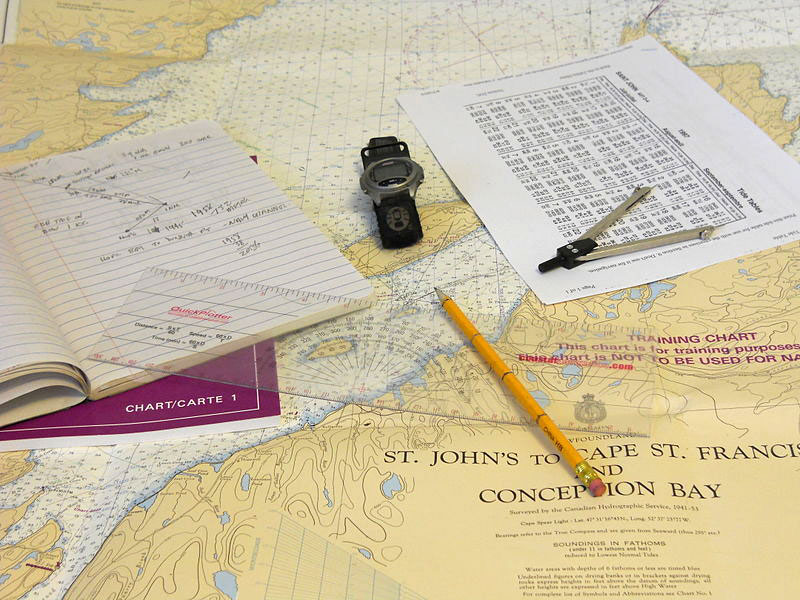 In sailing, you always have to plan your journey using charts (maps) that provide ocean depths, underlying rocks or other potentially dangerous underwater terrain, and currents. I typically plot my course by drawing the route right on the charts and writing down compass directions and important landmarks. Looking ahead is key to a safe journey — having a big picture view of what's to come is important to your safety (and that of your passengers).
There might be surprises, but if you plan for most of them, your chances of success are that much greater. That's why old ships had a crowsnest, the highest point on the ship, a place from which you could peer into the fog and attempt to find some familiar landmarks.
Using something we call "dead reckoning," if you find two points you recognize and know the compass angle between those two sightings, you can easily figure out exactly where you are on the water.
For the stock market, for me, it's Elliott Wave that replaces dead reckoning.
With where we are now in the SP500, coming to the end of the final pattern of a contracting triangle, let's look ahead from a time perspective and attempt to predict when we might sight the end of the trend. (Triangles are in a fourth wave are an important "landmark." They warn of only one more smallish wave before a trend change)
The Elliott Wave Principle is based on price cycles, not time cycles, so my "predictions" here won't be as accurate a dead reckoning, but I think it's important to try to get a sense of when the coming financial hurricane might start beating down our door.
For over three weeks, we've watched the US indices stretch out the patterns they're currently in. Most notable are the SP500 and related futures, which have gone sideways for over three weeks. This sort of action makes it almost impossible to project a date for the top, but let's speculate.
Bullish contracting triangles get confirmed at the top of the D leg. In other words, you can predict them earlier, but the actual confirmation that you're in one doesn't actually happen until the stopes of both the upper and lower trendlines are in determined (at the apexes of the C and D waves). With a turn down this coming week, the triangle I've been projecting for several weeks now, will be confirmed.
In contracting triangles, the C leg is most often the most complex wave. When that doesn't happen, the responsibility usually passes to the D leg, something I warned about earlier on. We have indeed completed that complex D leg. The E leg, on the other hand is usually simple and drops much more quickly (in the usual ABC pattern).
The B wave of the SP500 triangle dropped in a little over three weeks, as opposed to the D leg taking over two months. So, let's say the E leg takes a similar timeframe of three weeks starting Monday.
This would bring us to an E wave bottom at around July 1. What this suggests is what I've been fearing (and have mentioned on at least a couple of occasions): a long fifth wave to a new high during the summer doldrums. Volume is already very weak, and this will only exacerbate the volatility issues.
That fifth wave up may last two months and take up to late August/early September for a top. After the top, it usually takes about 60 days to get into the third wave, which is where we always experience "the crash."
Based upon this speculative musing, we'd see the crash in mid to late October. That also happens to be the most usual timeframe from crashes, from an historical perspective.
We'll just have to see how this thing plays out.
US Index Review (revised Jun 8)
I'm including these two indices again this week, as particularly in the NYSE, there was a interesting development.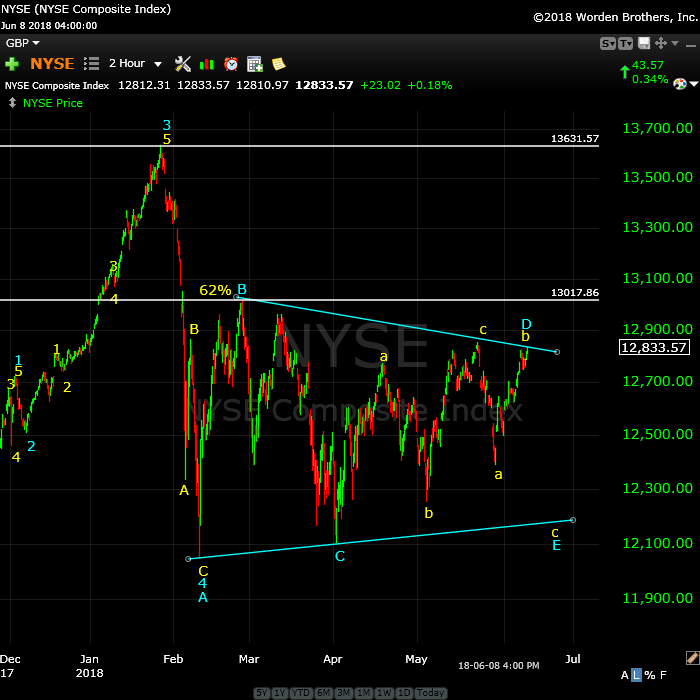 Above is the two hour chart of the NYSE. This is the mother of all indices, and if you have any doubts about where we are, just take a look here. It doesn't have the typical "animal spirits" attached to it (as it's not traded directly) and comprises all the other traded indices (SP500, DOW, RUT, RUA, etc.).
We're in a fourth wave contracting triangle, currently in the E wave, with one more leg down to go (a 'c' wave). What's interesting here is that the yellow b leg (labelled as the top of blue D) has returned to the upper trendline after a very big drop. This is highly unusual and show how we're "getting pushed around" by the US Dollar, which is controlling the movement of just about everything out there.
We are all set for a turn down into the E leg. Technically, the NYSE is already in the E leg (unless we have a final movement above the previous high (the yellow c top at 12,853.33, and we're only 20 points away from doing that). In any event, I expect a top here, and possibly a double top.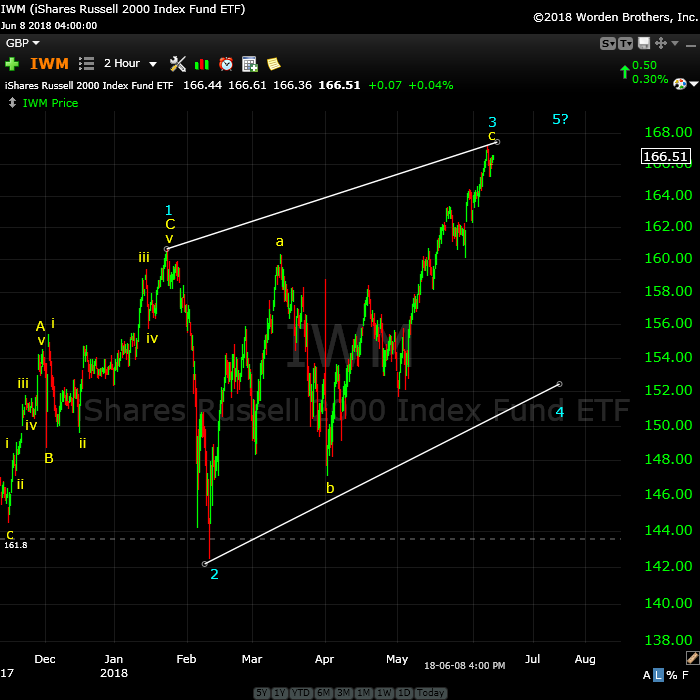 Above is the two hour chart of the Russell 2000 (RUT), showing the ending diagonal in play. In the Elliott Wave Principle (Frost & Prechter), the lump ending diagonals into the motive wave section of the book, but it's really a corrective pattern.
The pattern has overlapping waves; it's too weak to rally in a clean third wave. The waves are really collapsing on each other, due to the inherent weakness. You'll find that pattern at the ends of trends, either corrective, or motive.
The ending diagonal will have a large fourth wave down to the lower trendline and then and final fifth wave up to a new high and I would expect a throw-over (a 5th wave that extends slightly beyong the upper trendline). When it does so, it will mark the end of the five hundred year trend that I've written about extensively here.
Website Notice (I'm moving servers)
For some time, I've been having intermittent problems with a variety of functions on my site. It's seems to be a server problem at my current host (Bluehost — I can't recommend them anymore after this experience) and so I'm moving the site to a different server. I've been testing the new site for the past couple of weeks and everything seems to be working perfectly.
The biggest frustration has been the issues with emails not being sent for people wanting to be emailed whenever a new comment goes live. I won't actually know that the email comments problem is fixed until the move takes place. I'm very hopeful this final move will fix the problem.
It should be seamless and it will take place over the weekend. By sometime Sunday, we should be on the new site. The only issue that might arise is that comments left on one site may not show up on the new site (if the comments are made over this weekend).
_______________________
Elliott Wave Basics
There are two types of Elliott wave patterns:
Motive (or impulsive waves) which are "trend" waves.
Corrective waves, which are "counter trend" waves.
Motive waves contain five distinct waves that move the market forward in a trend. Counter trend waves are in 3 waves and simply correct the trend. These patterns move at what we call multiple degrees of trend (they are fractal, meaning there are smaller series of waves that move in the same patterns within the larger patterns). The keys to analyzing Elliott waves is being able to recognize the patterns and the degree of trend that you're working within.
The motive waves shown above are typical in terms of their look and length. Subwaves of motive waves measure out to specific lengths (fibonacci ratios) very accurately. Motive waves are the easiest waves to trade.
Waves 1, 3, and 5 of a motive wave pattern each contain 5 motive subwaves. Waves 2 and 4 are countertrend waves and move in 3 waves.
Motive waves also travel in channels. The red channel above can be drawn from the apexes of wave 1 and 3 on one side and waves 2 and 4 of the other. The end of wave 5 typically meets the trend line on the wave 1 & 3 side before it reverses.
Countertrend waves move in 3 waves and always retrace. You'll find much more about them in the countertrend section and the page on "The Right Look."
To use Elliott wave analysis accurately, you must be able to recognize the difference between a trend wave (motive) and a countertrend wave (corrective). There's very much more to proper Elliott wave analysis, but this gives you the basics.
____________________________
Registration for Commenting
Want to comment? You need to be logged in to comment. You can register here.
If you register, it protects your information. It also allows you to comment without filling in your information each time. Once you're registered, simply go to the home page and click on the login link top right in order to log yourself in. Usually, you'll be logged in for several days before needing to be logged in again.
______________________________
Problem receiving blog comment emails? Try whitelisting the address. More info.
______________________________
Get an upper hand … JC 2
Get an upper hand in trading …

Seeing all the different currency pairs and the wave structures and hearing you explain why this has to do that on a nightly bases gives one a upper hand when trading. Elliott Wave applies to all stock and indices and can be applied to any candlestick chart.

If someone ask what you want for Christmas – Tell them a membership to Peter's "Traders Gold!"—JC
The Market This Week
Here's the latest daily chart of ES (emini futures)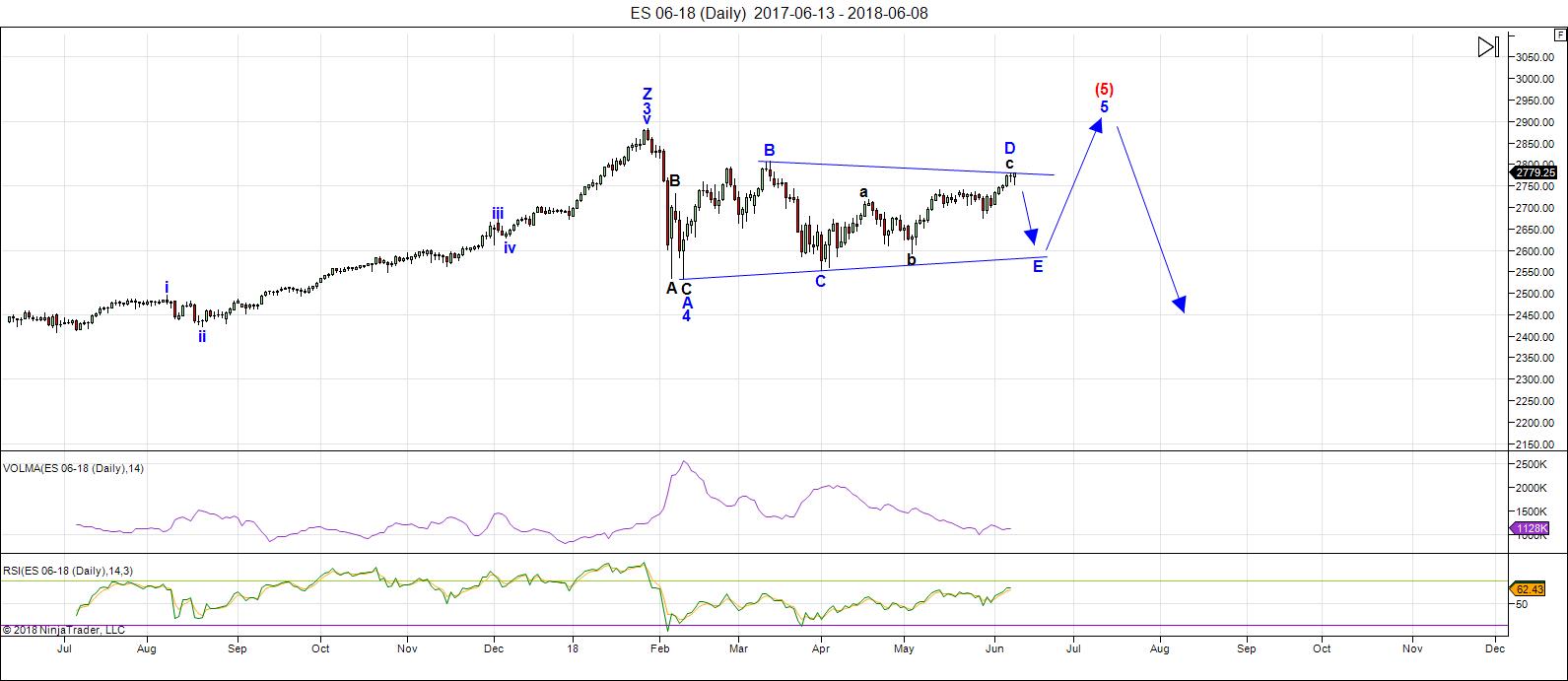 Above is the daily chart of ES (click to enlarge, as with any of my charts).
Last weekend, I complained about the sideways movement in ES for three solid weeks. This past week gave us a very fast resolution, as immediately after I made that statement, the Nasdaq indices (including the emini futures — NQ) decided to rally to create an ending diagonal, sending everything else up with it (see additional NQ daily chart below).
The 2780 level reached in ES/SPX was higher than unexpected, but looking at the resulting contracting triangle, it looks even more "text-book" than it did originally. The D leg top always defines the slope of the upper trendline in a bullish triangle, which this is, so now we should be clear to head down in the E leg.
I don't have a fibonacci measurement for the 2780 level, which is highly unusual. The highest level I had was 2760. We'll have to blame this on the Nasdaq and related indices rallying to the ending diagonal high.
Volume is exceptionally low, which contributes to the volatility and lack of momentum at times.
Summary: We ended Friday at the top of the D leg of the contracting triangle. Topping out will result in a high probability trade to the downside (the E leg of the triangle). Once E leg (down) is complete, expect a final fifth wave to a new high. That fifth wave up to a new high will be the end of the 500 year bull market.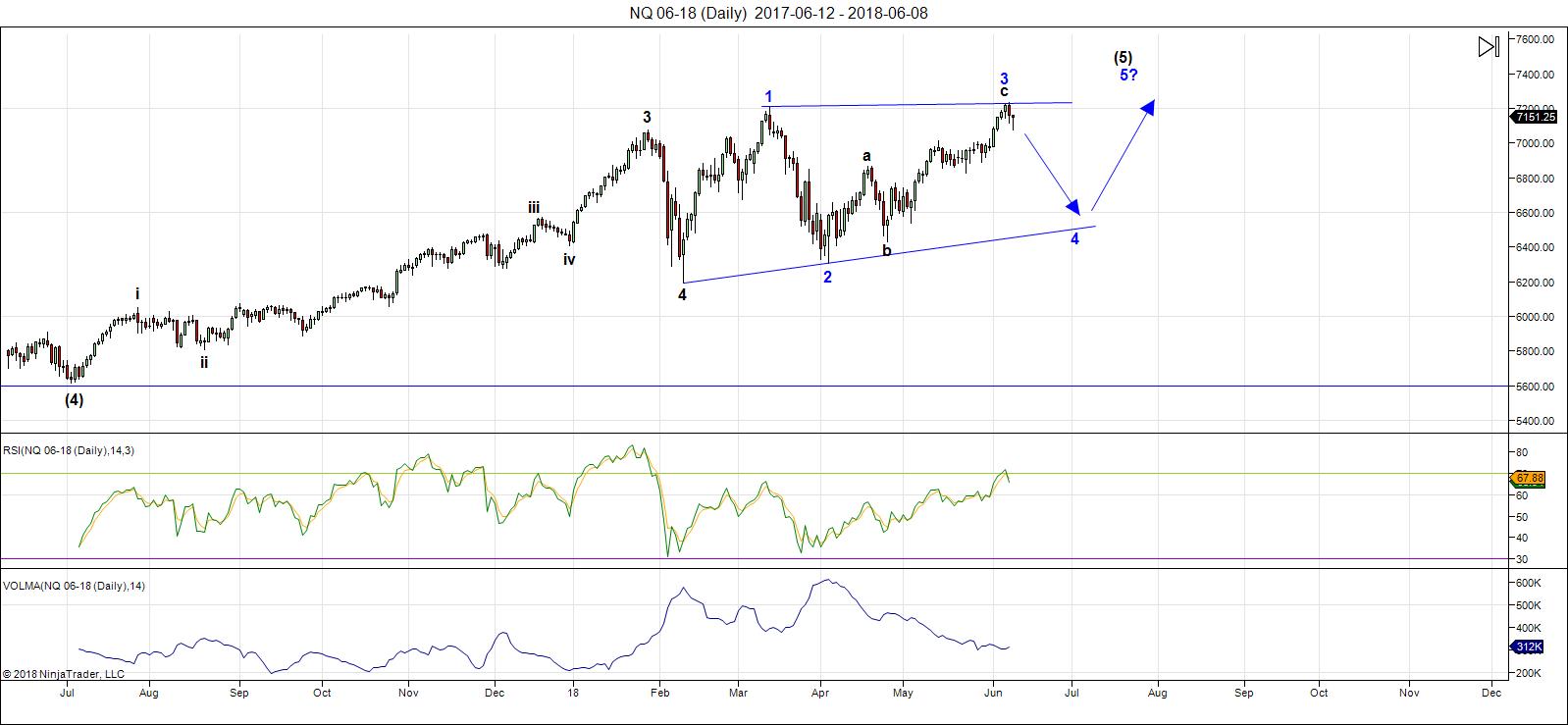 Above is the daily chart of the NQ (Nasdaq futures). You can see that the third wave of what is now an ending diagonal has reached a new high. The next move will be to the downside in a fourth wave that must reach the lower trendline.
___________________________
Trader's Gold Subscribers get a comprehensive view of the market, including hourly (and even smaller timeframes, when appropriate) on a daily basis. They also receive updates through the comments area. I provide only the daily timeframe for the free blog, as a "snapshot" of where the market currently trades and the next move on a weekly basis.
______________________________________
Sign up for: The Chart Show
Next Date:

Wednesday, June 20 at 5:00 pm EST (US market time)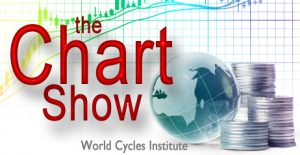 The Chart Show is a one hour webinar in which Peter Temple provides the Elliott Wave analysis in real time for the US market, gold, silver, oil, major USD currency pairs, and more. You won't find a more accurate or comprehensive market prediction anywhere for this price.
Get caught up on the market from an Elliott Wave perspective. You'll also get Andy Pancholi cycle turn dates for the SP500 for the balance of the current month. There'll be a Q&A session during and at the end of the webinar and the possibility (depending on time) of taking requests.
All registrants will receive the video playback of the webinar, so even if you miss it, you'll be sent the full video replay within about an hour of its conclusion. For more information and to sign up, click here.