Update:  Monday, July 16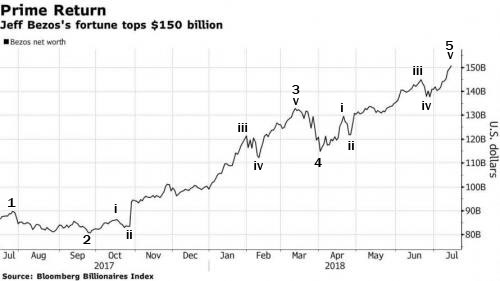 Above is a chart that was part of a zerohedge article on the Amazon insurrection in Europe. As I've written before, you'll find EW trends throughout society and here's another example. If I was Jeff and understood how trends unfold, I'd be worried. After 5 waves up, the trend will reverse. We're not quite there yet, but it won't be long …
_________________________
They're Rare. But They're Everywhere!
It didn't take long for the SP500 to completely upset last week's apple cart. I finished the report on last weekend and by the end of the day Monday, the SP500 had determined that it was going to head higher and trace out an ending diagonal. I'd given up on that idea a couple of weeks earlier.
Way back in May, an ending diagonal had been my first expectation for the unfolding triangle pattern in both the SP500 and ES (emini futures). That was partly because of all the other ending diagonals in other indices.
But the third wave of the triangle headed south unexpectedly in mid June at the 2796 level. What was unusual is that the turn down was in three waves (rather than the usual five waves). Five wave moves signal more to come in the same direction; three wave moves retrace.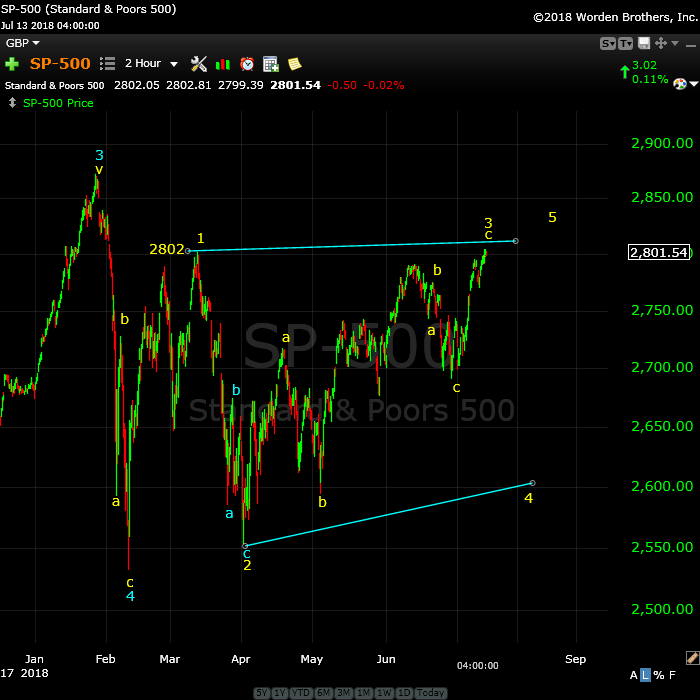 Above is the 2 hour chart of the SP500, which is now brandishing an ending diagonal, as are so many other assets. You can see that the upper trendline now has a rising slope. Each of waves one, three, and five must seek a new high in an ED.
I remarked at the time that it was an odd way to start the E leg of a contracting triangle, because waves within triangles are typically recognizable corrective patterns (ie – flats, zigzags, triangles, and even ending diagonals). They are not three wave patterns. But I've had to temper some of my expectations in a market that's proven to be volatile and somewhat unpredictable (within the confines of the current triangle pattern).
Well, the turn down in three waves was the market giving a very subtle message that it wasn't done with the upside, as it showed us this week.
The Nasdaq, NDX, NQ, Russell 2000 and 3000 have all now traced out ending diagonals. 
This past Monday, when ES rose above 2760, it became very obvious to me that an ending diagonal for the SP500 and ES (futures) was back on the table, even though these indices were displaying underlying weakness.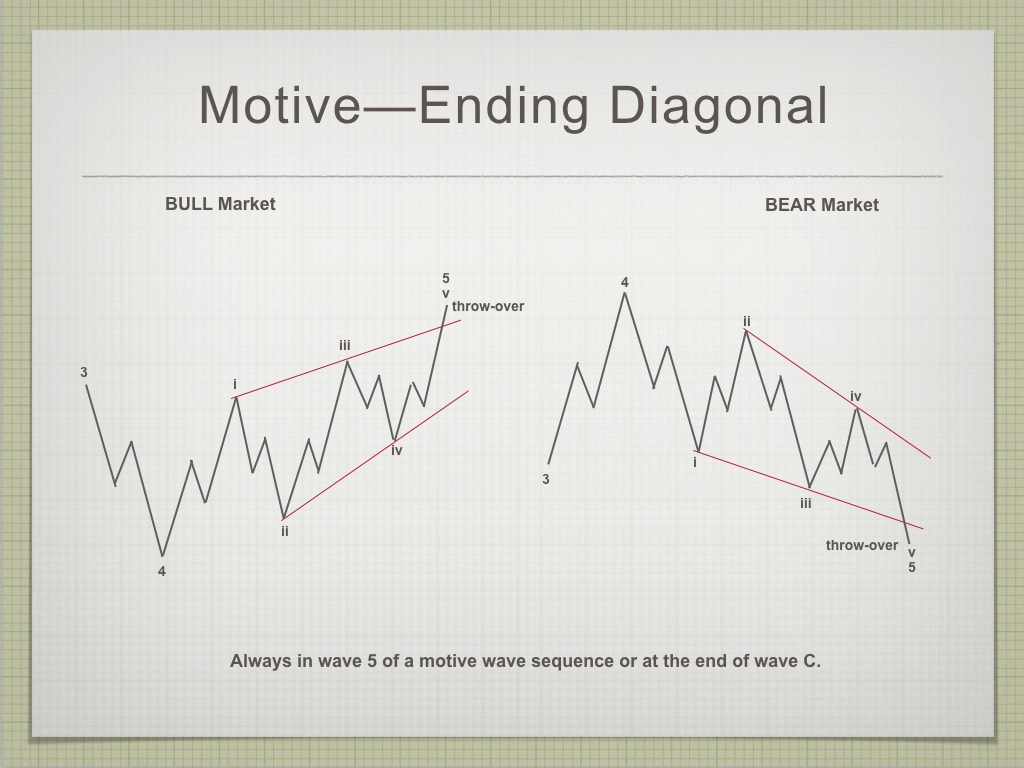 I consider an ending diagonal a corrective pattern. They appear at the ends of waves—third waves, fifth waves, and C waves. They warn of a pending change in trend. They also "cap" the trend, in that they set a limit as to how far the final fifth wave of the pattern can travel (the final fifth wave cannot be longer than the third wave of the diagonal).
On Friday, the SP500 technically confirmed an ending diagonal when the third wave of the pattern (previously the D wave of the contracting triangle) made it to a new high above 2802.
I don't yet have a target for the final wave up, and may not have one for a couple of weeks. That's because the fourth wave of an ending diagonal must be fully in place before you can project a maximum length (and target) for the final fifth wave.
But, at this point we know that the trend is at an end (or almost so). We actually knew that because of all the other ending diagonals in the other major indices. So does a contracting triangle, but an ED is a much more dramatic statement that the trend is extremely limited.
Even though ending diagonals are considered relatively rare, they just happen to be all over the place in this market. Following are some charts that show ending diagonals taking shape in a number of major assets.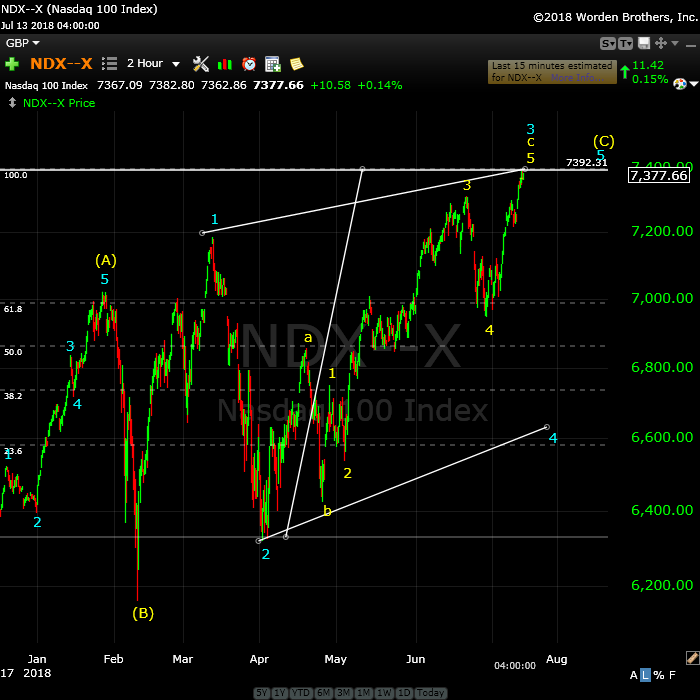 Above is the 2 hour chart of NDX (Nasdaq 100). The upper parallel line is the limit for the blue wave 3 based upon the measured length of blue wave 1. Wave 3 cannot be longer than wave 1. We're at the top.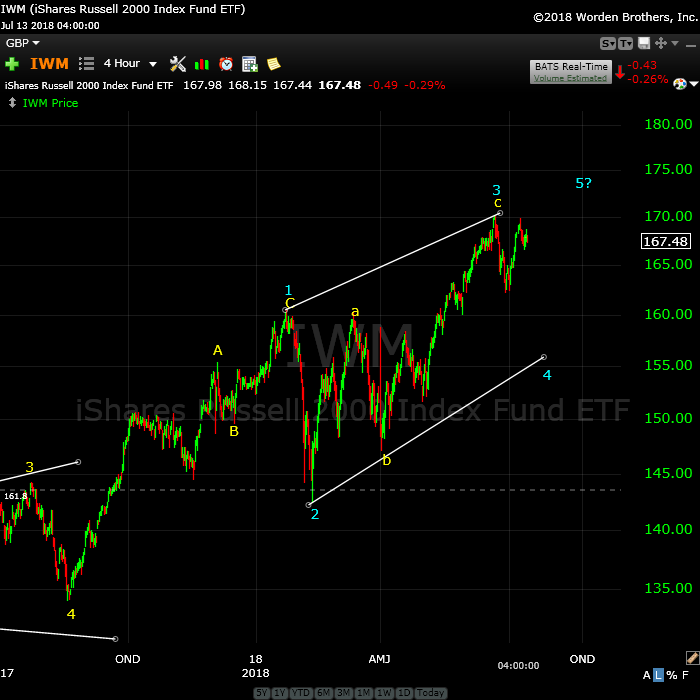 Above is the 4 hour chart of IWM (Russell 2000). Note the shape of the third wave. You'll find this distinctive ABC pattern in almost all ending diagonals.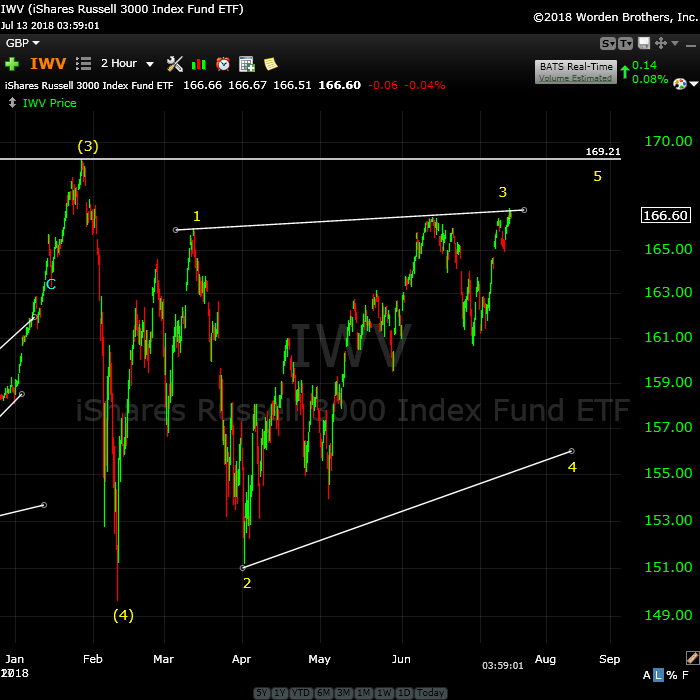 Above is the 2 hour chart of IWV (Russell 3000). This index is not as bullish as the others. Wave 5 will have to get to an all time new high, though, above 169.21.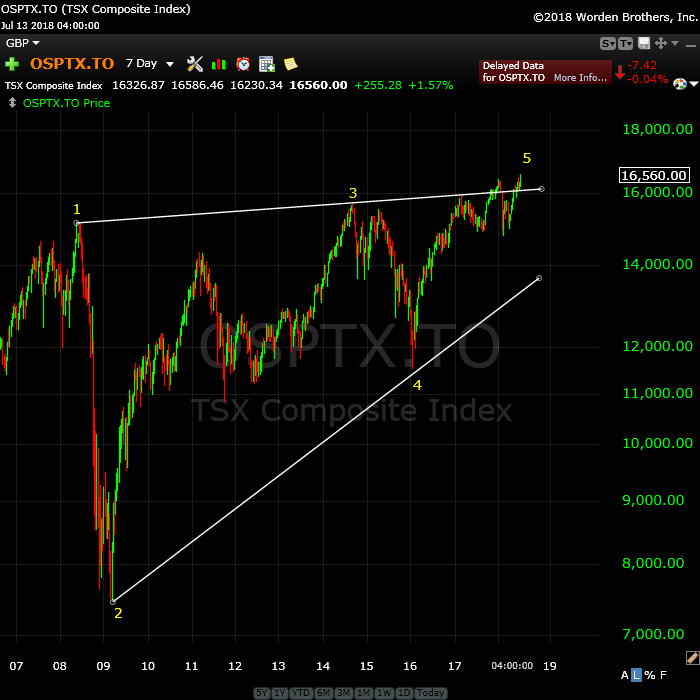 Above is the 7 day chart of TSX (Toronto Composite Index). I often refer to this as the scariest chart I've ever seen, due to the fact that this ending diagonal is ten years long!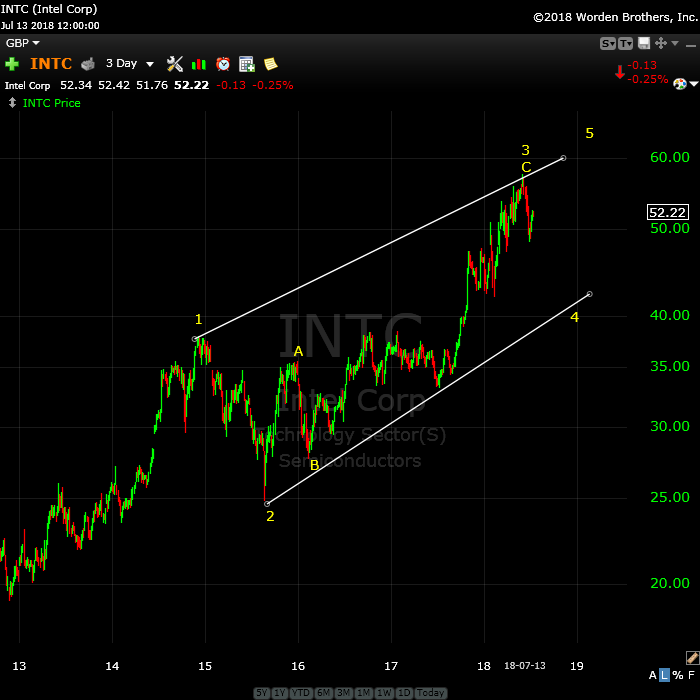 Above is the 3 day chart of INTC (Intel Corp). Wave 4 must drop enough to reside horizontally within the area of wave 1 (it must drop to at least $37.90, which is the top of wave 1).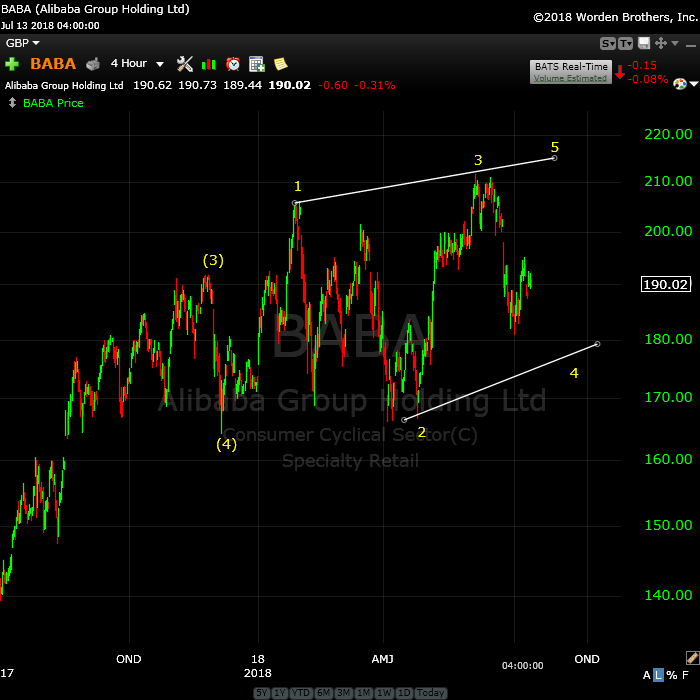 Above is the 4 hour chart of BABA (Alibaba Group). A rather bearish version of an ending diagonal.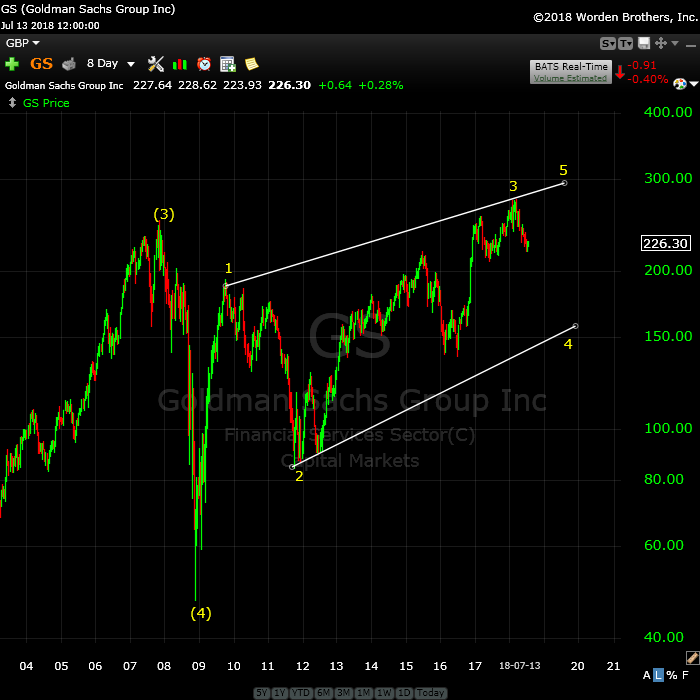 Above is the 8 day chart of GS (Goldman Sachs).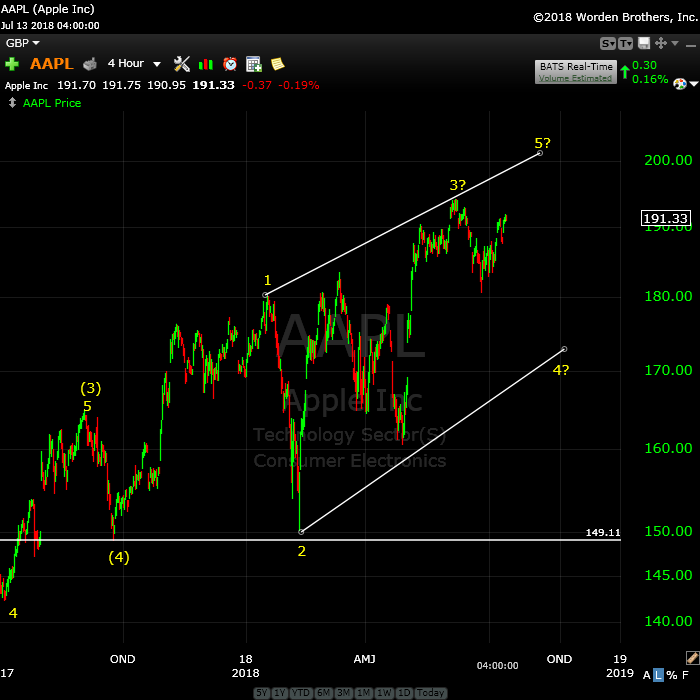 Above is the 4 hour chart of AAPL (Apple).
They're everywhere! The long awaited change in trend is indisputable, and almost at hand!
_______________________
Elliott Wave Basics
There are two types of Elliott wave patterns:
Motive (or impulsive waves) which are "trend" waves.
Corrective waves, which are "counter trend" waves.
Motive waves contain five distinct waves that move the market forward in a trend. Counter trend waves are in 3 waves and simply correct the trend.
All these patterns move at what we call multiple degrees of trend (in other words, the market is fractal, meaning there are smaller series of waves that move in the same patterns within the larger patterns). The keys to analyzing Elliott waves is being able to recognize the patterns and the "degree" of trend (or countertrend) that you're working within.
Impulsive (motive) waves move in very distinct and reliable patterns of five waves. Subwaves of motive waves measure out to specific lengths (fibonacci ratios) very accurately. Motive waves are the easiest waves to trade. You find them in a trending market.
Waves 1, 3, and 5 of a motive wave pattern each contain 5 impulsive subwaves. Waves 2 and 4 are countertrend waves and move in 3 waves.
Countertrend waves move in 3 waves and always retrace to their start eventually. Counrtertrend (corrective waves) are typically in patterns — for example, a triangle, flat, or zigzag. Waves within those patterns can be difficult to predict, but the patterns themselves are very predictable.
Fibonacci ratios run all through the market. They determine the lengths of waves and provide entry and exit points. These measurements are really accurate in trending markets, but more difficult to identify in corrective markets (we've been in a corrective market in all the asset classes I cover since 2009).
To use Elliott wave analysis accurately, you must be able to recognize the difference between a trend wave (motive) and a countertrend wave (corrective). There's very much more to proper Elliott wave analysis, but this gives you the basics.
____________________________
Registration for Commenting
Want to comment? You need to be logged in to comment. You can register here.
If you register, it protects your information. It also allows you to comment without filling in your information each time. Once you're registered, simply go to the home page and click on the login link top right in order to log yourself in. Usually, you'll be logged in for several days before needing to be logged in again.
______________________________
Problem receiving blog comment emails? Try whitelisting the address. More info.
______________________________
The Market This Week
Here's the latest daily chart of ES (emini futures)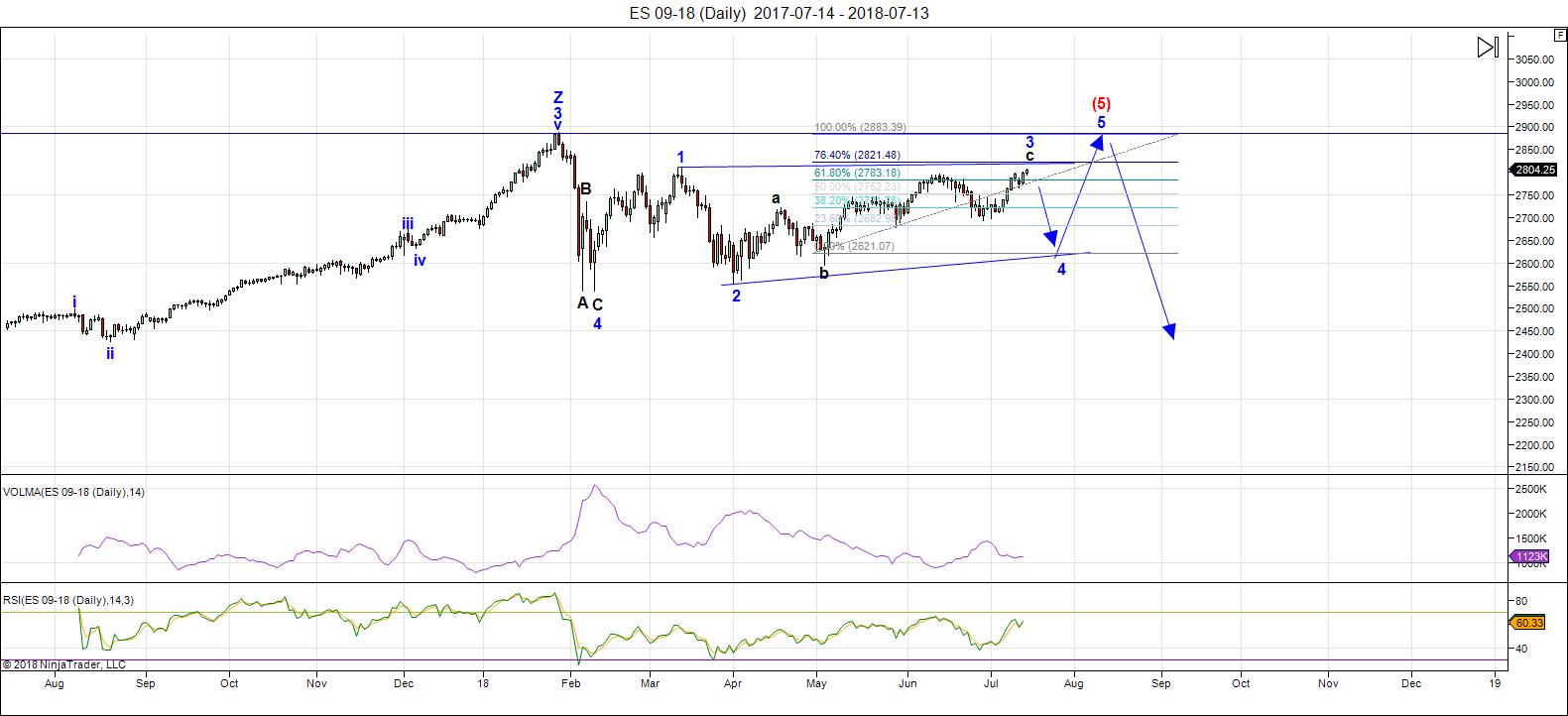 Above is the daily chart of ES (click to enlarge, as with any of my charts).
I commented this past week in a nightly video for my Trader's Gold subscribers that this market is going to one that I'll remember for a long time. That's primarily because the NYSE is tracing out a contracting triangle (a corrective pattern that's almost evenly balanced between bulls and bears, and moves sideways). Because it's summer, this balance is exacerbated by extremely low volume, which leads to volatility. As well as low volume due to summer, we're at the top of a 500 year rally (everybody who wants to be in the market, is).
Sentiment is at historically bullish levels, but the smart money has been leaving for quite some time.
The market is volatile and at times unpredictable. It moves to extremes in both directions (due to its "balanced" nature). On top of that, all major asset classes are moving in tandem at the whim of the US Dollar. As a result, assets tend to get "pushed around" when they react to some of the volatile moves the buck has exhibited over the past few months.
It's a great time to be on holidays and not in the market!
Monday of this past week, I predicted that wave D of the SP500 was indeed going to a new high (resulting in an ending diagonal). On Friday, we achieved that goal. But it became clear midday on Friday that we'd have to wait until Monday for the  turn to the downside.
The wave down will be the fourth wave of the ending diagonal, with a target somewhere near 2600-25.Then we'll turn up into the fifth and final high ... but a high that will have a definite maximum target (to be determined once the fourth wave is fully in place.
Summary: We should turn down early this week into the fourth wave of an ending diagonal. Once the 4th wave (down) is complete, expect a final fifth wave to a new high. That fifth wave up to a new high will be the end of the 500 year bull market.
___________________________
Trader's Gold Subscribers get a comprehensive view of the market, including hourly (and even smaller timeframes, when appropriate) on a daily basis. They also receive updates through the comments area. I provide only the daily timeframe for the free blog, as a "snapshot" of where the market currently trades and the next move on a weekly basis.
______________________________________
Sign up for: The Chart Show
Next Date: 

Wednesday, July 25 at 5:00 pm EST (US market time)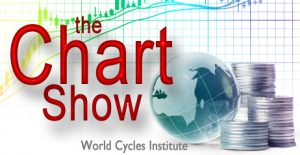 The Chart Show is a one hour webinar in which Peter Temple provides the Elliott Wave analysis in real time for the US market, gold, silver, oil, major USD currency pairs, and more. You won't find a more accurate or comprehensive market prediction anywhere for this price.
Get caught up on the market from an Elliott Wave perspective. You'll also get Andy Pancholi cycle turn dates for the SP500 for the balance of the current month. There'll be a Q&A session during and at the end of the webinar and the possibility (depending on time) of taking requests.
All registrants will receive the video playback of the webinar, so even if you miss it, you'll be sent the full video replay within about an hour of its conclusion. For more information and to sign up, click here.