Update Friday, Feb 19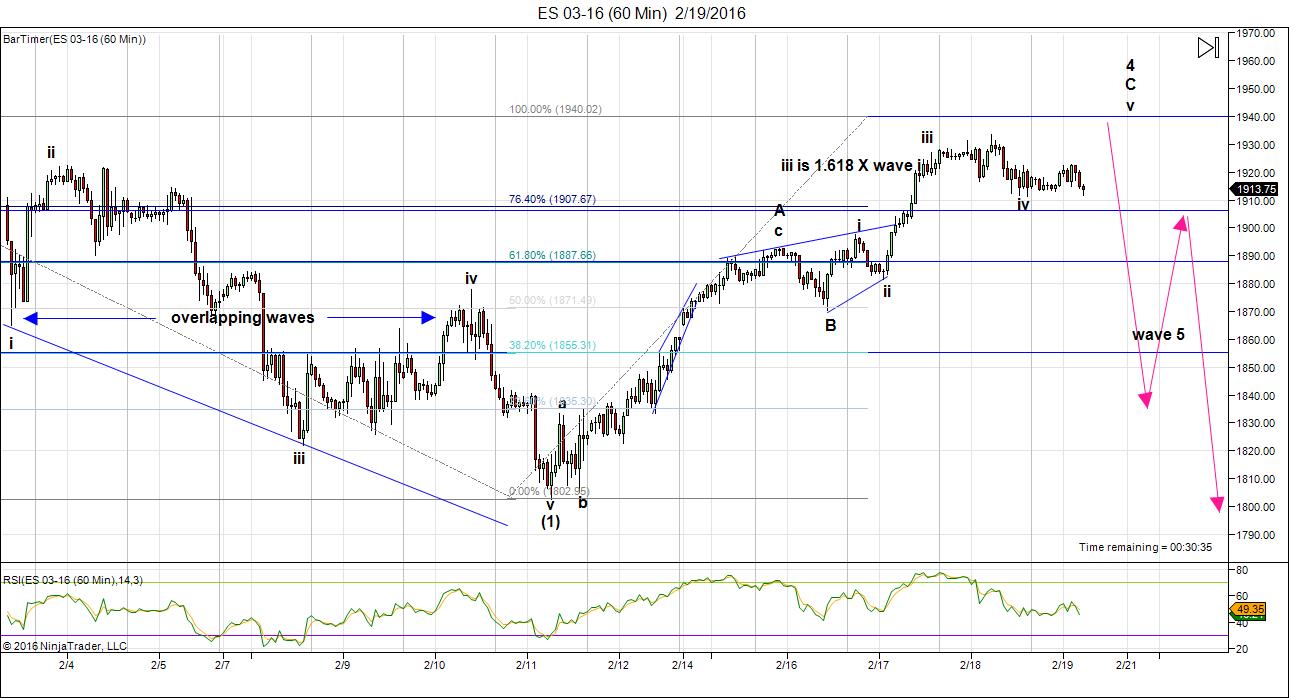 Last night confirmed for me the fact that we're in a fourth wave (as opposed to a second wave. The list of reasons is overwhelming now. I will do a video this weekend a provide charts. Get ready for a drop of 300 points on Monday. The biggest, more recent one is that fact that the bullishness of the current rally turned off like a light switch Wednesday night. We still need to get to the 1940 ES level and it looks like we'll struggle to get there even over the weekend.
This chart of the 60 minute ES shows the projected path to new lows. The arrows represent the first, second, and start or the third of five waves down.
The two alternatives on this page have been in play for a week now. The challenge has been to figure out which one is the correct one. Mission accomplished.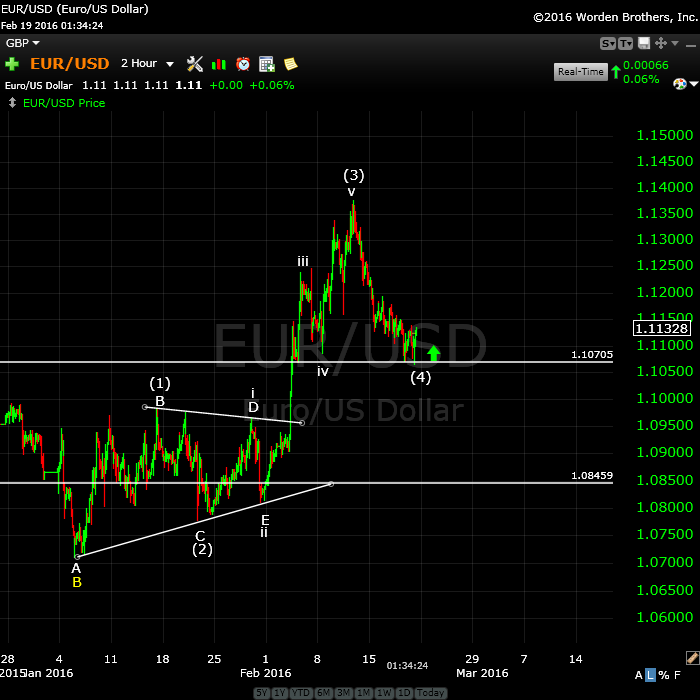 Here's the latest 2 hour chart of the eurusd. Strangely enough, it's ended up with the same count as the equities, but in the opposite direction. I've recently changed the count as we've only retraced a fourth wave. It still has to bottom properly (as equities have to top properly). I would expect eurusd to now head up in a fifth wave of the first (of the third).
_______________________
Update Wednesday, Feb 17 After the Bell
Below is as 60 minute chart.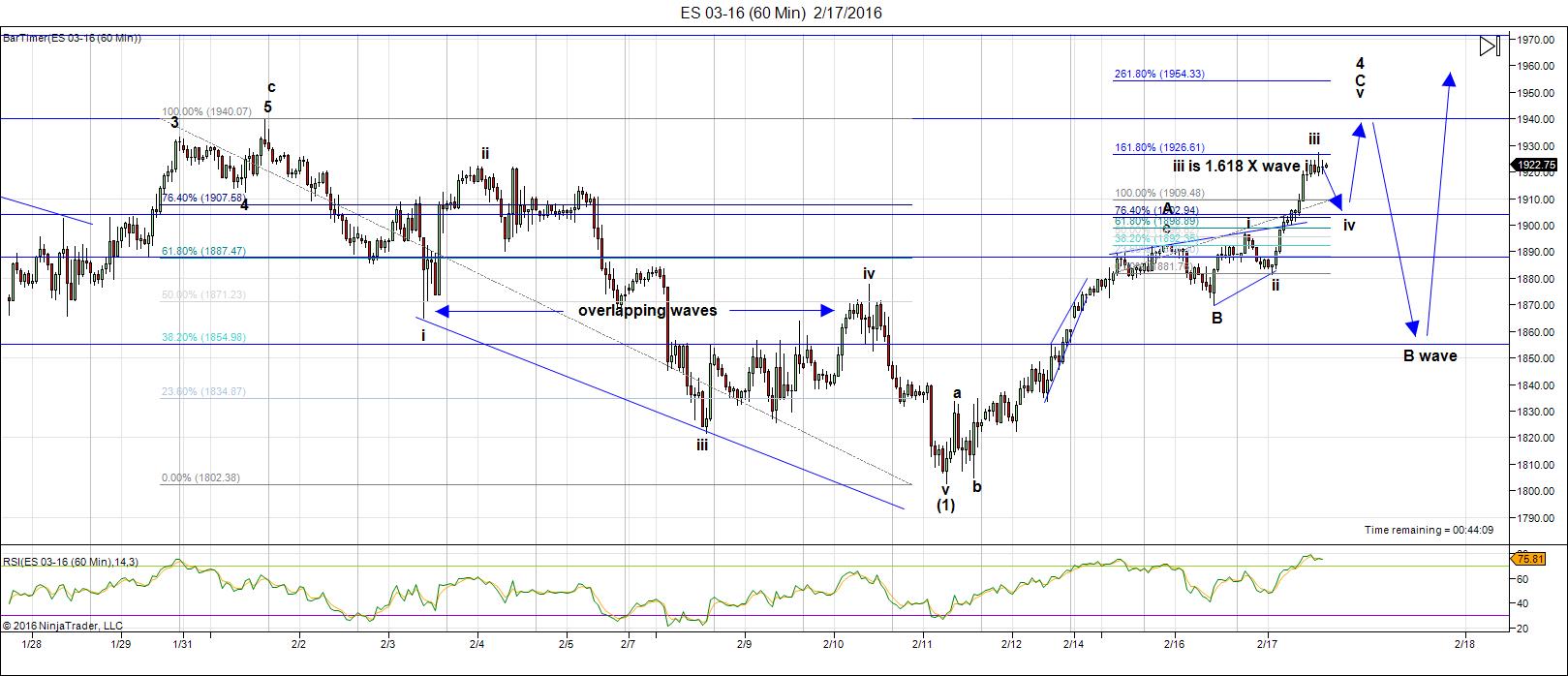 This is my final revision to the ES chart today. I've now had a chance to look over the indices after the move on Tuesday and overnight into Wednesday (the 17th). I've also had a good look at eur/usd, which usually gives a good indication of where equities are going. It's hardly moved over the past 224 hours or so. I will post the euro chart shortly (along with SPX).
Here's my preferred scenario based on cycle dates and what I see happening in the equities and eur/usd. This afternoon (after the bell), I'm leaning towards the second wave scenario.
Tonight (Feb 17) we've begun to head down into wave 4 of A (it's actually wave 4 of the c wave of A). Tomorrow (Thursday, Feb 18), I see us heading back up to finish wave 5 of the A wave (wave A is not complete). A first wave up (in this case, an A wave) usually stops at the previous 4th wave of lesser degree, which would be 1940 ES.
I would expect us to turn there and then head down to about 1860 (62% retrace level) for wave B. That may happen Friday and last into Sunday. Early next week, we would head up to trace  out wave C of wave 2. If wave C is the same length as wave C, that would lead take us up to about 1988 in ES, which is about the 62% retrace level of wave 1 down. (this means we would consider wave 1 down to be complete (even though the indices are "out-of-sync).
We would turn down in Wave three sometime in the Feb 23-25 time span.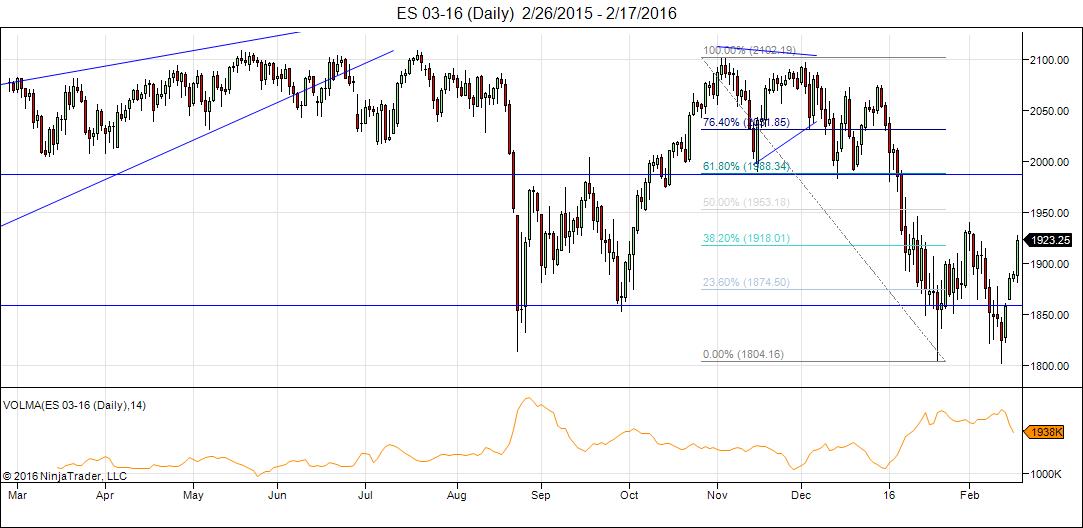 Here's the daily  chart of ES (SPX futures). It shows the 62%  retrace level at 1988. You can see how volume spike on negative waves. It's fairly weak on rallies. That's not good for bulls!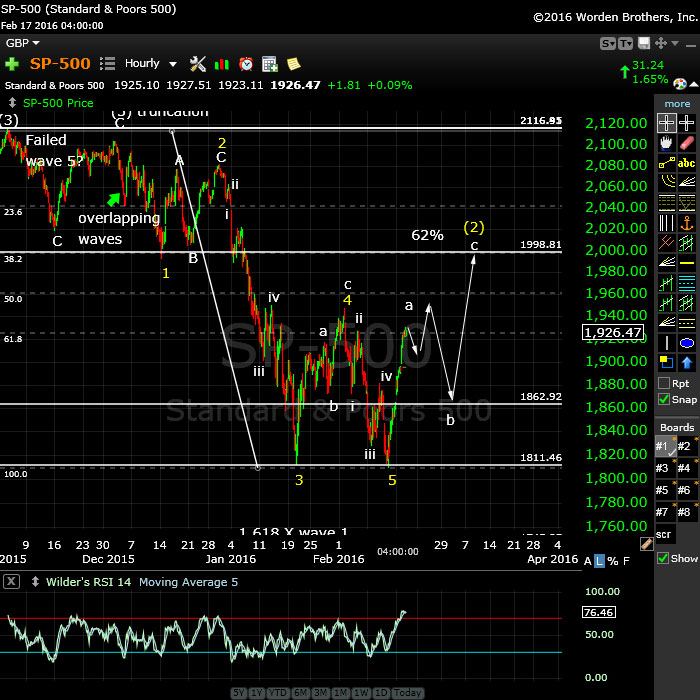 Above is the one hour chart of the SP500 showing the same path as I've suggested for ES. You can get the appropriate levels from the chart.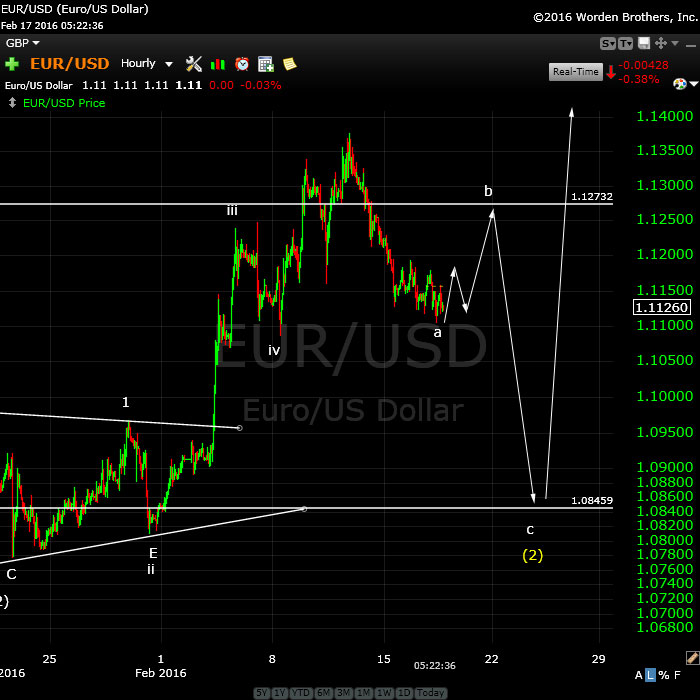 Above is the hour chart of the eur/usd. It has been moving in lock-step contra to the US equities. However, it's hardly moved in the past 24 hours or so. It's poised to head up to the 62% retrace level of a correction and then eventually down into a c wave (wave (2) yellow). I expect the c wave of the euro to happen in conjunction with the c wave of the equities. Both are in second waves. That's how closely the markets are correlated!
_________________________
Interview w/Dale Pinkert (FX Street) Wednesday, Feb 17
I'm doing a live interview with Dale Pinkert of FX Street at 15:15 GMT (10:15 EST) tomorrow.
Update Tuesday, Feb 16
This is the very strange configuration in the US indices and so I want to bring forth an alternative to a first wave extension down. I'm doing this because of the changes in today's market. The biggest change is that the euro is no longer in an ending diagonal, which suggests that the ending diagonal in equities is also complete.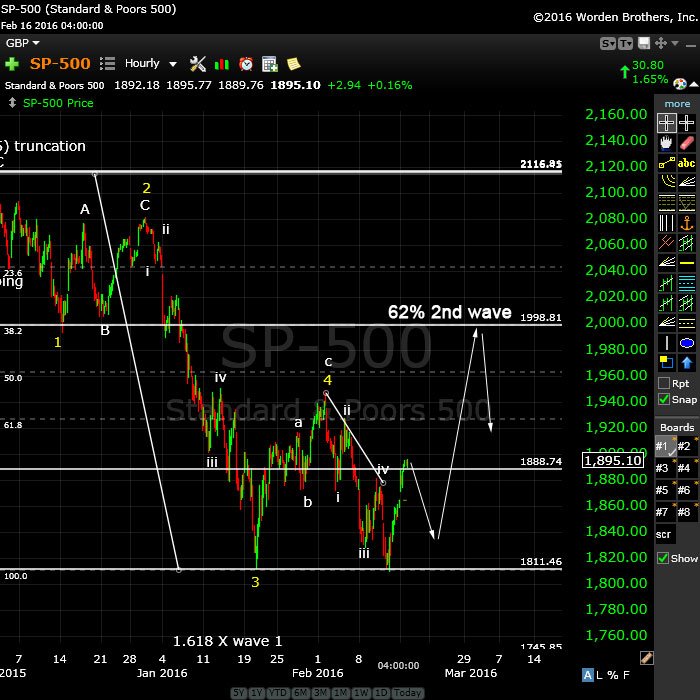 Here's the one hour chart of the SP500. The thing that is making the projection so difficult at the moment is that the DOW did not come down to a new low last week, while the SP500 did. That puts these two indices out-of sync. PLUS, the eur/usd is no longer in an ending diagonal and now looks to be correcting, which would suggest that the US indices should be doing the same thing (going into a second wave).
That being the case, a second wave in the US indices would look like this (above). If we come down tonight in futures, but only to about a 62% level, then it's likely we'll turn up in a C wave of the second wave. This would eventually lead to a much larger third wave down.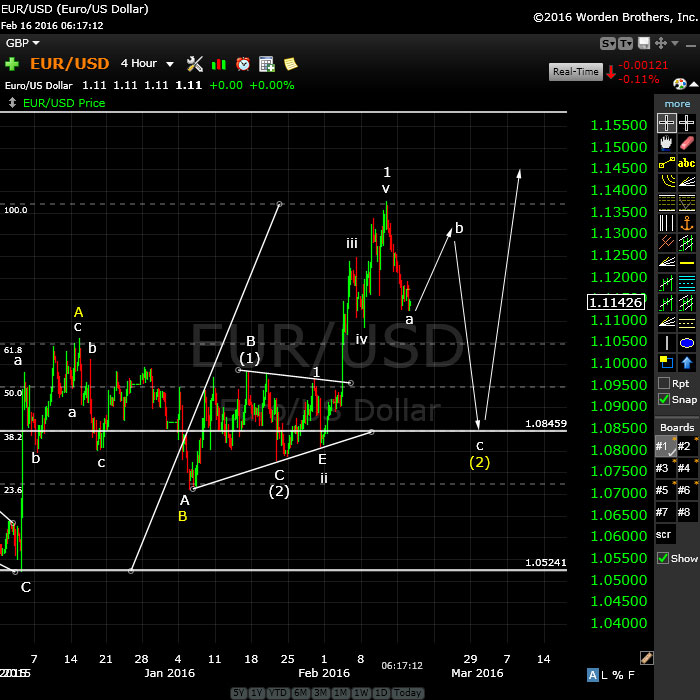 Here's the other half of the puzzle: the four hour chart of the eur/usd. Today, the euro came down too far to be in an ending diagonal. It now looks to be correcting the first wave of a much longer wave 3. This correction would be wave two. That means it should head up tonight in a b wave and head down after that in a c wave. This highly suggests that the equities should to the same thing in the opposite direction.
This would set the eur/usd up to continue a much larger third wave up after completing the second wave.
___________________________
Update: Monday, Feb 15 (Market Closed)
The emini futures markets were very active over the weekend. Below is a chart of ES (SPX futures).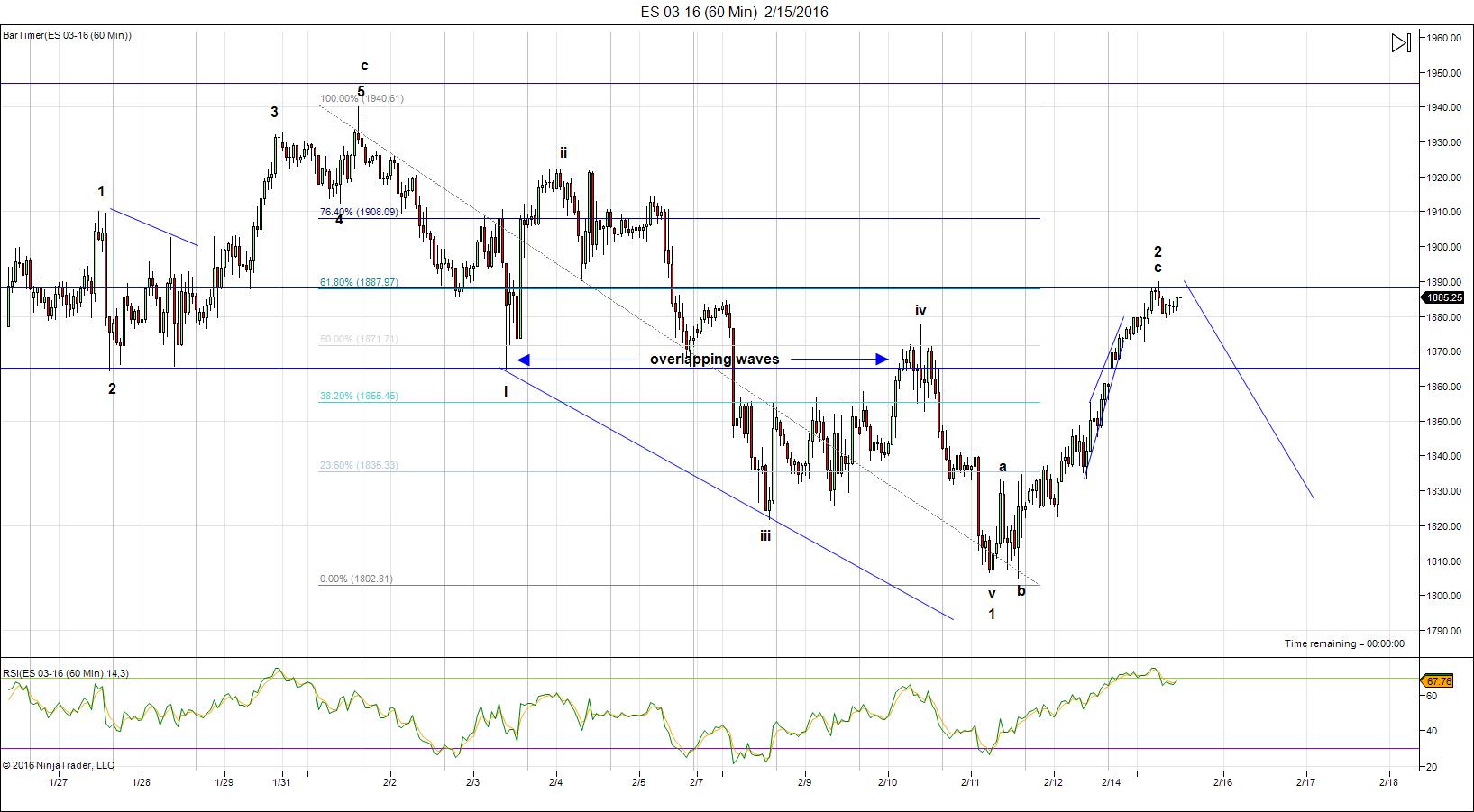 Above is a the one hour chart of ES. On Sunday, we had a very large wedge up in 3 waves (abc). If you look closely, you can see a gap at about 1860, which is where we left off from Friday. The wedge went right up to the 62% retracement level and immediately stalled out. We're poised to roll over and head down in a bigger way than we were on Friday. I'm not sure if we'll start down right away Monday evening when the futures markets open or whether we'll hang around this area until the open on Tuesday morning.
What we have here is a first wave down of an ending diagonal and the second wave virtually complete. Now we're set to head down in wave three. Because we have overlapping waves (wave 4 in the area of wave 1 – a hard Elliott wave rule that indentifies a corrective wave or triangle—in this case an ending diagonal), the next wave down is wave 3. We're setting up for an extended diagonal down. I don't have a target identified yet, but this should be a large set of waves to a new low.
Once this set of waves is complete, wave 1 down in its entirety will be complete and we'll bounce in a higher degree wave 2. Based upon our collective cycles analysis, I would expect this ending diagonal to last the remainder of this week.
Addendum on Targets and Timing: Here are some further thoughts on length and timing.
I expect that we won't start down in wave 3 of 5 until after market open. That's because the cash indices will have to "record" the higher wave 2 opening that the futures have traced out. We will have waves 3, 4, and 5 still to go of the ending diagonal, so I expect this set of waves to last the balance of the week.
If wave 3 of the ending diagonal is 1.6 X wave 1, this will take us to 1680 SPX. We should still see waves 4 and 5 after that. A typical full wave 1 down (from the Dec. 3 top) extended would drop to about 1620.
___________________________________
Original Post Saturday, Feb 13
Ending diagonals are actually quite rare, certainly at a high degree of trend, which is what we're dealing with here. However, I've been complaining that they're showing up everywhere! This week has been yet another example. Not only did we see an ending diagonal at the end of the third wave down (of the recent first wave), but we've also had to put up with one at the end of the fifth wave (over the past few days).
You always want to learn from the market. This one is clearly very different from a normal market. I think it's because markets around the world are deleveraging debt together, and moving together, as a result. I've been mentioning a lot (since last September) that currency pairs and US equities were starting to move in tandem … almost in lock-step. They are even more so now. But it's creating some anomalies that we need to be aware of.
The US dollar is moving with the US equities, and the eurusd currency pair is moving against the US equities (in reverse, if you will). I keep a eurodollar chart up to help with turns in the major US indices.
So, from now on, I'm going to look for ending diagonals in C waves, 3rd waves, and 5th waves as more the norm than the rare event they normally are.
You'll see me allude to them in the video and you can check out the link to the explanation of what they look like and how they work.
A note on first waves:  First waves are always very difficult to forecast because all you have to go on is a previous top in five waves. However, we didn't get one of those. The truncation we did get made everything extremely difficult. Although I was able to call a top at January 31, I had no idea whether it was a first wave or something else. However, once a first wave is complete, the new trend is confirmed (in this case, down) and subsequent waves become much easier to forecast, in fact, highly predictable.
Here's a video overview of the market as at Sunday, February 7:
| | |
| --- | --- |
| | Make sure you zoom the video to full size with frame expander (arrows) in the bottom right hand corner and also set the quality to as high as your web connection allows. This is an HD quality video so the best viewing is at that level. |
_______________________________
Here are some charts from the video: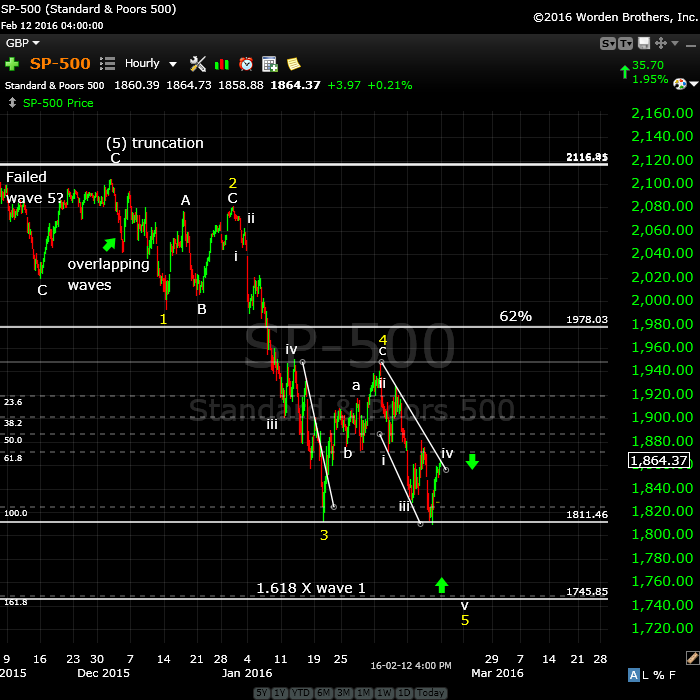 Above is the hourly chart of the SP500 showing our progress from the truncated top wave down to where we are today. As explained in the video, we're now in an ending diagonal with the final wave down ready to unfold. I'm showing a downside target  of 1745, but we could extend from here. After all, this is an ending diagonal and they tend to overshoot (do a throwover) the target.
I have a turn date of Tuesday, Feb 16, but we may sit at the bottom for a couple of days before actually heading up in earnest towards the end of the week. From the bottom, I expect three waves up to about 1978 (a second wave). This will be the setup for a third wave down.
It took us 2.5 months to get down here from the Dec 2 truncation, so expect at least two months to get back up to the 62% level. That would take us into April. More on that later.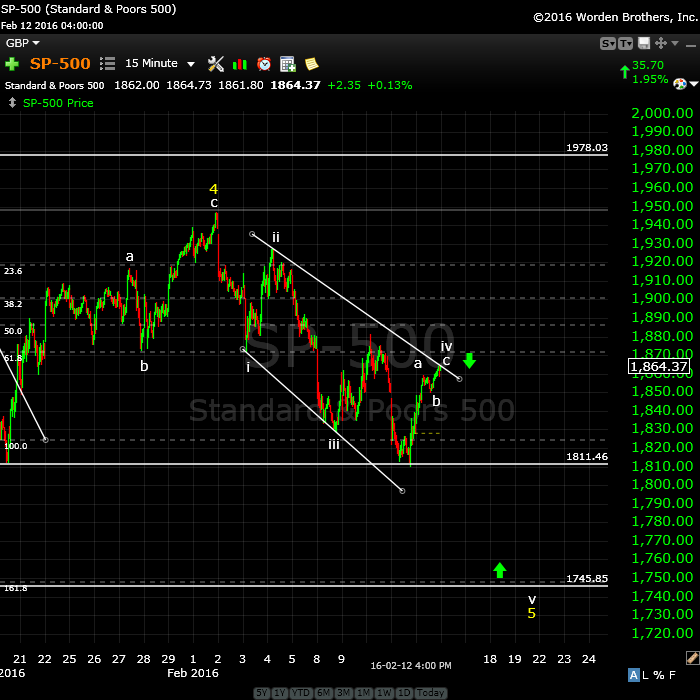 Above is the 15 minute chart of the SP500 showing the 4th wave diagonal we're currently in. This is a slightly different configuration for an ending diagonal as the third wave is usually the more complicated wave. In this case, it's the fourth wave with the very clear abc pattern. We are currently set up for a fifth of the fifth of the diagonal down to a new low. This should come down in three waves. It may extend past the target (which is measured at 1.618 X the first wave, even though it's truncated, with adds difficulty to the calculation, of course).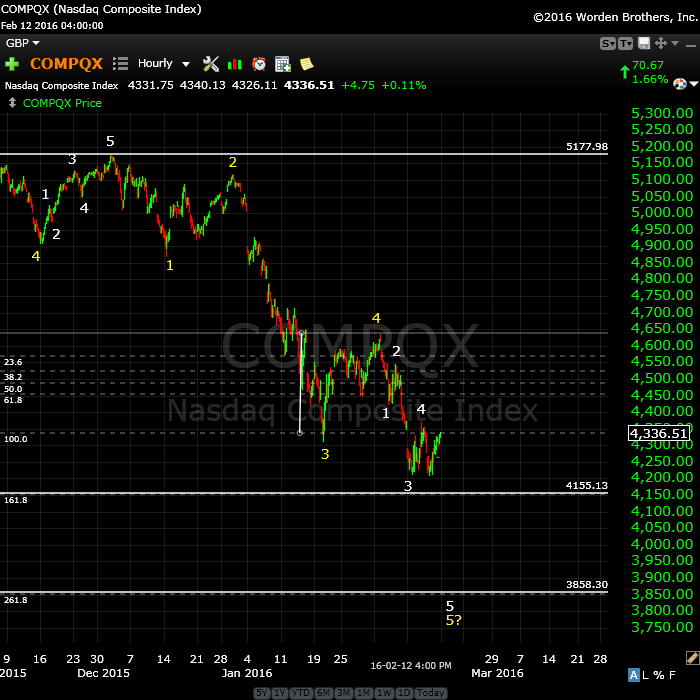 Above is the hourly chart of the Nasdaq. This is, for the most part, a more normal motive wave. However, the first wave of the sequence is a corrective wave. I attribute it to the fact that the SP500 and DOW both truncated, because this first wave looks very much like their first waves. The indices all move together (more or less) so I expect the overall movement had a large influence on the Nasdaq wave pattern.
The fifth wave down in coming down in a traditional motive wave configuration, as marked. A measurement of 1.618 the length of the first wave puts the target at 4155, but I expect this wave to extend down to 3858. Keep in mind that this is a guesstimate based on what else is happening in the market. The actual range could be anywhere in between. However, it will come down in 5 waves. We've had the first and second already, so we're looking for a long third wave and then a shorter fourth and fifth.
Finally, let's look at the four hour chart of the eur/usd currency pair. This pair is moving contra to the US equities. When equities head up, this pair heads down and vice versa.
I see yet another ending diagonal shaping up here (overlapping waves in 3) with a final target of up to 1.158, which is a C wave (yellow) measurement of 1.618 X the A wave (yellow). After we top out, we should have a long second wave down (as US equities head up in a second wave) to the 62% level, which is marked with a (2) yellow on the above chart.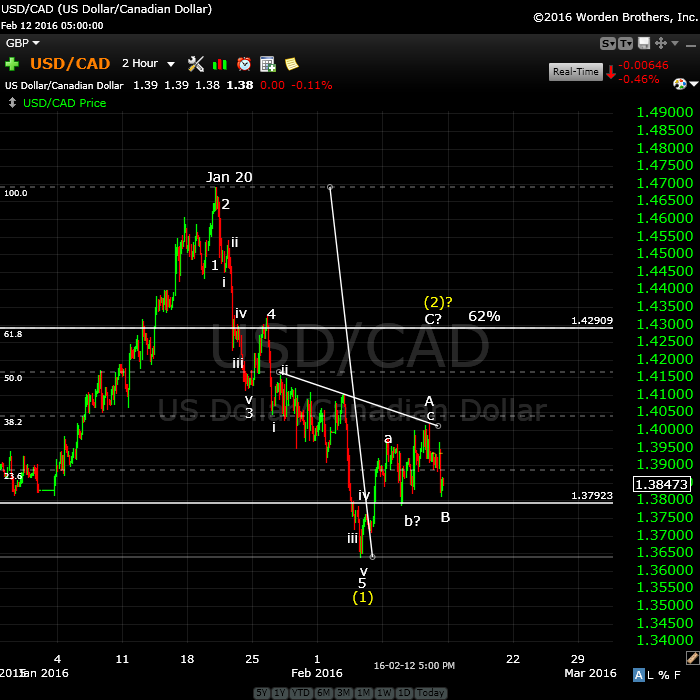 Above is the 2 hour chart of USDCAD that I've been following. It's completed a first wave down as forecast and we're continuing to work on a very complicated second wave retrace. I've expecting this wave to move to the 62% level as the eurousd tops. From there we should turn back down into a third wave.
The movement of these secondary US currency pairs is interesting because they're moving contra to the eurusd, which is very odd, but I'm just keeping my mind on the technicals … haha. I don't have to think it all through to know where Mr. Elliott is taking me!
They're moving in the same overall direction, but the individual waves are moving contra (ie – wave 2 is completing here as wave 1 is completing in the euro). They're one wave or so out-of-sync.
Things are getting interesting. Good trading!