Update Wednesday Evening: Today we climbed a bit above my 62% target at 2106 in the SP500 (we're at about 68%). That's typical for a second wave as part of the first wave sequence. That's because this is still a very bullish market and it takes time to change the herd's thinking. The up wave in all the major indices is an abc and so must completely retrace. I count 5 waves up in the c wave, but it may not be quite complete. We may need a little more to the upside on Thursday.
At this point in the motive wave projection, I rely very little on cycles. Cycles are great at tops and bottoms of beginning waves (ie—to help you with timing a market top), but there's nothing like Elliott Waves (if you know you to read them, which takes years) to provide an accurate price path.
So here's the path for the next few weeks. This may change slightly (in terms of the projected SP500 price levels), but I'll update those as we go.
Wave 1 and wave i are typically the same length. Wave three  of three (the one we're entering now, is typically 1.618 times the length of wave i (or 1 in this case). There will be a small wave v at the tail end of this full third wave. Next, we'll bounce about 38% in wave 4, which should bring us about even with the previous 4th wave (iv on the chart). The final wave down (wave 5) should also be 1.618 times the length of wave i (or 1 in this case).
Wave 3 and 5 could extend, but these extensions will likely be a multiple of phi (2.618, for example).
The entire sequence should end up at about the previous fourth wave of the final wave up (bottomed in mid October last year), which is about 1820 in the SP500. Following that, a large bounce should take us into the September/October timeframe.
The other indices will follow along. Because this is such a strong motive sequence, you're going to find a lot of stocks moving in tandem.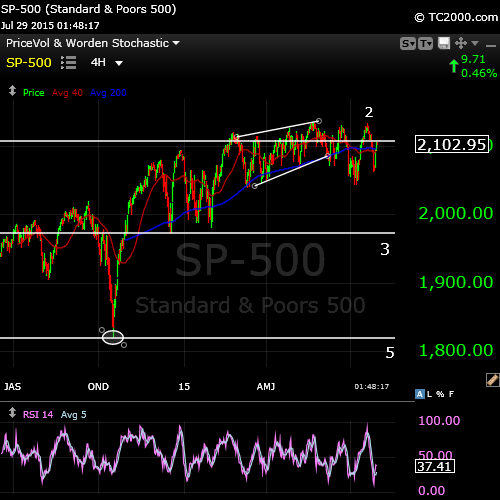 Here's a 4H chart of the SP500 (as of today) showing the expected end wave levels (horizontal lines), along with the final target (circled previous fourth wave) as per my projection above.