There are a couple of things that struck me over the past 24 hours or so.
1. The first thing is that John Hampson of Solarcycles.net took a good swing at the Elliott Wave Principle: "But the weakness of Elliott Waves is that on any chart at any time multiple different counts can be produced and are then refined with time to make the count always 'right' with hindsight."
I know many of you have come from the Solarcycles site. Well, I correctly called the top of the market on May 20 and I've been right all the way down from the third into the fourth wave up. My counts have been called "a joke" (good joke though, with a terrific punch line!) I'm predicting a very big drop to come, and we're getting closer and closer to the turn.
If you've been following me for any length of time, you know that I don't provide two counts. If there's a confusing wave structure, I would much rather "stand aside," as I did last week. I like to take a stand and produce a count that can be traded (I'm a trader as well as an analyst, which may make me different than most). A trader needs a point at which you know you're wrong. I don't see any point in providing multiple counts. How on Earth could you trade them?
It's only been this most recent wave down that's had me waffling back and forth a bit last week. Today's post certainly has no waffle in it. It's going to be about why the recent wave down is not motive, which has been my feeling right from the start.
I'm not out to prove the validity of Elliott Waves. I happen to think they're extremely valid and accurate. However, it's the analyst who determines the outcome and I find way too often that most of them don't take the time to drill down to look at the sub waves. After all, EW is fractal. That means its rules have to be adhered to right down to the one minute chart level.
2. The second thing that hit me on Friday was the report by Elliottwave International. They've labelled the wave down of the past two weeks as a  motive wave 1 and the wave on Friday an another wave 1 down, expecting this market to head straight down from here. If I was having a problem with wave 1 being motive, I REALLY have a problem with Friday's EWI analysis!
It's just these types of reports that give Elliott Waves a bad reputation. In all fairness, EWI shoots these reports out at the end of the session and the Friday wave down happened right at the end of the session. They don't have the time I have to properly analyze the market. However, Friday's end of day wave was an extremely obvious three waves on every US index, and the futures. Three waves retrace.
So … let's go with my "Renegade Count!" My count will only have one direction (as usual) and I'll provide you with lots of reasons to support it. We'll see what happens Sunday in the futures.
Bottom line: We're going to head up to do a double top on the SP500 at approximately 2020. If we head down to a new low on Sunday, I'm dead wrong … LOL.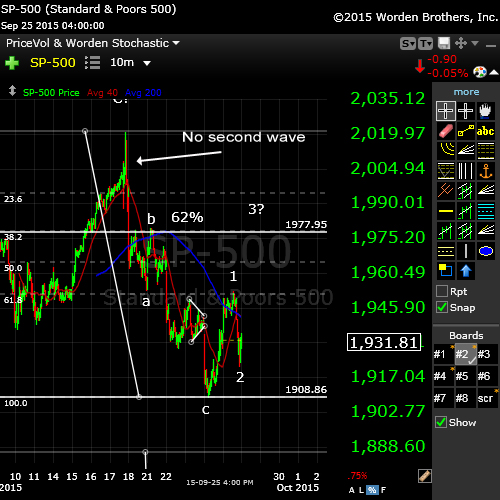 Above is the SP500 (a 10 minute chart) showing the wave down from September 17 (right after Janet Yellen's announcement). The thing that's been bothering right from the start is the missing second wave. I've seen EWI misread this so many times, I've lost count, so having them on the opposite side of the market from me is pretty ho-hum. As far as I'm concerned, this is a wave down in 3. It has to retrace. There are other problems like other missing sub waves, but they pale in comparison to the look of the wave and the fact that wave 2 is just not to be found.
The other red light for me is that seldom have I seen a spike that is not tested on such as important top. When I say seldom, I mean almost never. So, I expect the top to be tested at approximately 202o on the SP500.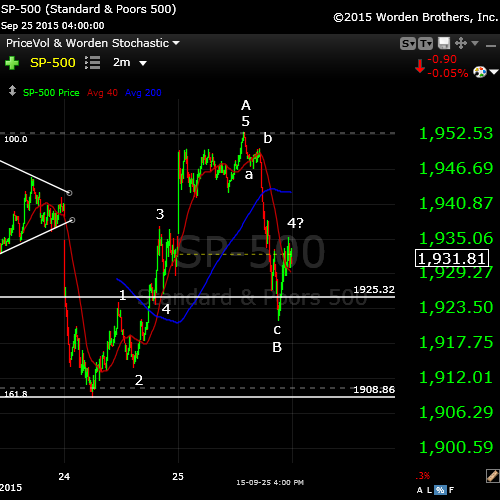 Let's zoom into the SP500 to see what happened on Friday afternoon. We had what amounted to a B wave in response to the A wave up on Thursday and overnight. Note that the A wave up is in 5 waves, which would be a motive wave (but it's a countertrend wave, so the measurements and waves don't have to be exact). After a first wave up like this, I would expect a B wave in three waves and that's exactly what we got. It was deep, mind you, but then we're in a bear market and very close to a top of the larger 4th wave (the one we've been watching for about a month now).
I've marked the final wave up on Friday with a "4?." That's because the only way this wave could be a motive wave down would be if this wave turned down right now and went to a new low. However, there's another problem. Fifth waves in motive waves are typically 1.618 times the length of the first wave. That would bring wave 5 down to the horizontal line at 1925.32. So, the wave lengths are not correct—it wouldn't finish the wave.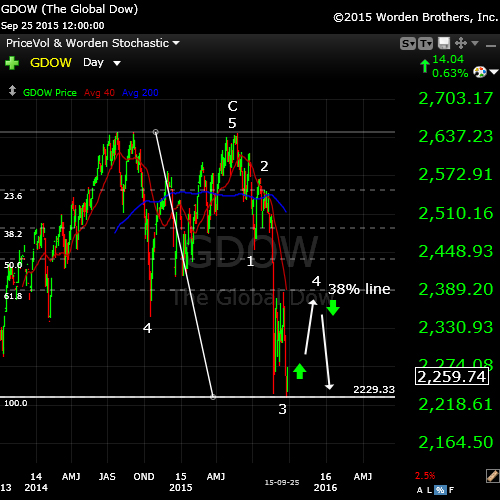 One of my regular readers (Thanks, Paul!) suggested I do a count on the Global DOW (above). When I took at look at it, I thought, "Well, I just have to add this in to the weekend post. Because the GDOW supports the fact the we're heading up short term. This chart has the look of a typical first wave down.
There's a double top at 2640 or so after an obvious 4th wave and then a motive set of waves down (not finished yet). We now appear to be at the bottom of wave 3, about to retrace to wave four (4), which should reach the previous 4th (iv) at the 38% retrace line.  Once it does that, it will turn down in a fifth wave, which should be the length of the first three wave combined. That puts the target for the fifth wave at about 1975.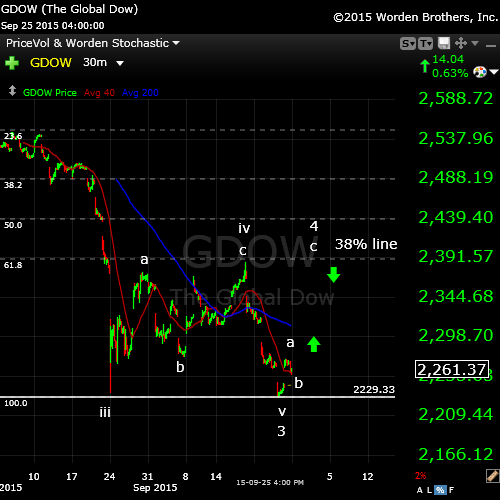 Here's a 30 minute chart of the Global DOW. I drilled down to see if there's anything that supports my higher level count. Sure enough, there is, and it's strong.
This is a close look at the fourth (iv) wave of the third. It's retraced in three waves to the 38% line (as it should) and then headed down in what I'll suggest is 5 waves (there's a big gap where the 2nd wave should be, so I can't say for sure). Then we've headed up in a small a wave and come down on Friday afternoon in a b wave (just as we did in the US markets). The next move is up would be the c wave to complete the higher degree wave 4. At 38%, we should turn down into wave 5 (as I mentioned on the previous GDOW chart).
Above is the NYSE, the elephant of indexes. It's the largest stock exchange in the world. More trades (and capital) tend to make it more accurate. This chart just happens to drive another nail into the notion that we've completed a motive wave 1 down.
Besides the fact that there's no second wave, we've have a wave 1 up (of 5 waves) and we turned down in wave 2 (or b) late Friday. The next move should be up.
The third issue with this wave is the EWI count that suggests that we've seen a second wave up on Friday. That would mean that we would continue down from here. However, the rule is that a second wave must at least retrace 38% (but in almost all cases retraces to 62%). This rule is a hard rule in Elliott Wave Theory. As we can plainly see, the NYSE hasn't even retraced the 38%, so it should at least head up far enough to complete that task.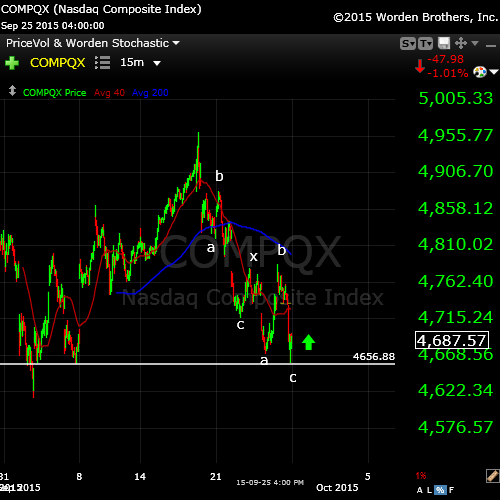 Now, let's take a look at the Nasdaq (above). It retraced the entire length of the wave up it completed on Thursday (through Thursday night). That's a very deep retrace and to a new low! However, it's not really a new low, because it came down to a previous low from Sept 4 to complete a "flat." It also messed up the motive count of the wave 1 down in the Nasdaq.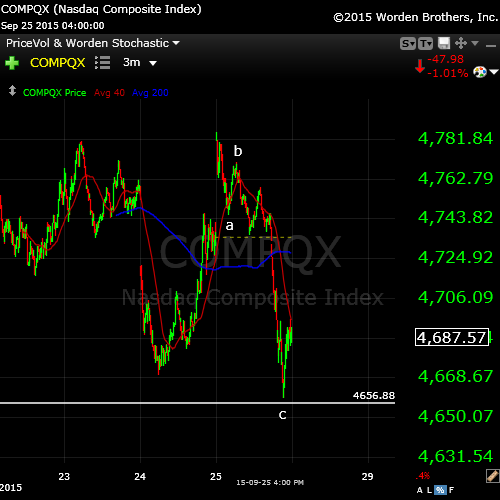 Finally for charts, here's a 3 minute chart of the late-in-the-day Friday wave down in the Nasdaq. A motive wave down must end in 5 waves. The three waves down is extremely clear here.  For my count to be incorrect, we must head down from here to a new low. So the prognosis here is that we're going to head up to a new high (approx. 4960.)
One more note: We have an important end of quarter coming up on Wednesday of this week (typically very positive as fund managers attempt to make their quarter look good. We also have a Super Blood Moon Eclipse for Monday, Sept. 28. It may be responsible to some animal spirits being unleashed.
Sunspots Numbers from Time-Price Research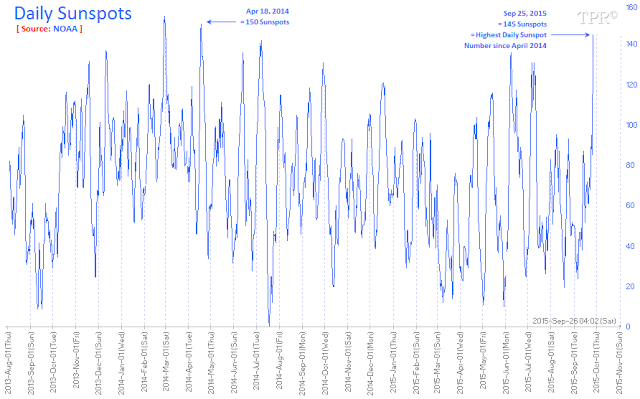 Here's a copy of a chart from Time-Price Research that shows the spike in solar activity this weekend. It's the highest sunspot number since April, 2014! Solar activity generally results in the spirits rising, along with the market.
Cycles Analysis
I ran these two charts on Thursday evening. I post them here just to remind you of what I'm getting from a cycles analysis.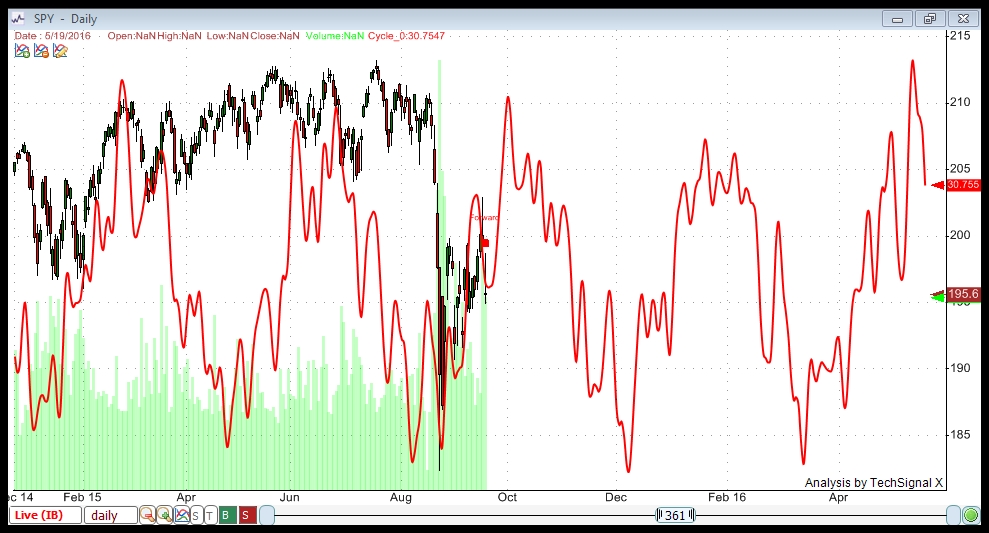 This is the first of two cycles analysis I ran. I'm using data going back to 2002 for both these charts. The software analyses all the data and finds all the cycles inherent in this asset. I chose the top eight cycles that it returned based upon returns in profit (if these cycles had been traded both long and short, from bottoms and tops, over the past 13 years).  Cycles repeat and so the past is a good indication of the future. This chart combines all the cycles found to provide a compilation wave. You can see how close-fitting it has been in the recent past. The fit with the current wave is quite stunning and therefore, something to pay attention to.
This analysis suggests a relatively strong positive bias to about October 1.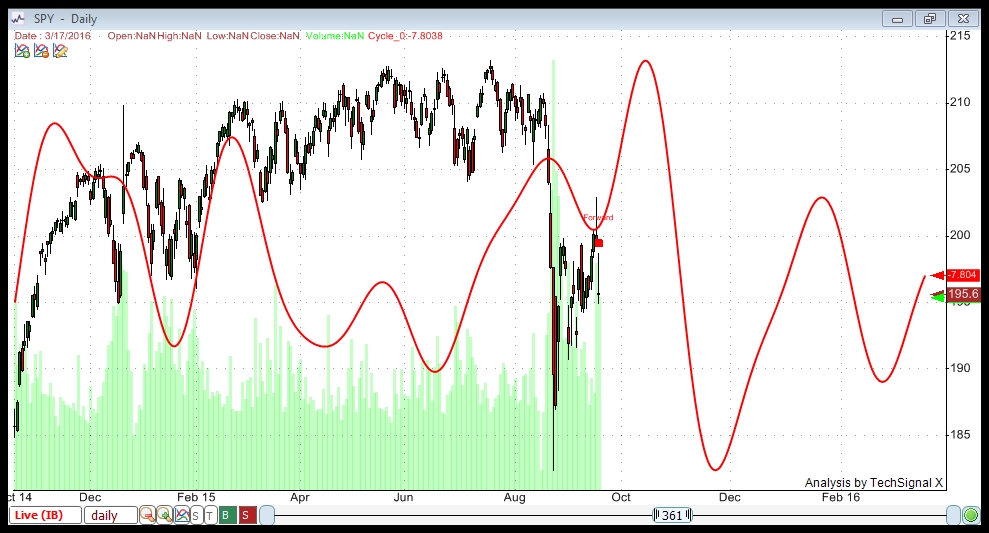 The second cycle I ran is the same as the first from a dataset perspective. This analysis focuses on percentage wins, playing both sides of the cycles. I used only the top 8 cycles (higher percentage win results) to result in a compilation wave. Choosing only the top cycles historically for this asset should provide a better forecast. The result is for a countertrend wave high into October. It is consistent with the first cycle analysis (net profit).
However, I note that the April through August time period shows a market with a possible inverse relationship to the cycle. That sometimes happens in cycles analysis. Therefore, there is a possibility that an inverse wave here (flipping the cycle vertically) suggests a turn down in the very near future, ending mid October. That would be in sync with the first cycles analysis I ran.