Quick Update (last night)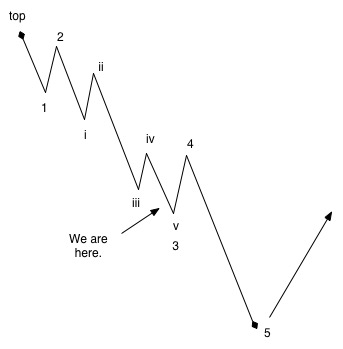 My least favorite pattern is a fourth wave in the position we're in now. That's because there are so many different combinations.
We're also in an area of the wave pattern that finds two fourth waves side by side. You have a fourth wave (iv) of the third wave, which will lead to a single fifth wave down moving to a new low (but usually not all that far). Then you have a higher degree fourth wave (4) of the entire pattern so far.
Early AM Update:  At the moment, this is a difficult market to decipher. That's because the third wave came down so quickly that the subwaves are really difficult to see clearly.
Last night, I thought we were completing the third wave, but because of the action overnight in the futures, it looks more like we've already completed the third wave and are now completing the fourth wave, ready to descend in the fifth wave. The fifth wave down will be a big drop.
Overnight, the futures bounced into a second wave, retracing to the 62% mark from the top of the fourth wave. This suggests a third wave down is next.
Recapping the last day or two, it looks like we completed the full third wave, the fourth wave, first wave of the fifth and overnight, we completed the second of the fifth. If we drop below 1820, we should drop much further is a dramatic fifth wave.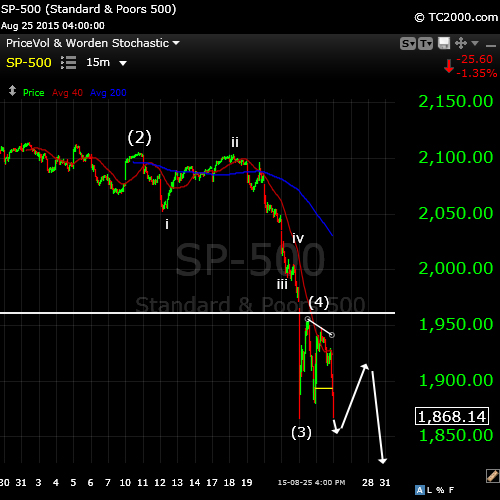 I'm providing just one chart tonight because all the indices are pretty much the same (the Nasdaq looking a little different). Here's the SP500 at the end of the day. I'm showing wave three complete and a fourth wave all but complete. Overnight last night, we bounced into a second wave, illustrated by the white arrow line up. We should open at the top of that arrow line.
If we drop dramatically below 1800, then we're likely heading into the fifth wave directly. In any event, the larger trend is down, any way you look at it.