Monday Morning Update
The futures dropped overnight in the US market, reflecting the carnage overseas. The futures look to have done a full wave down, though, so I think we'll have our fourth wave bounce at this lower level. It is obviously not a good idea in this market to play bounces, certainly overnight. The count hasn't changed; however, wave 3 is extended.
I put the bounce target for the SP500 at 1972, which is now a 38% retrace and the top of a small gap. It also marks the 1.618 extension of this a wave up, which is a typical Elliott Wave ratio. It doesn't mean it has to stop there, but that's the most likely point.  We should turn down into wave 5 somewhere near that point, I think. We'll see what happens.
Fun with a Microphone!
It's kinda fun to watch the media and pundits scramble around for some logical event-based reason why the markets did what they did on Thursday and Friday. But, we know differently. As I watch these fools banter back and forth in meaningless gibberish, I find myself hurling one four letter word over and over again at the screen: DEBT!
Markets do not move based on events, of course. They move based on the longer-term, mood of "the herd" and in a rather precise pattern that's highly predictable. They are also strongly dictated by cycles, as is virtually everything on Earth, including us.
In the longer-term, hopefully by bringing the knowledge of cycles through the influence of the planets to light, we can have an influence on affecting the futures of mankind to the positive. I dream … 🙂
Meanwhile, it is what it is, so let's look at the damage and where we're going.
Predictability
Firstly, for all those who disparage Elliott Waves, I just want to point out where we've been, where we are, and then move on to the next projection.
On July, 29, I posted the chart at the left showing the path forward. You can see where we were at the time by the annotation.
I projected the bottom of wave three of the SP500 at approximately 1972. On Friday, the wave came to a stop at 1971.95. I'd say that's pretty good. But, it's not really anything special that I did personally. Wave 3 is typically 1.6 times the length of wave 1, and it usually stops at a previous 4th wave low, which it did (you can see this on a daily chart).
When we're in a trending market, I use Elliott Waves because of their predictability. I use cycles (in their various forms) at wave sequence tops and bottoms. That's because, as we saw at the top of the market, Elliott waves are not very good at predicting the timing of a top or bottom. When Elliott Waves extend, it's often difficult to know where they're going (and they're far more difficult to predict in a countertrend market, which we were in for the past seven years), and when specifically they're going to stop.
I also predicted the top of the market quite precisely, as some of you know. I used the long wave projection from the Foundation for the Study of Cycles, as they're the true masters of cycles, going back to Edward Dewey in 1941 (and his work in the 30s, 40s, and 50s). But Elliott Waves also predicted the recent market top, as many of the US indices formed ending diagonals, which are very definitely ending waves. The long wave was five days off (which is amazing on its own), and that information made it much easier to use Elliott Waves to pick the exact top at May 20, 2015. That historical post is here.
So, my point is that Elliott Waves are very powerful. But it's taken me 10 years and almost 10,000 hours in the market to get this level of proficiency with them. Don't pass them off as ineffective. I see way too many people use them improperly to make predictions. There are no shortcuts; you have to follow the rules. You have to put in the time and do the work (and, as I often say, you sometimes have to drill down to the one minute charts to see the underlying structure).
We have a long road ahead of us, as we're projecting the DOW eventually below 3,000 and perhaps under 1,000.
The Next Few Days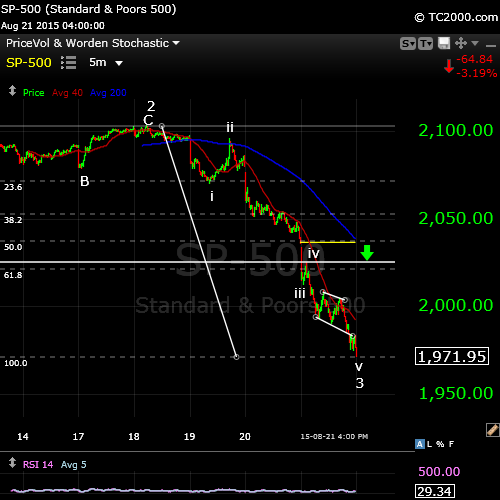 We'll start with the SP500 (above) and the wave structure over the past couple of days. You can see the top of wave 2 and the first wave down we had (i). If you measure the distance of wave i from the top of 2, you'll find that from ii to iii is exactly 1.6 times the length of it. That's wave iii. Then there's the wave iv spike. Now, the distance from the wave iv spike to the end of v is again exactly 1.6 times the length of wave i. Textbook.
If you were to drill down to the 5 or 1 minute level, you'll also see that all the indices completed ending diagonals, with quite a throw-over. Ending diagonals are ending triangles, each wave in 3 waves and they usually sport a "throw-over" (they progress below the lower trendline of the diagonal triangle). Then they reverse in the other direction (in this case, up).
We ended at 1971.95 and I'd projected 1972. So that being the case, I deem wave three done. The next move is up 38% (the reciprocal of phi: 1.00 – 0.618 = 0.382). We'll either turn at about 38% or go a bit further to the fourth wave, which is slightly higher. The target is 2020-2025. Then we should turn down into wave 5 which will take us to about 1820. Let's see how we do.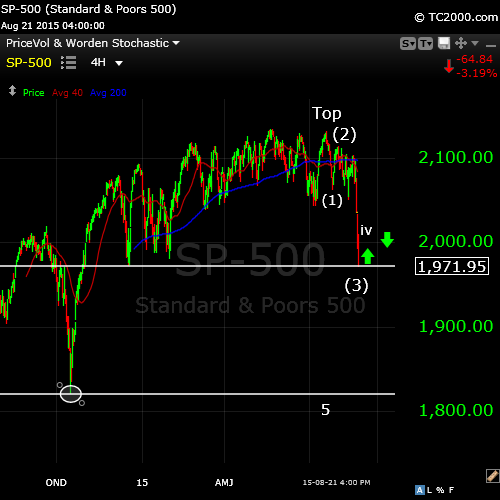 Now, the SP500 big picture. You can see how wave 3 has come down to its previous 4th wave low. That's typical. The next stop should be the previous 4th wave low of one higher degree at approximately 1820. Then we will have completed one wave of 5 down. The next step will be a larger degree second wave retrace of 62% … and then we start the process over. And that's essentially how Elliott Waves work.
You can bring cycles to bear if you want to fool around with knowing dates of turns at this point. With Elliott Waves, the fourth wave we're going into will have to look balanced against all that "stuff" forming the second wave, so I give it about three days. The fifth wave down will likely only take 2-3 days to drop. Then you'll see the fear enter the marketplace and who knows what the media will come with for cause … haha.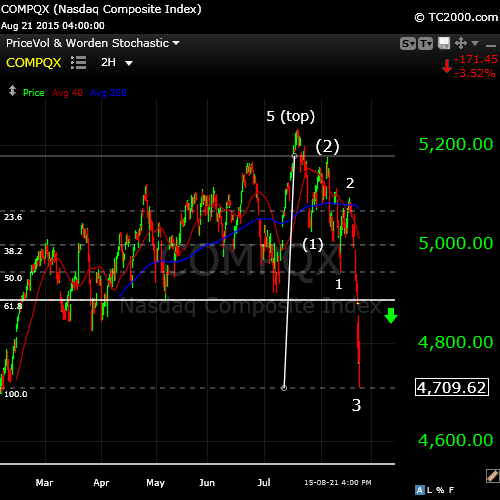 Let's look at one more index. The Nasdaq above is interesting. You can see it's a similar pattern to the SP500. I've drawn a horizontal line at the 38% retrace level. You can see there's a gap there. Markets love to fill gaps. So it's always interesting that gaps are usually just at the point of retrace and that's the case here. Target for the retrace is about 4887.00.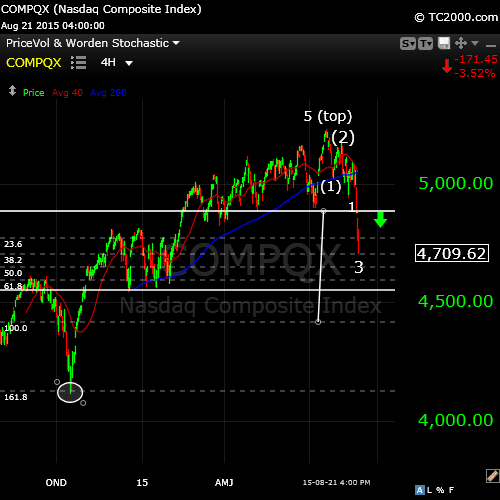 But there's more. Now, here's what I always find REALLY interesting. We'll look at the Nasdaq in a wider view to see how this all works. You can see the structure of wave 1-3. Now, If I measure the length of wave 3 and then I take that measurement and start it at the wave 4 retrace level we're about to rise to (38% retrace), you can see (on the chart) that 1.6 times that measurement brings us to the circle on the chart, the previous 4th wave of higher degree, which is where the entire first wave drop (of 5 waves) should end up. So … I'm predicting a very long wave 5 down for the Nasdaq of 1.6 times the length of wave 3.
It's interesting to me how Elliott Waves are so precise, all revolving around the number phi (.618) and of course, how phi relates to the ratios between the planets. But I digress … haha.
This site is really about the wonder that's our Universe and how, if you understand a little bit about how it works, you can predict the future to some degree. After all, they say, "History rhymes." It's important to be in tune with where it's going.
The next two weeks will be really interesting and a great big surprise for 99% of the world. Stay safe, have a great weekend. Enjoy the ride.
NEW (Sunday) – Mid-Term Projection
There have been questions about what happens after the bottom of the impending fifth wave, so I've put together quick chart.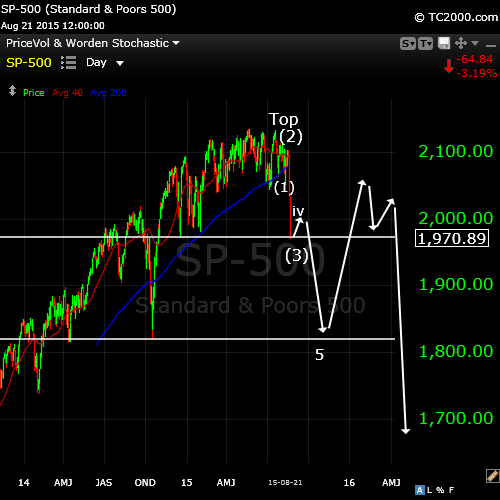 In Elliott Wave structure, what happens after five waves is that we retrace at least 62% in three waves to produce a larger degree second wave and then we head down in a larger degree and much longer set of five waves. That's what I've drawn on the chart above. The top of wave 2 will get to at least 2015 in the SP500, but may retrace a little higher.