The "fourth wave kiss" has to do with the face that fourth waves always retrace 38% of the path of the wave pattern so far, or to the previous fourth wave (of the third wave coming down). Let's take a look ahead of the Fed meeting to see the market's handiwork to date and gauge where we are …
The train is finally in the station.
On the charts below, I've presented the 3 wave path down (we have one more wave down to complete the pattern) and the long, drawn out 4th wave, which is an ABC corrective wave—certainly no question about about THAT! And certainly not a surprise.
However, it's been a frustrating journey as fourth waves always are (the reason I like to stay away from them, in terms of trading). They always get to where you expect them to end up, but they do in in the most unpredictable manner!
Here are the time spans of all the waves in this first motive wave series down:
wave 1: 5 days
wave 2: 3weeks
wave 3: 5 days
wave 4: 3 weeks
wave 5: 5 days?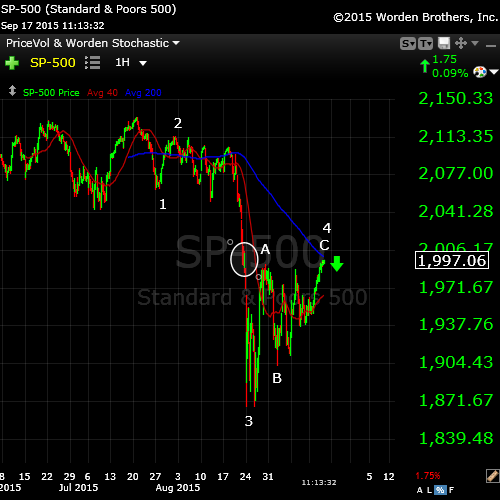 Above is the SP500. I've drawn in the circle to denote the previous 4th wave. Everything looks just about right for the 5th wave to come.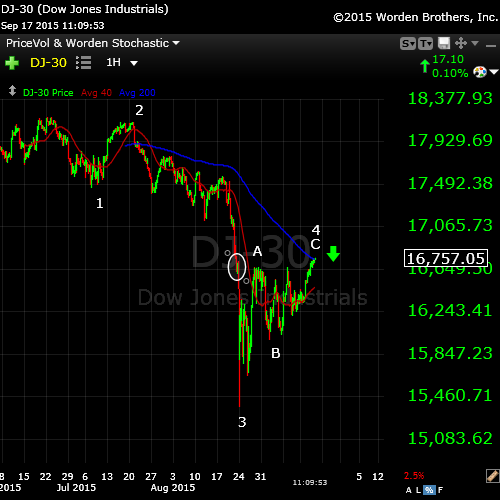 The DOW looks pretty much the same as the SP500.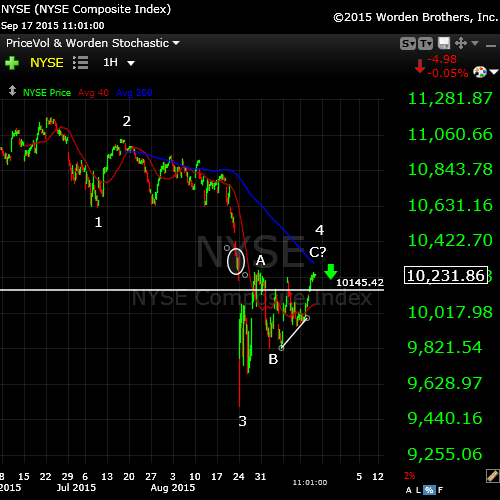 The NYSE is just shy of a new high in the ABC configuration. That's why I've placed a C? marker on the chart. It has about another $10 to go before it tags the previous 4th wave high, which I would expect it to do before we head down into wave 5.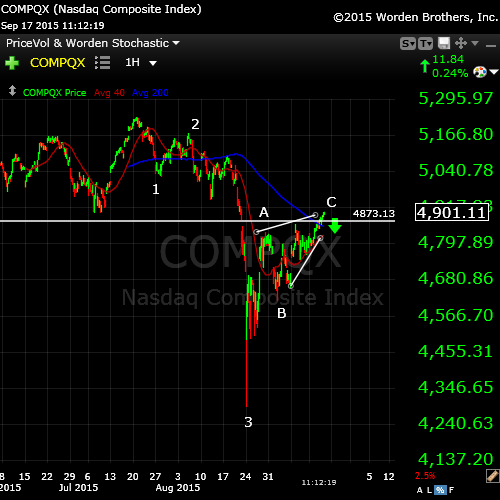 Finally, the Nasdaq has retraced all the way up to 62%, filling a gap. The rule in Elliott wave is that a fourth wave can retrace as far as it likes, as long as it doesn't cross into the area of the first wave.
This also sets up the option of the Nasdaq only having completed a first wave down and having to go into a third, fourth, and fifth wave as the other indices complete the 5th wave. This option is not as likely as this being just a large retrace of the fourth wave, so I've labelled it as such. The horizontal line denotes the 62% retrace level.