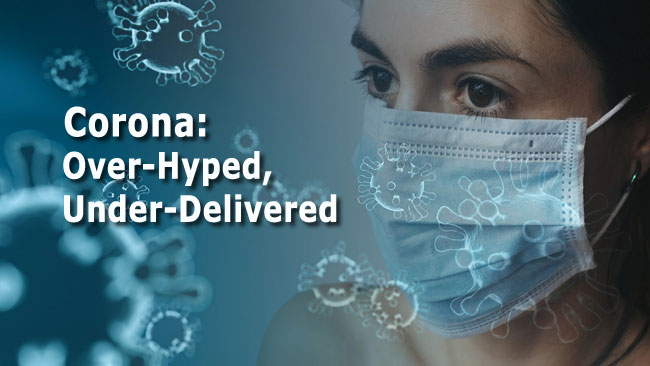 (orginally published early 2020)
Are you terrified yet?
Politicians and the main stream media around the world are trying to scare you almost to death with the coronavirus threat, but like similar virus pandemics over the last century, it hasn't had the effect they've been predicting. Like the Swine Flu ten years ago (2009), which was also hyped up to be a killer of millions, this latest flu virus is turning out to be another "dud."
I hear over and over again from politicians and the main stream media that this current situation surrounding the Corona pandemic is "unprecedented." That's just not true.
What is unprecedented is the over-the-top reaction of both politicians and the main stream media to this new flu bug. They have little to no information on the severity of this virus, but have shut down an already extremely weak economy. Unfortunately, it isn't going to come back to what it was.
During the polio pandemic (1918), for example, "panicked New Yorkers shut down schools, public cinemas, and swimming pools." But, they didn't shut down the economy.
Polio came back again in 1930, when the market "crashed" and people were hurting badly. Social mood was at an all-time low. It helped spark the well-known outcry from Franklin Delano Roosevelt, "You have nothing to fear but fear itself." He was afflicted with polio in 1921..
We've experienced lots of pandemics in the past; the most recent, more deadly pandemic was the Swine Flu, which travelled across the globe in 2008-9 and reportedly infected 1.4 billion people worldwide. Numbers vary as to how many were killed (150-570,000). The current count for coronavirus is here, but the majority of those deaths are attributed to people over 70 who are already ill with life threatening afflictions.
Keep in mind the fact that seasonal flu kills 650,000 people worldwide on an annual basis.
Social Mood and Pandemics
Let's look a little more closely as to when these diseases strike, because the timing is really quite predictable. We'll do this by looking at recent pandemics on a chart of the stock market (more specifically, the DOW Industrials—the most watched index in the world).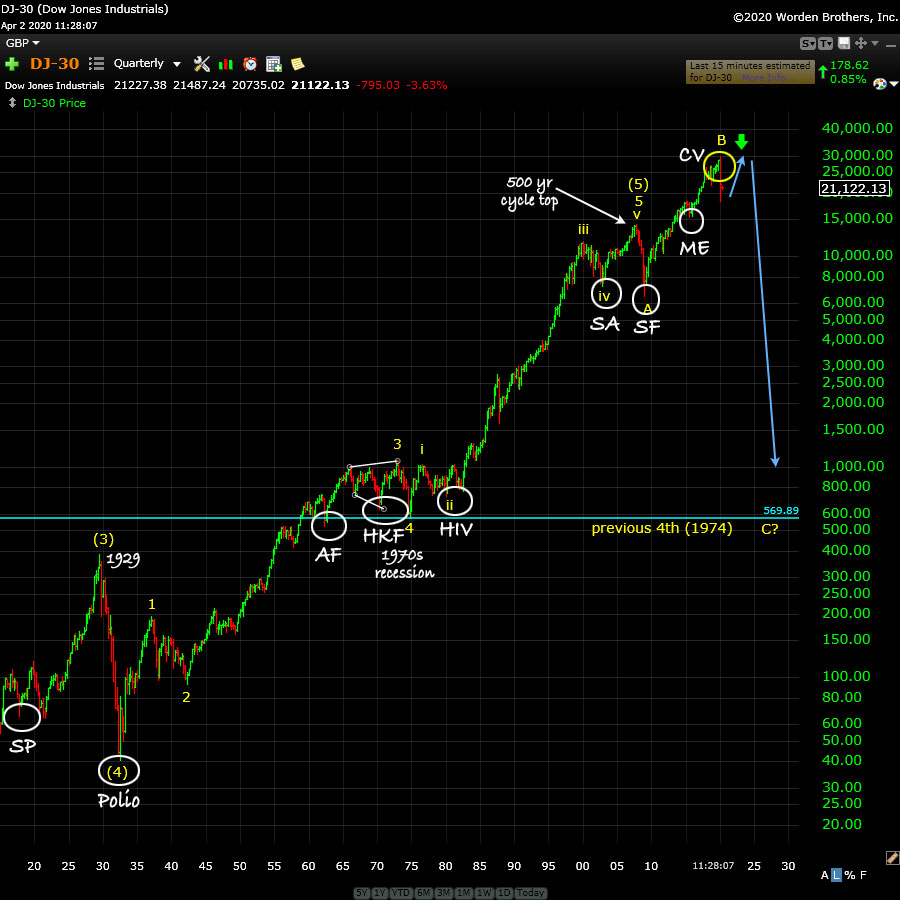 Above is a quarterly log chart of the DOW showing the period from 1918 through today. I've identified all the major pandemics in the timeframe in which they appeared.  The key to the chart is in a table just below, along with the numbers afflicted and related deaths.
It's important to note here that diseases become active when social mood is negative. You can see this clearly from the chart. Major pandemics happen when people's moods are negative, they are malnourished, or struggling financially. This is what happens when there are recessions and depressions. I say quite often that "the stock market is a mathematical representation of the mood of the masses."
| Icon | Name | Year | Infected | Deaths |
| --- | --- | --- | --- | --- |
| SP | Spanish Flu | (1919-20) | 500 million | 100 million |
| Polio | Polio | (1916, 1930s, 1952) | 16,000 (1931) | 2100 (1931) |
| AF | Asian Flu | (1957-58) | 500 million | 1 million |
| HKF | Hong Kong Flu | (1968-72) | 500 million | 1  million |
| HIV | HIV/AIDS | (1980s- now) | 39 million | 770,000 |
| SA | SARS | (2002-3) | 8100 | 774 |
| SF | Swine Flu | (2009) | 1.4 billion | 570,000 |
| ME | Mers | (2012-15) | 1360 | 527 |
| CV | Corona | (2020) | Current stats | |
Other "pandemics":
Ebola (2013-16) Cases: 28,600, Deaths: 11,323. This is a very dangerous disease that ended up being mostly contained in Africa (not a pandemic), but happened at about the same time as MERS
Seasonal Flu (annually) Cases: 1 billion, Deaths: 650,000 a year
As I write this, there are scary headlines reporting that there are 100,000 deaths worldwide from the Corona Virus. However, seasonal flu averages 6.5 times that amount every year.
The truth is that the Corona Virus is turning out to be a new strong flu strain that's not delivering on the hype. Nonetheless, the media and politicians are forcing people to isolate themselves and live in fear. The hysteria is many more times deadly than the virus itself because it has destroyed the already fragile economy worldwide and will destroy the lives of many hard-working families.
It's also creating despondency and hunger and will lead to a rash of suicides, particularly from those who already suffer from depression.
The Stock Market and Disease
Even though worldwide debt is larger than it has been ever before in history (250 trillion at last count, and obviously growing like wild fire), the "herd" believes that a virus is the thing that's caused this market downturn. However, I predicted this wave down over a year ago (long before the virus escaped in Wuhan, China). I also said several times that the coming bear market would be blamed on the corona virus, even though that bear market was predicted over a year ago.
The opposite is actually the truth. The drop in the stock market is a reflection of the mood of the masses. This is the perfect time for a virus to occur, when people's immune systems are at a low, and that's exactly what's happened. over and over again, throughout history.
Nevertheless, politicians and the media blame the virus. Few ever look at the lessons of the past.
When the stock market drops and mood turns sour, illness becomes more prevalent. The most recent pandemic before this one was the Swine Flu, which hit in 2009, right at the bottom of "The Great Recession." As it turns out, that drop was actually the start of what's going to result in a major depression that will dwarf the Great Depression of the 1930s. We'll see more (and more lethal) pandemics ahead, as mood turns increasingly more negative (after the top of the market, expected early next year).
The numbers coming out now (after all the hype and fear-mongering) are pointing to the Coronavirus being another flu-like occurrence that will likely kill no more people than would have died this year, anyway, just like the Swine Flu pandemic.
Estimates are that the Swine Flu affected up to 1.4 million people, but killed only about 150-575,000. (with a post-pandemic "spread" in the estimated deaths that large, it's obvious they have no idea what the actual number is)
It was projected and hyped-up to kill many times more (19 million affected was the original prediction). What's more, the annual death rates in the US for the years 2007-2011 were almost exactly the same. Statistically, the same number of people died during the year of the virus as died the year before and after.
| Death Rate/1,000 | U.S. |
| --- | --- |
| 2007 | 8.203 |
| 2008 | 8.124 |
| 2009 | 8.131 |
| 2010 | 8.138 |
| 2011 | 8.145 |
You can see in the above table that the death rate in 2009 was actually lower than it was in 2007, and the same in adjacent years. (Death rates are measured by the number of people per thousand who die from it).
What does this tell us? It tells us that no more people died from the Swine Flu than would have died anyway. This pandemic had no affect on the overall death rate.
The stories coming out of the current pandemic are that physicians are classifying anyone that died with the corona virus as having died because of it; however, in the vast majority of cases, the victims has underlying conditions, such as heart disease, high blood pressure, or respiratory problems.
According to an Italian Government Study, 99% of their Covid-19 fatalities were already chronically ill, and half were diagnosed with 3 or more chronic diseases. People who are dying with the virus are being counted as dying from it, even though the cause of death is much more likely to have been from their pre-existing condition.
This time round, figures coming out of the UK show the same phenomenon. 99% of deaths are to people who were unwell to begin with. The same number of people died in March this year in the United Kingdom (based on early figures) as died in March of last year.
In other words, these "pandemics" tend to hasten the death of people with underlying conditions that were going to die anyway.
It's estimated that 650,000 people die every year from season flu. We're nowhere near that number from the Corona Virus, and it's beginning to subside (the curve is flattening, and even heading down).
The Media and Weak Politicians
We have media who are hyping this thing like crazy, because, let's face it, they're broke, and more clicks from scared-to-death consumers makes them more money from advertising. Politicians, who we mistakenly call "leaders" (they're really "followers" because they always react to the consensus) have jumped on the bandwagon, due to fears of losing their jobs if they're not seeming to react the way the media and the terrified public expect them to.
The perfect horror-show cocktail.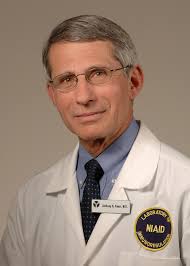 Dr. Anthony Fauci, current director of the National Institute of Allergy and Infectious Diseases (in the United States) seems to be running the show there. He has been instrumental in shutting down the economy, based upon little information about the current virus, using models that have historically proven to be wrong every single time they've been used in the past.
When the virus broke out originally, Fauci declared that "millions could die" in the United States. Now that number has inexplicably dropped to 60,000. However, despite the hype in New York, many of their hospitals are almost empty of corona patients. Similar numbers are starting to appear in other countries.
But, as Dr. Fauci announced the lower numbers and suggested the virus was waning, he also announced the "good news" that people would now be able to take their summer holidays. How out-of-touch is this guy? Most people are broke, are out of a job, have lost their business, or have otherwise had their lives ruined!
In 2013, Fauci was all for using promising medications (including hydroxychloroquine, which is proving so effective in fighting the corona virus now), but has come out against using these well-known and effective drugs in this case. What's going on here?
And then there's this. But, it's probably nothing. It wouldn't be about money …
And this from Robert F. Kennedy Jr.
Not a single model used to project the number of victims has even come close to reality. The scare is just not there.
It will prove that the proposed "cure" will be far more deadly than the virus itself. Even though we've had far more deadly flu epidemics, politicians have never before shut down the world economy based upon scientific projections that are highly flawed at best.
We need to pay attention to the cycles of history; they predict the future.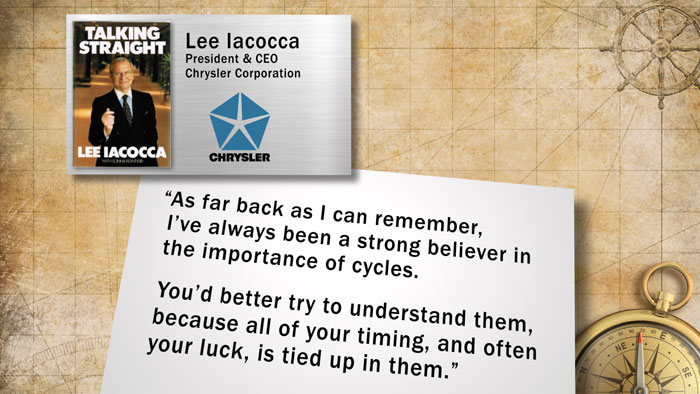 One Scary Crisis After Another
It's the climate hysteria all over again. By this time, coastal areas all over the world were supposed to be underwater (none are), all polar bears would be dead (we have way more of them than before), and snow in the winter should have been a thing of the past.
But, it's been colder and dryer over the past few years, just like the natural climate cycles of history predict. In fact, you can predict all kinds of things from climate cycles. We know, for example, that we have weak politicians at 500 year cycle tops (which is where we're at now).
We also know that there's always a move to authoritarianism at cycle tops, along with a loss of freedom. Every single time we've been at a similar cycle top, we've seem raging inflation (which makes our money almost valueless) which always ends in a stock market crash and a depression.
But, we don't learn; we just don't "get it."
What's to Come
Based on the history of pandemics, you can see that they're fairly predictable. In times of social crisis in the past, we've alerted the public, and worked to develop vaccines. But never before have we shut down the economy worldwide. Particularly alarming is the fact that this has been done with little to no proven data that shows that this new disease is anything but a stronger flu.
The government has destroyed the already weak economy at a time that it can ill-afford to do so. It will not recover to its previous level and will simply limp into the inevitable depression that I've been predicting for over ten years now.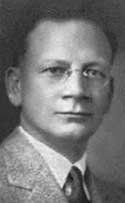 Natural cycles, which dramatically affect the economy are not new. There was lots of work done on them at the beginning of the 20th century. In fact, in the 1930s, Edward Dewey (who was originally Chief Economic Analyst under President Herbert Hoover) started the Foundation for the Study of Cycles, of which I was previously executive director. Many books have been written since, and a tremendous amount of scientific data collected that proves their existence and influence on our revolving planet.
As the corona virus disappears in the next couple of months (the stock market is poised to turn up by June, resulting in an new all-time high either in late 2020, or early 2021), the mood of the masses will rebound. The virus is predicted to disappear from the radar, maybe not forever, but for the time-being, at least — naturally.
However, the economy will never recover its vibrancy, a lot more lives will be lost to suicide and social unrest, and there's going to be a lot of finger-pointing. What was the point of rising to this level of hysteria over hyped, scary predictions that have never panned out in the past?
The truth is that the response has done (and will do) far more damage to people's lives than the new coronavirus flu bug.
it's certainly a lesson waiting to be learned. But, as we know from history, the human race is not very good at learning lessons from history.
"Those who cannot remember the past are condemned to repeat it" — Georges Santayana
Know the Past. See the Future