Just one chart tonight as nothing has really changed. It's ready, aim …. time. The firing comes when you see they whites of their eyes.
If you want to know where we're at across the US indices, the two previous posts should do it. The earlier one provides more of an overview.
Bottom line: We're at the top of the third wave, trying to scramble away from the inevitable. However, the market is really weak, and from an Elliott Wave perspective, the move up is clearly a countertrend wave, with the c wave left to go. So the question is, how far will it get until it falters and falls over? (a typical length for a c wave is the same length as the a wave, and this would bring  it to about 2114)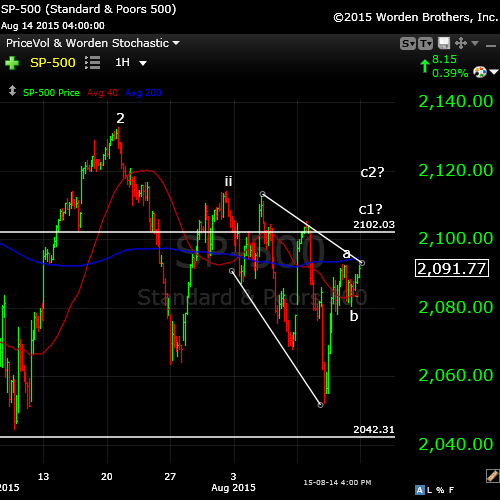 Here's the SP500 one hour chart. The US indices are all looking pretty much the same, so I thought I'd concentrate on the SP500, since it's the one most people watch.
The two probable targets are at 2104 and 2114. The higher target makes the most sense to me, but again, the market is struggling, so we'll have to see how far it gets. I have also put a horizontal line at the 62% mark (.618). My downside targets haven't changed from the two previous posts. I'll update again once we've seen the turn and can confirm the third wave down has begun.
Gold is heading higher—a sign that the US markets may be ready to turn down.
The eur/usd is in a countertrend move (a fourth wave). The dollar is in a similar position, with a turn possible at any time in the near future.
The DOW
Here's one more pertinent chart to keep in mind.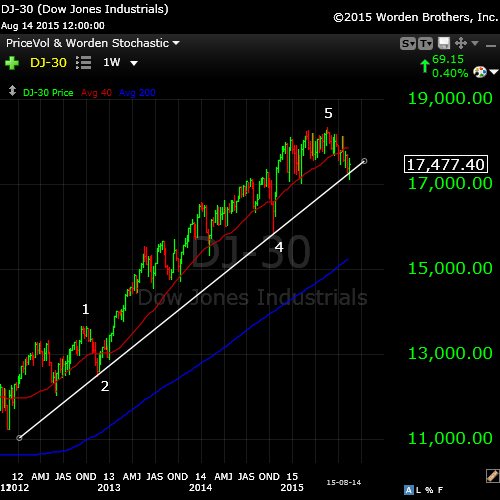 In the above weekly chart of the DOW, you can see that it's broken down below the lower channel of the final 5 waves up. This is a highly bearish move and while it doesn't absolutely confirm the downtrend, it's a very strong bearish indicator in that direction.