I'm back after a really horrendous weekend (plus a couple of days) in Toronto. I'm still without my main computer, but hopefully I'll be able to snag a new one tomorrow. Thankfully I back up my work about once a week. That's the extent of the good news … haha.
There seemed to be a lot of people freaking out about today's move. I hope I can add some perspective to where we are. I've got charts of the main US indices below. They all did much the same thing today, but it seemed to be a result of running out of sellers after a dump off the open and then heading up in a countertrend move. It left a sharp spike at the bottom and they never last very long. It was an abc, 3 wave countertrend move.
I still put us in a third wave with a ton of heavy resistance to get through, so it's not going to get easier until the clear the "shelf" just below us. But the long term trend still appears to be down.
Breadth was negative, and the advance decline ratio was slightly negative.
A note on Gold: After calling a bottom a couple of weeks ago, GLD is heading up nicely, which fits well with a declining market.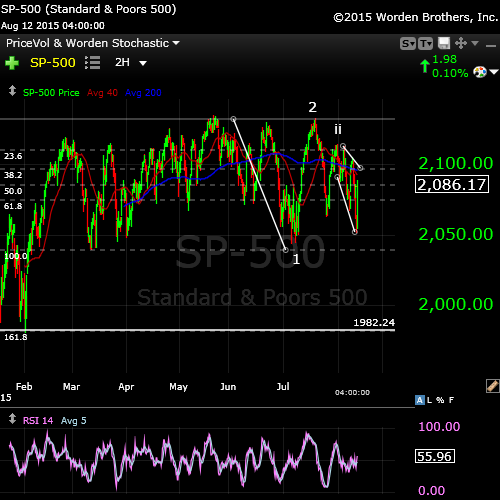 Above is the SP500. It had a big dump at the beginning of the day, ran out of sellers and rallied the rest of the day. However, it only closed at $1.98 to the positive. I've drawn a horizontal line at the first target point for the end of the third wave. The SP500 seems to be drawing out a channel, but it's easier to see in the other indices.
The maximum I see us achieving tomorrow on the upside for the SP is about 2105, but we may not quite make it.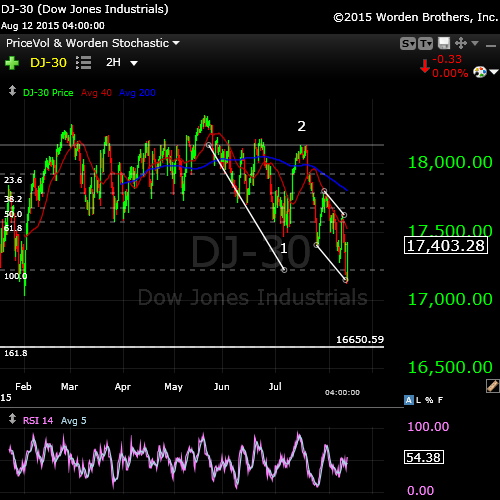 The DOW (above) is the interesting one. It's definitely in trouble. There's no way based the lows that it's going anywhere but down. Remember, it wasn't even able to get into positive territory today. It was negative .33. This seems to me to have been a snap back rally from oversold and some important resistance. These indices have gone sideways for months, we in summer, and there's not a lot of volume, so expect volatility.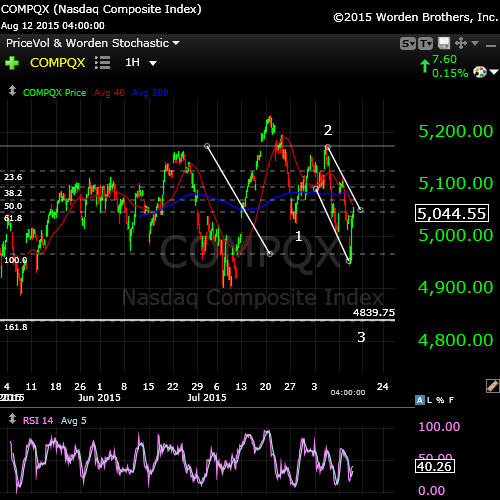 The Nasdaq looks to have completed a first wave down and is in the third wave. The channel it's forming is perhaps easier to see than the other indices. It was only positive $7.60. Looking at what the futures are doing tonight, I'm expecting us to head down again tomorrow. But, I would use a ton of caution. It's a scary market.
I thought I'd add in the Russell 2000, which is a little like "looking under the hood." Its downtrend is easier to see and it's been persistent. It's in trouble longer term. While I've drawn in a target for the third wave, it may extend lower.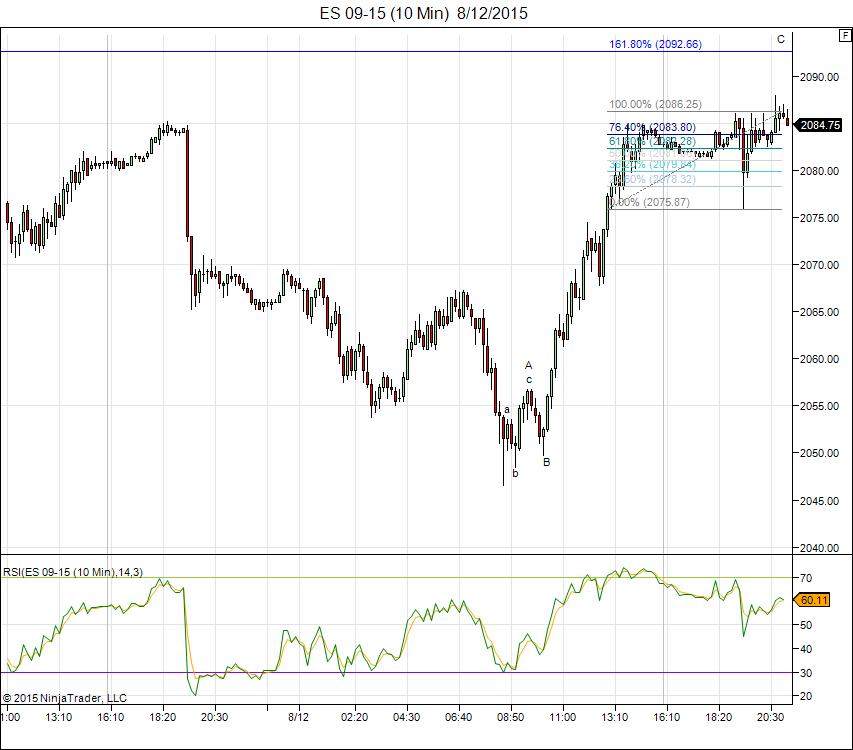 Let's look at what the futures are doing tonight (after hours). This is a ten minute chart. The ES (SP500 futures) tonight did a small 4th (or b wave) which suggests they're going to a modest top … marked as C on my chart. We're in the fifth, or final wave. I've projected it at 1.618 times the length of the first wave, which is fairly common. Note that the first wave (marked as the A wave in the chart) is in three waves, so this is a countertrend move. This is a similar pattern to all the major indices today.
Also, spiked bottoms never last. So, it should completely retrace.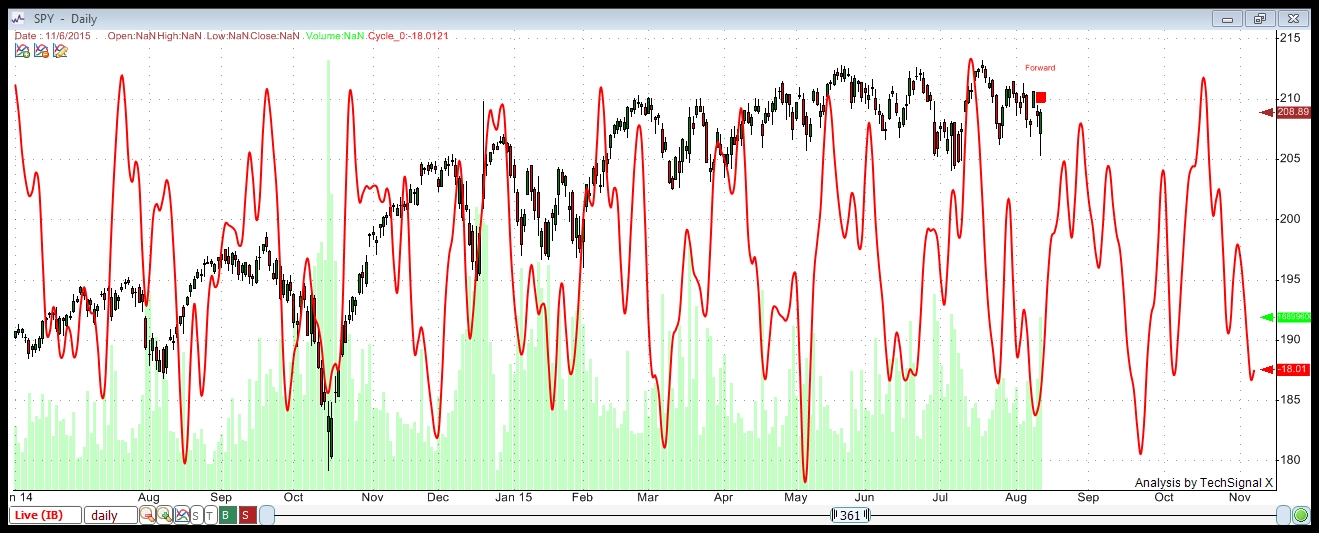 This is an new cycles analysis using TechSignal X from the Foundation for the Study of Cycles. These show show the longer length cycles based on backtested maximum winning trades when trading both cycle highs and lows. We're showing a positive cycle here but note that it's not as strong as either the cycle before or after it. The longer term cycles below still show a negative trend heading into September with a second wave peak in October.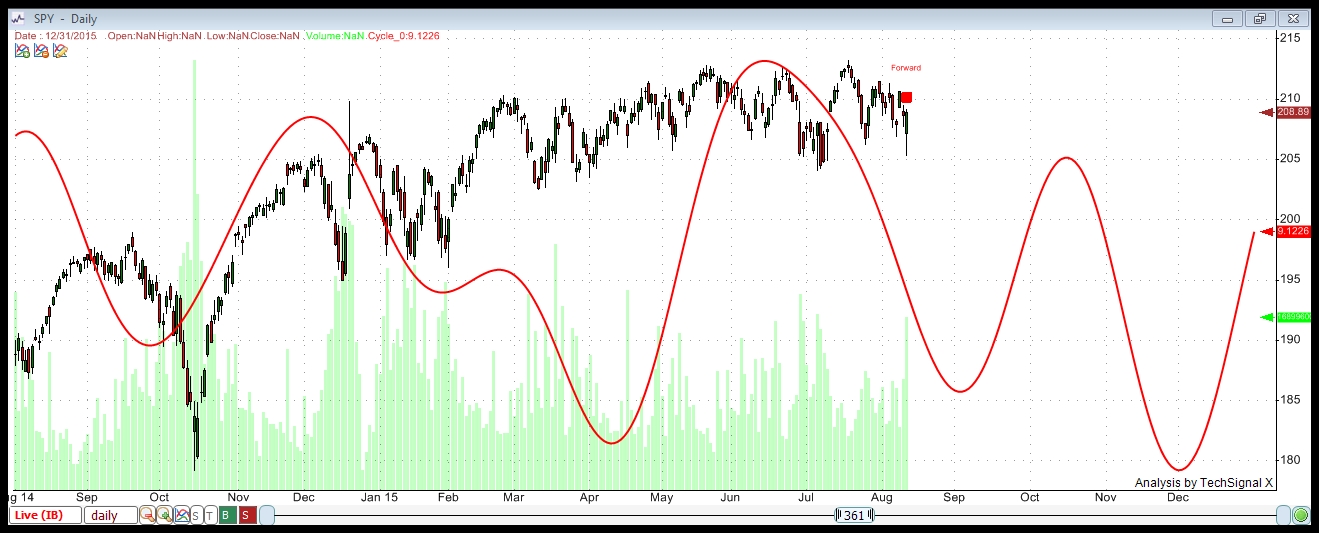 Above is a cycles analysis for the maximum net profit using the same criteria as the above chart. Both charts using 13 years of data.