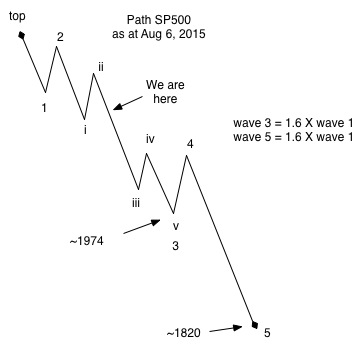 Humpty (meaning the market) had a bit of a "fall" this morning. I don't think that all the Fed's horses, or all the Fed's men have a chance of putting this thing back together again (even though they themselves might think so).
Tonight's "update" will be just that—short and sweet—since it's on the heels of last night's analysis.
Other than the market coming down a little quicker than even I'd imagined, not that much has changed in terms of the forecast. Down we go—in a "nowhere to hide" third wave. To the left, you'll see the projected price levels for the various SP500 waves. Based on Elliott Wave typical wave lengths, this is what I'm expecting for the next couple of weeks.
Wave should be at least 1.6 times the length of wave 1 and wave 5, a similar measure. The other indices should come down in parallel.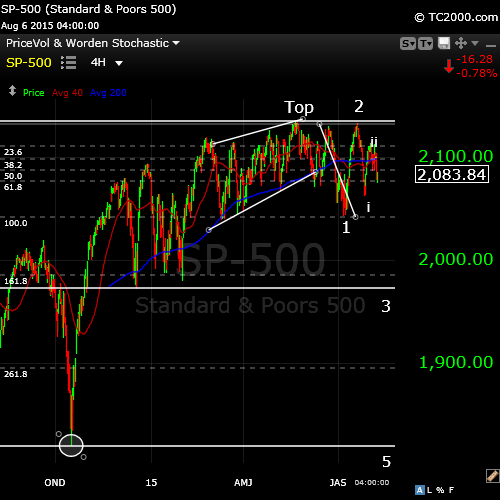 The SP500 is one of the indices that's giving the clearest projection in terms of price levels. It would typically come down to the previous 4th, which just so happens to be about 1.6 times the length of the first wave down. So we have a ways to go. I can see a bounce somewhere around 1974 (wave 4), but it will only be 38% of the distance travelled to that point (of wave 3). More about that when it happens. It will take a couple of days at least to work itself out and then we'll head down into wave 5.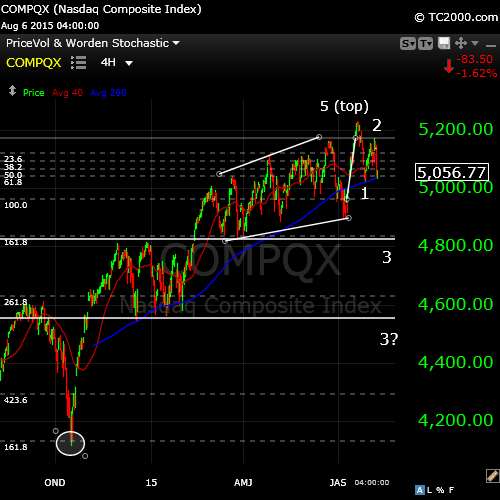 The Nasdaq (above) has some catching up to do and I wouldn't be surprised to see an extended wave 3 (or wave 5). I've shown the first level at 1.6 times the length of wave 1 (the top horizontal line). I'm expecting the end of the 5th wave to get to at least the circled point (not sure at this point how it's going to decide to do it).
Enjoy the ride.