Ralph Nelson Elliott's Work
Ralph Elliott's ground-breaking book, Nature's Law — The Secret of the Universe, was published on June 10, 1946. He died less than two years later, on January 15, 1948. He has been in ill health for over twenty years, an affliction that struck a couple of years before the 1929 stock market crash.
In 1932, having lost a large amount of his own money in the crash, at the age of 64, he was forced to turn to a new profession; he became intensely interested in the stock market.
What's remarkable about his work is that he undertook it without computers and, in fact, had to invent his own ruler, called a "proportional divider," the fulcrum of which could be moved to measure a 61.8% (the fibonacci "golden mean") wavelength at various degrees of trend (as the market traces out the same patterns over and over again in a fractal manner).
Even at this early stage, Elliott was able to predict market moves with astounding accuracy and became somewhat of a sensation among a relatively small contingent of wall street brokers, most notably Charles Collins and Hamilton Bolton. Both had written books on various aspects of the stock market during the 1930s.
It takes some time to get comfortable with the quite unbelievable accuracy of this method in determining market moves. It took me about five years to master, which included an intense study of the market during that period (over 20,000 hours). It has taken a bit longer to feel totally comfortable with it's reliability; it takes time to  buy into the fact that it simply never fails to follow Elliott's rules.
If it fails for some reason, it's the analyst who's at fault, in my experience. Typically, the analyst allows some level of bias to get into their analysis and this results often in missing key measurements, or simply not delving deeply enough into the wave pattern.
In my work, I've discovered errors in the Elliott Wave Principle book and refined some of the rules, discounted others, to develop a system that seems to me to be almost infallible. The small number of errors I make have always been due to my own lack of discipline.
The Elliott Wave Principle has proven to me to be astounding in its accuracy and reliability.
A Top the Whole World Will Enjoy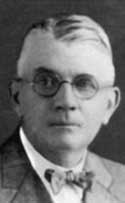 Thanks to the work of Ralph Nelson Elliott in figuring out how the market moves, we know that ending waves are always in five waves. Final waves of a trend can either be an impulsive five waves or a triangle pattern of five waves. Those are the only choices; the final wave must be a fifth wave and it must consist of five sub-waves.
The US indices are tracing out their individual patterns, based upon this rule. The DOW looks to be tracing out an impulsive 5 wave pattern, while the NYSE and SP500 are tracing out contracting triangles. These triangles will result in one more relatively small wave to a new high.
Triangles in fourth wave positions trace out five waves, and warn of only one more actionable wave before a trend change. That final wave out of the triangle will rally in five wave to a new high. A five wave impulsive pattern also ends the trend.
Ending diagonals end is a final fifth wave that traces out three subwaves. It's the only other pattern than can end a trend.
All the USD currency pairs are in corrective waves but are also in fourth waves positions. They all have one more wave to complete before their trends change, similar to the US Dollar. USDJPY is slightly different: It's in a corrective second wave, with one more wave to trace out before a turn up into an impulsive third wave.
It's a parade, but the outcome for the world will not be a happy one.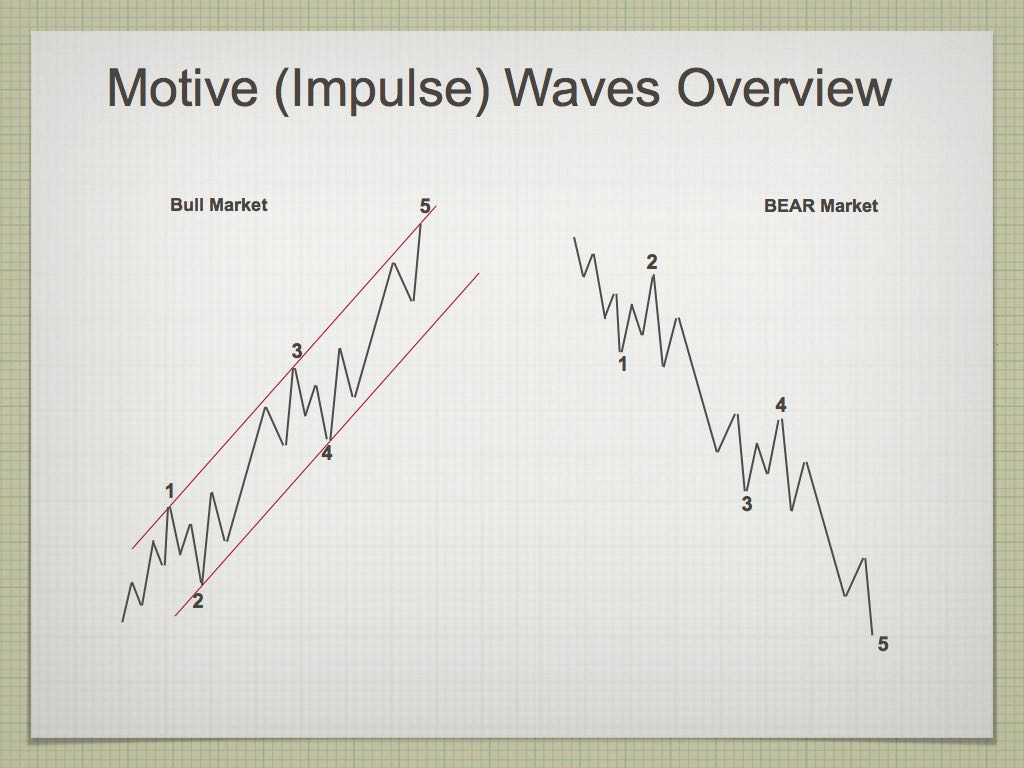 Above is a diagram of a typical impulsive five wave pattern. What's as important as the actual "count" (five waves) is the look and measurement of the underlying wave structure.
Corrective waves (waves 2 and 4) must be balanced in terms of size, and all waves must conform to specific fibonacci-based wave lengths, in order to meat the "impulsive" wave test. What's referred to as "the right look" is often ignored my analysts, and the specifics on wave measurement are for the most part, undocumented.
So, when I continually run up against the skepticism that this system can't possible work, I "get it." Most people aren't willing to put in the work to master this method of forecasting the market. Those who do know that's it's the most accurate method known. It's very simply how the market moves.
Elliott Wave Basics
There are two types of Elliott wave patterns:
Motive (or impulsive waves) which are "trend" waves.
Corrective waves, which are "counter trend" waves.
Motive waves contain five distinct waves that move the market forward in a trend. Counter trend waves are in 3 waves and simply correct the trend. These patterns move at what we call multiple degrees of trend (they are fractal, meaning there are smaller series of waves that move in the same patterns within the larger patterns). The keys to analyzing Elliott waves is being able to recognize the patterns and the degree of trend that you're working within.
The motive waves shown above are typical in terms of their look and length. Subwaves of motive waves measure out to specific lengths (fibonacci ratios) very accurately. Motive waves are the easiest waves to trade.
Waves 1, 3, and 5 of a motive wave pattern each contain 5 motive subwaves. Waves 2 and 4 are countertrend waves and move in 3 waves.
Motive waves also travel in channels. The red channel above can be drawn from the apexes of wave 1 and 3 on one side and waves 2 and 4 of the other. The end of wave 5 typically meets the trend line on the wave 1 & 3 side before it reverses.
Countertrend waves move in 3 waves and always retrace. You'll find much more about them in the countertrend section and the page on The Right Look.
To use Elliott wave analysis accurately, you must be able to recognize the difference between a trend wave (motive) and a countertrend wave (corrective).
____________________________
Registration for Commenting
Want to comment? You need to be logged in to comment. You can register here.
If you register, it protects your information. It also allows you to comment without filling in your information each time. Once you're registered, simply go to the home page and click on the login link top right in order to log yourself in. Usually, you'll be logged in for several days before needing to be logged in again.
______________________________
Problem receiving blog comment emails? Try whitelisting the address. More info.
______________________________
Tops in your field DZ 2
Tops in your field …

You are tops in your field.  Tried to follow Elliot Wave international for years.  They were always behind the market.  After discovering you, I perceive that you are an expert in reading the waves, which puts you way ahead of the rest of your peers. And you can read the Waves like you are reading tomorrow's financial section.  I pray you stay healthy.  —DZ
The Market This Week
Here's the latest daily chart of ES (emini futures)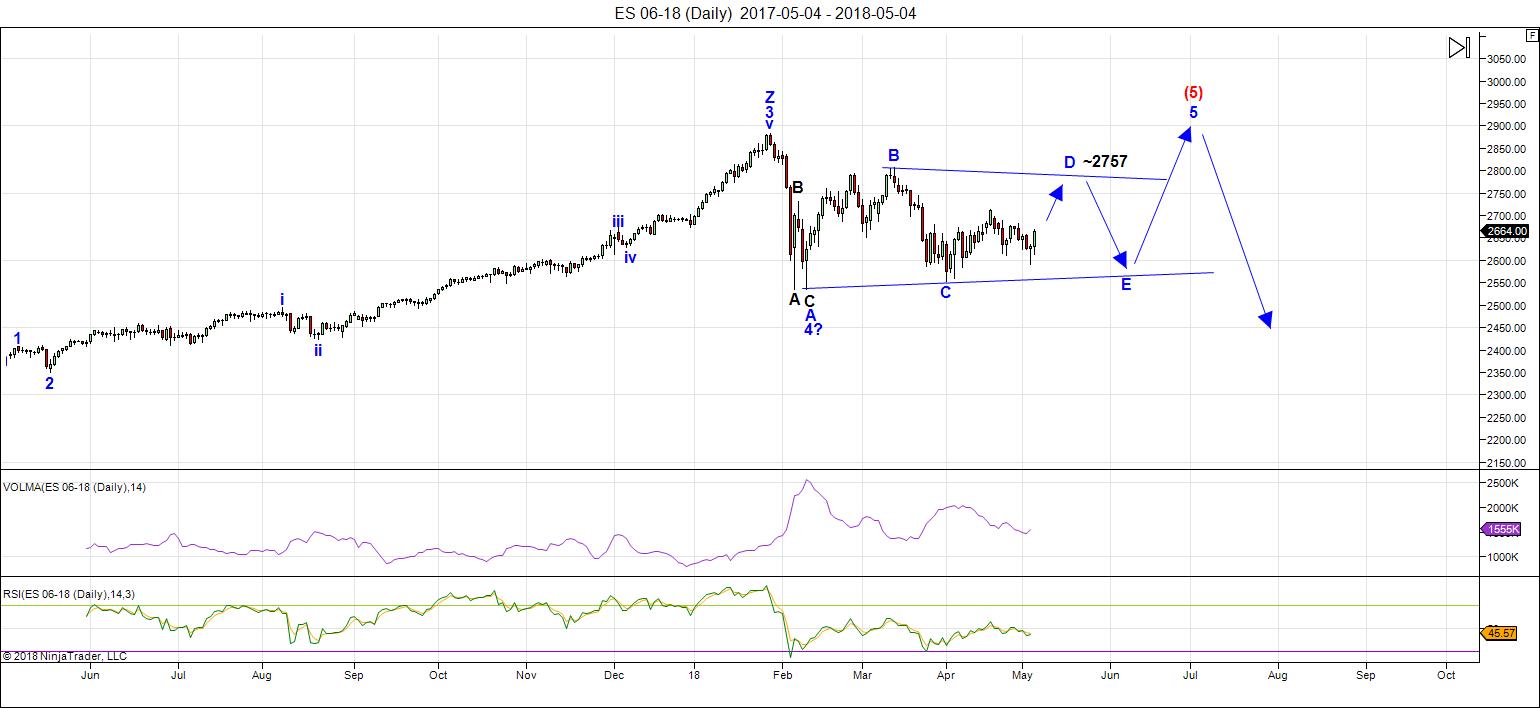 Above is the daily chart of ES (click to enlarge, as with any of my charts). No  changes really in the projection. From here to the final top should be fairly straight-forward.
This past week was bearish and produced a larger B wave in the continued rally of the D leg of the contracting triangle — the final fourth wave of the trend.
The drop this week changed the target slightly — that and the fact that the length of time for this rally is changing the level at which we'll connect with the down-sloping, upper trendline. The target on the upside now looks to be in the 2750 area.
After the top of the D wave, we'll turn down into the E wave, a higher probability trade, as the completion of the D wave actually confirms the triangle. It's not until that point that we have the slopes of the upper and lower trendlines in place.
After the E wave down is complete, we'll take off again to the upside in a fifth wave, which will simply finish off the pattern. We'll get to a new high and probably more, but don't expect (as I've been saying for a very long time) a large fifth wave that travels any great distance. (I think 3000 is possible but at the high end of the probability spectrum)
Summary:  We should continue up in the balance of the D leg this week. It looks like we'll have some weakness this weekend, but should turn up early in the week. Once D wave is complete, only the E leg (down) and a final fifth wave to a new high are left. That fifth wave up to a new high will be the end of the 500 year bull market.
___________________________
Trader's Gold Subscribers get a comprehensive view of the market, including hourly (and even smaller timeframes, when appropriate) on a daily basis. They also receive updates through the comments area. I provide only the daily timeframe for the free blog, as a "snapshot" of where the market currently trades and the next move on a weekly basis.
______________________________________
Sign up for: The Chart Show
Next Date:

Wednesday, May 16 at 5:00 pm EST (US market time)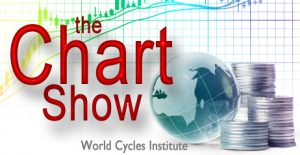 The Chart Show is a one hour webinar in which Peter Temple provides the Elliott Wave analysis in real time for the US market, gold, silver, oil, major USD currency pairs, and more. You won't find a more accurate or comprehensive market prediction anywhere for this price.
Get caught up on the market from an Elliott Wave perspective. You'll also get Andy Pancholi cycle turn dates for the SP500 for the balance of the current month. There'll be a Q&A session during and at the end of the webinar and the possibility (depending on time) of taking requests.
All registrants will receive the video playback of the webinar, so even if you miss it, you'll be sent the full video replay within about an hour of its conclusion. For more information and to sign up, click here.