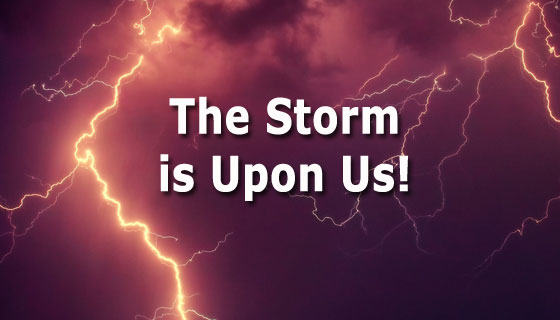 In the past few days, I've seen some intelligence dropped to inform us of what's happening behind the scenes as this way to free the kids, get back our freedom, and completely destroy the Cabal and all those who either support it, or are under its spell.
We're in a war for our minds and so the fog is rather intense right now. The propaganda from both sides is at an all-time high. However, we've known for some time that March was going to be the month when we'd be exposed to the truth about what's been hidden from us all of our lives.
Update (March 25, 2021): Intel is suggesting Sunday is likely the start of the Emergency Broadcast System — which should go on around the clock for ten days.
According to the information I'm seeing, sometime over the next couple of weeks, we're going into global martial law. All media will be shut down, along with internet, and phones. There will be a warning beforehand — a series of messages delivered to phones and TV sets through the Emergency Broadcast System.
Because this is a military operation, dates are fuzzy, but I've seen reference to a 12 day countdown that started on March 8 and will end on March 19. Many of the dates provided earlier on turned out to be false flags, and some dates were delayed (the military works on their own timeline) and they obviously don't want the enemy to know the plan.
On March 20, there's a worldwide Rally for Freedom. For weeks now, I've seem information about the upcoming 24/7 video playback of tribunals and confessions of those who have been targeted by indictments. There is a map below that shows the number of indictments being unsealed in the United States, on a state-by-state basis. There is a similar trove of indictments on a global basis.
Again, I'm unclear about specific dates, but March is the BIG month where what's being going on behind the scenes (there's lots of information being dropped this week about arrests that have been made) and all of the satanism, pedophilia, and treason is going to come out — you can count on that.
This is just a head's up that you should stock up on food for about a ten day period and make sure you're prepared for a lockdown of sorts for that period of time.
Below is one of four panels of intel I've received within the past 48 hours.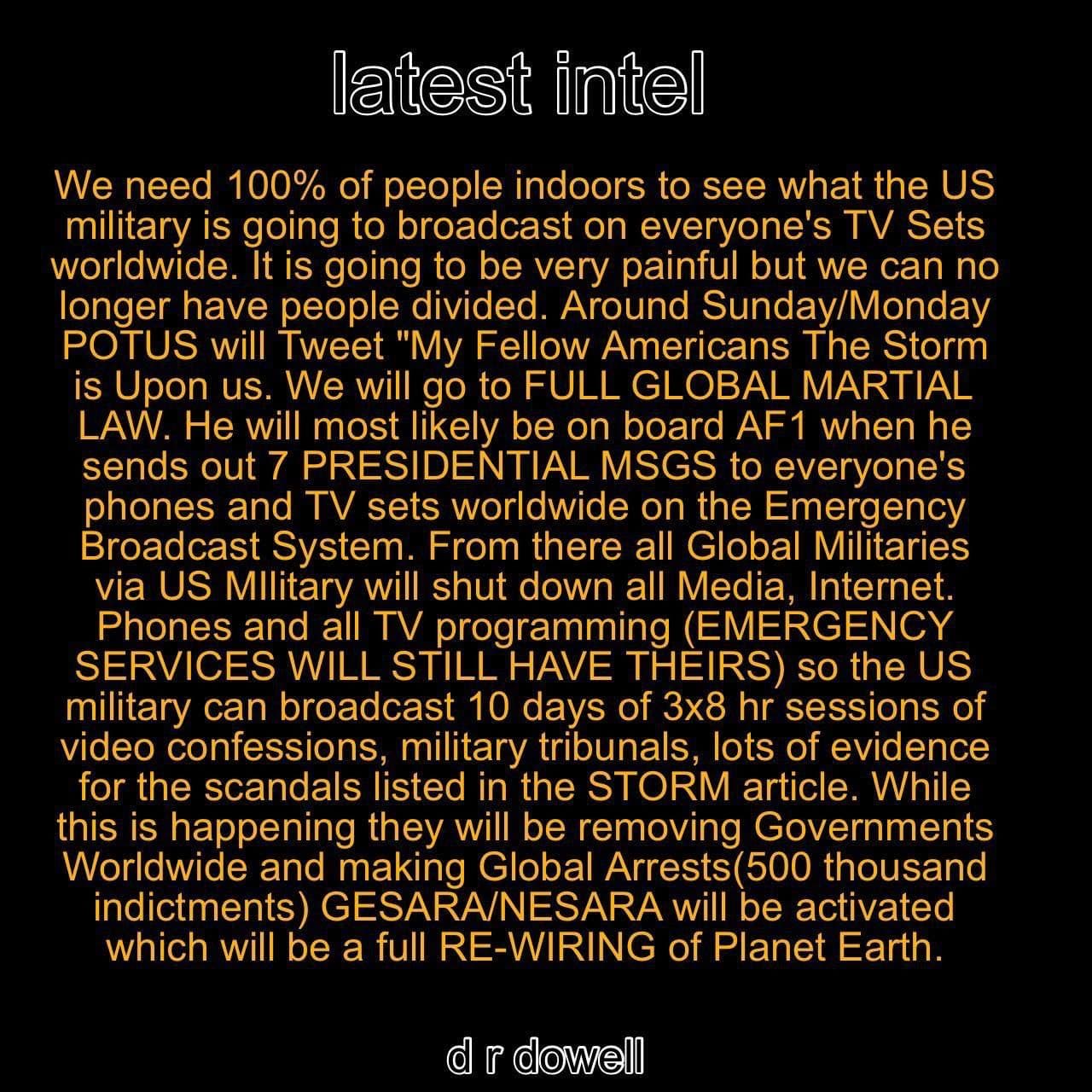 Here's a very recent message from Lin Wood, who has worked with Sydney Powell on the US election fraud allegations that were in front of the Supreme Court in the US. Italy and the Vatican have admitted to being at the core of what could be easily categorized as an act of war. The Vatican has been "taken down" and arrests made at the very highest levels, as well as with the Italian government. Most of this, of course, does not make it the corrupt main stream media.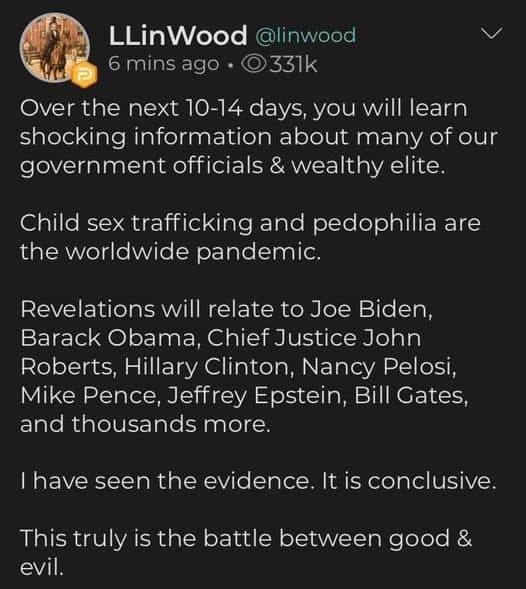 Below are the "promos" for the worldwide Freedom Rally. You can click on any of the visuals on this page to expand them. If you've been watching, you've seen quite a number of CEOs "going into early retirement" and there are celebrities disappearing, along with governments losing top people on a worldwide basis. Arrests are underway on a grand scale. Children are being saved. The Great Awakening is in full swing.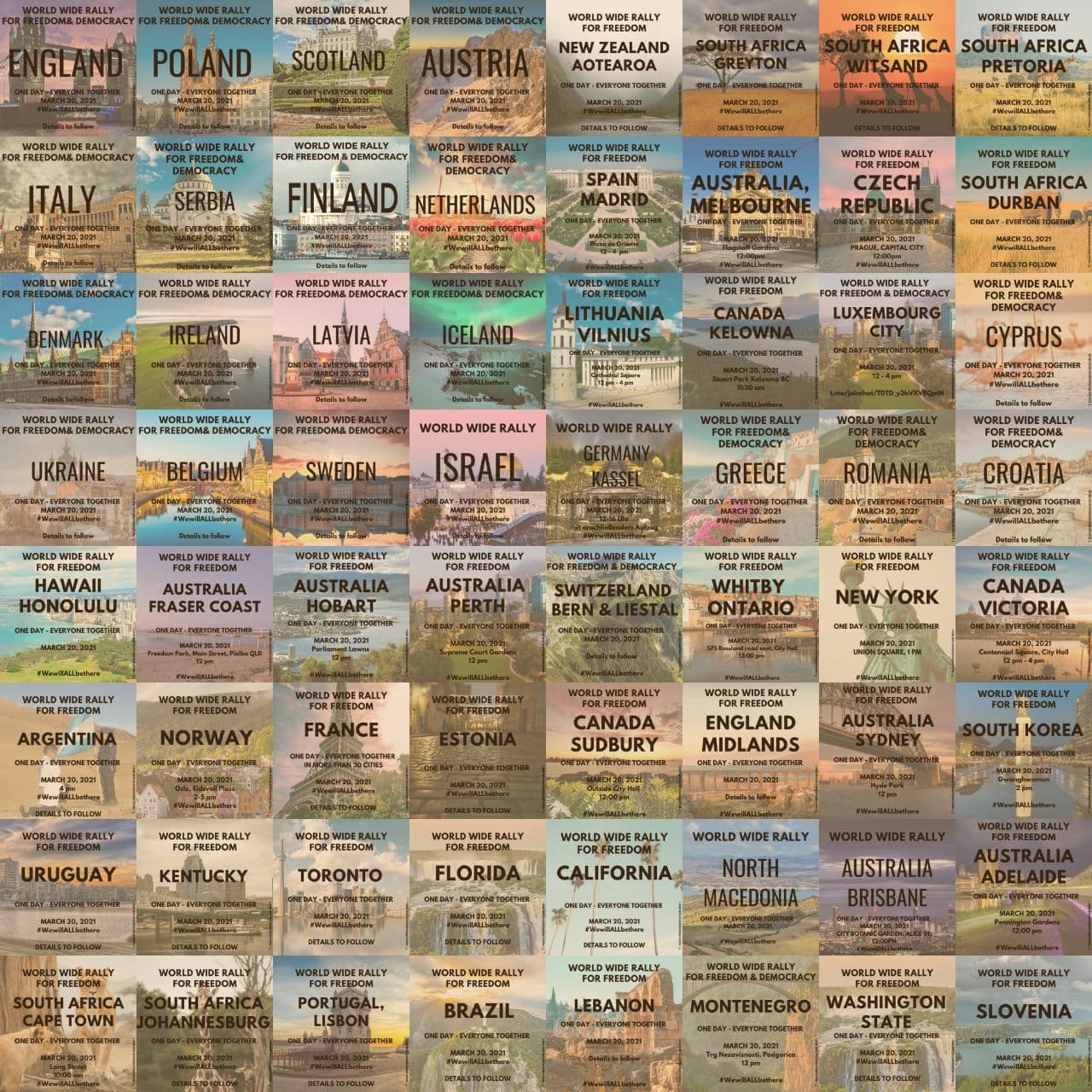 Below shows the number of indictments in the US that are being unsealed.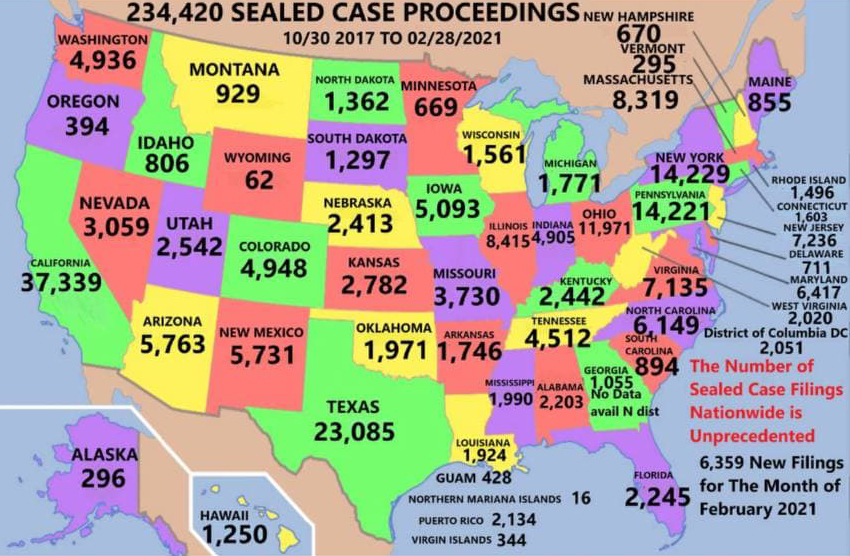 Below is a summary of what's coming, some of which I've going into greater detail on in other posts, and a LOT MORE detail on my site, thetruthsage.com. We have a new financial system coming (this happens at one thousand year cycle tops) and the plan is to have debt zeroed out (credit cards, mortgages, etc.) by March 15 (however, I can't personally vouch for these dates).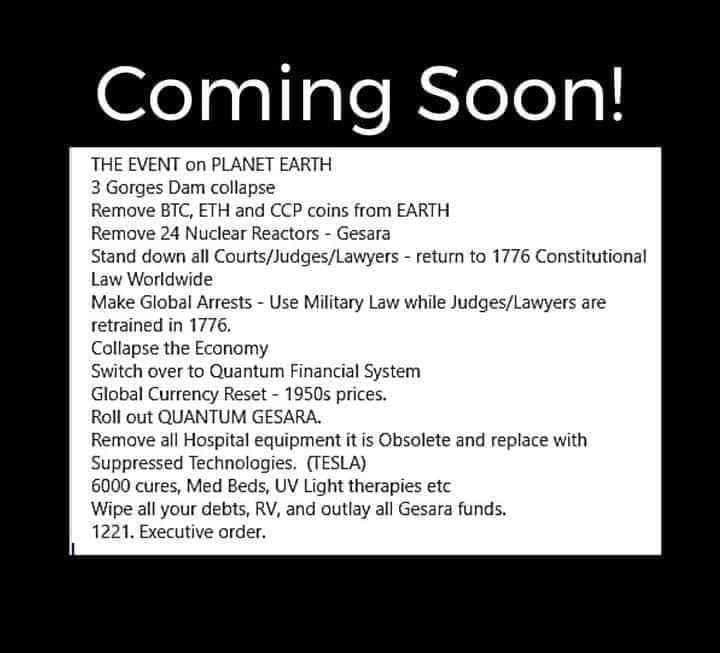 This is a 1030 year cycle top, similar to the top of the Roman Empire (two thousand years ago) and the start of feudalism about a thousand years ago. I've been predicting a major revolution for 15 years now, based upon the work of several luminaries from the early 1900s and my own work on this subject.
Nothing can stop what is coming.
Know the Past. See the Future.