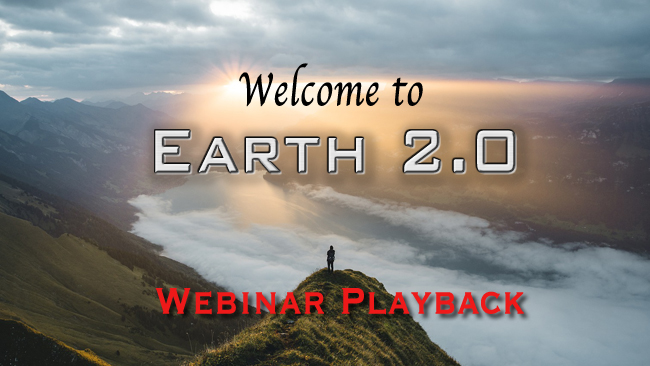 RECORDED: Thursday, May 12, 8 pm EST
"Welcome to Earth 2.0" is a free webinar series that focusses on the tremendous changes that will affect all aspects of your life. These changes are so all-encompassing that it's best to get educated on the basics as soon as possible. It will set you way ahead of the crowd, and after all, these changes are worldwide, so the crowd consists of seven billion people!

Here's the playback video of the May 12, 2022 Webinar:
The World has Changed!
In this webinar, I'll be providing an overview of all the elements of GESARA, and give you an update on progress.
I'll cover each of these items (and more):
No more taxes, income, or otherwise (other than a consumption tax on new items).
Free energy, and utilities.
New gold-backed currencies that will do away with inflation (which destroys your standard living).
The return of your STRAWMAN account money, along with past taxes and interest.
A new cell phone, internet that's unhackable, and a banking system that's all yours, in your full control, with no charges, not even for sending money digitally anywhere in the world.
Full health and the ability to roll back your current age, and a working pineal gland.
A new common law legal system (which does away with maritime law, which was designed to rob and eventually destroy you.
No more wars or corruption.
Your kids will be safe from human trafficking!
Full knowledge as to your true ancestors and past lives, and the history of the universe.
A new Bible of 777 books.
Space travel and time travel, if you so desire.
6000 cures that have been hidden from you and all sorts of new, unbelievable technologies.
and lots and lots of love, truth, and complete freedom as you've never known it before!
Peter Temple, theTruthSage