Update Friday, March 18, Before the Open
We look like we're completing a very small wave 5. I would be looking for a top this morning and by the looks of things, it may be within the first hour or two, if not immediately.
Each of the waves in futures this morning are tiny and each successive one appears smaller than the last.
_________________________
Update Thursday, March 17, After the Close
The vigil continues ….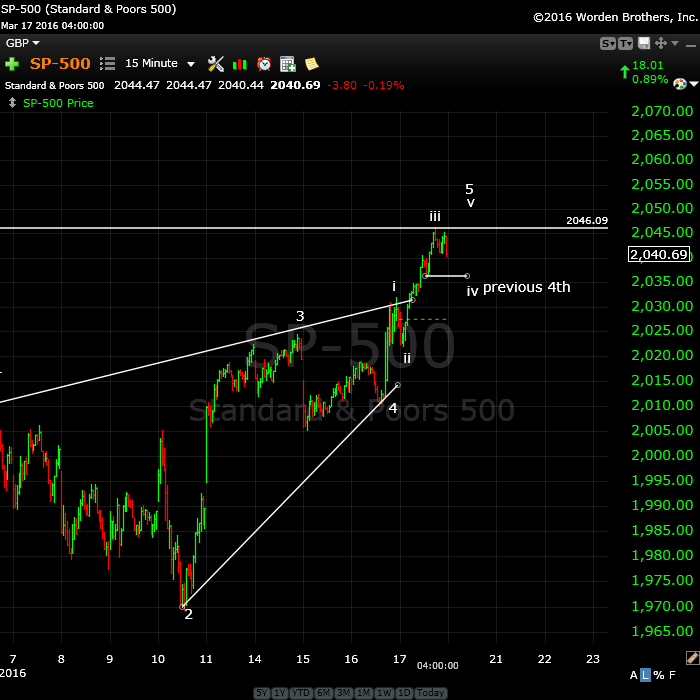 I know this is making us all crazy, but we're really, really close. Above is a 15 minute chart of SPX. Looking closer at this final wave up, it appears after all to be not quite complete. The wave down in the afternoon is not motive and it seems to me that we have a 5th wave up to go. I note that the third wave up in SPX (wave iii) is actually much shorter than it should have been under the above count (it's about the same length as the first wave (wave i).  It's actually just a little longer.
So the waves are progressively getting shorter, which often denotes an impending top. I would expect wave 5 then to be short.
I note that IWM (Russell 2000) is one dollar away from its target of $110.00, so this adds credence to the need to a further small rally.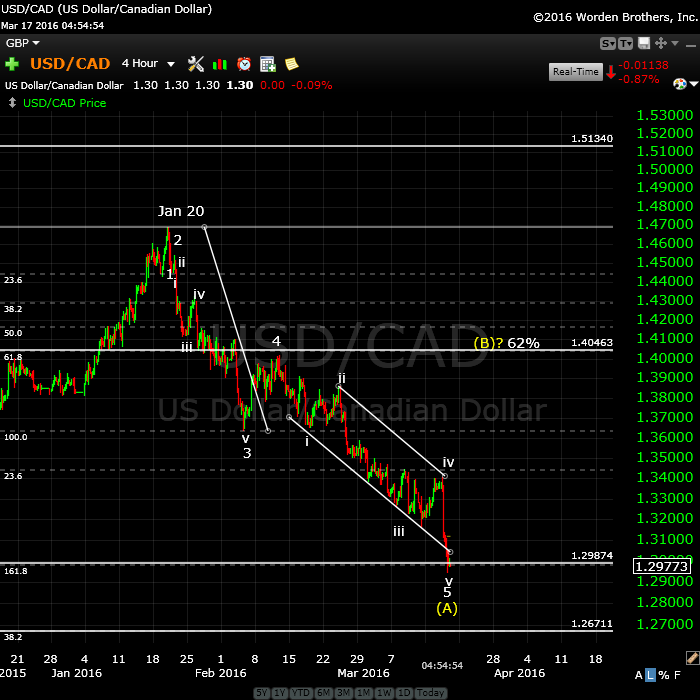 Above is a 4 hour chart of USDCAD. I have been watching this first wave down unfold and last night, it met the target. The wave measures and numbers as a first wave (and A wave in this instance). It has retraced right to the area of the previous fourth. It should now correct to the 62% level in a wave B.
_________________________
Update: Thursday, March 17, 1PM EST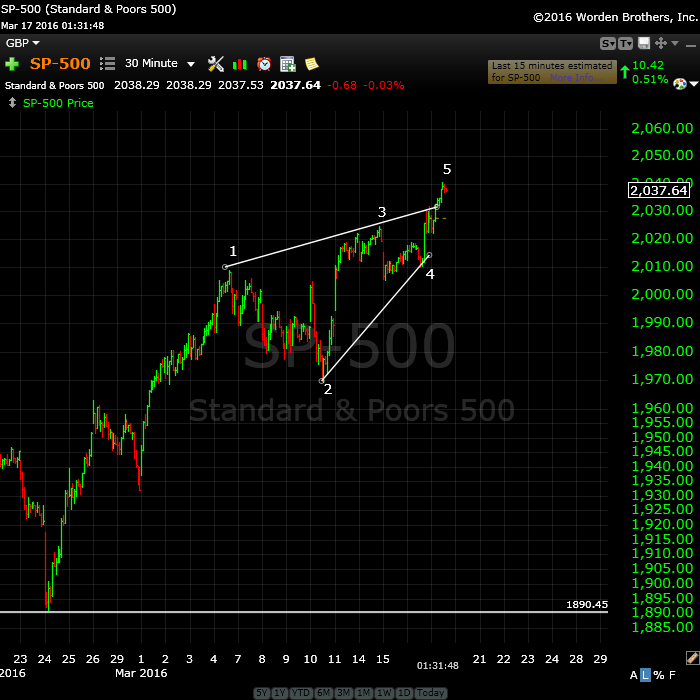 Above is the 3o minute chart of SP500 so you can see the ending diagonal formation I mentioned a couple of days ago. It's now almost complete.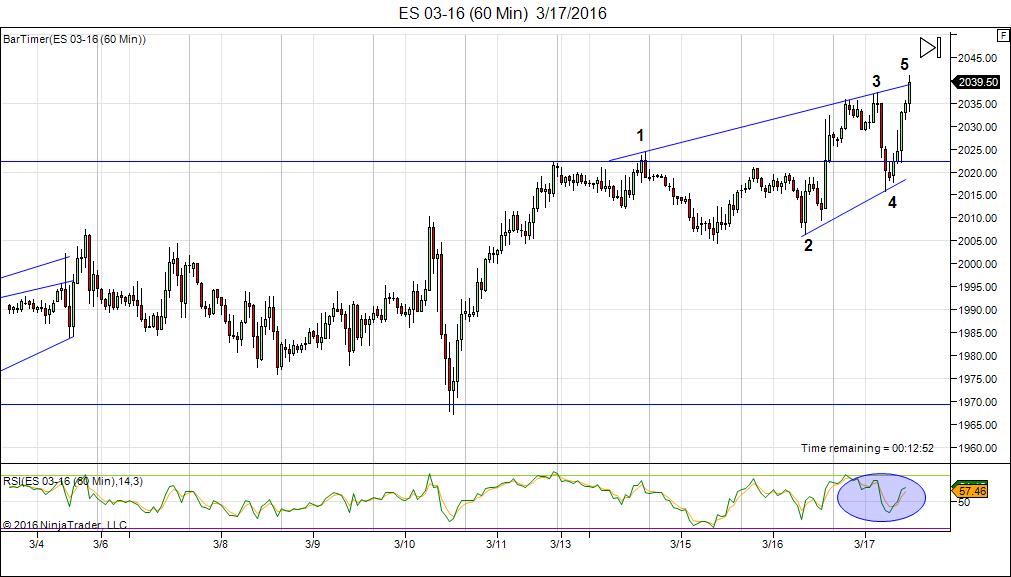 Here's the pattern I'm seeing in ES (60 min chart). This is the ending diagonal I mentioned two days ago. It is just about "played out." We're in the final wave. I circled the obvious RSI divergence at the bottom of the chart.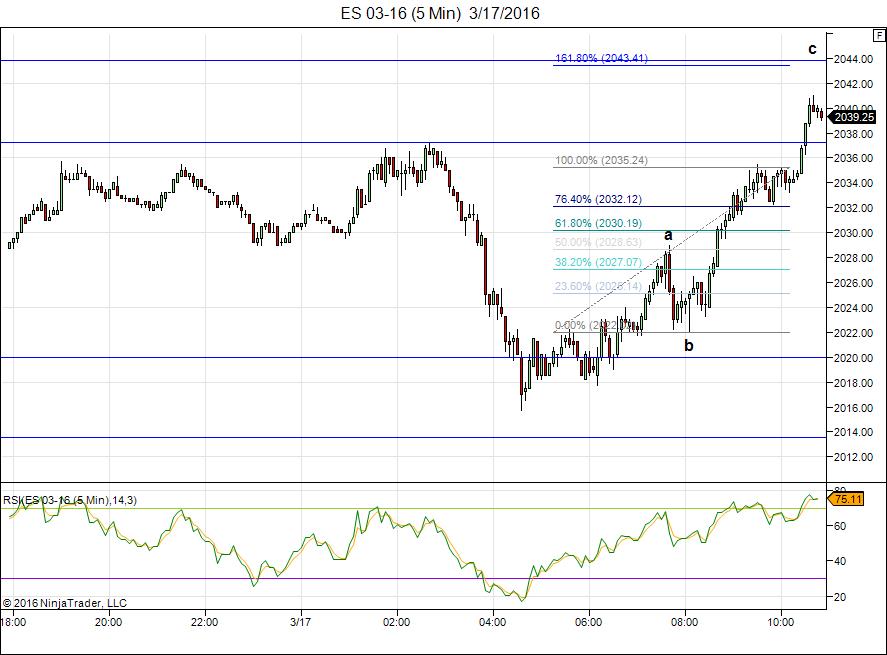 Here's the 5 minute chart of ES. In the C wave, I can almost count 5 waves up with one more small wave to go. This gives me the target of 2044.

Above is a daily chart of ES courtesy of Mr. Fork (AZ). You can see Andrew's pitchfork pointing to a turn just about where we are, so this is a different perspective that points to the same result: A turn in the next few hours (I think likely today).
I've turned neutral on EURUSD. Here's the daily chart of EURUSD showing the waves up over the past few days that are not motive so far. I was expecting the motive waves to continue, but this flashes a warning. We may have gotten as much as we can out of this pattern.
I have an issue with the first wave down as it doesn't look motive to me, but the current look of the second wave forming cautions that we may be changing direction. So I'd watch for a double top with the previous 2nd wave spike and then a turn down.
________________________
Update Wednesday, March 16, 1:30 PM EST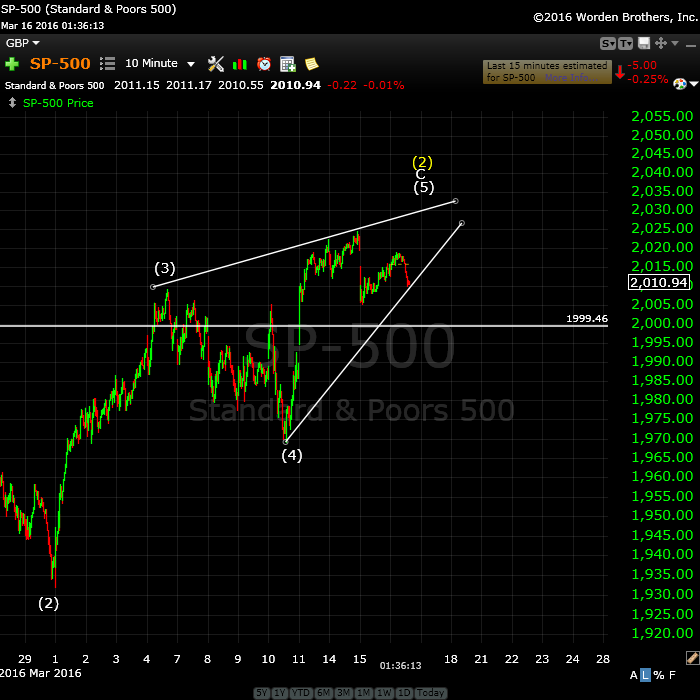 Above is the 10 minute chart of the SP500 showing the revised ending diagonal just ahead of the Fed announcement. It's calling for a spike up to finish the pattern and the entire wave up. Whether it turns down today or tomorrow morning is the big question.
Update Wednesday, March 16, Before the Open
Scary looking charts in futures this morning (if you're a bull).
I think what we're going to see today (the most dramatic part is likely to be after the 2PM EST announcement) is a final wave up and a reversal. And by the way, it doesn't matter what she says. Anything will disappoint.
The reversal may or may not come today, but we'll certainly see it by tomorrow morning. I will post the EW preferred entry paragraph below here.
This final wave up will end the ending diagonal I mentioned yesterday and all of wave 2  up. We're heading down into wave 3 and I'll post a path once I see where we end up at the high.
Here's an updated trade setup in EURUSD I posted a few days ago.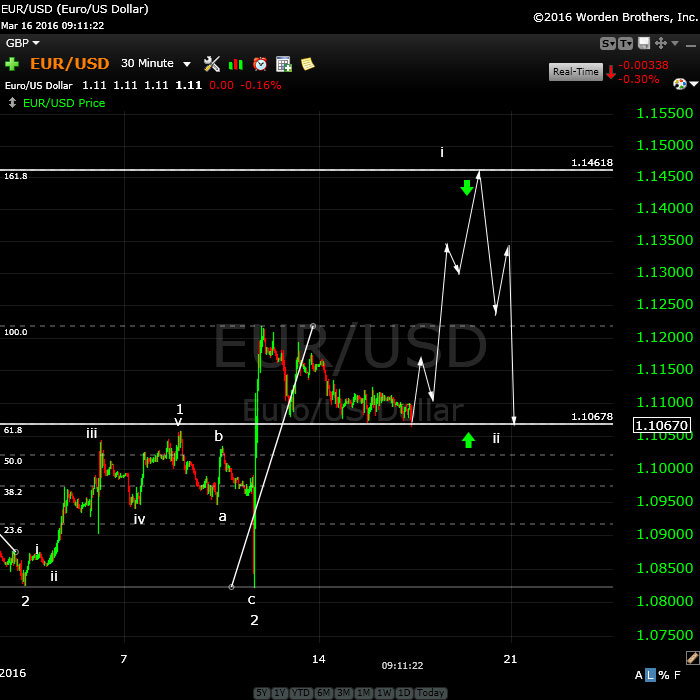 Above is a 30 minute chart as at this morning of the EURUSD showing the first part of a wave i up and a 4th wave retrace to the 38% level. It should head up when we get the reversal and the path after that is shown. Once it retraces to the smaller wave ii area, it will head up again in a large wave 3.
These moves should mirror the moves in the US market, but reverse (just like a mirror 🙂  ).
We've been sitting for a couple of days waiting for the US market to move, as you can see.
NOTE: The only issue I have with it is that this "fourth wave" it's in  now has taken a very long time to form and so this could end up being a corrective wave, so be careful if it moves down from here to any great degree. The larger trend appears to be up. I expected it to turn back up a couple of days ago, though.
___________________________
First Wave Down – What to Watch For
Tonight we're dangerously close to a top of a second wave (in some cases, a 4th wave).
Let's look at the SP500. When we turn over, we should drop like a stone. A good index to look at in terms of what motive looks like is IWM – perfectly formed motive waves.
The first wave down will be in 5 waves and will likely drop to about 1890 SPX (previous 4th wave). After that, we should get a second wave that will retrace in 3 waves to about 1958 (62%). That's the preferred EW entry point. So don't feel you have to rush in. There'll be a much better opportunity at the second wave level than at the top and the risk is substantially reduced.
______________________________
Update: Tuesday, March 15, 2:15PM EST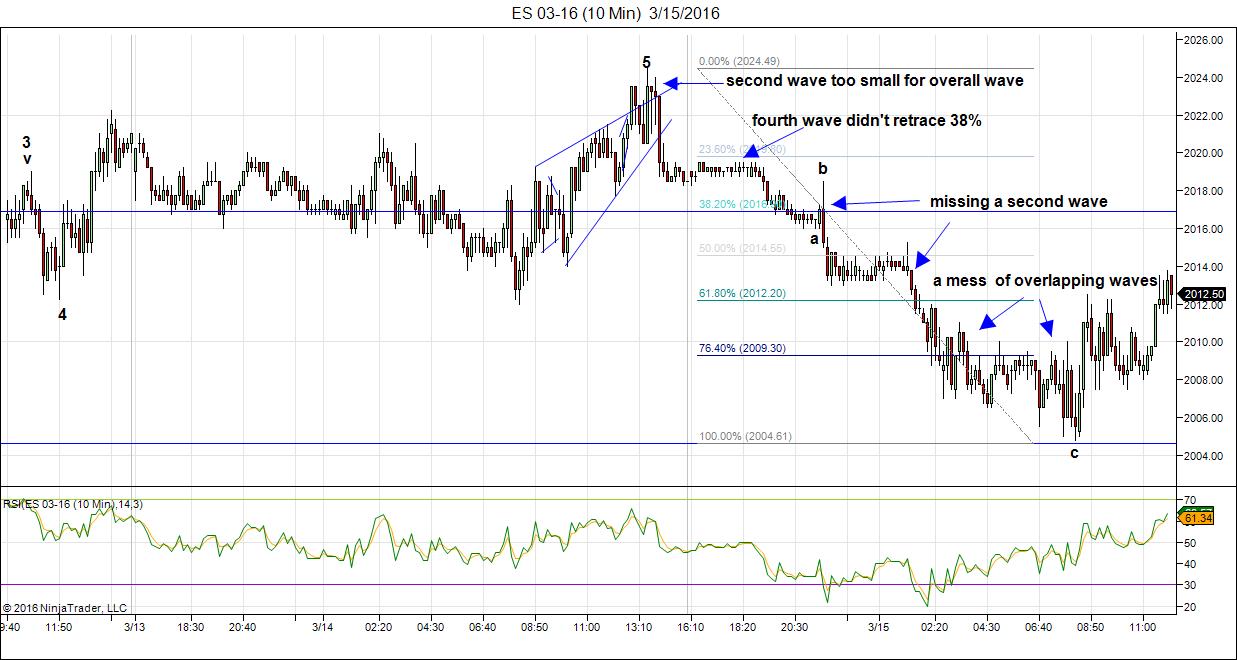 Above is the 10 minute chart of the ES (SPX futures). It shows the wave down last night and the things that jumped out at me when I analyzed it to figure out if it's motive. It kinda has a motive look to it to the untrained eye, but it has a lot of inherent problems.
Elliott used to talk about the "correct look." He meant that the key corrective retracements (second and fourth waves) have to look balanced. In this case, there's a very tiny second wave that isn't "balanced" with the rest of the wave. It's way too small.
The fourth wave has to retrace 38%. This one hardly moved off the ground.
The third wave always has a motive set of waves within it, but in this case there are obvious second waves missing. When you have a sheer drop after a spike, it usually means it's not a motive structure.
Finally, the mess at the bottom has no defined 2nd or 4th waves and it's not an ending diagonal, which has a very particular structure to it. So what this tells me is that it's a corrective wave.
So … one more time to the top, and then down for good.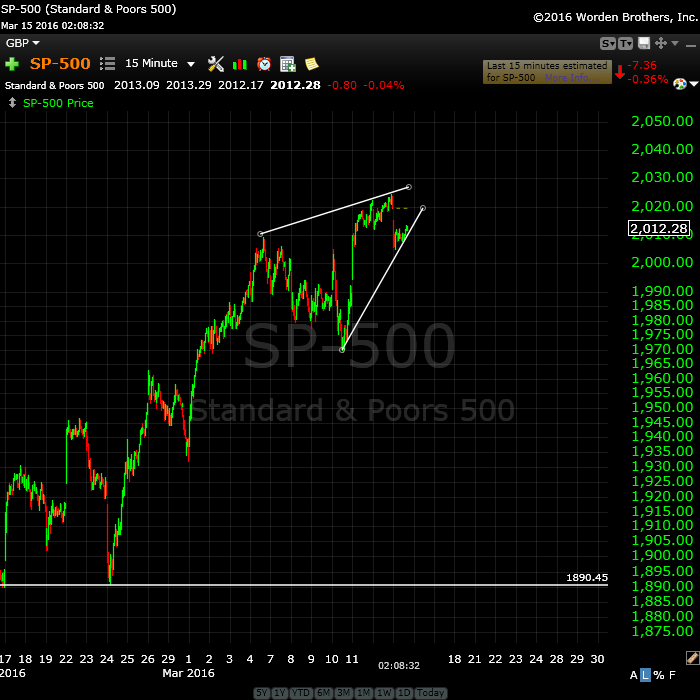 Above is the 15 minute chart of the SPX, showing the C wave up and the five wave structure within it, although I haven't labelled the waves. You can look at the two charts below for all the labelling.
What I see here is another ending diagonal on a much smaller scale. The reason I went looking for this is that I mentioned in comments that the wave up this morning was in 3 waves … everywhere. If we're going to a new top (or a double top), that would be an ending wave and should be in 5 waves. However, it's not; we have waves in 3. So, that leaves only one option—an ending diagonal.
And when I backed out the chart, voilá, there it is! So expect a new high in a fifth of a fifth wave, but I can't give you a target end number. However, when it stops (it shouldn't go very far), it will end with a dramatic reversal. They always head for the start of the pattern (in this case, 1969 or so).
We have a Fed announcement at noon tomorrow (Wednesday) so I would expect the drama then.
NOTE: Actually, waves in three in a fourth wave create one general option—a triangle. An ending diagonal is a triangle (one of several different forms of triangle). You find them at the very ends of major waves (a 3rd, 5th, or C waves).
_______________________
Update:  Monday, March 14, After the Close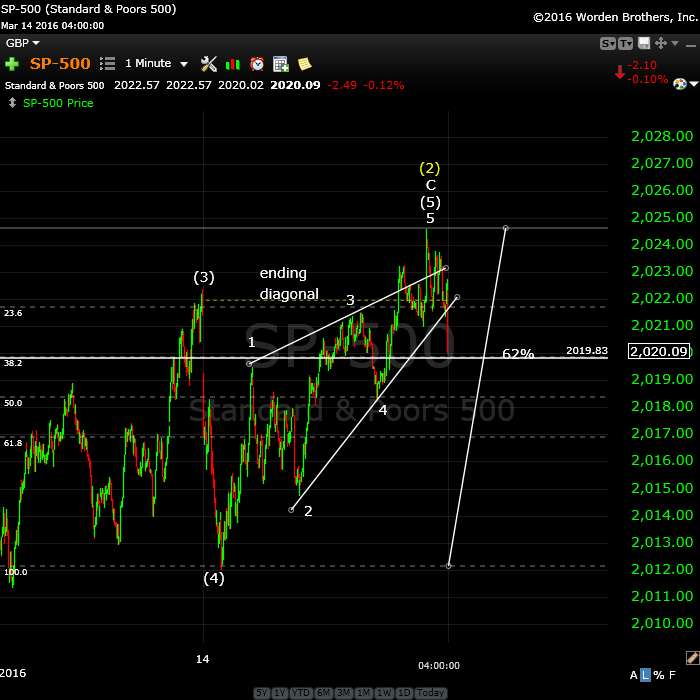 Above is the one minute chart for SPX for March 14 (at the close). The top appears to be in to me.
After five waves up, the trend changes, as I've been saying. We appear to be out of "up waves." 🙂
We traced out an ending diagonal as wave 5 of 5 (the final wave) and we dropped through the lower trendline after completing a 2nd wave. So we're on track to finish a first wave down, which should drop to the previous 4th (4) before retracing a second wave.
What's interesting about the last minute drop in SPX is that it stopped right at the 62% level. I always look for clues at the end of the day as to what might happen tomorrow. The clue here is that if ES completes a first wave down tonight, when it retraces a second wave in the morning, it will end at the level the SPX ended at tonight, completely filling any gap that might be otherwise formed.
I don't know if that will happen, but the possibility is there. There is an option that ES could do a double top tonight, but with the 5th wave seemingly already complete, it should not go up any higher than that.
Breadth and volume were negative today.
IWM (Russell 2000) completed a double top to a second wave today. It looks like it's already completed a motive first wave down.
Note that EURUSD appears to have turned up. It also completed (or almost so) an ending diagonal. If it continues through the upper trendline, then this would suggest to me that the US indices will continue down from here.
__________________________
Original Post: Sunday, March 13, 2016
The Larger Count is Down
As I've been saying since May 20th of last year, this is a bear market. The larger count is down.
Now, there are still a lot of skeptics—both on Elliott waves and the idea that the market is heading down—that view this blog. It honestly beats me how, with the record I have in forecasting this market, how they can still doubt every single count and be proven wrong over and over again.
However, I guess that's human nature. It's why people get slammed every time we fall into a major depression. Elliott waves, analyzed properly, is how the market moves. Coupled with Andy Pancholi's cycles analysis (the best I've seen anywhere), you have the holy grail in trading. The major cycle turn date coming up is March 14/15.
I'm in the midst of reading "The Secret Life of Real Estate and Banking" by Philip J. Anderson.  I'll get it added to my reading list before the weekend is done. It's a fabulous book that documents the ups and downs of the American economy from the early 1800s through about 2007. It's an eye-opener in terms of the role of inflation, deflation, and real estate to any "free" economy.
Fiat currency, credit expansion, and fractional reserve banking are, of course, the biggest culprits leading to an eventual lack of confidence and ensuing crash. This pattern happened over and over in the 1980s and into the early 20th century. We just never learn.
Well, here we are again. But this time, we have the largest credit expansion in the history of the world. Coupled with a major cycle downturn, the forecast is bleak. (I have a video ready to mount on "Global Cooling" which explains the larger climate cycles and why we should be concerned about this one. Look for it later today or Monday.) So far, it's on Youtube only.
I have an interview coming up in a week or so on trunews.com on this subject and I'll update you when we get a little closer.
The best TV right now is the US election. If you think the political landscape in the U.S. is particularly negative now, just wait a few months … the coming downturn should change just about everything.
We're about to top again and this time, there will be no question as to where the markets are headed. However, there are those who will expect a turnaround and a new high right to the bottom. It happens every single crash cycle.
Time to start getting prepared …
Here's a video overview of the market for Monday, March 14:
Market Report for March 14
| | |
| --- | --- |
| | Make sure you zoom the video to full size with frame expander (arrows) in the bottom right hand corner and also set the quality to as high as your web connection allows. This is an HD quality video so the best viewing is at that level. |
_______________________________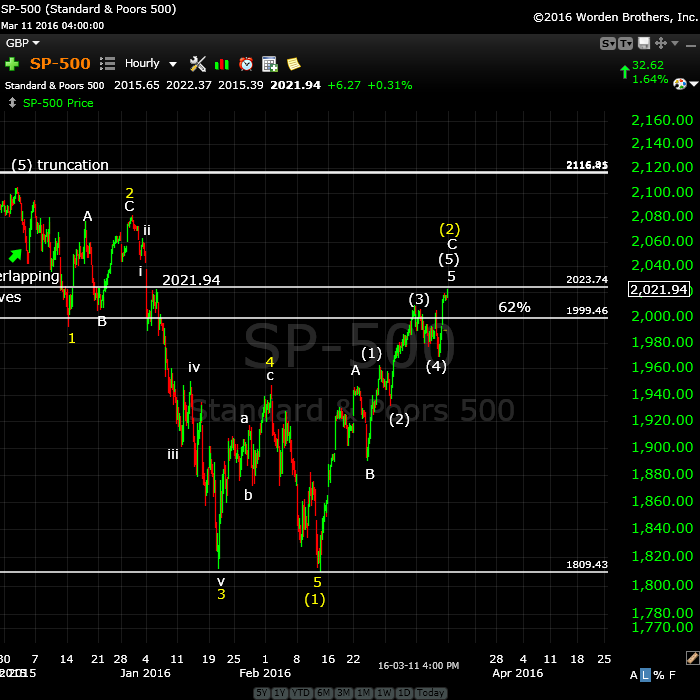 Above is the one hour chart of the SP500 showing the path from the top of the larger second wave on December 3 to the top of this smaller second wave on Friday. Five waves marks are trend change and we're almost there. The most recent set of five waves makes up the C wave of an ABC corrective pattern that will send the markets to new lows.
We're not quite finished. We have a small 4th and 5th wave of the 5th to complete (likely over the next few days) and then down we go.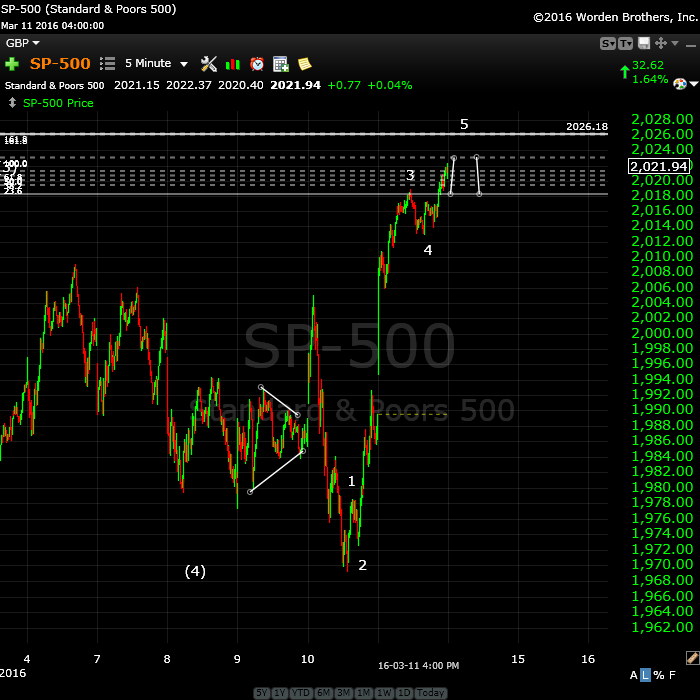 Above is a 5 minute (zoomed in) chart of the SP500 showing the structure of this final 5th wave. We're finishing the fifth of that wave and the waves themselves are tiny. The end is very close.
The fibonacci tool shows the projected length of the last wave up. Now, this will depend on the depth of the 4th wave drop which will help determine where the final top tick end up. On the top chart, you can see there's a previous wave  top at 2021.94, which is exactly where this wave ended up on Friday. So the market might be signalling that an up and down wave will reach this same position and then turn over. We'll have to wait and see.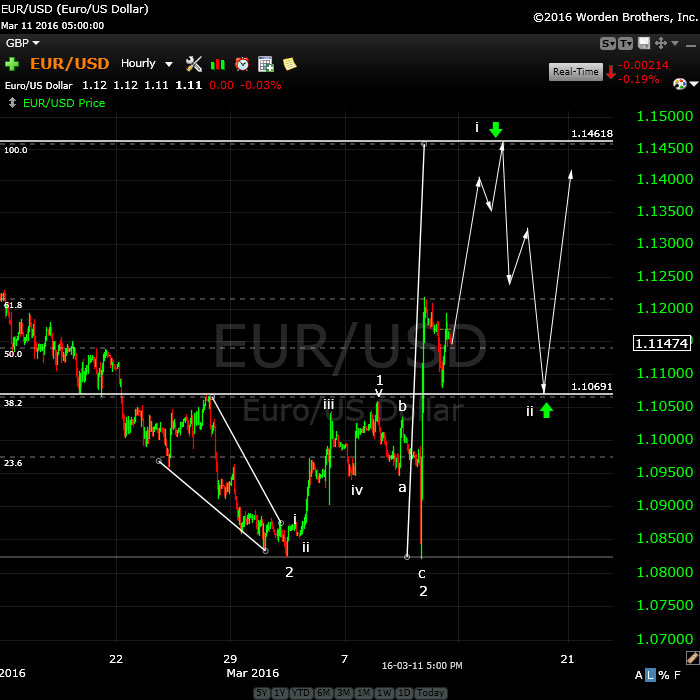 Here's the one hour chart of EURUSD. I've drawn in the projected path. I would expect to see the completion of wave i (above) as the US market traces out a fourth wave and then the second wave (wave ii) in EURUSD to 1.10691 as the US market traces out its fifth wave.
This event would place them both at the beginning of third waves. Third waves are "no where to hide waves." Either asset will would be a great opportunity.
Have a great week! It will be a volatile one.