Wednesday, October 21, 5am EST Update
Finally we have a full ending diagonal in ES: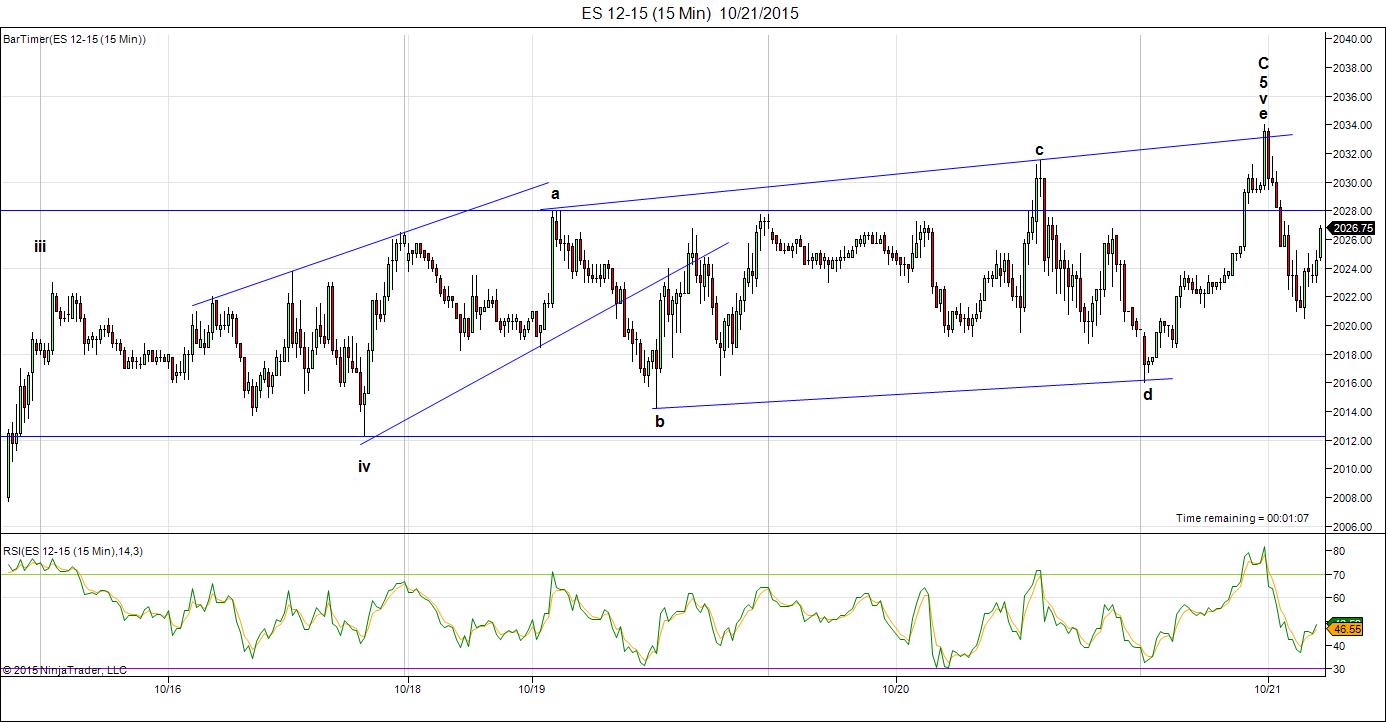 Above is the chart of ES (SPX futures) with a full ending diagonal marked. During the evening on Tuesday, the final leg (e) traced out and it became clear that we had a full ending diagonal. The SPX may have already completed one wave down and in that case, we'll like see a second wave in all the indices and futures this morning, heading down into a third wave.
Either that, or we'll head back up to the top to test one final time, but it's really not necessary as the ending diagonal pattern is complete in both cash and futures.
___________________________
Tuesday, October 20 Update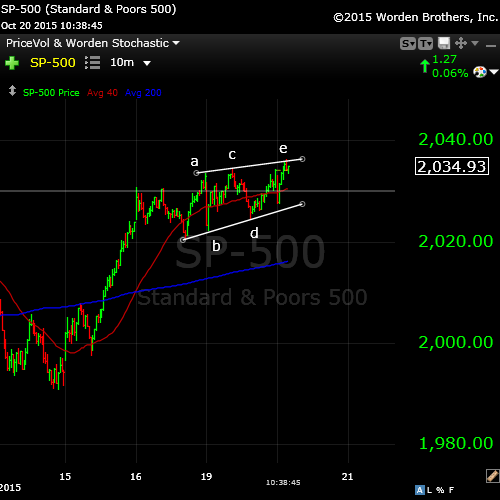 Above is the SP500 as it is at 10:30 am EST. We're just completing an ending diagonal. The final wave is in. We just need a turn down.
_________________________________
Monday, October 19 looks like the big day. I expect the markets to turn down at some point during the Monday session.
Last week, I had suggested October 13 as a possible top. The cycles were pointing to that date, as were some planetary influences. And we were close to a top in the Elliott wave count.
So, why didn't we top? Well, we were missing one last wave up, which became very apparent when we had a very choppy 3 wave drop to the downside. 3 waves always means a retrace.
Now, let's address "cycles." When cycles show a top, they're really in neutral territory. Cycles haven't actually turned down; there's no impetus to head lower. However, a few days later, once the cycles have descended to a lower level, pressure begins to mount and the effect should get stronger and stronger for the market to follow. I find the analysis program I use to be extremely good at forecasting turns, but cycles can slide slightly over time. Accuracy within a week or so is really a terrific outcome.
In today's post, I'll look at what happened Friday and where I think the market is headed. I'll use the SP500 as an example. And then I want to go through the major indices and show how they're all on the same page.
Bottom line: We have a pending top in place. I expect a turn down on Monday. The SP500 (and Russell 3000) have gaps nearby. It remains to be seen whether they will get filled or not on Monday.
Wave 2 or 4? There is a question as to whether the very large correction we've been experiencing since August 24 is wave 2 or 4. Because the NYSE (comprising all the US stocks, except the Nasdaq) has not reached 62%, which is the usual target for wave 2, I've decided to label the correction as wave 4 until proven wrong. This makes the downside less limited. However, once we see the length of the first wave down, it should give us a clue as to whether we're in wave 5 or a very much larger, higher degree Wave 3.
Here's a textbook projection of where wave 5 might go, based upon this being a completed 4th wave correction.
As we approach the top of this correction, I often get asked where the best place to enter is. Here is a brief explanation of what to expect and the safest point at which to enter a short trade after a first wave down.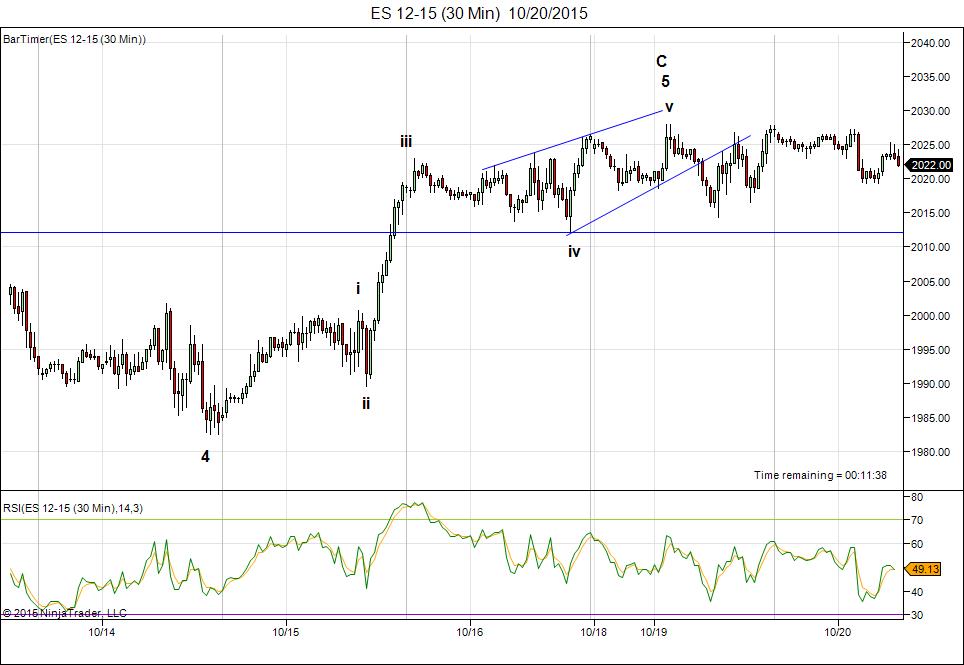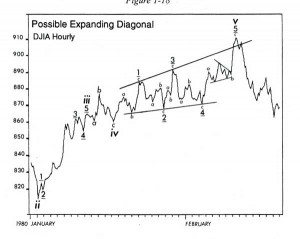 Here's a 60 minute chart of ES (SPX futures) from Monday (above). It traced out an expanding ending diagonal right at the end of the day on Friday. On Sunday and Monday, it traces out a more tradtional ending diagonal. This is an ending wave and signifies that the entire structure is complete. NQ and YM traced out exactly the same ending diagonal structure on Friday.
On the left is a diagram of an expanding ending diagonal from The Elliott Wave Principle, by Frost and Prechter) you'll find this book in my recommended book list of the site.
Ending diagonals typically exhibit a "throw-over," so the ES could go a little higher, but the turn is usually dramatic and retraces the entire structure (to wave 4) very quickly.
Sunday may see the futures retreat and then return to a double top on Monday (not shown in the diagram to the left). It doesn't always happen, but it's relatively normal.
Let's get on to the cash indices: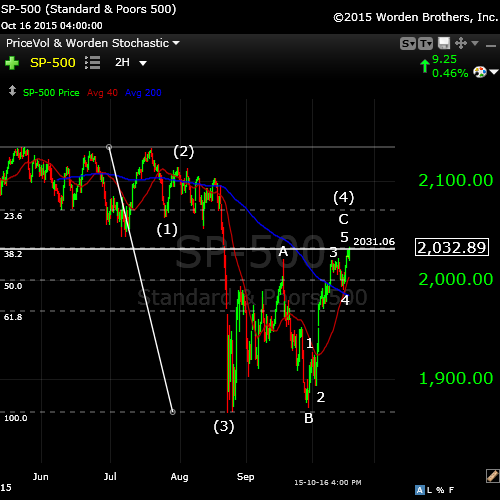 The 2 hour chart of the SP500 (above) shows the bigger picture. We traced out a fifth wave on Friday afternoon that may or may not be complete. There's a small gap about two points above the current level and that may need to be filled. Otherwise, the structure is complete and we're poised to turn down.
I've placed the 62% retrace line (from the market top) on the chart. This is the target I've been suggesting we would eventually test. On Friday, we slightly exceeded it.
Here's the explanation of the correction we've formed on almost all the indices: a regular flat.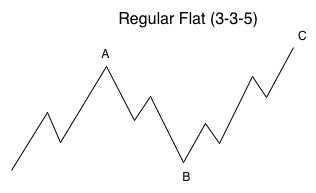 Currently in the SP500, wave 3 is 1.6 times the length of wave 1. In the final 5th wave, wave iii is 1.6 times wave 1. If wave v traces out the typical full length (1.6 x wave i), it would top at 2052. Based upon what ES did on Friday (an ending diagonal), I find it less likely that wave 5 will extend to its full length.
Any flat correction is in a 3-3-5 pattern. This final wave C has now traced out a complete, or almost complete set of 5 waves. Five waves up marks the end of a sequence and demands a trend change.
In a regular flat correction, "wave B terminates about at the end or about at the level of the beginning of wave A, and wave C terminates a slight bit past the end of wave A." If we complete a flat that goes to a slight new high, then this would have to be a larger 2nd wave and the downside will be much greater than a 5th wave. For example, the third wave alone would take us down to the low 1600s in the SPX. We would have a 5th wave after that.
___________________________
Let's look at the bigger picture to get a sense of where we're possibly going longer term.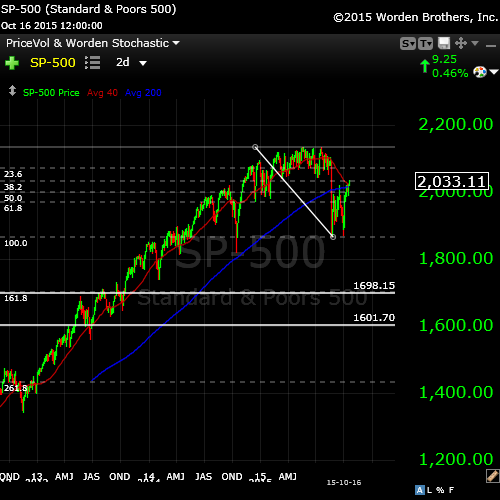 Above is a 2 day chart of the SP500. I've overlain a fibonacci retracement tool to give an indication of our target if this is a typical first wave down. In that case, the 5th wave is typically the same length as the first three waves combined. This would suggest our target is somewhere in the 1600s area.
Once we've seen the first wave down, it should give us an idea of the magnitude of the balance of the descending waves.
The Nasdaq now looks the same as the other indices. This final leg up reached the 62% retrace line (the horizontal line) on Friday and slightly exceeded it. We've traced out a complete set of 5 waves up, or it should complete on Monday morning.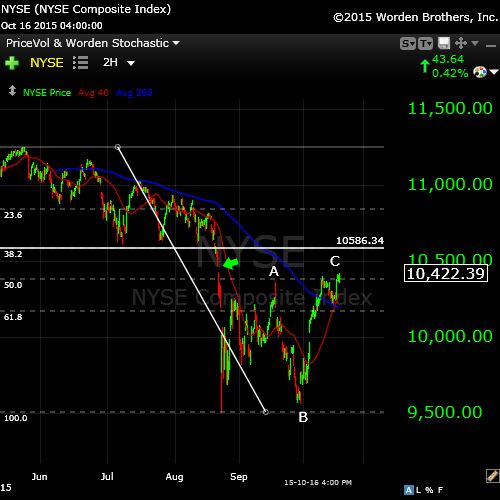 The NYSE (above) has not met the 62% retracement level (horizontal line). This is what has led me to believe we're still in a 4th wave correction. If somehow we reach the 62% mark before turning down, I will likely update my labelling. In any event, the wave structure looks complete or almost so.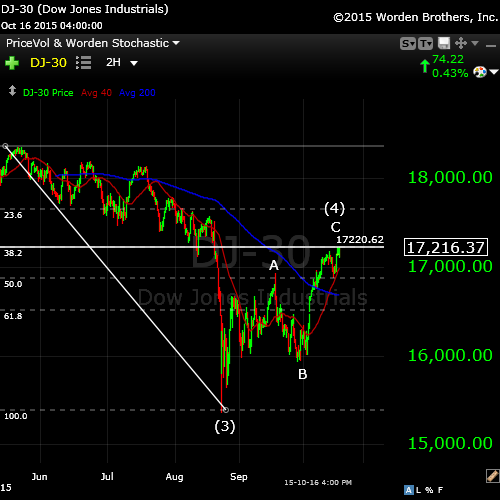 The DOW (above) tagged the 62% level exactly on Friday afternoon with a double top.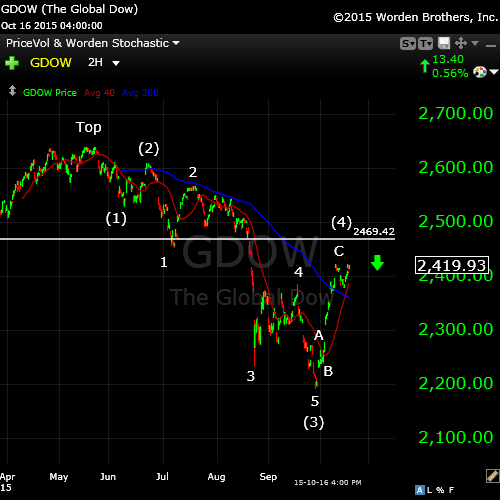 The Global DOW (GDOW) has retraced up to to almost the 62% level (horizontal line) but is still short. It has also done a double top. I'm expecting it to turn here or at a level nearby. This is another reason (as per the NYSE) that I have gone back to labelling all the US indices as fourth wave corrections.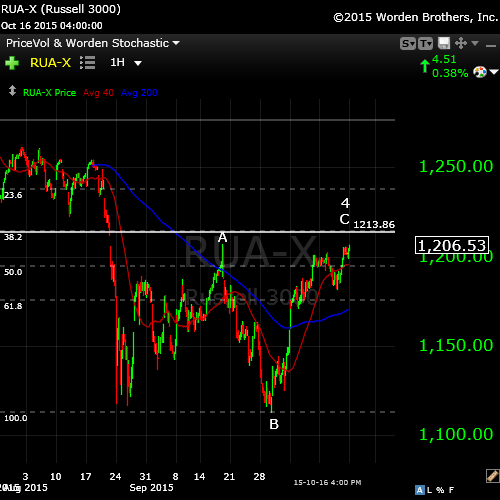 The Russell 3000 (RUA) ended Friday with a double top and what looks like a completed set of 5 waves up. It did not quite reach the 62% retrace level, but it's so close, it could easily do so on Monday morning. It's a slightly different pattern than the other indices in that it's done an ABC correction to a new low (the B wave hit a new low, and was also in 3 waves down). This C was is in 5 waves up, which is an ending wave, of course. This would be a typical setup for a wave 3, so we certainly have indices suggesting alternate degrees for the next wave down. We'll just have to see what happens.
_________________________
Cycles Analysis
I ran this chart Friday, Oct 16 after the market close. Not much has changed from the cycles analysis from a week ago.
This cycles analysis uses Techsignal X from the Foundation for the Study of Cycles. I'm using data going back to 2002 this analysis of SPY (SPX) and displaying a compilation of all the cycles the software has found over that period. You can see how close-fitting it has been in the recent past. The fit with the current wave is quite stunning and therefore, something to pay attention to.
This analysis suggests a cycle top of October 13 (starting down on the 14). Oct 13 was also the new moon.
It shows a bottom to this set of waves down at December 7, 2015.
This particular cycle top (Oct 13) is a strong one. I've gone a little deeper into what the analysis is telling me on a separate page. Here's a more in-depth explanation of what this chart is suggesting. 
_______________________________
The Panic Phase and the TPD (Turning Point Distribution) Principle
The TPD Principle describes a period in time of several weeks in which an array of cycles congregate, including gravitational, geomagnetic, and nuclear. It's around this time that markets have historically topped. I was asked to include a reference to this in today's blog post, which I'm happy to do. This principle generally refers to market tops (which we've already seen on May 20, 2015), but it's interesting to note how many astro events we have occurring over the weeks surrounding the upcoming major turn in the market.
In his book, "the Universal Cycle Theory," Stephen Puetz writes, "The TPD principle involves the eclipse cycle as well. The eclipse cycle normally peaks on the first new moon before a solar eclipse. Following that reversal point, it takes six weeks for sentiment to shift from euphoria to panic. Then on the first full moon after a solar eclipse, a panic-phase begins. A panic phase usually last two weeks—ending at the time of the next new moon."
The dates:
Aug 14 , 2015 – First New Moon before the Eclipse (there is a New Moon happening at the same time as an Eclipse—Sept. 13)
***Aug 29 – Full Moon before the Solar Eclipse (peak of the eclipse cycle)
Sept 13, 2015 – New Moon and Partial Solar Eclipse
Sept 23, 2015 – Fall Equinox
***Sept 28, 2015 – Super Blood Moon Eclipse (start of panic phase)
***Oct 13, 2015 – New Moon (this would mark the end of the panic phase) – six weeks after the Aug. 29 full moon.
So … there's a lot happening in the area of cycles right around now. The week of Oct 13 looks important to a possible major market turn.